Top 5 Best HD Video Cutters for Mac/PC
Posted by Nick Orin on July 18, 2018 10:21:13 AM • Category:
Cut Videos
3 mins read
HD videos are favored by more people as they deliver higher resolution and better quality than SD versions. But the problem comes once you downloaded them onto computer or mobile devices as you may find they would quickly take up the storage capacity of your hard drive. Therefore, you may need to make the HD videos smaller by cutting out the disliked portions. To deal with this problem, a smart HD video cutter will be highly needed. Now read on the following review to find out the top 5 HD video cutters for Mac and Windows to cut any HD movie for free.
#1. TunesKit HD Video Cutter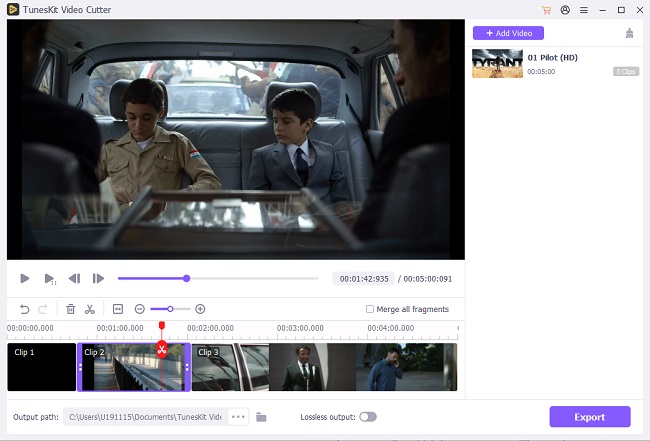 TunesKit Video Cutter is the most highly rated easy-to-use HD video cutting tool that can losslessly trim any HD video as well as SD into small segments with one click only. While splitting the HD files, it can also merge the multiple cuttings into a new video for you. Once trimmed, you can save the video clips into other popular formats, such as HD MP4, MOV, AVI, MKV, FLV, WMV, and more.
In addition, you can also extract audio track from the HD videos when cutting them into smaller pieces. It's an audio splitter too. With the built-in video player, it's easy for you to preview the video during the whole cutting process. You are provided with two modes to cut off the footages more precisely, including setting the start and end time with slider bar or time board.
Tips: TunesKit offers free version of this HD video cutter too. Unlike the paid version, TunesKit Free Video Cutter can't output the video cuttings to other formats. That's the only difference between the paid and free versions. You can download it now to cut the HD videos for free with 100% original quality preserved.
#2. Free Video Cutter Joiner - Free HD Trimmer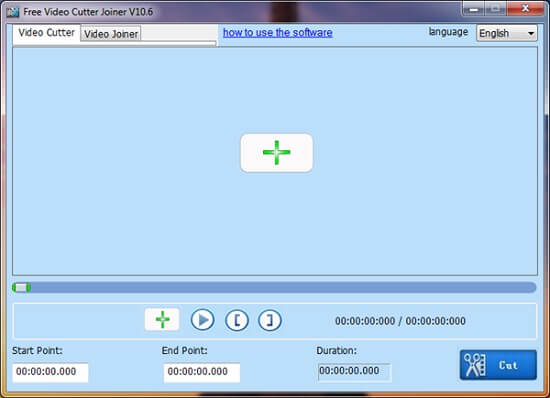 As the name suggests, Free Video Cutter Joiner is a complete video editor that can not only cut HD videos for free, but also merge different video clips into one file efficiently. After cutting out the unwanted portions from HD video, it can save the sections as WMV, MOV, VOB, AVI, MP4, FLV and 3GP. As a video joiner, it can combine the videos into MP4, AVI, FLV, WMV, MOV, VOB and MPG formats.
The advantage of this free video cutter is that it offers two modes including Direct Cut and Indirect Cut, also known as non-re-encoding mode and re-encoding mode. The former works faster but supports less video formats, while the latter is slower but works for almost all video formats.
#3. Weeny Free Video Cutter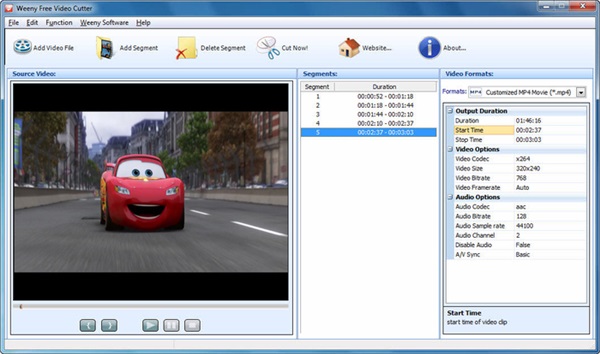 Weeny Free Video Cutter does exactly what its name suggests, a handy and free video trimming software that can easily cut large HD videos into several segments in smaller size. It provides the ability for you to export your video cuttings to popular formats such as WMV, VOB, AVI, ASF, 3GP, FLV, MPG, MP4, etc. Simultaneously, you are offered with the options to customize the video quality by changing the parameters, like video size, bit rate, frame rate, etc.
As an easy-to-use free HD cutter, Weeny Free Video Cutter is definitely the best free HD video trimmer that everyone can handle it well.
#4. Moo0 Video Cutter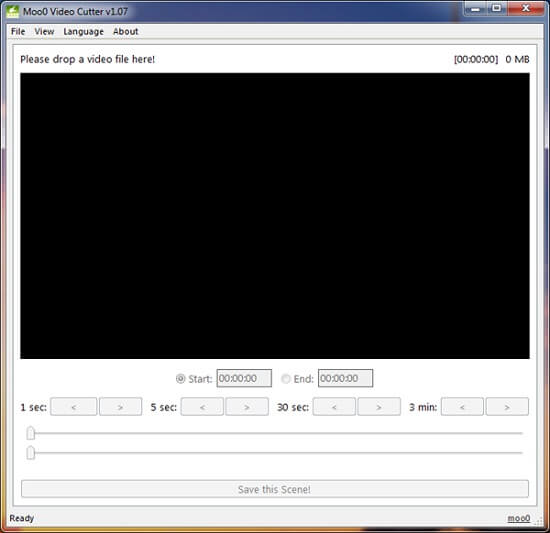 If you are seeking for a time-saving HD movie cutter, Moo0 Video Cutter could be a better option as it provides humanized design of the time setting. To set the start and end time when cutting a video, you can increase the time by 1 sec, 5 sec, 30 sec or 3 mins instead of changing the time frame second by second. However, the drawback of this HD video cutter is that it doesn't support any other output format but only saves the cutting in original format. If your attempt is merely splitting the HD files into smaller clips, it's still a nice app.
#5. Free Video Cutter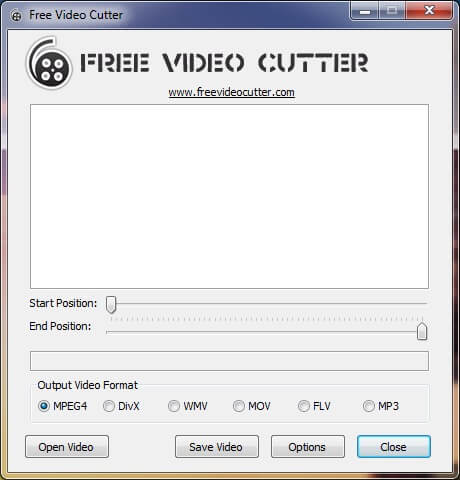 As another simple-to-use free video trimmer, Free Video Cutter enables you easily to split any HD video file to various small pieces with a few clicks only. Like the other HD video cutters mentioned above, it also converts the clips into many popular formats, including MPEG4, DivX, WMV, MOV, FLV as well as MP3. The annoyance you may meet when using this freeware is that it takes a long time to create video thumbs when you importing a video. So you'd better disable this function in advance.