Top 5 M4A Cutters of 2018: How to Cut M4A Audios Losslessly
Posted by Nick Orin on July 13, 2018 10:22:43 AM • Category:
Cut Videos
4 mins read
M4A is a popular audio file extension known by most people due to its lossy compression technology called Advanced Audio Coding, or simply AAC. Currently the .m4a file extension is largely used by Apple Inc. for its digital audio sold on iTunes store. Therefore, if you are iTunes user, you may have a big collection of M4A files that needs editing sometimes. Most probably you may like to make ringtones from those M4A audios. In this case, an M4A cutter could be the best assistant.
Here is the top list of the 5 best M4A audio cutters, including some best free and online M4A cutting tools that could help you split any M4A audio in lossless quality with ease on Mac and PC.
#1. TunesKit M4A Media Cutter (Mac/Windows)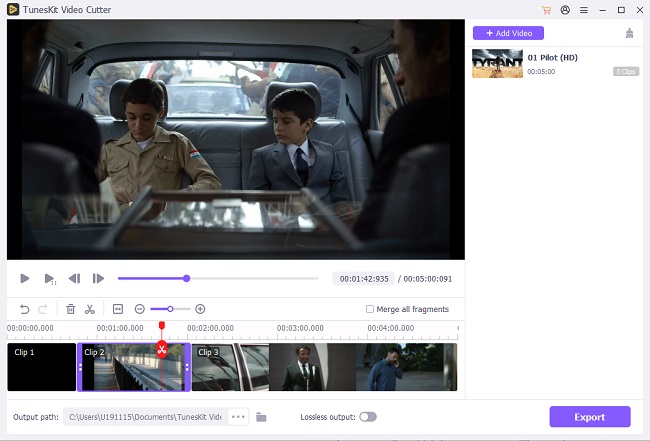 As a lossless audio/video splitting tool, TunesKit Video Cutter could be the best M4A cutter that can easily trim your M4A audio files into small segments with no quality loss. Using this smart media cutter, you can not only remove unwanted parts from M4A tracks, but also save the cuttings in common MP3, FLAC, AAC and other formats with one click only.
Apart from cutting the audios/videos, TunesKit M4A Cutter also supports merging the multiple splitted clips into a new file. That's to say, you can use it to cut any M4A file into several parts and then mix those parts into a totally different audio. Besides, while saving the audio cuttings, you are allowed to set the output audio quality by changing bit rate, codec, sample rate or other parameters.
In addition to M4A, this media cutter also supports other audio and video formats, such as MP3, AAC, WAV, FLAC, M4A, OGG, WMA, MP4, MOV, MKV, FLV, etc., making it the most versatile media trimmer in the whole market.
#2. FileLab Audio Editor - Free Online M4A Cutter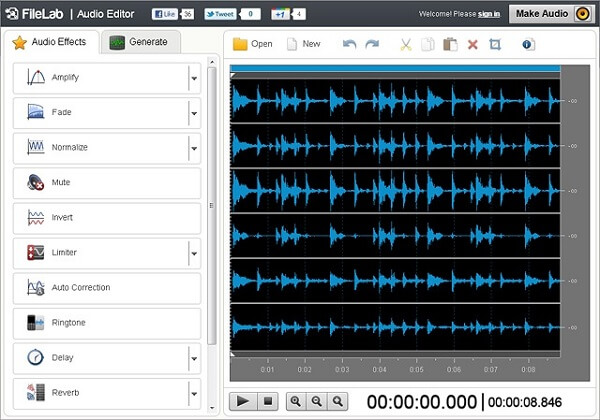 FileLab Audio Editor is an easy-to-use web tool which lets you directly edit any M4A audio online totally for free. With this online audio editor, you can freely cut, mix, trim all your audio files with dozens of amazing effects in a browser. It fully supports MP3, WAV, WMA, M4A, OGG and many other audio file formats. After cutting any audio, you can save the segments in WMA, FLAC and WAV formats.
Utilizing an impressive range of effects and filters, you can easily add the most demanded audio effects such as Amplify, Normalize, Auto Correction, Delay and Equalizer and others to the M4A audios during the cutting process.
#3. My Audio Cutter (Windows)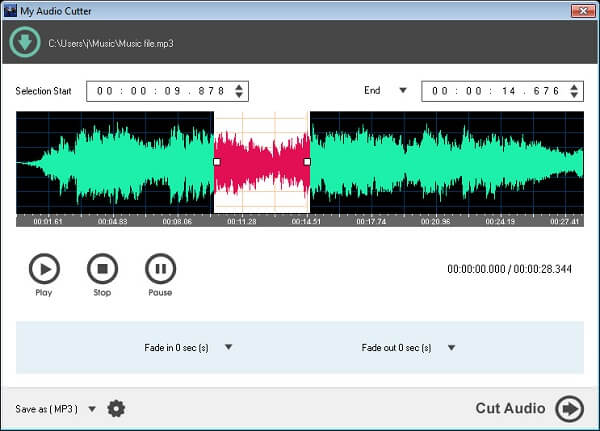 My Audio Cutter is an user-friendly audio cutting software that lets users cut M4A and other audios into pieces in a few clicks only. It combines visual and manual modes so that you can cut tracks into segments by setting the start and end time accurately.
While cutting the M4A audio files, it provides some fading effects that can be added to the output audios. Besides, My Audio Cutter supports audio tagging, meaning it will keep the ID tags in the output audio tracks, such as music title, track number, author, artist, album, etc. It saves the audio segments in popular formats, like AAC, AIFF, MP3, FLAC, WMA, OGG, M4A, and WAV. It also helps you extracting audio tracks from video files if you like.
#4. Filmora Audio Editor (Mac/Windows)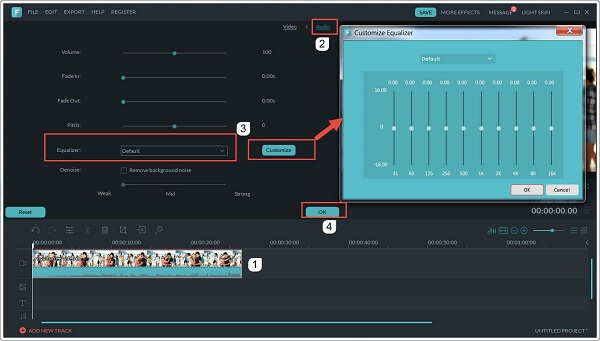 As its name suggests, Filmora Audio Editor is more like audio editing tool than the audio cutter. Within the editor, it supports cutting M4A audios into small clips. It's the most functional editor that assists you cutting, mixing, deleting, copying and pasting different M4A segments.
Using this software you can cut not only M4A audios, but also other files, as well as join various audios to form one mixture all according to your specific needs. It supports a wonderful platform for output formats too. You can save the trimmed M4A audios as MP2, WMA, MAV and share them anywhere, like YouTube, Vimeo, Facebook, etc.
#5. TunesKit Free M4A Cutter (Mac/Windows)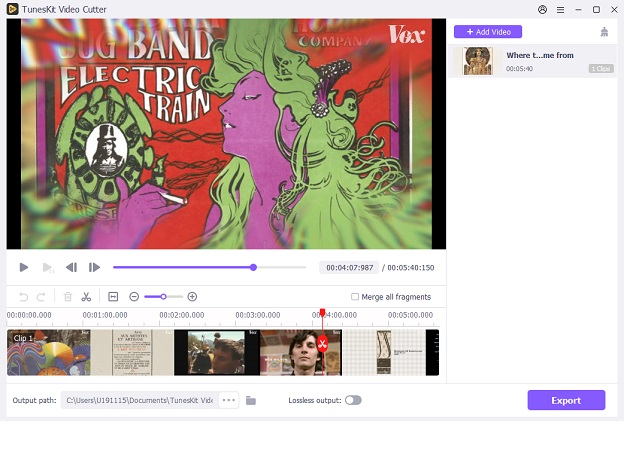 Yes, it's the free version of TunesKit Video Cutter. The only difference between TunesKit Free Video Cutter and the paid version is that the freeware doesn't support converting the M4A audio cuttings to other formats. It only splits the M4A audio file into smaller parts and saves the output in M4A too. Like the paid version, it also supports 100% lossless trimming. You can also extract audio tracks from video files with this free tool.