Top 7 Best Alternatives to Premiere Pro for Mac and Windows
Updated by Nick Orin on Feb 6, 2021 2:31 PM • Category:
Edit Videos
6 mins read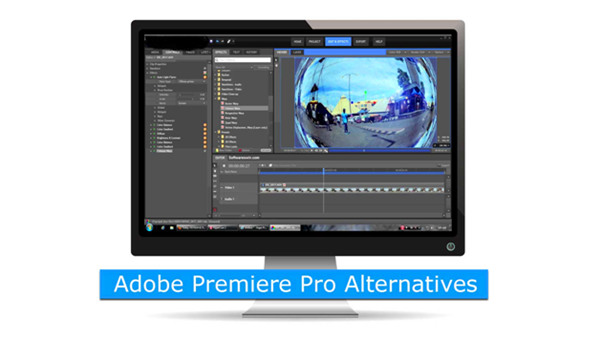 Adobe Premiere Pro is one of the best video editing software on the Internet today. The program is available for both Windows and Mac operating systems. There are so many positive reviews with regard to its effectiveness and efficiency. Premiere Pro has a clean and flexible interface, outstanding processing speed, and multi-camera angles. These are some of the attributes that make people crave to try out this powerful video editing tool.
As much as a lot of people would love to try out the program they can bear the subscription cost; it is quite a figure. Normally, the monthly subscription goes for around $20 and $239.88 annual subscription. Well, considering the cost or other factors, this post will provide you with the 7 best alternatives to Premiere Pro with outstanding features at cheaper prices. Scroll right down!
1. TunesKit AceMovi (Mac and Windows)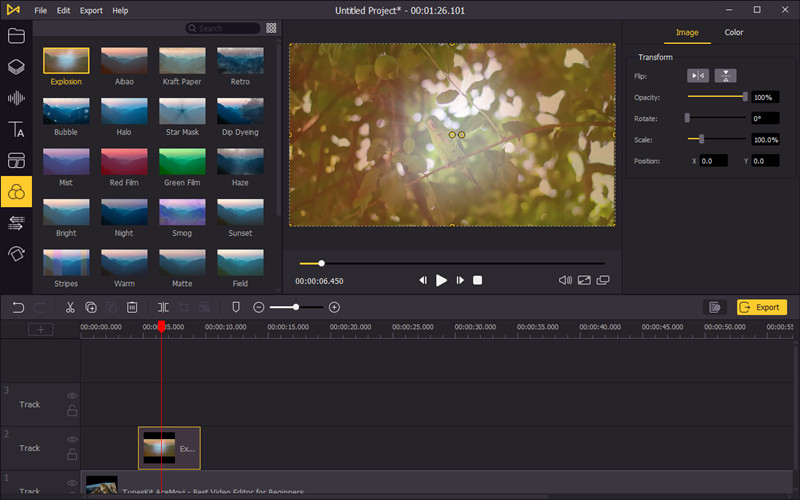 For people who're about to video editing, you might think that Adobe Premiere Pro is too professional for you. You need to spend a lot of time learning how to use it. If you're a newbie, TunesKit AceMovi Video Editor can be a nice option. Thus it can be a good Adobe Premiere alternative Windows or Mac users would like it.
Known as a famous video editing program, TunesKit AceMovi provides lots of options to help you achieve both basic and advanced editing purposes. It can help users split and trim the video, crop the video, rotate and flip the file, remove unnecessary segments, adjust the video's brightness, contrast, saturation, and hue. Moreover, you can use this program to add subtitles, watermarks, and apply special effects including filters, transitions, animations, split-screen or background music, etc. Besides, this shareware is easy to use with an intuitive interface. It's perfect for someone who has a little budget and high demand for quality.
Pros:
Edit videos with powerful editing options;
Support tons of input and output media file formats;
Allow users to export edited files on various portable devices;
Easy to operate with a friendly UI.
Cons:
Not enough advanced editing tools.
2. Filmora Video Editor (Mac and Windows)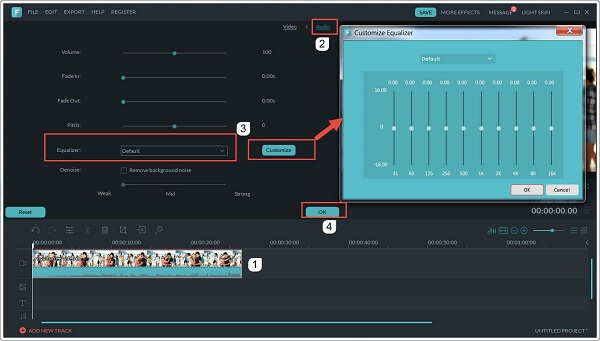 Well, if you looking for pocket-friendly video editing for your Window or Mac then this is the real deal. Filmora Video Editor is one of the easiest to use video editing software among other alternatives to Premiere Pro. Considering the cost, the video editing software is a potential alternative. The software comes with only basic special effects for your videos. Currently, the software goes for around $ 60 all-time subscription. This is considerably cheap compared to a $240 annual subscription for Premiere Pro. Even though it has only a few unique features, the most basic ones are available for use.
Pros:
Works well with beginners;
Comes in with advanced 4K editing capability;
Reasonably cheap license.
Cons:
Lacks advanced editing tools;
Relative slow in video editing processes.
3. DaVinci Resolve (Mac, Windows and Linux)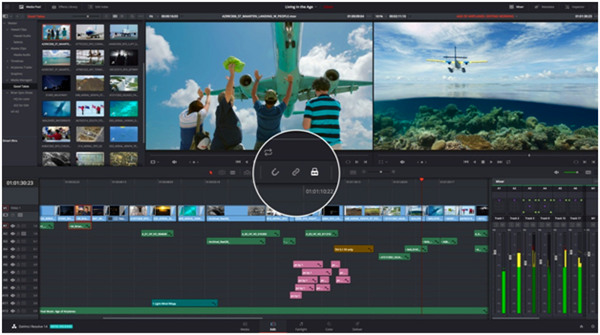 DaVinci Resolve video editing software has not been on the Internet for long. However, for the short time, it has been with us, the program has proven equal to the Adobe Premiere Pro. The software is a masterpiece design from Blackmagic Design. With reference to user reviews and test works of professional video editors have ascertained that DaVinci could replace Premiere Pro. With recent updates the program now far much better than ever. Apart from offering video editing and color correction solutions, the software offers users an opportunity to do post-production of audio, visual effects e.t.c Editing just becomes easier with the use of a node-based editing template courtesy of the new VFX tool. In general, we can say that DaVinci is an all-inclusive video editing software; offering multiple video editing solutions. Most importantly the software is free!
Pros:
Offers multi-video editing solutions;
Has good color correction tools;
Node editing for visual effects is incredible.
Cons:
Too many tools that complicate matters beginners.
4. OpenShot (Mac, Windows and Linux)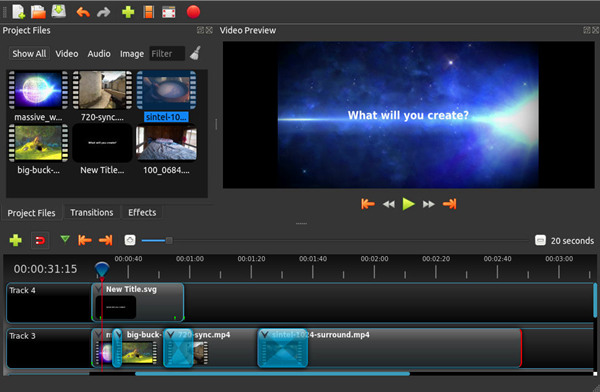 Even Windows and Mac users are the majority; we can look down upon Linux users. Adobe Premiere Pro lacks a Linux version of the video editing software. This has been a major drawback for the subject program. Not only the Linux user, but Windows and Mac users are also now shifting to using OpenShot as an alternative for Premiere Pro. The software has an easy to learn interface for beginners as well as a set of professional video editing features including; 3D-rendering, video effects, animations, keyframes, and much more.OpenShot software developers do regularly make updates on the program in an effort to improve its effectiveness. It supports a variety of video formats as well as output formats including H.264, WebM, ProRes, MPEG-2, and others.
Pros:
Easy to learn;
Easy to use;
Compatible with all OS.
Cons:
Not powerful compared to other premium software.
5. Avid Media Composer (Mac and Windows)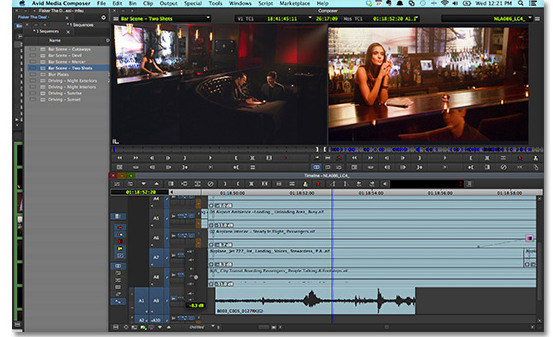 Highly rated movies such as the Guardian of Galaxy (vol. 2), the Baby Driver, and The Martian are some of the creations of the Avid Media Composer video editing software. This particular software is a favorite for most professional video editors especially when they are dealing with 'big' projects. If you have watched the baby driver movie, then you can bear me witnesses. The creation is just WOW!
For a fact, Avid Media Composer is one of the best and most powerful editing tools available on the Internet today. It evenly compares to Adobe Premiere Pro software. The premium version of the program is relatively expensive and out of reach for normal users. However, we have a free version of the same; "Avid Media Composer | First". It is the most advanced free video editing tool on the web. The free version compares well with Adobe Pro; most features have been captured.
Pros:
Fully featured video editing tool;
Supports a variety of media file formats;
Exceedingly powerful to handle long projects.
Cons:
Has a longer learning curve.
6. HitFilm Express (Mac and Windows)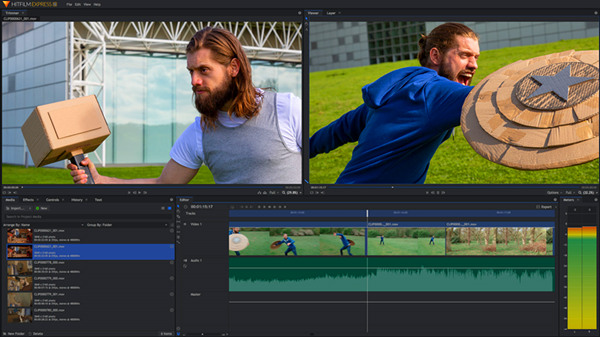 HitFilm Express is a top-class and video editing software. Consequently, it could be the perfect Premiere alternative. The software does not only edit video clips but always help users apply video effects for stunning outcomes. These effects include lighting effects, shootout effects, green-screen effects, 3D-models, and many others. However, the software is quite complex and hence you need to invest much time to maximize the full potential of the program. Most notably, HitFilm Express is totally free and ads-free and hence enhanced user experience.
Pros:
Fully featured video editing tool;
Incredible visual effects tools;
It is free to use.
Cons:
Visual effects application is relatively complex;
Users need a lot of time to learn, especially for beginners.
7. Pinnacle Studio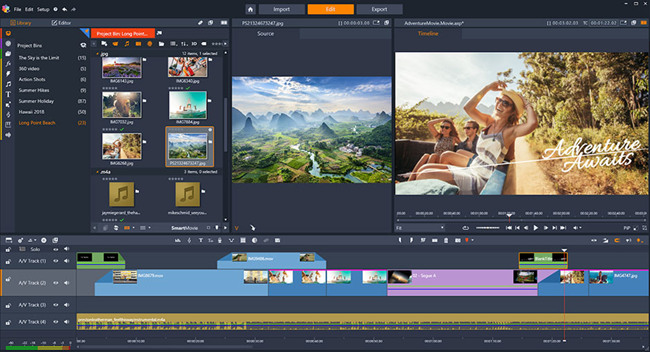 It has one of the best editing experience compared to other alternatives to Premiere Pro. The purchase price starts at $59 which is relatively cheap. It brings with it multi-track video editing, multi-camera video editing, and color grading, and much more. It also supports most video and audio formats.
Pros:
Easy to use;
Cheap;
Good editing tools.
Cons:
Not powerful compare to other software.
Conclusion & Suggestion
All the above are effective alternatives to Premiere Pro that will help you kick start your video editing career. If you need a simple and easy-to-use video editor, you can take TunesKit AceMovi or Filmora Video Editor into consideration; if you want a free video editing tool, you can try one among OpenShot, DaVinci Resolve, HitFilm, or Media Composer; if you don't care about money, you can then give Pinnacle a shot. As for me, I am currently using TunesKit AceMovi Editor software, which has proven to be effective and amazing. I highly recommend that you try it out!