"Whenever I restart my iPhone, it asks me to enter the passcode rather than my Touch ID. The thing is that I have forgotten my password and don't know how to operate in this situation. Come someone help me in this matter"?
If you're used to unlocking iPhone through Touch ID, you'd surely find it weird when Touch requires a passcode when iPhone restarts. It can happen due to many unforeseen reasons, but it is frustrating, and no one wants to be on the receiving end. Luckily, you can get this thing sorted and unlock your iPhone without entering a password. For this, you'll need to read this guide.
Part 1: Why Touch ID requires a passcode when iPhone restarts?
If your touch ID requires a passcode when iPhone restarts, there can be a few reasons behind this chaos.
Here's the list of those reasons.
1. You have to reboot or power up your iOS device.
2. If you've unlocked your iOS device for 6 days, you'll be asked to enter a passcode instead of Face ID.
3. You haven't used Touch ID to unlock your iPhone for the last eight hours.
4. If you've attempted a couple of times to unlock your iPhone but didn't succeed.
For every reason we've listed above, iPhone will ask you to enter a passcode before unlocking the device.
Part 2: 4 methods to bypass Touch ID requires passcode when iphone restarts
Method 1. Use TunesKit iPhone Unlocker
You can acquire the services of TunesKit iPhone Unlocker if your Touch ID requires a passcode when iPhone restarts. TunesKit iPhone Unlocker is an outstanding third-party tool that makes sure you unlock the iPhone from any situation like iPhone is disabled, forgot iPhone passcode, iPhone screen is broken. On top of that, TunesKit iPhone Unlocker is brilliant at offering you smooth services courtesy of its effortless user interface.

Why Choose TunesKit iPhone Unlocker?
TunesKit iPhone Unlocker is compatible with every iPhone model
It helps you to unlock Touch ID without a passcode
You can also factory reset your iOS device without Apple ID
Supports the latest iOS version up to iOS 15.4
Offers concise and user-firendly interface
How to bypass Touch ID requires passcodes when iPhone restarts using TunesKit iPhone Unlocker?
Step 1

Launch TunesKit iPhone Unlocker

Before proceeding, you'll need to download TunesKit iPhone Unlocker from the official web page and launch the software without hesitation.

Next, you'll need to select the Start icon before connecting your iPhone to your PC.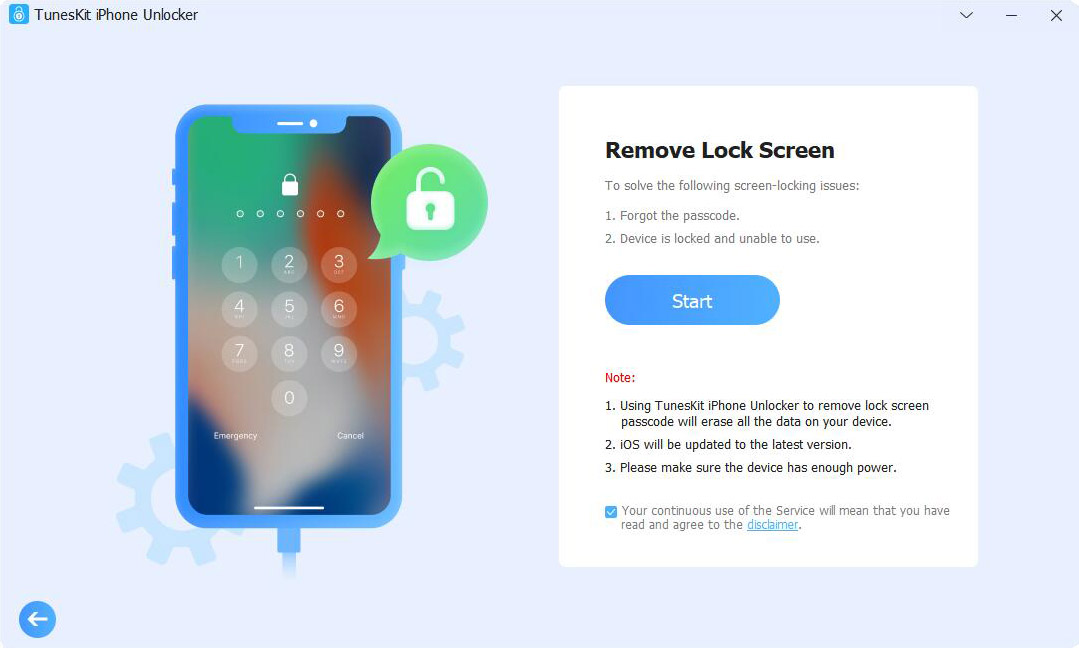 Step 2

Put iPhone into DFU

Put iPhone into DFU after going through the instructions you can read in the image below.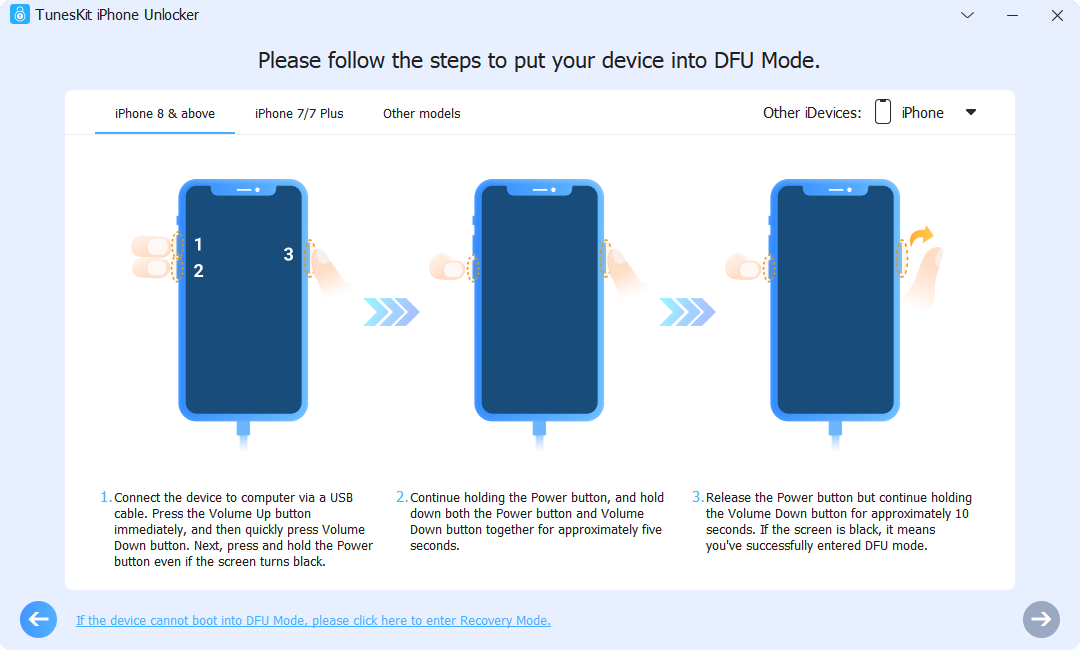 Step 3

Download Firmware Package

In this stage, all you need to do is download the firmware package suitable for your iPhone. You can get it done by hitting the Download icon.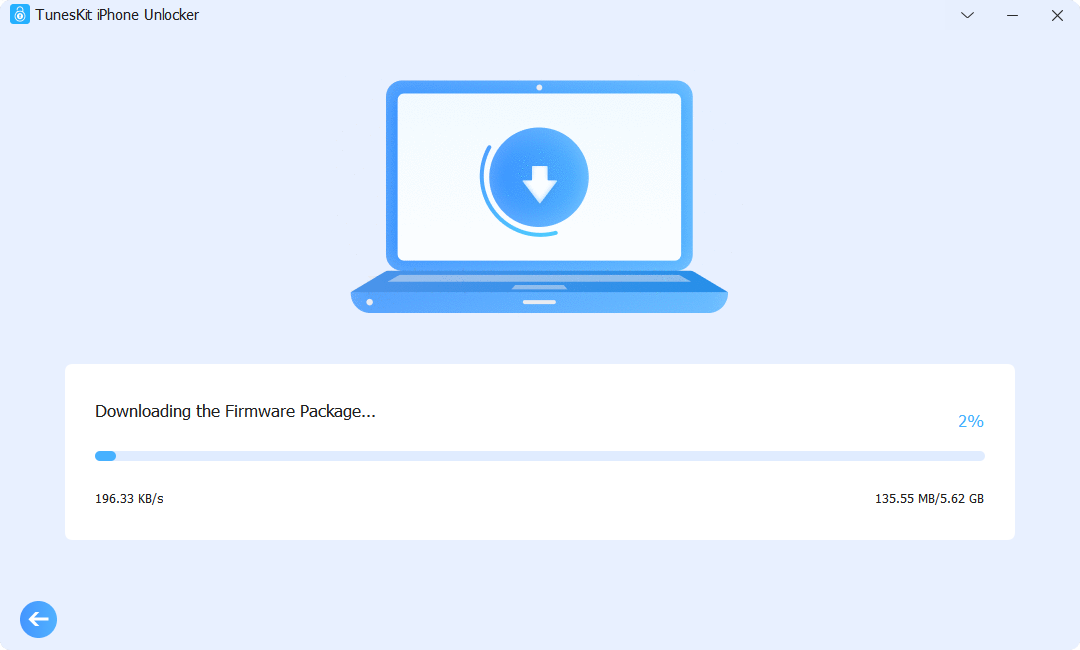 Step 4

Unlock iPhone

After getting the firmware package downloaded, you'll need to hit Unlock to start unlocking iPhone. The process won't take long as you'll be able to set up a new password pretty quickly.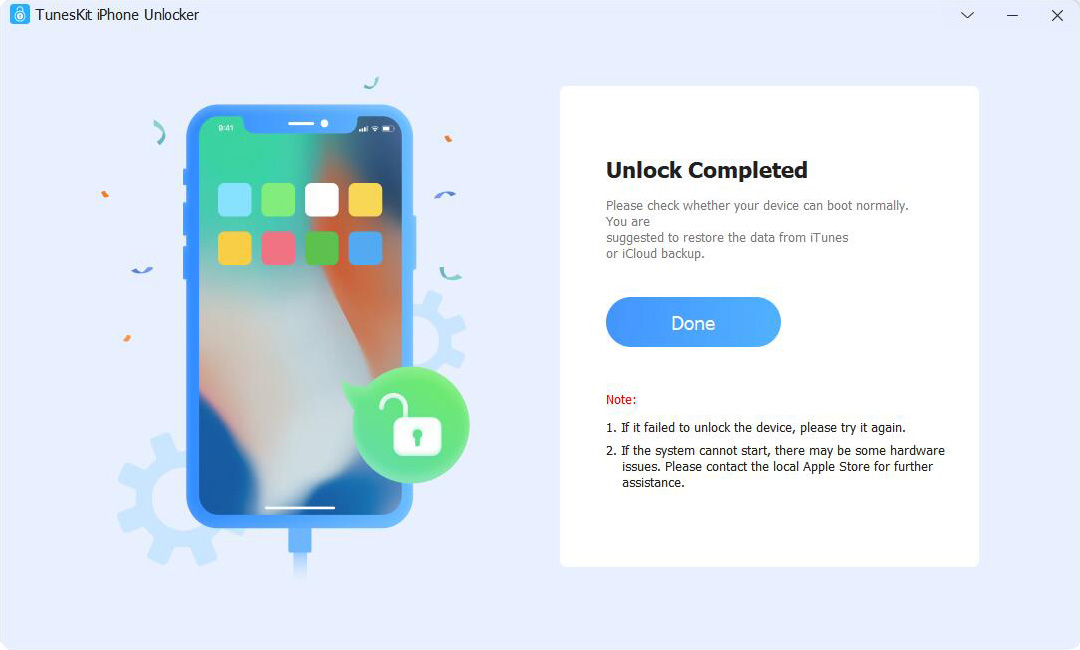 Method 2. Restore iPhone via iTunes
If you are wondering touch ID requires your passcode when iPhone restarts bypass, but you've forgotten your password, try to restore iPhone via iTunes. In this way, you'll be able to access your iPhone and use the information you'd want. However, restoring iPhone via iTunes means removing all the data from the iOS device and making it data less device. Hence, you'll need to be thoughtful before removing all the data, as it can hurt you big time.
The wise decision will be to back up your data in a storage device and then go for the iTunes restoration process. You can follow the simple guide below to put the things in order.
Step 1: Launch the latest version of iTunes on your Windows PC before downloading and installing it from the official website. Later, it would help if you linked iPhone with your PC through a genuine USB cable.
Step 2: After a few moments, you'll need to select the device icon before iTunes detects your device. In the next phase, hit the Restore iPhone option and confirm it later. You need to remember that all your hard work will go in vain if iPhone disconnects from the PC.
Step 3: After restoring procedure gets completed, your iPhone will start up again, and then you can access your iPhone without entering the passcode.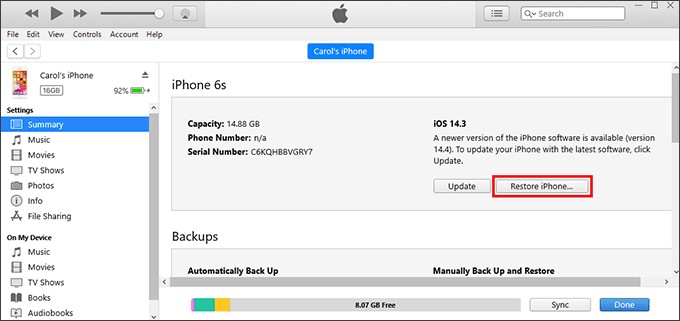 Method 3. Restore iPhone via iCloud
If you find it hard to execute the restoration process via iTunes and want to look for a simple method, you may try restoring your device through iCloud. Like iTunes, this method will also cause iPhone data loss, and you'll need to back up your data before opting for this. The best advantage you carry with restoring iPhone via iCloud is that you can get rid of major software bugs that might cause damage to your iPhone shortly. Hence after restoring iPhone via iCloud, you can get rid of the situation you're facing.
Here's a quick guide to restoring iPhone through iCloud.
Step 1: Navigate to iCloud's official website after launching the web browser.
Step 2: Enter your Apple ID credentials after reaching iCloud.
Step 3: Select the Find My iPhone option and then visit iCloud.com.
Steo 4: Now, you'll only need to select your iPhone device from the devices you can see in front of your screen.
Step 5: Complete the restoration process after hitting Erase iPhone. After your device gets started again, you'll need to set a new passcode and Face ID.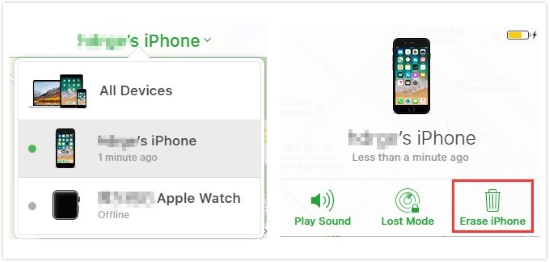 Method 4. Erase iPhone via iOS 15.2
Despite entering the passcode for few times, if you're unable to unlock the iPhone, you can use the iOS 15.2 feature of Apple that enables you to reset and erase a locked iPad or iPhone without connecting it to your Mac or PC. Before resetting your device, you'll need to remember your Apple Password and ID, as these credentials will help you ease your iPhone. You'll need to remember to install the iOS 15.2 updates, as without doing it, you won't be able to erase iPhone.
After putting all the necessary things in order, you'll need to follow the steps below to erase your device.
Step 1: You'll see the Erase icon after attempting to unlock your iPhone passcode a couple of times.
Step 2: You'll only need to hit the Erase device option in this phase and then confirm it later.
Step 3: You'll need to log out from your Apple ID and select the Erase option afterward. This process will help you remove all the settings and data from your device.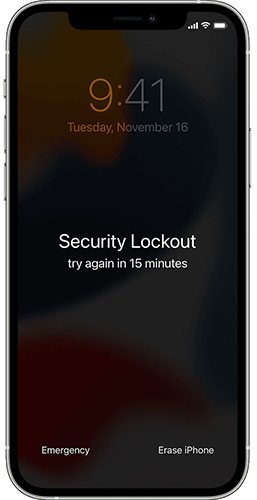 Step 4: After restarting your device, you'll be able to set up a new passcode again, and you can also restore your important data from a backup you've created earlier.
Conclusion
Your iPhone asks you to enter a password instead of Touch ID due to bizarre reasons, and you can find the reasons in this guide. Moreover, we've also explained the best method to help you bypass Touch ID requires your passcode when iphone restarts and unlock your iPhone if you don't remember the password.
All the methods we intended to reveal here offer massive quality and can add a lot of value. But, TunesKit iPhone Unlocker is the best possible option to go with. It makes things look fairly easy when it comes to unlocking iPhone.

Brian Davis has covered tech and entertainment for over 10 years. He loves technology in all its forms.