[Top 5 Fixes] How to Stop Passcode Requirement from Popping Up
Posted by Brian Davis on Nov 24, 2022 9:00 AM • Category:
Unlock iOS
5 mins read
"Hi, I got a pop-up message that required me to change my passcode within 60 minutes yesterday. Why did I receive this "Passcode Requirement" message on my iPhone? What should I do to fix my iPhone in this case?"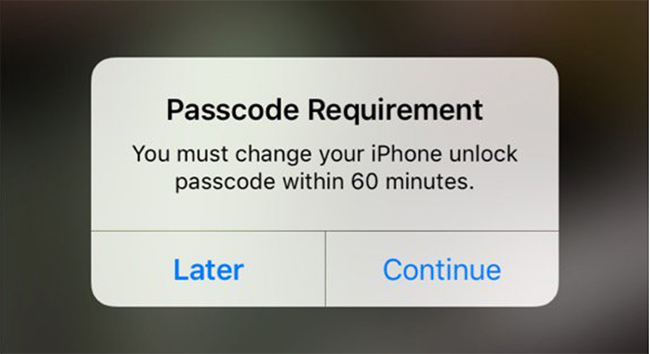 Sometimes, the "Passcode Requirement" message pops up on your screen, asking you to change your iPhone passcode within xx minutes. If you meet this issue, you are likely to ignore it by simply clicking on the Later button. However, this message will keep emerging until you totally fix it, which affects your use experience deeply. Why does this pop-up keep showing on your screen? What can you do to stop the iPhone passcode requirement? Read this post, and you will get useful answers to these questions.
Part 1: Why Does Passcode Requirement Appear?
Generally, the message saying that you must change your iPhone unlock passcode can occur for various kinds of reasons. In the following, we'll show you some common causes of this message.
1. The passcode you use is simple and easy to guess. Apple security will detect your easy passcode as unsafe, and alert you to change your iPhone passcode.
2. Your iPhone is under Mobile Device Management. If your iPhone is enrolled in MDM system, the administrator may force you to change your passcode through this message.
3. The Safari history data on your iPhone have reached a specific level. When too much browsing and search history is stored on your iPhone, a pop-up relating to passcode requirement might show up.
4. Email accounts and configuration profiles force you to change your passcode.
Part 2: The Best Tool to Bypass MDM Restrictions
As mentioned above, if your iPhone is under MDM restrictions, the iPhone passcode requirement may occur to force you to reset your passcode. Besides, you may face a lot of limitations when you use your iPhone. Therefore, if you are bothered with these restrictions, you can try our most recommended unlocking tool – TunesKit iPhone Unlocker.
It's an advanced tool specially designed for iPhone, iPad, and iPod users. With this tool, you can not only remove MDM from iPhone, but also unlock iOS lock screen, bypass Apple ID, and get rid of Screen Time without any passcode. It's not complicated for a normal user to use this software. What you need to do is to follow the straight and clear guidance, and then your iPhone will be free from MDM restrictions.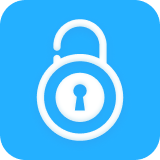 Why Choose TunesKit iPhone Unlocker?
Enables you to bypass MDM restrictions to fix iPhone passcode requirement
You can also unlock lock screen, Apple ID, Screen Time with ease
TunesKit iPhone Unlocker is compatible with iPhone/iPad/iPod
Fully supports the latest iOS version up to iOS 16
Offers concise and user-firendly interface
Try It Free
600,000+ Downloads
Try It Free
600,000+ Downloads
Now, let's see how to remove MDM with TunesKit iPhone Unlocker when you meet iPhone passcode requirements.
Step 1

Connect iPhone to PC

First, you need to download, install, and run TunesKit iPhone Unlocker on your PC. Then, keep your iPhone connected to it with a fitted USB cable, and choose the Remove MDM option.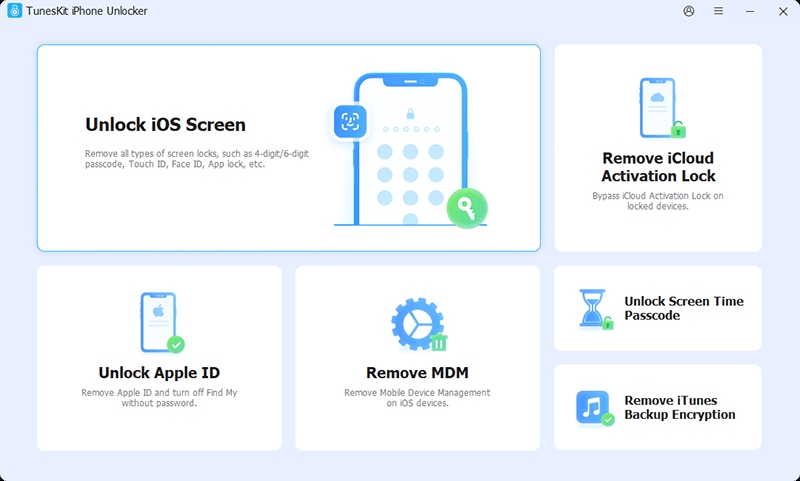 Step 2

Remove MDM to fix passcode requirement iPhone

Then, you can see the interface of Remove MDM. Then, click on the Start button. TunesKit iPhone Unlocker will begin to remove the Mobile Device Management from your iPhone. During the process, please make sure that your iPhone is connected to the PC. When it finishes, you won't be asked to change your passcode by MDM.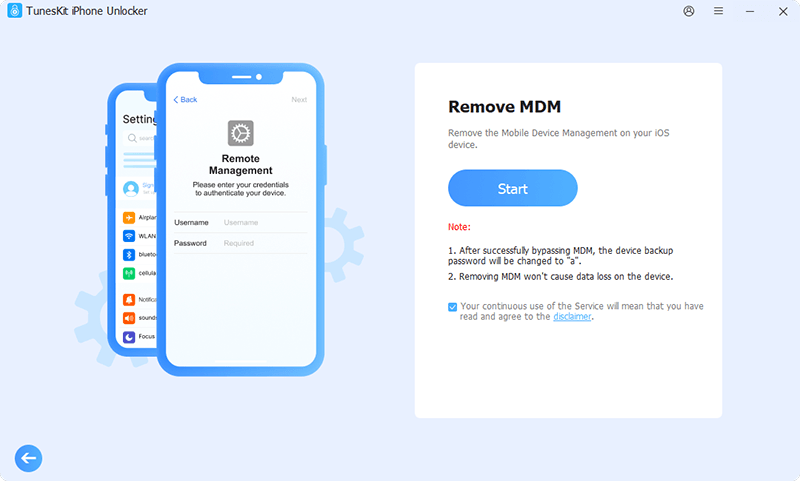 Part 3: Other Fixes for iPhone Passcode Requirements
If the passcode requirement on your iPhone does not result from MDM restrictions, you can try other methods to fix it.
Tip 1: Reset Your iPhone Passcode Directly
When you receive the pop-up that you must change your iPhone unlock passcode, you can directly choose Continue to reset your passcode. Or you can choose Later, and change your passcode through the Settings app. Below are the steps for you to reset your passcode with the pop-up notification.
Step 1: Tap on the Continue option, and you'll be asked to enter your current passcode to verify.
Step 2: After punching in the current passcode, tap on Continue again.
Step 3: Input your new passcode on another pop-up. Then, your new passcode is set now.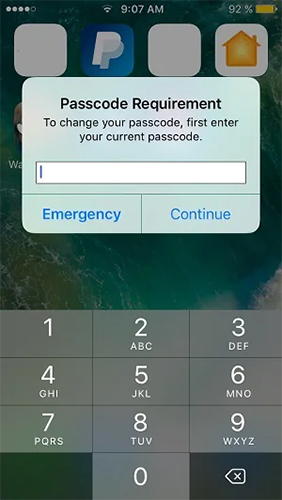 Tip 2: Clear Safari Browsing History
In some cases, clearing the browsing history of Safari might be conducive for you when you meet iPhone passcode requirements. You can follow the guidance beneath to erase your browsing and search history of Safari:
Step 1: Head to the Settings app and scroll down to find the Safari option.
Step 2: Hit on the Clear History and Website Data option. Then, the stored cache and cookies will be deleted from your iPhone and your problem can be resolved.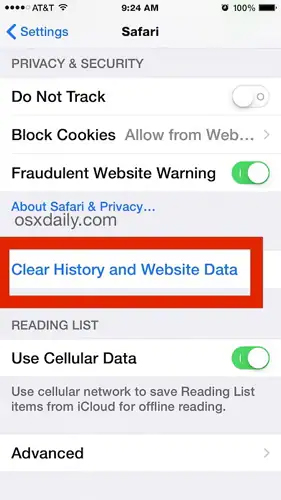 Tip 3: Remove Configuration Profiles
If you have installed a beta iOS or a third-party app which is not from the App Store, some configuration profiles might be installed on your iPhone. These profiles can lead to passcode requirement iPhone sometimes. Therefore, you need to delete them to fix your iPhone when you meet this issue.
Step 1: Head to the Settings app and hit on the General option.
Step 2: Scroll down to choose Profiles & Device Management, and you can see the configuration profiles installed on your iPhone.
Step 3: Tap on the profiles you want to remove, and choose Remove Profile.
Step 4: Enter the password of your device and choose Remove.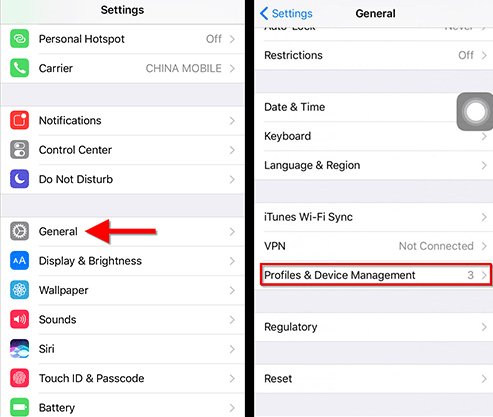 Tip 4: Update Your iPhone
Another viable method to solve this problem is updating your iPhone to the latest iOS version. Updating iOS system can prevent your iPhone from multiple bugs. You can navigate to Settings > General, and then select Software Update. If you find there is an iOS version available, click on Download and Install followed by Install Now. When this process finishes, iPhone passcode requirement may not show up on your screen again.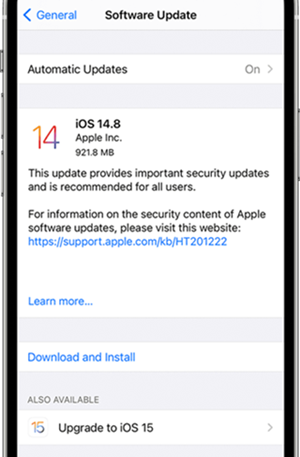 Part 4: Conclusion
After reading this post, you are sure to find out the causes of passcode requirement and solutions. If you want to deal with this matter instantly without passcode, TunesKit iPhone Unlocker is the best choice for you. If you are bothered with iPhone unlocking issues, just click on the Download button below to try this useful tool!