Password is the securest and most authentic way of protecting your privacy. It is the most common way of preventing any unwanted access to your iPad. Where a passcode is designed to provide security to your device, forgetting it will lock you out of the iPad. Things become even more troublesome when you repeatedly attempt to unlock your iPad. The iPad gets disabled and now there is no way you can access the device.
The only viable solution to this problem is to reset the locked iPad to default and then bring the deleted data from a recent backup. But how to reset locked iPad? This article will introduce some simple ways through which you can easily reset your locked iPad.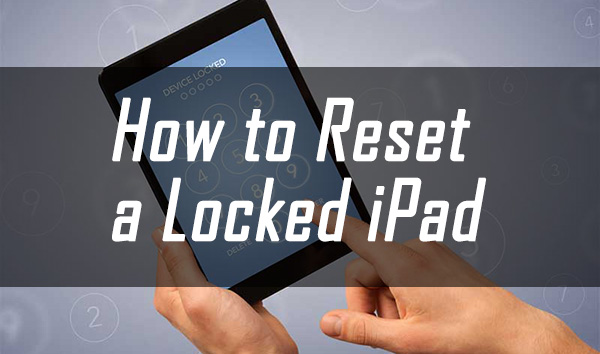 Part 1. 4 Methods to Reset a Locked iPad
Our smart devices contain all our valuable data and information. And a locked iPad can be quite bothersome. But don't worry, these 4 easy methods will help you access your iPad without any further delay.
Way 1. Use TunesKit iPhone Unlocker
Our first recommendation is to use a good iPhone unlocking software such as the TunesKit iPhone Unlocker. TunesKit iPhone Unlocker has been specially designed for iOS users. It supports all iOS models and devices including iPhones, iPads, and iPods. It is compatible with both Windows and Mac, the software makes things convenient for every user.
The major attraction of the software is its easy-to-use interface. It is designed for amateurs having zero technical skills. Lastly, the software can efficiently unlock iPad without passcodes, Face ID, and Touch ID as well. Besides, you don't have to compromise all your content while working with TunesKit iPhone Unlocker.

Key Features of TunesKit iPhone Unlocker
Fully compatible with most iOS device models
Reset the locked iPad without any data loss
Unlock iPad/iPhone/iPod touch with ease
Easy-to-use feature and user-friendly interface
To reset a locked iPad without passcode, follow these simple steps by using TunesKit iPhone Unlocker.
Step 1

Connect iPad to Computer

Download and install TunesKit iPhone Unlocker on your PC. The main interface has three options, choose "Unlock iOS Screen". In the next window, click on the "Start" option. The software will began to identify the model of your iPad.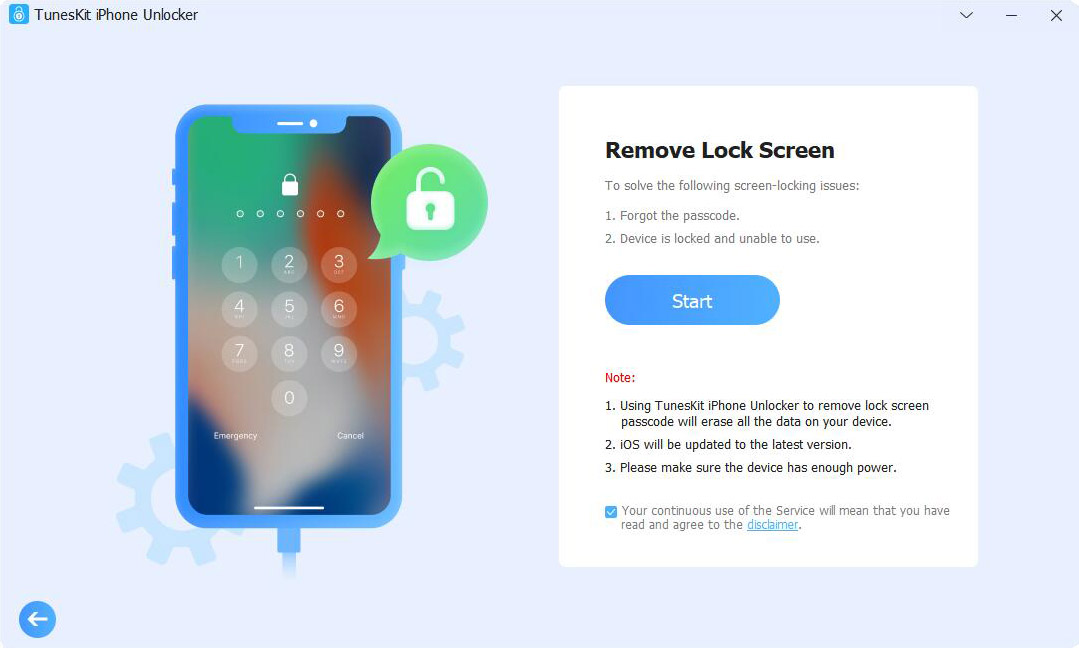 Step 2

Download Firmware Package

After it has successfully identified the make and model of your iPad, click on the "Download" option to download the firmware package for your iPad.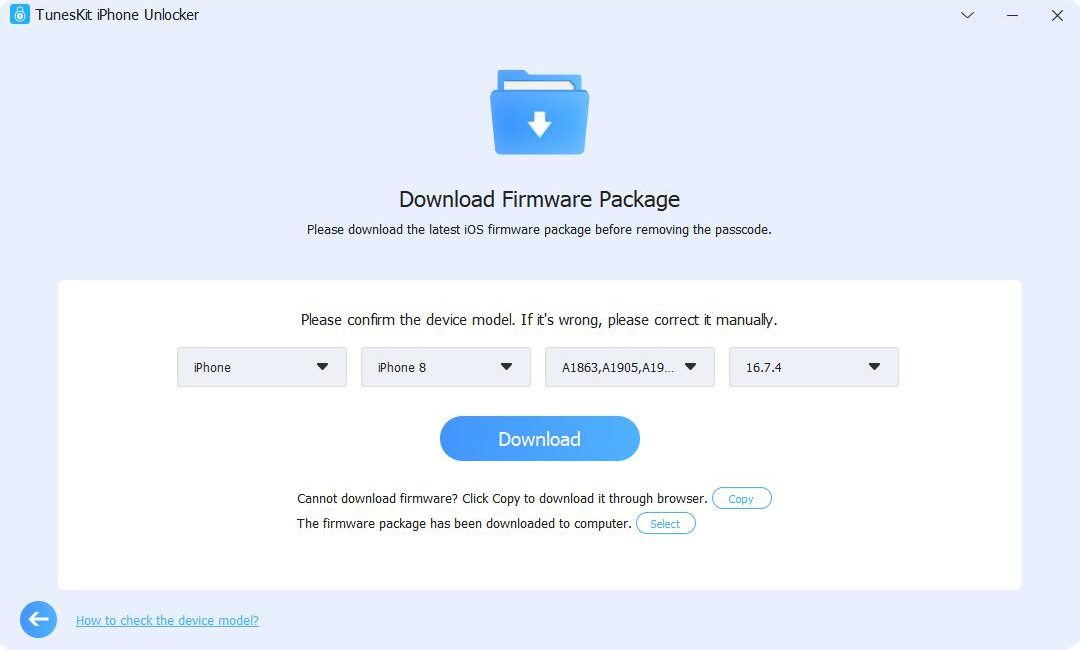 Step 3

How to Reset a Locked iPad without Passcode

Now, click on the Unlock button to unlock the iPad without the need to use the passcode.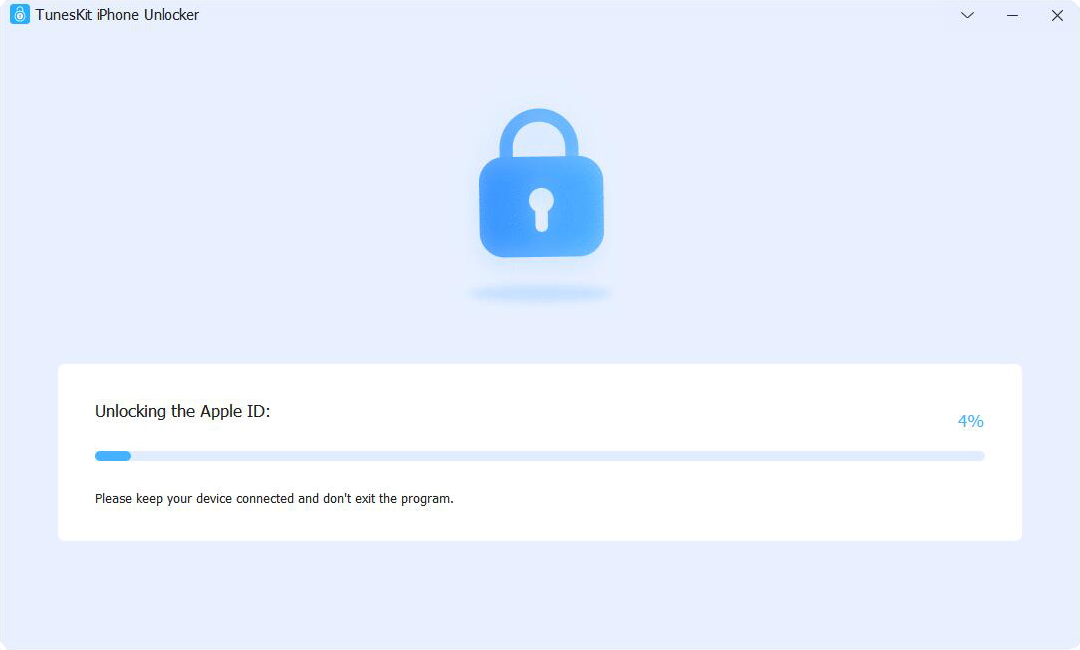 Way 2. Reset A Locked iPad via iTunes
If you have just recently created a backup with iTunes and have synced your iPad with iTunes, this method will help you unlock your iPad without a passcode. Although resetting your iPad will erase all the data along with the passcode but you can easily retrieve the lost data through backup.
So, here is what you need to do to reset the locked iPad using iTunes.
Step 1. Start your computer, open iTunes, and connect your iPad with the PC using a USB cable.
Step 2. In the left column of the window, locate your iPad, and click on the Summary tab.
Step 3. In the next window, select "Restore iPad" to initiate the resetting process. If it prompts you to back up your data first, click on "Backup your data".
Step 4. After the process is finished, your iPad will be restored to factory defaults and all the data will be erased.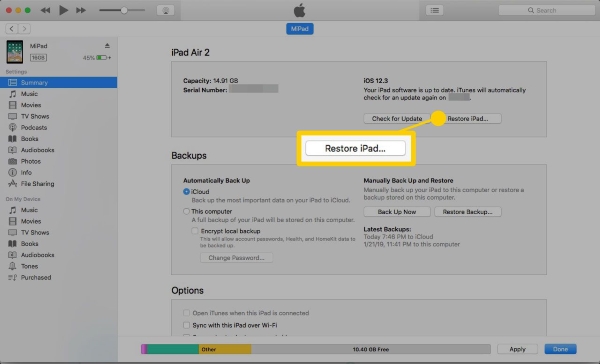 Way 3. Reset A Locked iPad via Find My Phone Feature
Well, if you have forgotten to sync your iPad to iTunes in the last few months, it won't be able to identify your device. So, now how to reset a locked iPhone? In that case, you can use the Find My iPhone feature. This feature not only helps you locate your lost iOS devices but can also help you reset the locked iPad. However, it will only work if the Find My iPhone feature is enabled on the device you are looking for.
Step 1. Go to the Find My iPhone website. You can also use the Find My iPhone app through your iPhone.
Step 2. Log into your iCloud account.
Step 3. Now, you will see the "All Devices" option at the top of the screen. Click on it and a drop-down menu will open up.
Step 4. Select your iPad from the list.
Step 5. A window will appear on the screen. You will get three options including Play Sound, Lock, and Erase iPad. Select Erase iPad.
Step 6. A window will appear confirming that all the content and settings of your iPad will be deleted.
Things will be slightly different if you are using the Find My iPhone app on your iPhone. You have to select your iPad device from the list of options available and then tap on "Actions". Now choose "Erase iPad" to restore your locked iPad.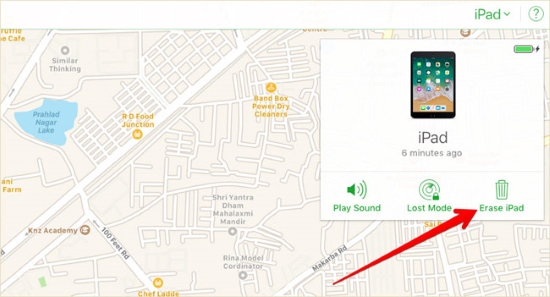 Way 4. Reset A Locked iPad via Recovery Mode
If you recently bought an iPad and the device is not synced with iTunes, there is another way to reset the locked iPad. You can try putting the tablet into Recovery Mode. Through this method, iTunes will detect your device even without a passcode.
To put your iPad in Recovery Mode, go through the following steps:
Step 1. First, you need to open iTunes on your computer and connect your iPad to it using a USB cable.
Step 2. Then, force the tablet to go into Recovery Mode.
For iPad with a Home button: Hold the Top button and move the power off slider to shut down the tablet. Simultaneously, keep holding the Home button until you see the Recovery Mode screen - which will be represented with a cable pointing to a computer or an iTunes icon.
For iPad without a Home button: Hold the Top button along with the Volume Up/Down button. Then use the power off slider to turn off the iPad. Soon the iPad will enter the Recovery Mode.
Step 3. A dialogue box will appear on your computer screen. Click on the "Restore" option to reset your iPad and get access to it. You can reset a new passcode once the device restarts.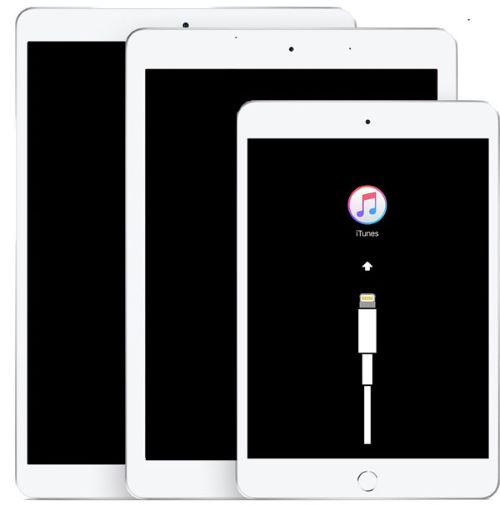 Part 2. Conclusion
We have discussed some common and simple solutions that will help you reset the locked iPad. The guide briefly describes how to reset a locked iPad when you have forgotten the passcode. However, if you have never backed up your data, then you might not be able to recover the lost content. This makes TunesKit iPhone Unlocker a more reliable option for unlocking the iPad. The software not only unlocks your device but also keeps the data safe and intact.

Brian Davis has covered tech and entertainment for over 10 years. He loves technology in all its forms.