5 Apowersoft Screen Recorder Pro Alternatives for Mac/Windows
Posted by Nick Orin on Jan 22, 2022 5:55 PM • Category:
Record Screen
6 mins read
You may have seen apowersoft screen recorder review. Apowersoft Screen Recorder Pro is a simple and efficient screen recorder tool for macOS and Windows. It can record anything you want on your computer. No matter you are a professional YouTuber to record videos, or you just want to simply record something, or want to share some tips or usages, or pre-record some lessons on your computer, you can use Apowersoft Screen Recorder to complete your tasks.
But for some people, this software might not meet their requirements, due to the complicated operation, or lack of some favorite functions, or you found your Apowersoft Screen Recorder not working suddenly. If you are in one of these situations, you can try other alternatives software. So, in this article I have summarized 5 useful Apowersoft Screen Recorder Pro alternatives to meet your needs.
1. TunesKit Screen Recorder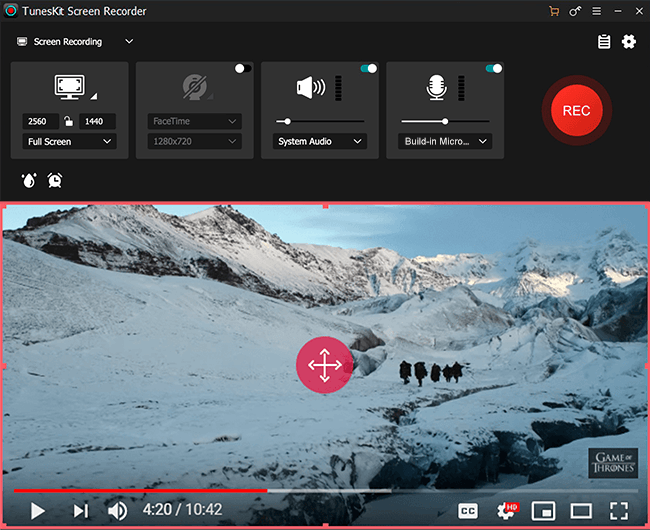 TunesKit Screen Recorder is a great alternative to Apwersoft Screen Recorder for Mac and Windows. It can capture video and audio simultaneously or separately according to the user's needs. It has the most concise interface with a setup page at a glance. Whether you are a novice or veteran, you will soon master the usage of TunesKit Screen Recorder.
While using it, you can find that it allows you to make a lot of settings, including output format, watermark, cursor, setting recording schedule, etc. And you can select to capture the video or audio, and the perfect one is that it supports recording the microphone's voice and webcam. When previewing the audio, you can edit the ID3 Tags.
Pros:
• Applicable to Windows and macOS
• Capture Webcam and microphone
• Record games, meetings, lessons, media video, music, etc
• Have the most comprehensive formats
• Easy operation for novice
• High-quality recording
• ID3 Tags function
Cons:
• The trial version adds a watermark to the video
• The trial version can only record one minute of audio
2. EaseUS RecExperts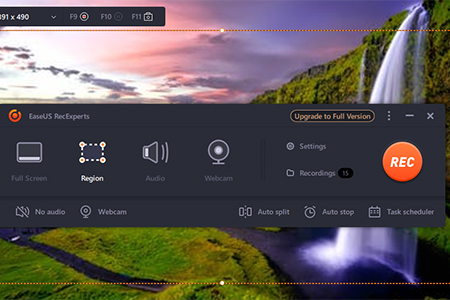 EaseUS RecExperts is an all-in-one screen recording software, which is a replacement for Apowersoft Screen Recorder Pro. With the help of GPU accelerated technology, EaseUS RecExperts can record all you want on a low-end PC. It has a clean interface that allows novices to use it without any confusion.
You can preview your screencasts and edit them on this toolbar. What's more, you can make your video as GIFs, which is a useful function for some users. You also can use it to record your work report, your meeting, your lessons, or share your gameplay video on the internet.
Pros:
• Applicable with Windows and macOS
• Make video into GIFs
• Schedule setting
• Move the capturing area while recording
• Detach the audio from the recorded video
Cons:
• Can not screenshot while cutting the video
• Can not edit the video on the toolbar
• Can not draw in the recording area while in recording
3. Bandicam Screen Recorder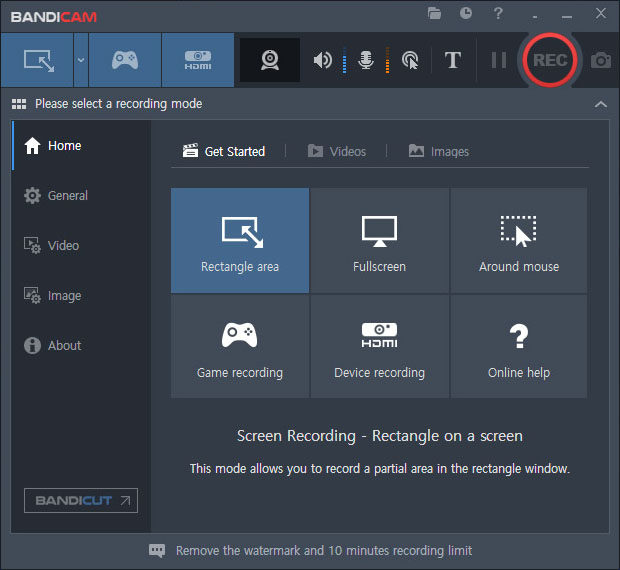 Bandicam Screen Recorder, also a useful substitute to Apwersoft Screen Recorder Pro, is a high-performance screen recording software that is suitable for you. It can capture the screen with a high compression ratio and retain the video quality of the original at the same time.
This application can also capture games using DirectX/OpenGL/Vulkan graphics technology. It can record ultra-HD games at up to 480 frames per second at 4K UHD(3840x2160) resolution through the use of hardware acceleration.
Bandicam Screen Recorder also can record video from video capture boxes (mobile phones, IPTVS, game consoles, etc.) while maintaining raw video quality. Download the free version, the recording time is up to 10 minutes, and the recorded video will mark with a watermark. Purchasing the complete version can use this application with no limitation.
Pros:
• Adapt in Windows
• Support record various 2D/3D games with 4K UHD video
• Record external video device
• Draw and outline while recording
• Chroma key for webcam overlay
Cons:
• Can not display the preview file after the capturing
• Can not cut or edit the video
• Can not generate the GIFs
4. Movai Screen Recorder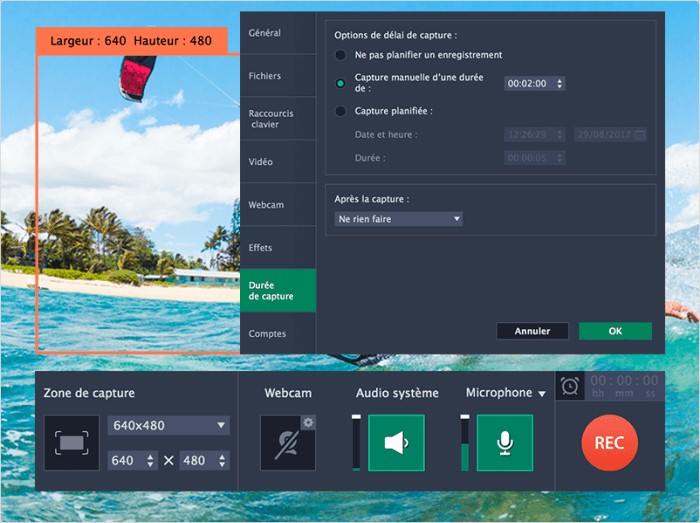 Movavi Screen Recorder is a well-known screen recorder, it is also an Apowersoft Screen Recorder Pro alternative. It is not only a screen recording software but also a powerful video editing software. When you are using this recorder, you can trim your video and edit it. This screen recorder has a material library, various effects, and various preset program functions to facilitate your video editing.
The software not only can edit videos but also pictures. Additionally, Movavi Screen Recorder has a built-in app store and online courses. You can purchase various tutorials here to improve the optimization of your videos.
In the video editing interface, you will find that, compared with several other software, its interface is more professional, with more choices, which can satisfy your further editing of videos.
Pros:
• Can edit the video on the edit tool
• Can convert MP4 to MP3
• Can generate GIF
• Can draw while in recording
• Have online courses and video effects
Cons:
• Can not be adjusted the speed while previewing the video
• Without ID3 Tags function
• Unable to change the bit rate
5. OBS Studio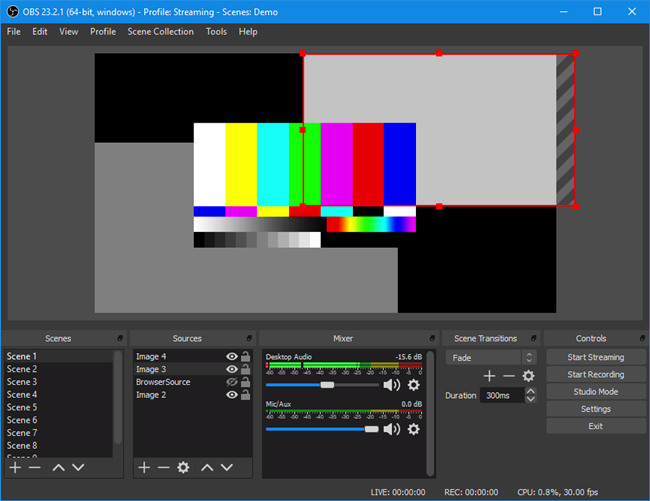 OBS Studio, more than the Apowersoft Screen Recorder replacement, is a powerful recording and editing software. It supports Windows, macOS, and Linux systems.
The most important point is that this software is free, so we believe that most people think of it when they think of free screen recording software. The app can create multiple capturing windows without affecting each other.
It has a modular "Dock" UI feature that allows you to rearrange the main interface of the software to your liking. You can tap various configuration options in the simplified settings panel to adjust the recording. OBS Studio has a mixer, through VST plug-ins, to make adjustments to the recorded audio.
Pros:
• Has a modular "Dock" UI feature
• Can be used in Windows, macOS, Linux systems
• Has a VST plug-ins
• Create multiple recording window
Cons:
• Have a complicated interface
• Hard for novice
• No history file to preview the recordings
6. In Conclusion
We've created a comparison chart to give you a little more understanding of the top 5 best Apowersoft Screen Recorder Pro alternatives.
| | | | | | |
| --- | --- | --- | --- | --- | --- |
| | TunesKit Screen Recorder | EaseUS RecExperts | Bandicam Screen Recorder | Movavi Screen Recorder | OBS Studio |
| Clean interface | √ | √ | √ | √ | × |
| Good for the new hand | √ | √ | √ | √ | √ |
| Add ID3 tags | √ | × | × | × | × |
| Trim the video | √ | √ | √ | √ | √ |
| Edit the video | × | × | × | × | √ |
| Make a GIF | × | √ | × | √ | × |
7. FAQs about Apowersoft Screen Recorder Pro & Its Alternative
1. What is the limitation if I use the trial version of Apowersoft Screen Recorder Pro?
You can only record the screen for 1 minute. And there are restrictions on video merging or compression.
2. How to use Apowersoft Screen Recorder Pro?
Step 1: Download Apowersoft Screen Recorder Pro firstly.
Step 2: Click and launch Apowersoft Screen Recorder PRo.
Step 3: Click the SETTING button on the top of the interface before your beginning. In the setting platform, you can confirm your output format, and customize the cursor. Then click the OK button.
Step 4: Click the button of FULL SCREEN or AREA to select the capturing area.
Step 5: Click "REC" to start capturing.
Step 6: In the process of recording, you can see a tool bar with the PAUSE and STOP button, recording time, etc. Click "STOP" and check the recording.
Step 7: Once you have finished recording, the video will automatically appear and allow you to check it. In this screen you can make changes to your video, including adjusting the length of the video, adding a title to the video, etc.
Step 8: After your adjustments, click OK to save the video, and it will automatically be stored in the setting file.
3. Is Apowersoft Screen Recorder free to use?
You can use Apowersoft Free Online Screen Recorder or install the trial version of Apowersoft Screen Recorder Pro. But there are some limitations and defects in their use. If you want to enjoy more functions, you have to purchase the full version.
4. Which is the best alternative to Apowersoft Screen Recorder Pro?
After our detailed comparison, TunesKit Screen Recorder is the best and the most cost-effective Apowersoft Screen Recorder alternative because of its high-quality recorded video quality, lower price, and powerful features.