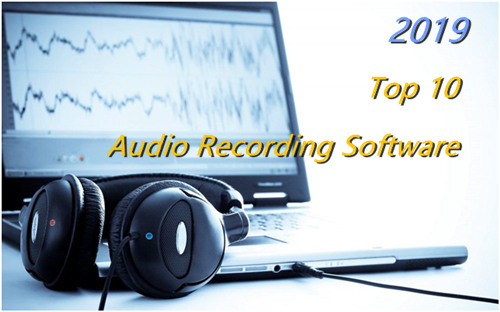 It is undeniable that quit a large number of people across the world are huge fans of music. Music has evolved, it now not all just about the content but the quality of sound, the beat and the tempo of the music.To achieve this, it all starts with using the right audio recording software.
Well, with the vast creations from established and young developer, coming up with the right choices of audio recording program is not easy. It requires intensive research and experience which might available especially for young composers and musician. Worry no more! We have already done the research for you. This post will provide you with the top 10 audio recording software for Windows and Mac. Here we go!
1. TunesKit Audio Capture (Windows & Mac)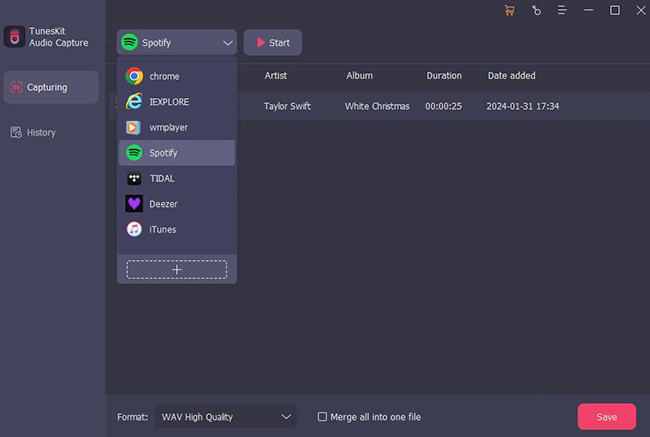 TunesKit Audio Capture is a leading voice recording software with the ability to grab streaming audio online and media audio players like VLC. You can simultaneously record audio files from different running programs and save the separately without a mix up.It also supports a wide range of audio format as well as output formats making it a favorite for many. It runs on both Windows and Mac OS. Download and follow the guide below to enjoy.
Step 1

Set up TunesKit Audio Capture

Start the program.TunesKit window will show up with certain apps for example, chrome, wmplayer, etc. In the event that your preferred app does not appear, click on the "+" tab to look for your program. You can then proceed to set the capture parameters by click on the 'Format' tab and making adjustment on the preferred output format and sound qualities.
Step 2

Capture the streaming sound

Use you preferred media player to play music. It is possible capture several tracks from different media playing programs.
Step 3

Edit recorded audios

Click on 'Edit' to flex the audio length by sliding the time bar. And then proceed to click 'Save' to save the audio file. The output file will can be found on the history folder.

See Full Guide: How to Capture Audio with TunesKit
2. PreSonus Capture (Windows & Mac)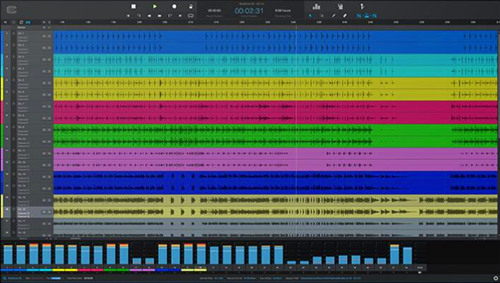 PreSonus is the fast and best way to record live music in one click. It is not only voice recording software but also professional audio editing software. The software is a dream for most DAW users. It houses a range of professional recording tools that guarantee high-quality music output.
Pros:
High quality sound content is guaranteed
Friendly UI and easy to use
Cons:
Premium version is relatively expensive
3. RecordPad Sound Recorder (Windows, Mac, Linux & Android)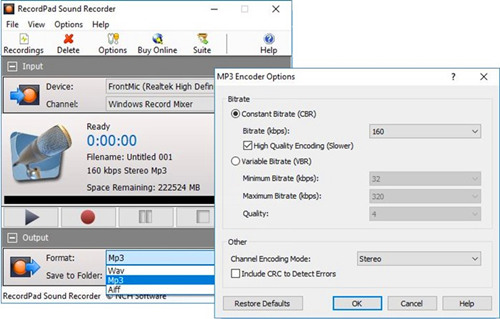 It is one of the best and most basic audio recording software I have come across. The software is profound for its exhaustive set of features that help users record and burn audio files. Other outstanding features include pitch shifting, noise reduction, fades and equalizers.
Pros:
Outstanding recording and output features
Easy to use
Cons:
Professional recorder requires a license
4. Audacity (Windows & Mac)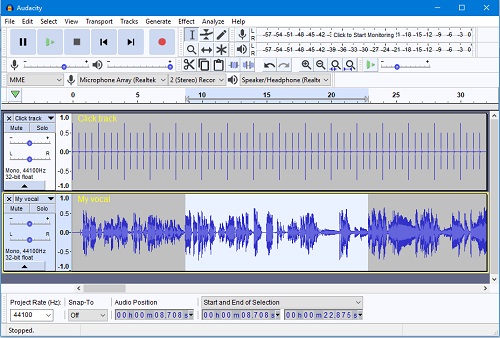 Audacity has for a long time featured as a top voice recording software since its release in 2000. It has a basic layout and therefore easy to navigate compared to other software. The simple to use user interface makes mixing and tracking easier.
Pros:
Easy user interface
Variety of quality editing effects
Cons:
Mixing may be difficult due to its "destructive editing" nature
5. VirtualDJ (Windows & Mac)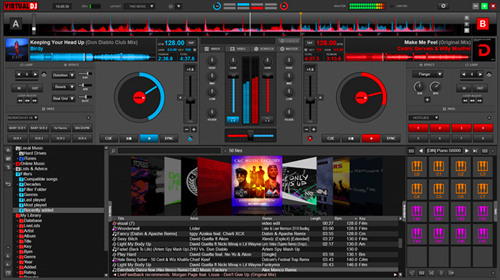 Well, if you are aspiring to be a DJ in the near future, then this is the software to go for. VirtualDJ has been in the market for over two decades. The software allows user to record and mix audio files for free. Its UI is crowned to look like a traditional DJ deck and hence making it easy to use. The mixings part is the most amazing part its where you to spin and scratch two records.
Pros:
Friendly user interface
Easy to merge audio tracks
Cons:
Free version cannot broadcast
Hard to learn all the knobs and controls
6. Reaper (Windows & Mac)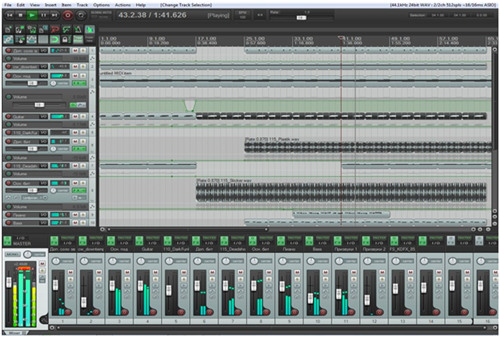 Reaper is simple audio recording and editing software with a simple user interface favorable for new users as well as professionals. When using the program it is possible to control the audio features such as stereo, surround sound, pitch shift effects, and cross-fade among other interesting features.
Pros:
Supports a lot of media formats
The program is very stable
7. Ocenaudio (Windows, Mac & Linux)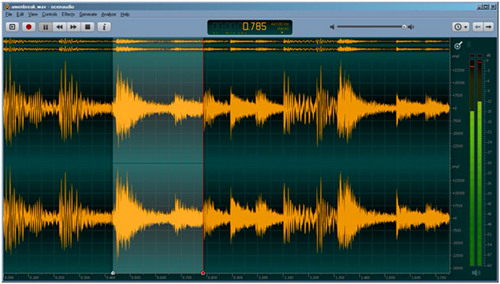 Ocenaudio is great recording and editing software currently available for you. It is a host over 30 band equalizer effects, chorus, and multiple filters are tailored to make sure that get the best audio output sounds. Besides, supports quite a number of audio formats including MP3, WAV, and AIFF to mention.
Pros:
Easy to operate
Powerful for everyday audio editing
8. Traverso (Windows & Mac)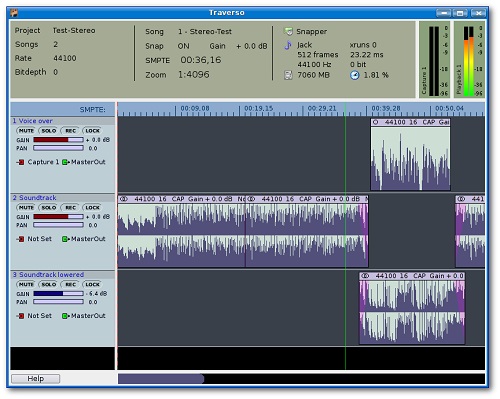 Traverso is free audio recording software for Mac and Windows PC. It is light weight software that offers user with common recording and editing features without compromising the quality of the audio files and also lock-less real time audio processing. You can easily add or remove plugin effects while recording.
Pros:
Has easy and effective recording abilities
UI is easy master
Cons:
Lacks multi-track recording capabilities
Beginners may face challenges mastering all the features
9. Ardour (Windows, Mac & Linux)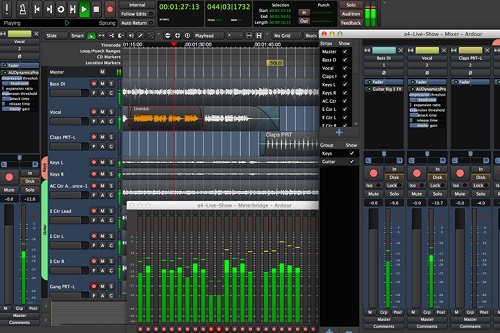 Although the software was initially designed for Linux users, Ardour now feature as one the top 10 audio recording software for Windows and Mac. It is a multi-track recording software with both destructive and nondestructive recording options. Besides, it allows for third party software installation.
Pros:
Has highly versatile multi-track recording features
Intuitive UI
Cons:
Lacks inbuilt built-in effects for audio editing
10. LMMS (Windows, Mac & Linux)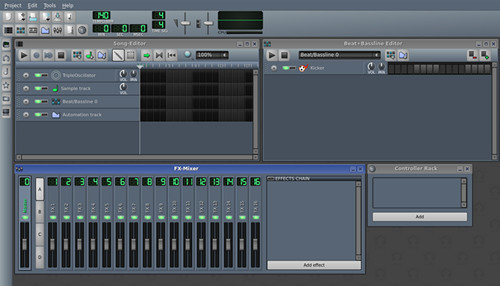 LMMS is a free digital audio workstation available for Windows, Mac and Linux laptops/PCs. It is certainly of the best audio recording software in market today with amazing features which include fine tune patterns and melodies using Piano Roll Editor, Note playback via MIDI or keyboard typing, amazing plugins and loop effects.
Pros:
It is free and open-source
Friendly UI and hence easy to use
Amazing features with SoundFont support
Cons:
Limited plugin-in compatibility
Few instruments available
Conclusion
Our top 10 audio recording software consist of both free and premium software all of which will provide you with memorable audio recording experience as well as outstanding sound quality for you songs. You can try them and pick the best you like. If you're looking for a cost-effective tool, you can take TunesKit Audio Capture into account as it features many powerful features in a lower price, including multi-track lossless recording, editing output quality, fulfilling ID3 tags automatically, splitting or merging recorded tracks, etc.

Nick Orin is a review writer, software geek and Mac OS enthusiast. He spends all his free time in searching useful software and gadgets to share with others.