15 Best Audio Recording Software for Mac and PC
Updated by Nick Orin on Oct 26, 2022 2:00 PM • Category:
Record Audio
8 mins read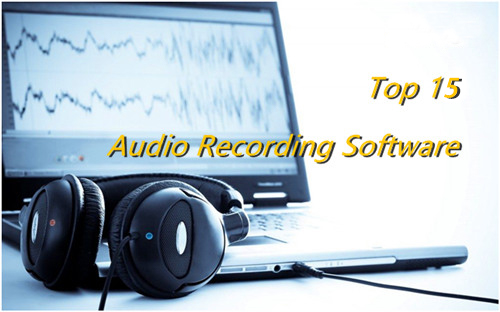 There is no denying that a significant number of people around the world are big fans of music. Music has evolved and it is now not just about the content, but the quality of the sound, the beat, and the tempo of the music. To achieve this, it all starts with the use of the right audio recording software.
Well, with the vast array of creations from both established and young developers, coming up with the right choice of recording program isn't always easy. It requires in-depth research and experience, especially for young composers and musicians. Don't worry about it! We've done the research for you. This article will provide you with the top 15 audio recording software for Mac and PC. Here we go!
Part 1. Best Audio Recording Software for Mac and PC
1. TunesKit Audio Capture (Windows & Mac)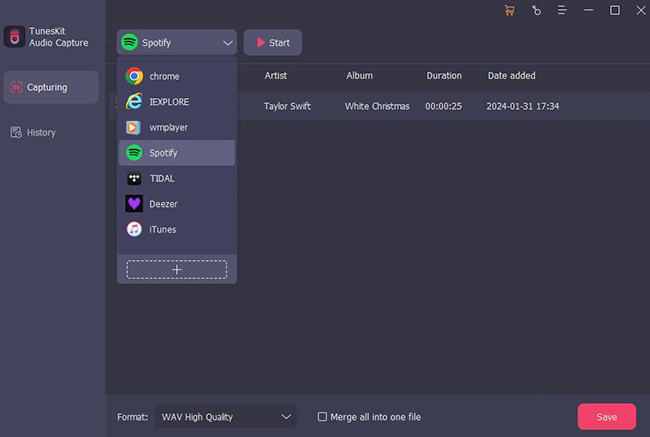 TunesKit Audio Capture is a leading audio recording software with the ability to grab audio from all kinds of sources. You can also consider it the best audio recording software for YouTube, due to its ability to record lossless streaming audio online. It runs on both Windows and Mac OS, and you can simultaneously record audio files from different running programs and save the separately without a mix-up. It also supports a wide range of audio formats as well as output formats, including MP3, AAC, FLAC, etc., making it a favorite for many. And its built-in audio editor endows audio trimming and ID3 tags editing. Download and follow the guide below to enjoy.
Step 1

Set up TunesKit Audio Capture

Start the program.TunesKit window will show up with certain apps for example, chrome, wmplayer, etc. In the event that your preferred app does not appear, click on the "+" tab to look for your program. You can then proceed to set the capture parameters by click on the 'Format' tab and making adjustment on the preferred output format and sound qualities.
Step 2

Capture the streaming sound

Use you preferred media player to play music. It is possible capture several tracks from different media playing programs.
Step 3

Edit recorded audios

Click on 'Edit' to flex the audio length by sliding the time bar. And then proceed to click 'Save' to save the audio file. The output file will can be found on the history folder.

See Full Guide: How to Capture Audio with TunesKit Audio Capture
2. PreSonus Capture (Windows & Mac)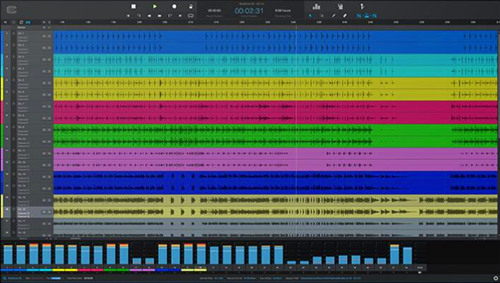 PreSonus is the fast and best music recording software for Windows 10 and Mac and has the ability to record live music in one click. It is not only voice recording software but also professional audio editing software. Purpose-built for audio creation, it is instantly controllable and provides all the capabilities you need to keep your live multitrack recordings flawlessly. The software is a dream for most DAW users. It houses a range of professional recording tools that guarantee high-quality music output.
3. RecordPad Sound Recorder (Windows, Mac, Linux & Android)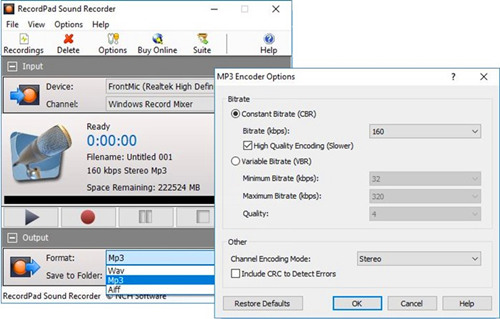 RecordPad Sound Recorder is one of the lightweight and most basic sound recording software for Mac and PC that we have come across. Beginners can easily get to grips with it, and professionals will be pleased with its diverse range of features. The software is profound for its exhaustive set of features that help users record and burn audio files in high quality. Other outstanding features include pitch shifting, noise reduction, fades, and equalizers.
4. Audacity (Windows, Mac & Linux)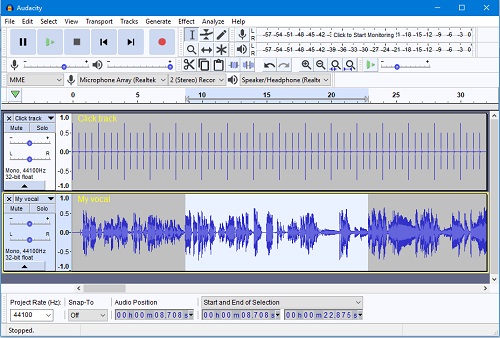 When it comes to the free audio recording software for PC and Mac, people always mention Audacity. This free and open-source program has for a long time featured as a top voice recording software since its release in 2000. It has a basic layout and is, therefore, easy to navigate compared to other software, which is suitable for beginners. The simple-to-use user interface makes mixing and tracking easier. It supports system audio recording and external voice capturing, but you have to bear the average audio output quality.
5. VirtualDJ (Windows & Mac)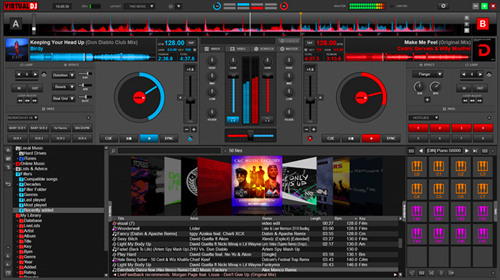 Well, if you are aspiring to be a DJ in the near future, then this is the software to go for. VirtualDJ has been in the market for over two decades. This free voice recording software for Mac and PC allows users to record and mix audio files for free. Its UI is crowned to look like a traditional DJ deck and hence making it easy to use. In addition to basic sound recording, it has various functions that can be applied to the production of DJ songs. And the mixing part is the most amazing part it's where you spin and scratch two records.
6. Reaper (Windows & Mac)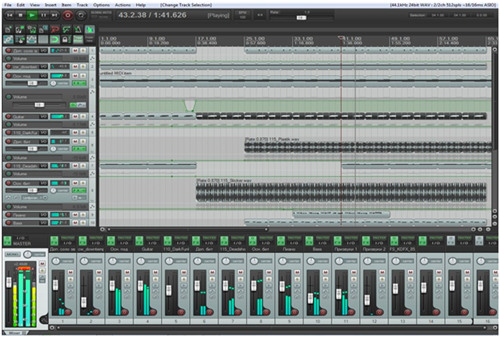 Another vocal recording software for Mac and PC worth trying is Reaper, which is simple audio recording and editing software with a simple user interface favorable for new users as well as professionals. Despite its old-looking interface and lack of innovation, it does everything you can think of for basic audio recording. When using the program, it is possible to control the audio features such as stereo, surround sound, pitch shift effects, and cross-fade, among other interesting features.
7. Ocenaudio (Windows, Mac & Linux)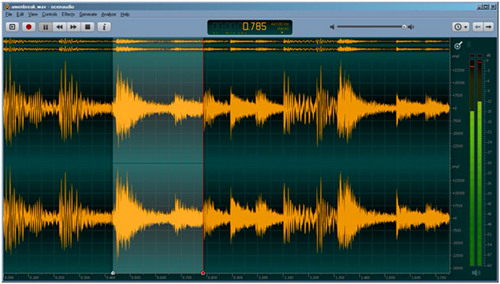 Ocenaudio is an excellent cross-platform recording and editing software currently available for Windows, Mac, and Linux. It includes over 30 band EQ effects, a chorus, and multiple filters to ensure the best possible audio output sound, so you don't have to worry about not being able to edit accurately after finishing the recording. In addition, a considerable number of audio formats are supported, including iMP3, WAV, AIFF, and more, for seamless playback on most devices.
8. Traverso (Windows & Mac)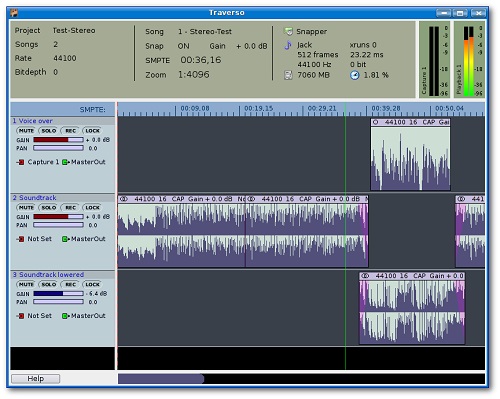 Traverso is free audio recording software for Mac and Windows PC. It is a lightweight software that provides users with common audio recording and editing capabilities without compromising on audio file quality and lock-free real-time audio processing and output to the popular MP3, AAC, and other formats. You can easily add or remove plug-in effects while recording and editing them with the tools and effects.
9. Ardour (Windows, Mac & Linux)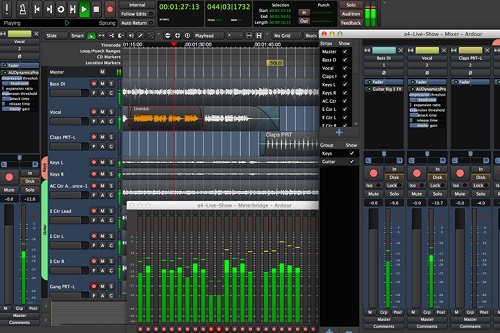 Although the software was originally designed for Linux users, Ardor has now become one of the most tried and tested audio recording software for Windows and Mac. It is multi-track recording software with destructive and non-destructive recording options, so you are able to record multiple tracks and trim, merge, copy and further manipulate them. It also allows the installation of third-party software and plug-ins to make the recorded audio even more sophisticated.
10. LMMS (Windows, Mac & Linux)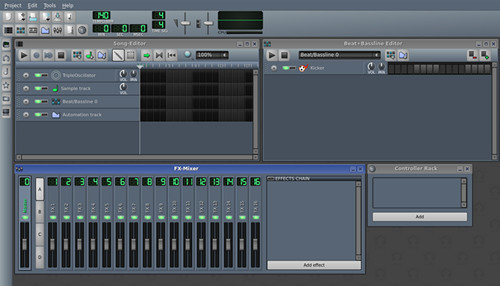 LMMS is a free and open-source digital audio workstation for Windows, Mac, and Linux laptops/PCs. It is undoubtedly one of the best audio recording software available on the market today, with amazing editing features beyond the most basic audio recording, including fine-tuning patterns and melodies using the piano roll-up editor, note playback via MIDI or keyboard input, amazing plug-ins, and loop effects, which is an often used for the composers.
11. Adobe Audition (Windows & Mac)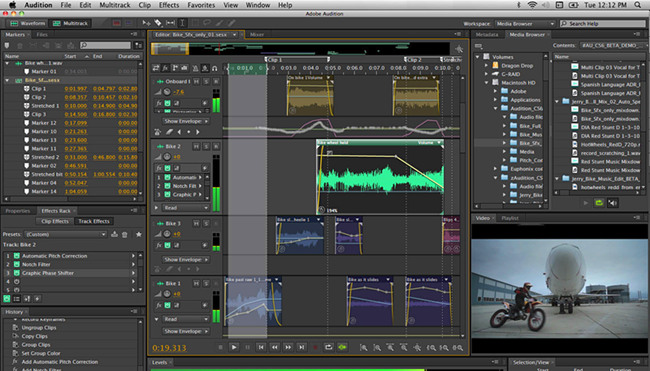 As a member of the Adobe family, Audition is renowned in the professional field for its powerful audio editing capabilities. And it's also an all-around audio recording software that works perfectly for recording all kinds of sounds on Mac and PC.
In fact, audio recording is only one of its diverse features, with support for audio parsing, mixing, tuning, and more, making it a valuable workstation for music composers. At the same time, you can also use the audio files created with this software for further manipulation in other Adobe software without having to convert them. But for the newcomer, it will take some time and effort to learn how to use the tool.
12. QuickTime Player (Mac)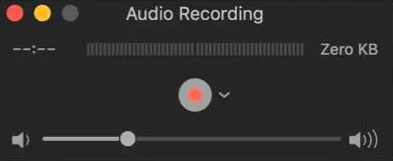 Most of the audio recording software listed above may not be easy for novices to get started with. If you just want to simply record your voice and don't need any other complicated editing features, there is just the right pre-installed voice recording software for Mac, namely QuickTime Player.
Most people will use this tool to play media files, but it actually supports voice recording as well. All you need to do is connect your Mac with a headset or microphone, then launch the program and select the voice recording option to record your voice. However, as it's not specifically designed for recording, it doesn't have editing capabilities nor does it support multiple output formats.
13. Audio Hijiack (Mac)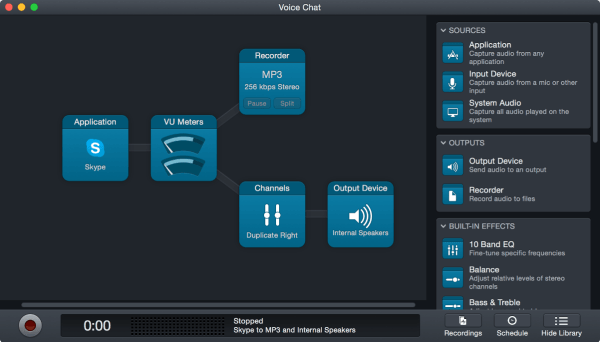 Audio Hijack is also an exclusive audio recording software for Mac, with a user-friendly interface and features. You can also think of it as one of the best streaming audio recording software for YouTube, Spotify, Pandora, and other platforms, as it supports high-quality recording from streaming music services. It is worth mentioning that it can automatically detect mutes and stop recording, split, or delete silent parts according to the user's preset. Also, it has simple editing tools, so you can trim and cut the recorded audio. Inevitably, the free version has many limitations and you would be better off unlocking the full version to enjoy many of its features.
14. Free Sound Recorder (Windows & Mac)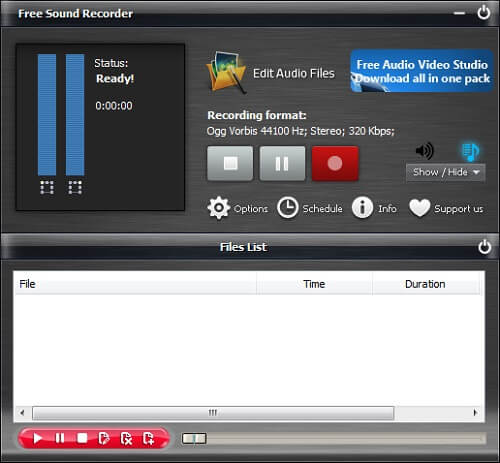 If you are looking for a free and easy-to-use audio recording software for Mac and PC, then we would like to propose you the Free Sound Recorder, a free sound recording software for Windows and Mac that can record any sound, such as music, conference calls, game sounds, etc. It doesn't have a fussy interface like other professional tools. And you just click on the record button and can instantly be in recording mode and export the recorded audio in MP3, WMA, WAV, or OGG format. Although you need to know that this software cannot edit audio, it does come with an additional editor (which you need to install manually).
15. Apowersoft Free Online Audio Recorder (Web-based)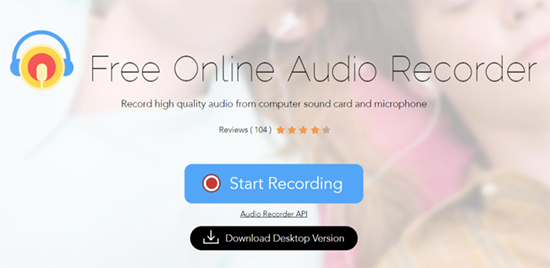 The last tool we are going to describe is different from the formers, which is called Apowersoft Free Online Audio Recorder. Recording audio online means you don't have to download any programs or pay any fees, which is great for those who are not willing to install additional software to the desktop. It features basic recording options, such as recording the system audio or microphone voice separately, or both at the same time. However, its functionality is limited, as you can't save more than 30 minutes of the recorded audio, trim the audio before exporting, or can you choose the desired output format.
Part 2. FAQs about Audio Recording Software
Q1: How can I record audio on my Mac for free?
To record audio for free on your Mac, QuickTime Player or TunesKit Audio Capture is preferred. The former allows recording voice from a headset and microphone, while the latter can capture streaming music from online websites and desktop clients.
Q2: What is the best music recording software for Windows?
It depends on your needs. We recommend using TunesKit Audio Capture to record lossless music from a streaming music service or desktop program. If you aim to record external sounds, please refer to the other tools in the above section.
Q3: Which free software is best for voice recording?
Audacity is one of the best sound recorders available on Windows, Mac, and Linux, which suits for recording external voices. And the other options above are worth referring to in case you want further edits.
Part 3. Conclusion
This list of 15 audio recording software for Mac or Windows PC includes both free and premium programs that will provide you with an unforgettable recording experience. All of them can be tried, and you can choose the one you prefer most.
If you're looking for a cost-effective tool, you might consider TunesKit Audio Capture, as it offers many powerful features at a low price, including multi-track audio lossless recording, various output format or quality options, auto-complete ID3 tagging, merging or trimming the recorded tracks, and more!