How to Download TubeChop to MP3
Posted by Adam Gorden on Nov 2, 2020 10:15 AM • Category:
Record Audio
4 mins read

Video content is one of the most popular forms of content consumed by online users. Research done into this area revealed that video content offers the best ROI, according to 51% of marketing professionals. This trend has fueled the addition of new videos on video sharing platforms, especially YouTube. 500 minutes of video content are added to YouTube every minute. Along with the increase of videos on YouTube, a significant growth has also been seen in introduction of tools that allow downloading and editing YouTube videos.
TubeChop is a popular service that allows users to take a video from YouTube and cut or trim parts of the video that are not required. TubeChop is being commonly used by teachers, bloggers and others for trimming YouTube videos. Sometimes, they may also require extracting the audio from the TubeChop video. But, did you know that how to convert and download TubeChop video to MP3? There are several TubeChop to MP3 tools available online. And today I'll introduce one of the best methods in 2020.
1. How to Convert TubeChop to MP3
Tool You'll Need: TunesKit Audio Capture
TunesKit Audio Capture is a professional audio recording solution loaded with a lot of feautures. This all-purpose streaming audio capture tool is an offline tool that needs to be installed on the computer to record all types of sounds. It comes with a multi-track grabber that allows capturing multiple tracks simultaneously. Users can later merge all the recorded tracks into a single file. The tool also comes with specialized audio editor to set preferences for the quality of recorded audio.
TunesKit Audio Capture can be easily used to convert TubeChop videos to MP3 and download them on the computer. It has been successfully used to capture and extract audio tracks from videos present on TubeChop.

TunesKit Audio Capture Key Features
Extract MP3 tracks from TubeChop videos
Besides MP3, it also supports AAC, FLAC, WAV, M4A, and M4B
Keep 100% lossless audio quality and ID3 tags info
Easy to operate with a clear interface
Try It Free
600,000+ Downloads
Try It Free
600,000+ Downloads
Tutorial: Download TubeChop Videos to MP3 with TunesKit
Here are the steps to download TubeChop videos to MP3 using TunesKit Audio Capture.
Step 1: First you need to download and install the TunesKit software on your Windows device. After installation, launch the TunesKit Audio Capture using any target programs like IE, Chrome, WMP etc. Use the browser option when you want to capture audio from TubeChop.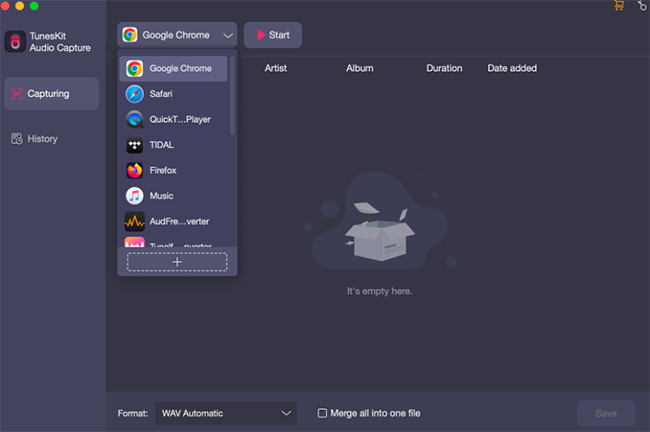 Step 2: Next set the capture parameters like format, codec, bit rate, sample rate and more.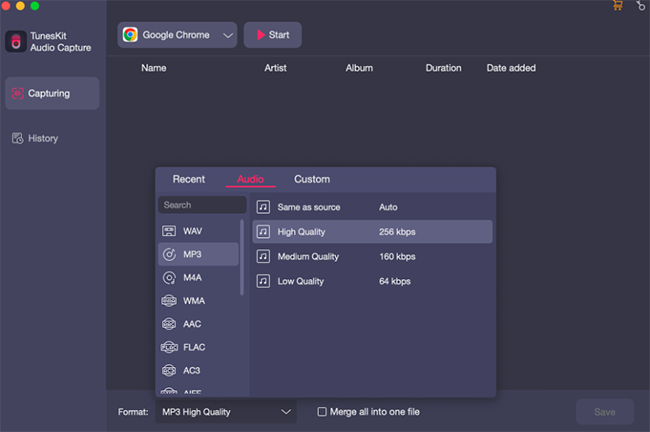 Step 3: To start capturing audio tracks, locate the video in TubeChop. Once you locate the video or audio you want to capture and begin to play the track. You will find that a new recording has been created in the capture panel of the tool. To end recording, stop playing the track and close that media program.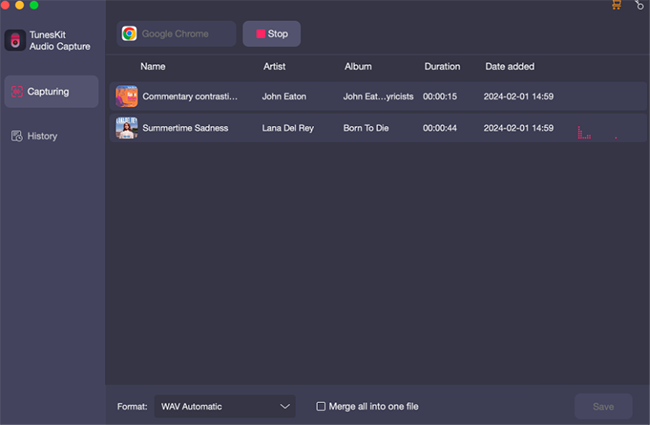 Note: It is possible to capture different tracks at the same time with the smart capture feature of the tool. All the recordings will be saved independently.
Step 4: Once the tracks have been saved, you can further merge or split the recorded tracks as per your need. Click the Save button to export the recorded MP3 file to a folder you have set before.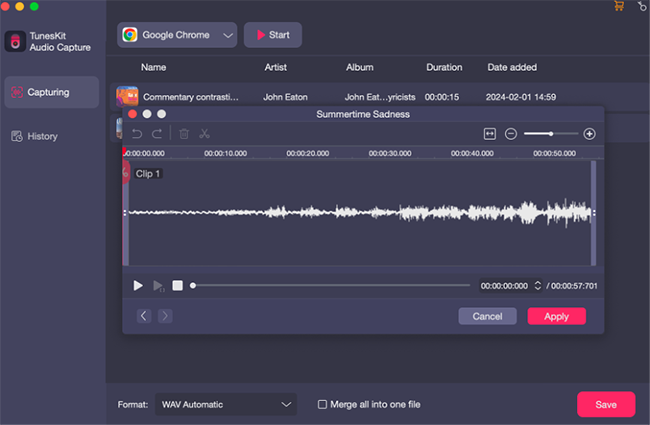 How to Use TubeChop for Cutting YouTube Videos
TubeChop is a free web tool that allows users to cut parts of a YouTube video; so users can easily let their viewers see the important parts of a video without going through the entire clip. Using this tool is really easy, and cutting a video merely takes few minutes. Here are the steps to cut videos using TubeChop –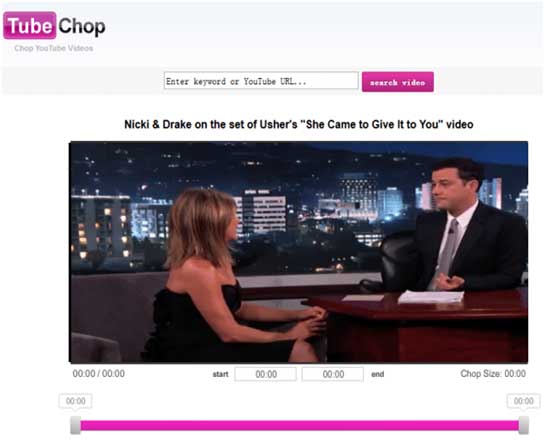 Step 1: Go to TubeChop website – www.tubechop.com.
Step 2: Once the website loads, you will be able to view a field that says enter keyword or YouTube URL on the top.
Step 3: Enter the YouTube URL of the video you want to cut in the field and click on search.
Step 4: Once the video is located, select and cut interesting parts of the video that you need.
Directly share the cut video with your friends using the link. You can also share the video directly on different sites like Facebook, StumbleUpon and more. To add the video on some other website or a PPT, use the embed code. It is also possible to directly go the Original video by clicking on the Original Video part on bottom of the page.
Conclusion
Sometimes, when the videos are too long, you may not be interested in the entire length of video. You may just need few parts of the video to show to someone else. Instead of making them sit and watch the whole video, you can easily cut the required portion of that YouTube video using TubeChop. It is further possible to convert TubeChop video to MP3 using tools like TunesKit Audio Capture. Find interesting videos on YouTube, cut the interesting parts and enjoy audio sharing with TunesKit!