How to Transfer YouTube Music to Apple Music
Posted by Adam Gorden on Sep 30, 2020 5:45 PM • Category:
Record Audio
5 mins read
"Have a tonne of playlists on YouTube Music, switched to AM music recently as the subscription with AM premium made more sense to me. Is that possible way to transfer my library? Can you add YouTube Music to Apple Music? Any advice is appreciated." – Marmo from Reddit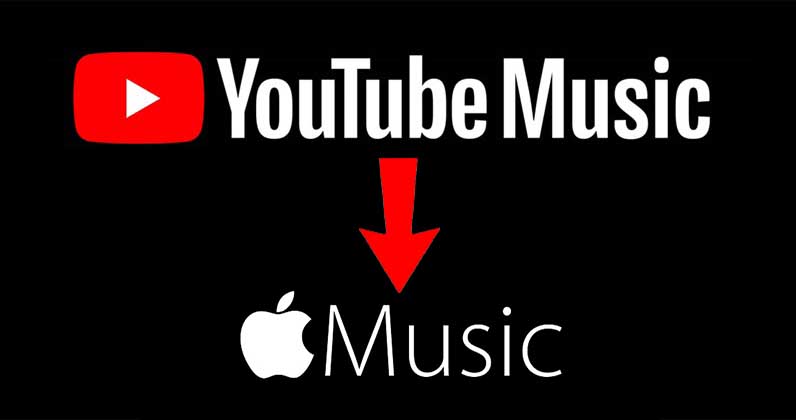 YouTube Music is a famous music streaming service developed by YouTube. It allows users to browse the songs and music videos through genres, playlists and recommendations. The free version gives you a chance to listen to music on YouTube, but you may feel irritable when the ads come out from time to time.
Sometimes, you may find it difficult to find some songs, so you use Apple Music to hear your favorite tunes. Apple Music is another well-known music streaming service provided by Apple. You can easily stream music to the on-demand device or listen to the existing curated playlists on the authorized devices.
If you're planning to add YouTube Music to Apple Music library, you can keep on reading this article. Here we're going to introduce an easy method to help you do that.
Part 1. How to Download YouTube Music with TunesKit
To transfer YouTube Music to Apple Music, first you have to download songs from YouTube music to your computer. At this time, what you need is a powerful streaming music downloader - TunesKit Audio Capture.
In other words, you can use TunesKit Audio Capture to download songs from YouTube Music and then later add them to Apple Music. You can convert them to MP3 as well to enjoy music offline. It is a great application when it comes to recording songs because it has so many features that you will not find anywhere else.
TunesKit not only captures the music but it allows us to modify the quality of the audio to our choice. It has more than one feature, which will please your musical ears. It can record more than one track at a time and will label them separately as well, so you don't have to worry about naming the recorded tunes. All you have to do is sit back and relax when you have TunesKit to help.
So let's get started with - How can you download YouTube Music using TunesKit Audio Capture? It's just as simple as it looks:
First Step:
Go on TunesKit Audio Capture and download the launcher for your laptop or computer.
Second Step:
Run the Application > Allow it to download it on the desktop > Afterwhich you will have to agree to the Terms and select the location to install.
Third Step:
You can also add it, as a desktop shortcut so the application will be easy for you to access. > Install the Application, after which you will be brought back on the site.
Fourth Step:
After launching it will open on the desktop and you will see many programs on the screen. > Select any one to launch the program. And if your preferred program is not there then you can add it by clicking on '+'.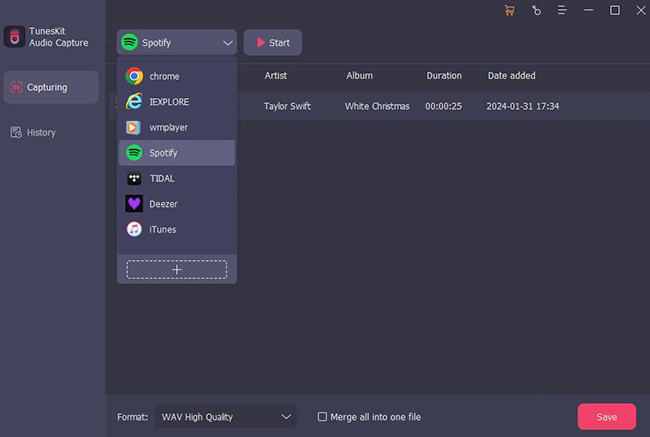 Fifth Step:
Down below there is a format button, where you can choose from different format outputs in a pop up window. You can personalize the audio quality and alter it to your choice. Later you can get it done under the tab.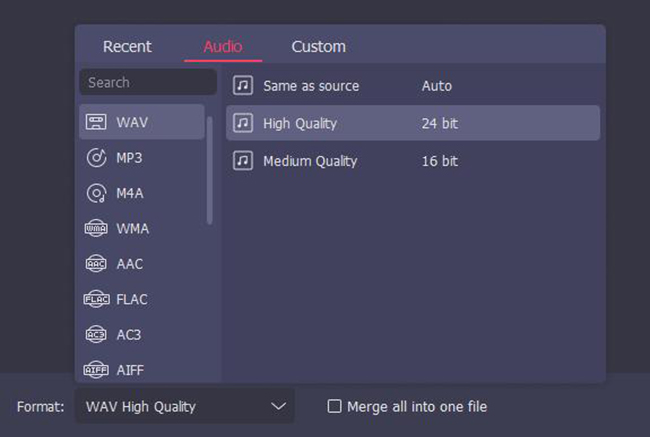 Sixth Step:
Select the Chrome icon > go on YouTube Music > play the song that you want to download > TunesKit will record the song while it plays.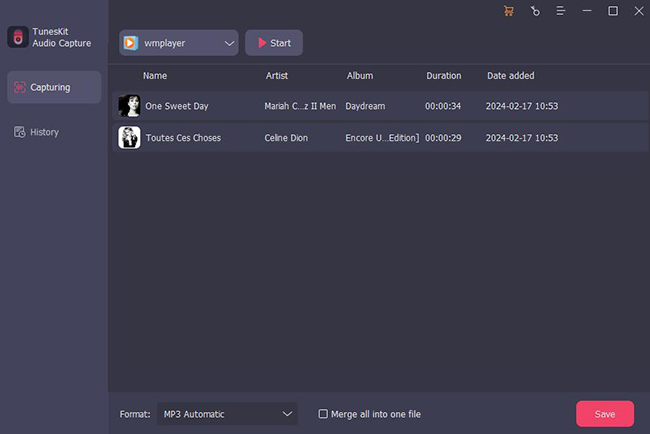 Seventh Step:
Now after you have finished recording, the song will name itself and you can trim and edit the recorded clip. > You can also check the details of the song in the tag section and save it.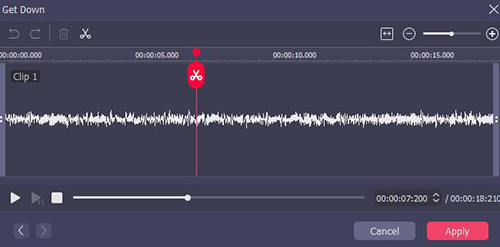 Eighth Step:
You will be bought back on the previous page. > Select the Converted option > there you will find your songs in the list.
Now, you can download all the songs that you want from YouTube Music just by following these simple steps.
Part 2. How to Add YouTube Music to Apple Music
After using TunesKit Audio Capture to download YouTube Music to Apple Music, now it's time to learn how to achieve that. Transferring songs requires a third- party-source and the best application is iTunes. All you have to do is just adding the converted MP3 files to your iTunes library and then you can play them on Apple Music.
The steps are as follows:
1. Open iTunes on your laptop:
Once you open iTunes on your laptop and click on Songs option on the left side. > Search the Chrome folder on your laptop to get your music files. > Select your music files from the folder and Drag & Drop them in iTunes. Or you can select Add Files option and directly select your music files from the folder where they are saved it and add them.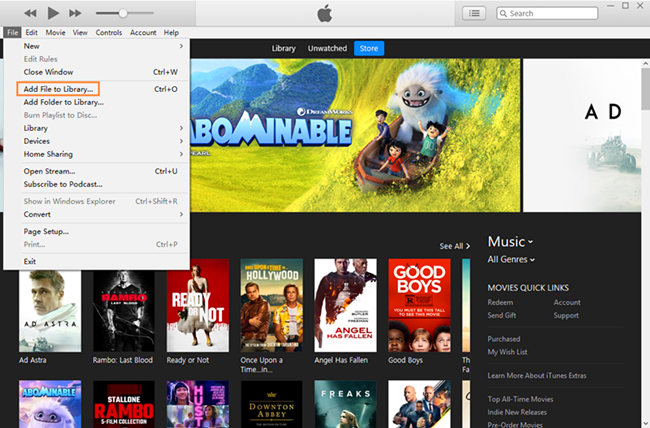 2. Enjoy the music on your iPhone:
Plug your phone to the laptop. > Click on the phone option above on the left side > Check the Options right at the end > check 'manually manage music and videos' and uncheck the 'automatically sync when iPhone is connected.' > Now select the songs from the library and drag it to the Devices section on the left side. You will find your songs in the playlist.
Enjoy listening to the songs that you downloaded anytime on Apple music without any data usage.
Bonus Tip: How to Convert Apple Music to MP3 for Offline Listening
Now you know how to convert YouTube Music to Apple Music after reading the instructions above. Have you ever wondered converting Apple Music to MP3 files, so that you can listen to them on any device or player offline?
TunesKit Audio Converter is the right tool for you. It's well-designed to help you make the most of your purchased Apple Music songs. It not only helps you convert songs to MP3, WAV, FALC, AAC, M4A and M4B, but also has the feature that aids in keeping the quality of the audio from compressing.
Besides Apple Music, it can also be used to convert all kinds of other audio files like songs and audiobooks from iTunes or audio books from Audible.com, etc. Now, it would be really amazing if you could listen to all your songs without any worries of the internet. TunesKit Audio Converter allows you to download all your music offline, so that you can enjoy listening to your music without any disturbance. If you're interesting in it, you can read this post to learn more!
Part 3: Conclusion
TunesKit Audio Capture is an application used to listen to quality music, which you prefer to listen without any problems. You can download music, as well as transfer it from YouTube Music to Apple Music. Along with that, you can also enjoy the captured songs on Apple Music with TunesKit.
It works both on Windows as well as Mac processors, so you will have no troubles in searching for different options, when you can find everything in one place. Converting, transferring, adding music from one source to another; adjusting the quality to your liking is all available only at TunesKit.