10 Best Free YouTube Video Downloaders for 2022
Updated by Nick Orin on Nov 9, 2022 14:00 PM • Category:
Record Video
11 mins read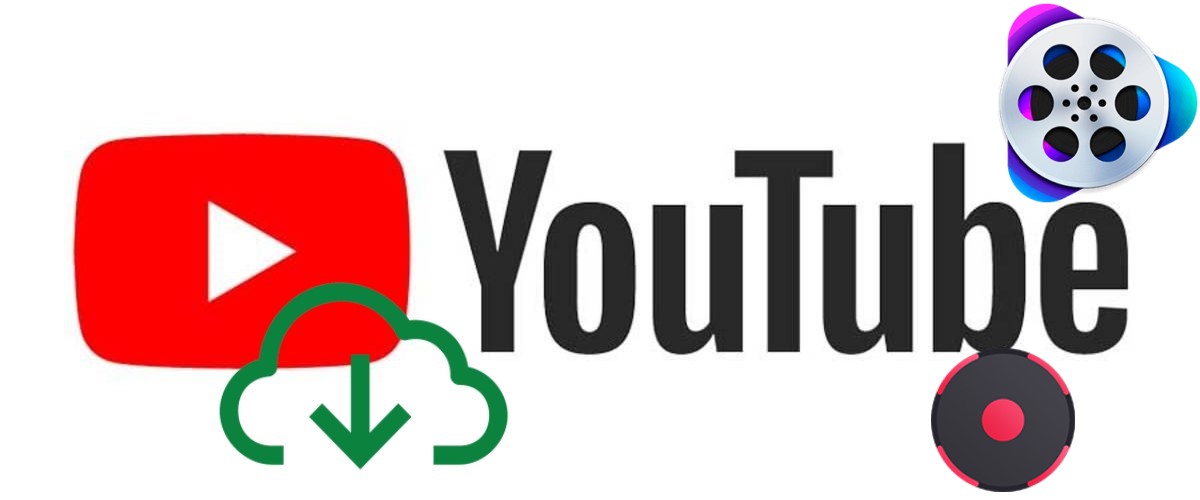 When it comes to accessing content online, YouTube is among the streaming services that is packed with millions of videos for access. The only drawback is the constant advertisements. That aside, what beats the odds is the ability to download your favorite videos for offline, personal use. That again leaves us with the question of which are the best YouTube video downloading and saving tools.
Well, most people use the YouTube platform as a tutorial platform while others deem it for marketing purposes. These are important aspects that YouTubers wish to keep memorable. And that calls for grabbing the best YouTube video downloaders for you. You can use them for recording or auto-downloading via the video URL. Here they are!
5 Best YouTube Video Downloaders Online Free
First thing first. You may want to find an online YouTube video downloader that can help you save that media on high-quality without downloading any software or applications. Right here, online programs are available for downloading a YouTube video for free. When it comes to the resolutions, 144p, 240p, 720p, 1080p, and even 2160p can be your output options. Let's dive into this part.
Top 1. Btclod
With Btclod, you can freely download YouTube videos in different resolutions like 360p and 720p. It is allowed to choose to download the YouTube video at .mp4 or .webm format in the downloading panel. This panel is separated into MP3, Audio, Video, GIF, and Thumbnail. In other words, you can save the file on various channels based on specific requirements.
User Guides: Go to open up Btclod on internet. Choose the mode for downloading YouTube videos online or just save the background MP3 audio file online. Then, copy the video URL and paste it under the blank box. After analyzing, you see multiple downloading options to choose from. It allows users to play the media with the performance monitor. For advanced features, you need to register and get a licensed account.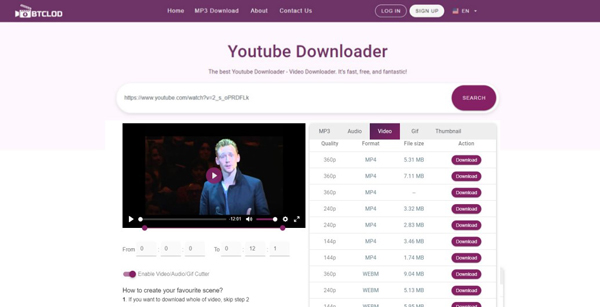 Pros
It supports various formats and operating systems
A very friendly online YouTube video downloader
Save the imported videos at the audio, video, or GIF
Multi-language platform
High-quality output resolutions
Cons
You can't download videos in batch
Advertisements on the free version
Top 2. Y2mate
Y2mate is an online video downloader for YouTube that is very simple to use. It will download YouTube videos and convert them to MP4 without losing the original quality. One of the advantages of Y2mate is that it is no need to log in for unlocking premium features. That is to say, you can use it for completely free. Unlimited conversion and video download are at your disposal.
User Guides: With that said, you won't be asked to register. Just find this website on your browser. You can choose "YouTube to MP4" or "YouTube to MP3". To be detailed, if you select "YouTube to MP3", this program is about to export your YouTube video at .mp3 format without pictures. Next up, paste the URL, and go to the downloading plate, choose the target such as "Video - 360(.mp4) - Download".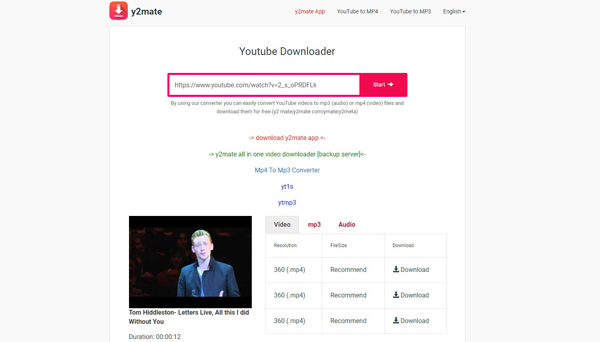 Pros
You can download videos in various resolutions from 144p to 1080p
It is easy to use for beginners
Download YouTube video MP3
No registeration
Endless savings and conversions
Cons
It doesn't support batch downloads
Depends highly on the internet when downloading
Top 3. YT1s
YT1s is a very basic but powerful online free YouTube downloader. It works fast, enabling you to download YouTube playlists in one go, supporting users to download YouTube videos for 480p, 720p, and 1080p. This website is safe and clean due to the intense supervision based on the security database. Also, it supports saving the converted files to DropBox or Google Drive.
User Guides: Visit YT1s.mobi and choose the ready-to-use file project according to your needs. It is available to choose "YouTube Downloader", "YouTube to MP3", "YouTube to MP4", or "Facebook Downloader". In other words, you can download Facebook videos as well. Later, paste or search the YouTube link, and download the file online.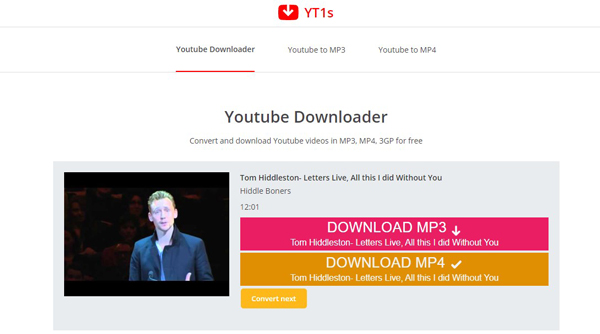 Pros
Straightforward user interface
You can download videos from additional platforms like Dailymotion and Instagram, among others
Save files to Google Drive or Dropbox
MP3, WMA, FLV, OGG, and MP4
Unlimited use & free of cost
Cons
It doesn't support many output formats
No channel for GIF outputs
Top 4. SnapSave
SnapSave is a YouTube video MP3 downloader that doubles up as a powerful and practical converter. Use it to convert the YouTube downloaded videos to any format within a short time. Compared to other YouTube downloaders, you have fewer output options in the media downloading formats. But there is no advertisement on the webpages. When exporting, you will see the file size.
User Guides: Navigate to the SnapSave website. If you won't share the video on social platforms, it is no need to register. Paster the YouTube video link under the dialogue and click "Download". Unfold the downloading options, choose the video or audio format, and press "Get Link".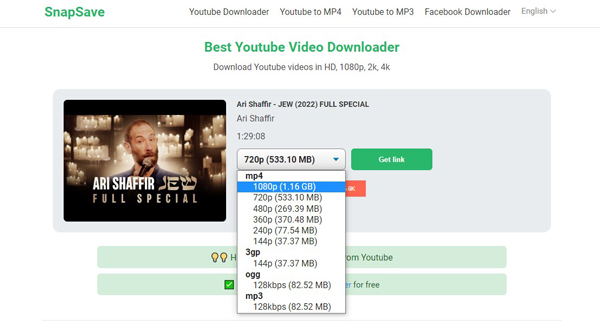 Pros
It works with popular streaming sites like Vimeo, Facebook, and Instagram
Use it to carry out basic edits to your video
Also, use it to burn video to DVD
1080, 2k, and 4K qualities
Swith into the language you're using
Cons
Limited video/audio/GIF file formats support
It cannot store a video to Google Drive or Dropbox
Top 5. Online Downloader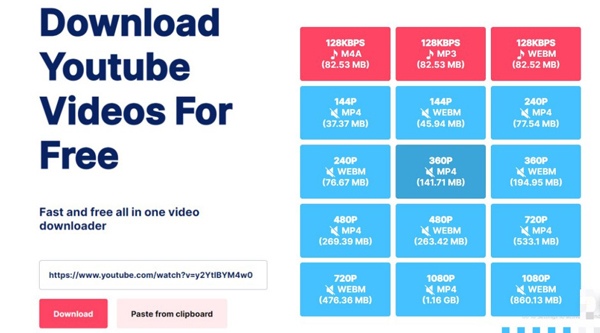 If you want to compete against time then look no further than Online Downloader. This tool works across various devices and operating systems and is capable of converting YouTube videos easily with high quality. You don't have to be glued to the screen to download YouTube videos. Simply set it up and it will run to completion without further instructions.
User Guides: Use the website of Online Downloader. It is free to use and has a few advertisements. Add the video URL to the interface, or paste it from the clipboard, then hit "Download". Scroll down you will see output options. Each of them shows many details, such as the file size, media type, and resolution.
Pros
It allows batch conversions, making it work faster
Set it up and leave it to run to completion
MP4 and WebM formats are contained
Mute the background MP3 vidoe
On-screen URL addition
Cons
The free version leaves a watermark on your videos
No channel to preview the effect
5 Best Free YouTube Video Downloaders for Mac & Windows
Why use a YouTube video downloader on Mac or Windows systems? Video downloading software generally support offline work and bath conversion process. Compared to the single track provided online, users are capable of editing the downloaded YouTube video with more tools like audio extraction and file size compression.
Top 1. YouTube Downloader Pro
This best free YouTube video downloader (also has paid version) for windows 10 is superb for faster downloads and conversion to your Windows PC. It is pretty easy to use and encompasses highly customizable features. Freely use it to download YouTube videos in 4K, QHD, 2K, 1080P, and other quality resolutions. It is also an Instagram and Facebook video download.
User Guides: Download YouTube Downloader Pro on Mac or Windows. Go to the panel of "Download", find "+ Paste URL" on the interface, and click "Start" when it is ready. For downloading multiple YouTube videos at once, add more URLs by "Add URL" on the menu. It is allowed to find the file in the folder or preview the video.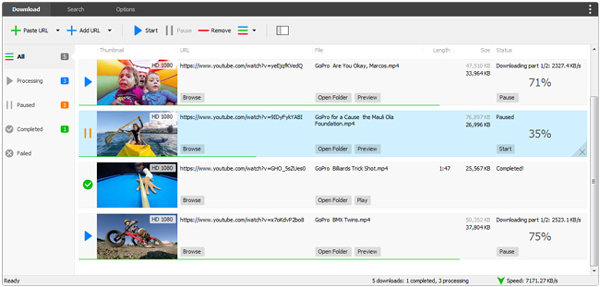 Pros
Increased YouTube download speed of up to 500%
You can download your videos in batch
User intuitive interface
Preview the video or download it directly
Rrdered user timeline
Cons
Only operate on Windows system
It lacks basic tools to edit the downloaded YouTube video
Top 2. YTD Video Downloader
This is another best free YouTube video downloader for PC Windows 10 for good quality output. YTD offers the exact video quality as the original one. However, you can't download several videos with this tool – just one at a time. It has modes for downloading or converting media on the timeline.
User Guides: YTD Video Downloader has no preview window. You'd better download the latest version of this software to prevent some bugs. Then go to "Download" and add your files to the interface. Click "Play" for further downloading. The files will be automatically downloaded and saved.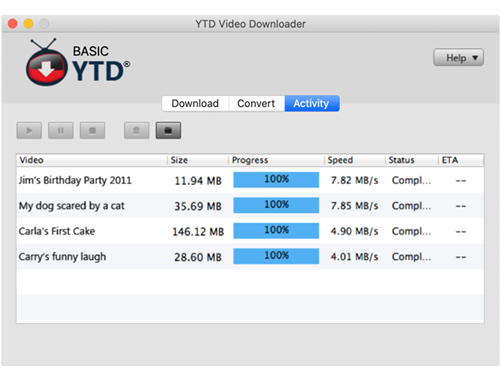 Pros
You can download videos in full 1080P on your PC
It has a simple user interface
Supports various output formats
The demo version has no expiry
Basic video conversion functions
Cons
It cannot download videos in batches
This software should update a performance monitor
Top 3. 4K Video Downloader
4K Video Downloader is a tool for downloading YouTube videos easily that can be used on Windows PC, macOS, and Linux. Apart from downloading YouTube videos, the 4K Video Downloader lets you freely grab videos from other platforms like Facebook and Vimeo. This app also supports various output formats like DivX, WMV, M4A, MOV, MP4, MPEG, and many more.
User Guides: Get 4K Video Downloader to your computer. When entering the interface, find "+ Paste Link" to upload the videos you want to download from YouTube. The timeline contains multiple files with metadata like name, duration, and file size. To discover the saving path of the YouTube video, highlight the clip and navigate to the location.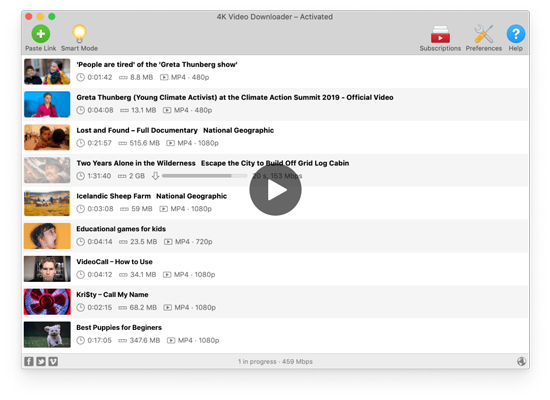 Pros
Rnables you to download simple subtitles of the video
Use it to download content from other sites like Vimeo and Facebook
It produces high-quality downloaded YouTube content
Provide many kinds of file metadata
Turn to the "Smart Mode" to efficient process
Cons
It is only available for Windows OS devices
Search and paste a YouTube video link at once
Top 4. ByClick Downloader
This best YouTube videos downloader is very easy to use - ByClick supports users to download YouTube videos with the quality they want and can download YouTube video playlists with only need some simple clicks. What makes ByClick so popular is that the user interface is lovely and offers basic steps. Beginners find it effortless to grasp in a short time.
User Guides: After downloading ByClick YouTube Video Downloader Mac or Windows, choose your video from YouTube. Other platforms are supported as well, like Facebook and Vimeo. Copy the URL address and paste it under ByClick. Click the button to launch the whole process and save your video.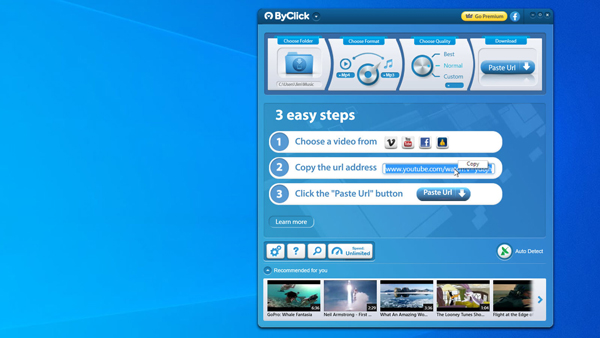 Pros
Support to download YouTube videos in different formats
Easy to download videos
Can download videos in 720p, 1080p, 4K
The interface provide basic guides
No limit to the file size you want to save
Cons
When processing large file size video, it may go to crash
For getting more downloading times, go to the premium version
Top 5. VideoProc Converter
Meet VideoProc, available on Windows and Mac, is a 4-in-1 powerful YouTube downloader for Mac and Windows. Besides being a video downloader, you can use it as a screen recorder, video editor, and DVD conversion tool. Also, it can be a YouTube playlist downloader so that can keep the music and videos in batches. One of the qualities of this software is the diverse output choices.
User Guides: VideoProc Converter is simple-to-learn and gives a free trial version for both Mac and Windows. Click "Add Video" > "Paste URL & Analyze" to upload the video. After a while, pick up the video and tap "Download Selected Videos" when you want to download it. It is permitted to set parameters of quality and bit rate.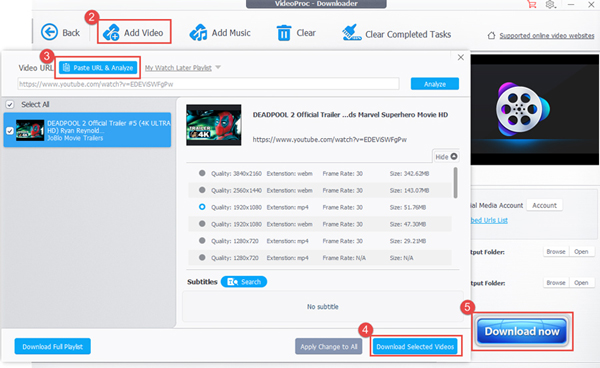 Pros
Comes with 4 powerful features
You can download multiple videos at a go
Supports the download of high-resolution videos in 4K and 8K
Add background music to a video
Search subtitles for free on a website
Cons
It requires a lot of disk storage space for installation
Only on the premium version can users import long-duration video
Which One Is The Best YouTube Video Downloader? Compare Them in a Table
Although we've already divided those recommended popular video downloaders for YouTubers into an online group and a software group. It is still easy to find that many of you cannot tell which one is more proper for you. In this case, we will compare their features and qualities of them in the following chart.
| | | | | | | | |
| --- | --- | --- | --- | --- | --- | --- | --- |
| | OS | UX | Pricing | Multiple Formats | Recording | Batch Downloading | Download YouTube MP3 |
| TunesKit Screen Recorder | Windows & Mac | Easy | $14.95/m, $29.95/y | √ | √ | √ | √ |
| Btclod | Online | Easy | $9.9/m, $99/y | √ | × | √ | √ |
| Y2mate | Online | Easy | Free | × | × | × | √ |
| YT1s | Online | Easy | Free | × | × | × | √ |
| SnapSave | Online | Medium | Free (Ads) | √ | × | × | × |
| Online Downloader | Online | Easy | Free | × | × | × | √ |
| YouTube Downloader Pro | Windows | Medium | $29.99/y | √ | × | √ | √ |
| YTD Video Downloader | Windows & Mac | Easy | $6.99 - $12.99 | √ | × | × | √ |
| 4K Video Downloader | Windows, Mac, & Linux | Medium | $10 - $65 | √ | × | √ | √ |
| ByClick Downloader | Windows | Medium | $19.99/one-time | √ | × | √ | √ |
| VideoProc Converter | Windows | Hard | $25.95 - $57.95 | √ | √ | √ | √ |
Frequently Asked Questions about YouTube Video Downloading
1. How to Choose a Proper YouTube Video Downloader
As for downloading YouTube videos, you need to take three points into account before making the decision: The software is safe, offers various output formats, and you can change a range of qualities depending on specific needs.
2. How Long Should the YouTube Video Downloading Process Take
With the highest quality output, you may need to wait longer than ever. But after practical testing, most options provided on the page require you only minutes of downloading on average. Normally, if you set the format at .mp4, then the time will be shorter than others.
3. What Is the Best Format for a YouTube Video
YouTube itself recommends users upload MP4 videos of the highest quality. The according video codec is H.264 and the audio codec is AAC-LC, with a 16:9 aspect ratio. When it comes to the resolution, YouTube even supports 4K and 8K right now.
4. Which Is the Best Way to Download YouTube Videos
Theoretically, it is suggested to use an URL-Import tool for downloading YouTube videos. But users may confront problems like file size and internet quality. Alternatively, screen recording can be a very efficient method to download YouTube videos with or without background music. And one of the advantages is you can decide which part to record and save.
An Alternative Way to Download YouTube Videos - TunesKit Screen Recorder

Downloading YouTube videos is an everyday affair. Therefore, settling for the perfect tool will save you the pain and agony of getting substandard video output. We have made it easy for you with the aforementioned tools. Better still: Compromising on quality should be a bygone case. Now, try the best alternative way in the following.
Screen recording is one of the easiest ways to download a YouTube video. So you can try TunesKit Screen Recorder to record your desired YouTube videos. If you're planning to compose tutorials, video lectures, video conferences, and how-tos, use this 2-in-1 video and audio recorder for optimum quality. Let's download this software and begin downloading/recording your YouTube videos.

Key Features for TunesKit Screen Recorder
Record any type of YouTube video with screen recording
Has audio recording options that can record YouTube MP3
Record video and audio simulaneously or separately
Customize the aspect ratio of the canvas on high quality
Export streaming video to MP4, MKV, MOV, or other formats
Try It Free
600,000+ Downloads
Try It Free
600,000+ Downloads
Conclusion
Now you have many options to download YouTube videos with ease. The best YouTube Video Downloaders above are all very easy to use. Their different features are also suitable for people with different needs. If you're not only looking for a YouTube video downloader but also want to record or download other screens or videos, we still recommend TunesKit Screen Recorder. Anyway, try them out and find the suitable one for you!