5 Best Qobuze Downloader - Download Qobuz Music with Ease
Updated by Adam Gorden on Jul 18, 2022 6:00 PM • Category:
Record Audio
8 mins read

Qobuz is a music streaming service of astonishing music quality, including Hi-Fi, Hi-Res, and CD-quality music, and its popularity is growing as its products become widely accepted.
Though how to play the Qobuz streaming music is obvious, Qobuz download is not. Even those who know how to download music from Qobuz, are still searching for a free way to download Qobuz songs because all the music on Qobuz is not cheap. Well, if you want an answer, you have come to the right place. Here we'll introduce several Qubuz downloaders for you to download Qobuz music with ease. Please read on.
Note: These methods are for personal or educational purposes only. Any commercial use is prohibited.
Part 1. How to Get Qobuz Download with Qobuz Downloader
Though digital albums are probably cheaper than tangible albums, they are still somewhat expensive. So, is it possible to get the Qobuz music download without paying for it? Yes. Contrary to the official method, this method does not require you to spend money buying the albums or tracks.
All you need is a streaming membership of Qobuz (a free trial works too), which allows you to play streaming music online, and TunesKit Audio Capture, a powerful streaming audio recorder that can record any internal audio on your computer.
Since downloading from Qobuz demands payment, why don't we record the streaming audios? If the Qobuz recording can retain the sound quality and provide the target format, doesn't it equal downloading? Doesn't it make TunesKit Audio Capture a Qobuz downloader in this sense? That's why TunesKit Audio CApture here, which has the ability to record Qobuz music losslessly in 6 different formats, and you might have already figured out what is the plan.

Why Choose TunesKit Audio Capture:
Download Qobuz on Mac and Windows with ease
Record streaming music from Qobuz
Save Qobuz music downloadings to MP3, M4A, AAC, etc.
Preserve audio quality and ID 3tags of Qobuz music
Support multi-track recording, trimming and merging
Feature an editor to cut the Qubuz music download and edit the ID3 tags.
Try It Free
600,000+ Downloads
Try It Free
600,000+ Downloads
Detailed Tutorial – How to Download Music from Qobuz
Now you may have downloaded TunesKit Audio Capture, you may be using the free trial version to experience the software in person, or you just want to browse through the recording process of this Qobuz downloader. No matter your intention, you can always use the following tutorial as a using reference, as it tells you how to record and download Qobuz music in detail.
Step 1Launch TunesKit Audio Capture
Launch TunesKit Audio Capture, and you will see the main interface which contains the list of target software.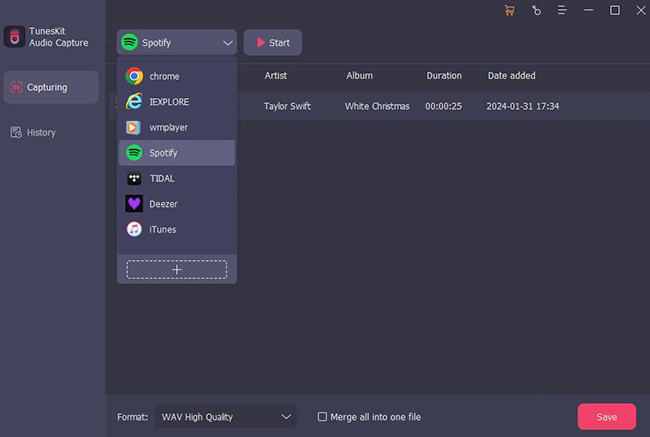 Step 2Adjust Output Preferences to Download Qobuz Music
Before the recordings start, some preparations must be made. First, click the trumpet-shaped button at the right bottom to adjust the recordings options, which includes output format, sampling rate, bit rate, etc.
Don't worry if you are unfamiliar with all the musical jargons, because the Preset menu is designed to handle this situation. Choose the Preset as High-quality or Small-size, and the software itself will change all the other recording preferences according to the preset.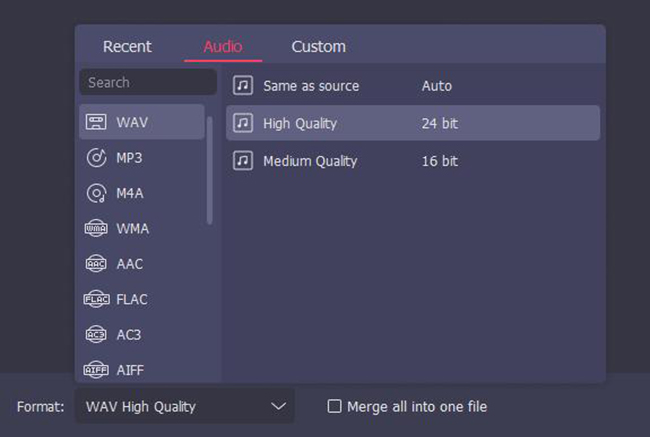 Back to the main interface and open the Preferences menu at the right top, where you can set the specific location that the Qobuz music tracks to be stored.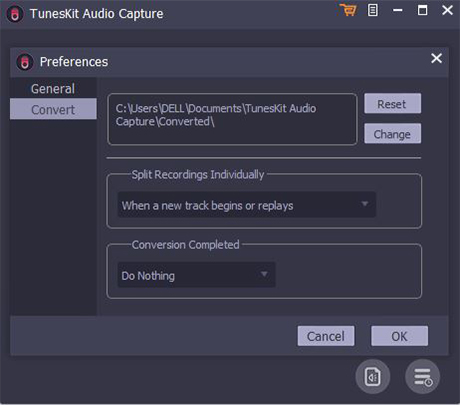 Step 3

Begin to Record and Download Qobuz Music

Now you need to open the Qobuz web player. Select a browser in TunesKit Audio Capture with which you want to open Qobuz, and it would be launched automatically (note: if you have already launched the browser, the previously opened one will be closed). Then play your target music from Qobuz in the newly launched browser, and the recording process will start in a few seconds, which will not, however, harm the integrity of recorded Qobuz tracks.

TunesKit Audio Capture allows simultaneous recordings of multiple Qobuz tracks because it is capable of identifying the silence interval between songs and separating them into different tracks.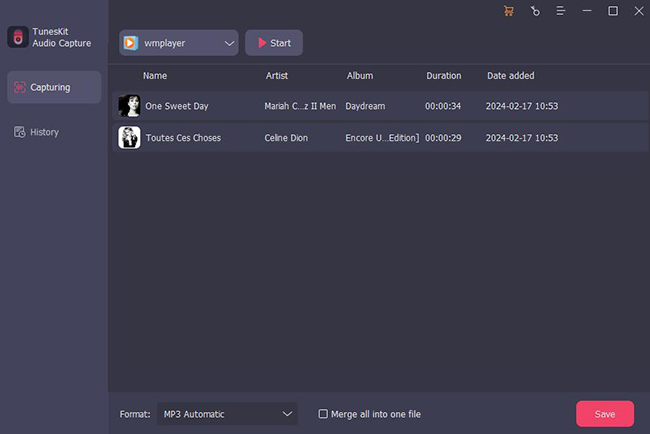 When you finish recording, press the Stop button to end the recording process.
Step 4

Trim Recorded Qobuz Audios

After the recording, you can tap the Edit button at the rear of each track to enter the Trim mode. You can cut one Qobuz recording into several different clips and merge all the tracks into one file. This function is useful when you want to make music clips or ringtones. And you can also edit the ID3 tag on the Tag mode.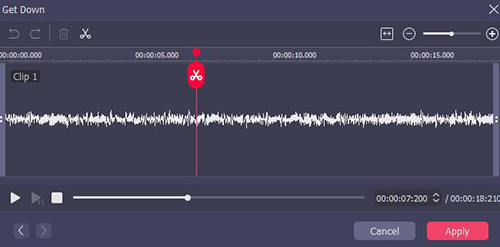 After everything is done, tap the Save button to store the tracks in local storage.
Part 2. Official Way to Download Music from Qobuz
New users can listen for free in Qobuz's one-month free trial, so does it allow them to download music? The answer is, unfortunately, no. Moreover, no matter whether you have a free trial or subscribe to any plan on Qobuz, the only way to download music from Qobuz is to purchase the specific album or song you like.
Qobuz currently offers two plans: Studio Premier – base subscription, monthly as well as annual with discount. And Studio Sublime – an annual-only subscription that adds a discount on downloads, as well as Family variants, with up to six users, of each plan. Thus, you'll have a download discount for Qobuz music download when you subscribe to these plans.
Download Qobuz Music with Streaming Subscription Plans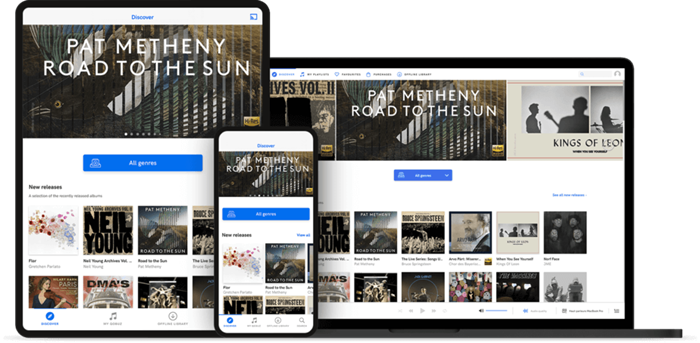 Step 1: Launch Qobuz on your mobile device or computer.
Step 2: Log into your Qobuz account by inputting username and password.
Step 3: Go to select any album or track you want to download and begin downloading.
Note: All the downloads are only available on your device during the subscription to Qobuz.
Download Qobuz Music after Purchasing Albums/Tracks
Also, you do not need to have a subscription to download music from Qobuz. Qobuz has a download store, where you can find the wanted albums or the specific tracks. Once the payment has been confirmed, you are authorized to download it. You could choose to buy tracks or albums from Qobuz in CD-quality or Hi-Res.
Step 1: Launch Qobuz web player or client on your mobile device or computer.
Step 2: Go to click it to open the album page which contains the tracks you want to purchase.
Step 3: To purchase an album, add the albums to carts by clicking Add to basket, then click the Access Payment on the cart page. For single track, click the Buy button and complete payment.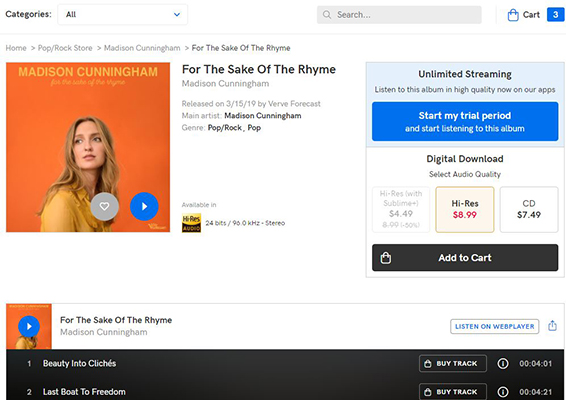 Step 4: Before downloading, open the Format menu to select the format and quality of the downloading tracks.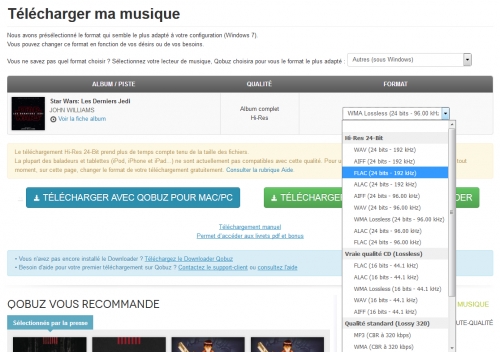 Step 5: Choose to download with either Qobuz for Mac/PC or Qobuz Downloader, which means you need one of the two software to download music. After that, the download will start automatically.
Part 3. How to Record and Get Qobuz Free Download to MP3
The alternative way to download Qobuz music is to use a Qobuz downloader for free, Audacity. Audacity is an open-source digital audio editor and recording application that give away its features for nothing. The most distinguishing feature is that enables you to record audio from multiple sources. With the help of Audacity, you can record and export Qobuz streaming music to unprotected audios in MP3 and other formats. Here's how to record and download music from Qobuz using Audacity.
How to Download Qobuz Music for Free
Step 1: Launch Audacity on your computer after completing the installation.
Step 2: Go to turn off Software Playthrough by choosing Transport > Transport Options > Software Playthrough then toggle playthrough off.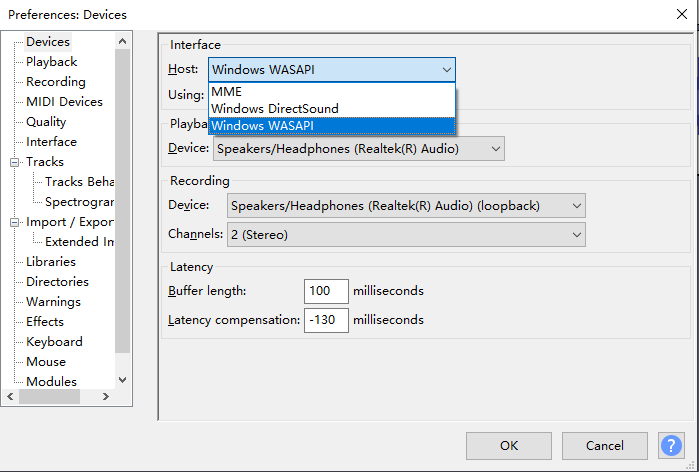 Step 3: Start playing music from Qobuz, then click the Record button in Transport Toolbar.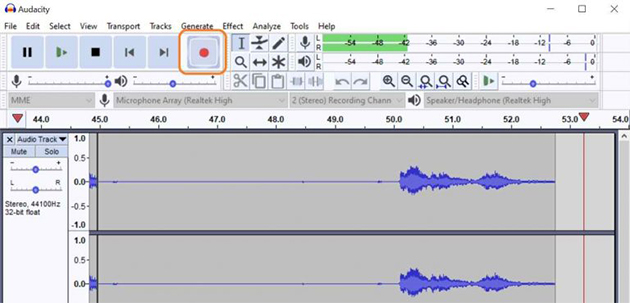 Step 4: Click the Stop button when you have finished recording from this Qobuz music downloader.
Step 5: Now use File > Save Project to save the recorded audios from Qobuz.
Part 4. How to Download Qobuz Music with Qobuz Downloader X
Qobuz Downloader X, as known as QBDLX, is a GUI tool from Github. It is a free and open-source Qobuz music downloader that helps you download from Qobuz without payment.
With its help, you are able to download Qobuz streaming music, albums, playlists, and more with ease. It doesn't require any payment or configuration, all you need is a paid subscription to Qobuz, and you can download the Qobuz music by pasting the URL of the desired one and it will get Qozbuz download to your Windows computer successfully. Learn more with the upcoming steps:
How to Use Qobuz Ripper to Downlaod Qobuz Music
Step 1: Download the latest version of Qobuz Downloader X on your Windows computer. Then extract the folder.
Step 2: Find the ".exe" file and open it, then log into your Qobuz account.
Step 3: After that, you can select the music quality and paste the target link of Qobuz music in the searching bar, then hit Download and it will start ripping the Qibuz music you chose.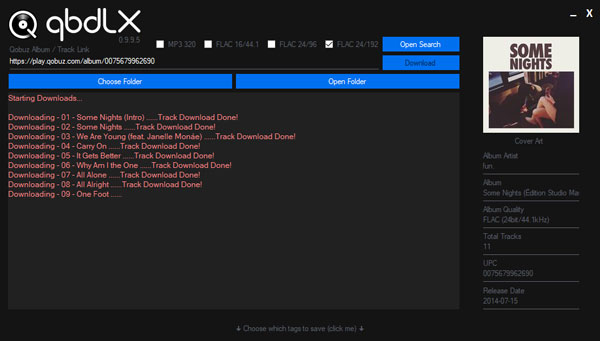 Part 5. How to Download from Qobuz with Qobuz-dl
Another Qobuz downloader from Github is called Qobuz-dl, which is also a free tool to download lossless and Hi-Res music from Qobuz. It can be used on Windows, macOS, and Linux, which is capable of downloading Qobuz tracks, albums, playlists, and labels to MP3 and FLAC. Similarly, just enter the URL of the Qobuz music and you can download them to your computer easily. You can follow the steps below.
How to Use Qobuz-dl to Download from Qobuz
Step 1: Download and install Python3, click the option "add Python to path" when in the installation on Windows.
Step 2: Enter the command according to your operating system:
For Windows: pip3 install windows-curses / pip3 install --upgrade qobuz-dl
For macOS or Linux: pip3 install --upgrade qobuz-dl
Step 3: Now you need to run the Qobuz-dl. Choose the "qobuz-dl.exe" file on Windows, or "quboz-dl" on macOS/Linux.
Step 4: Now you may start downloading Qobuz music. For example: enter qobuz-dl dl https://play.qobuz.com/album/qxjbxh1dc3xyb -q 7.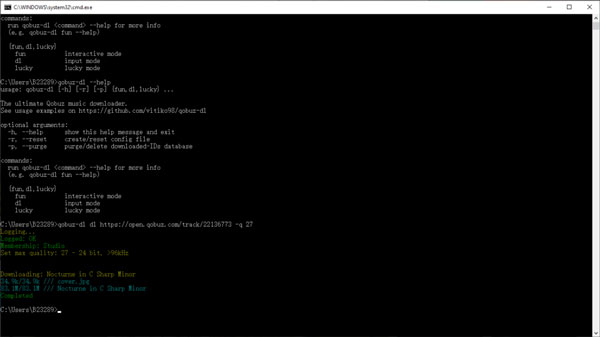 Summary
All in all, there are several choices to achieve Qobuz music download. You can choose the official method, while the other using the third-party Qobuz downloaders can save a great deal of money, even free of charge.
The sound quality of using TunesKit Audio Capture or downloading directly from Qobuz is the same, but it's obvious that a streaming premium plus TunesKit Audio Capture is cheaper than dozens of digital albums. Still, if you care more about convenience instead of expenditure, the official purchase may be a better choice.