How to Record and Download Audio from Netflix
Updated by Adam Gorden on Aug 8, 2023 6:00 PM • Category:
Record Audio
6 mins read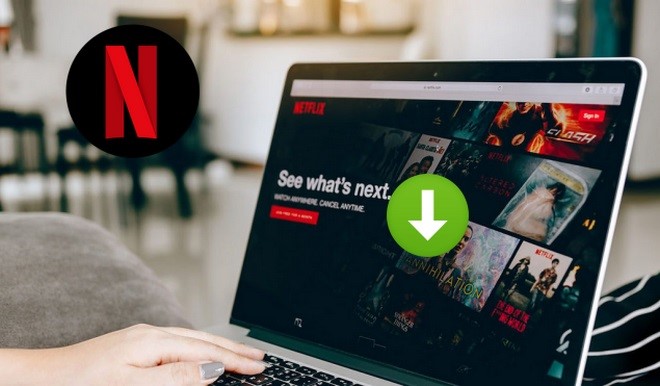 Netflix is the most popular subscription-based streaming site where you can access wide library of TV shows and movies. Even though there are many competitors, it has the most subscribers out of all and the best content. People love to watch Ultra HD 4K content on this prime streaming site.
You can enjoy binge-watching through Netflix, but sometimes you would like to have its nice music or background sound for offline playing. Many of you have searched for ways to record audio from Netflix. In this post, we have listed 3 best ways to download audio from Netflix. Then you can listen to Netflix audio offline on your device directly without any restriction.
Part 1. How to Download Audio from Netflix via TunesKit Audio Capture
TunesKit Audio Capture is the smartest audio grabber to download Netflix audio and other music, audio, or playlist on your device. It permits you to get the Netflix audio and other sounds from any platform and convert them into high-quality sound. You can choose any output format that is compatible with your device. No matter which browser or software you are using, TunesKit Audio Capture supports and captures the sound you want. Here are the steps to record audio from Netflix using TunesKit Netflix Audio Downloader.
Download Audio from Netflix to MP3 with TunesKit Audio Capture
Step 1

Download and Launch TunesKit Audio Capture

Download the TunesKit Audio Capture for Windows or Mac and then launch it to proceed. Now, you can see a list of programs such as Internet Explorer, Chrome, or WMP. You can open the Netflix website by clicking on the Chrome icon, or simply click on the '+' icon to add Netflix desktop app.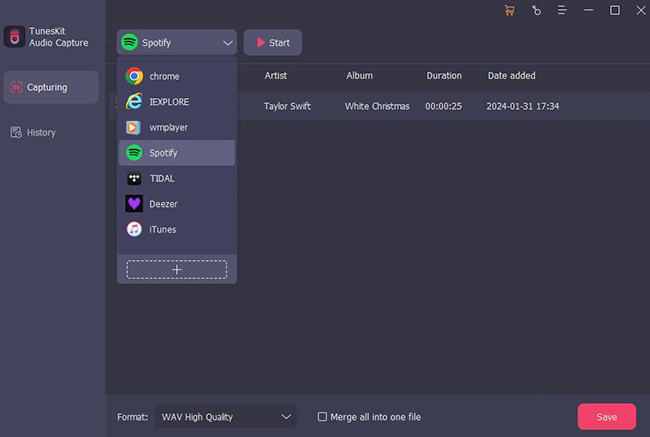 Step 2

Set the Netflix Audio Recording Parameters

From the bottom right corner, choose the 'Format' icon. A pop-up window appears to set the output preferences. You can choose different formats from the drop-down menu, such as MP3, WAV, FLAC, or WAV. After that, set the Netflix audio quality according to you, such as sample rate, bit rate, or codec. You can set the output folders and others from the top menu and then choose the 'Preferences' option.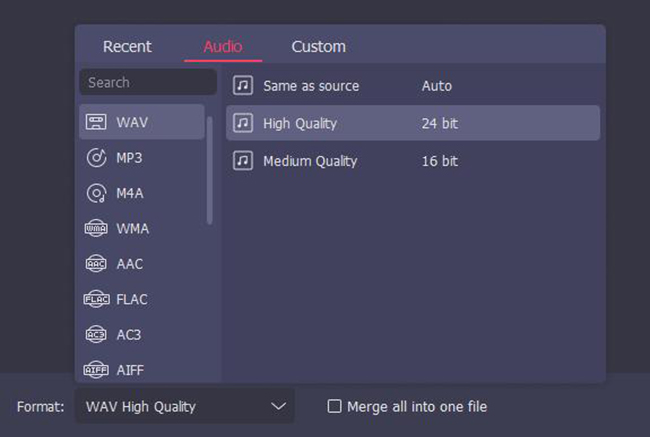 Step 3

Extract Audio from Netflix

After all the settings, go back to the main interface to open Netflix. Then locate the Netflix audio which you want to capture. Then a new recording task will be visible on the Capture list.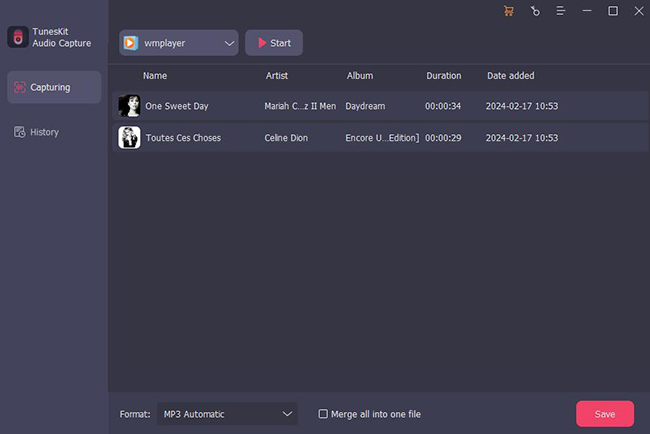 Step 4

Cut or Merge Netflix Audio

Once they are captured, click on the 'Edit' icon of each music track and trim it. You can also merge the Netflix tracks if you are capturing multiple audio simultaneously.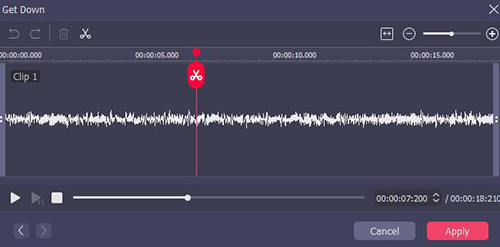 Step 5

Save the Netflix Recorded Audio File

Click the 'Save' option to export the Netflix records to the output folder. You can also locate the audio files by clicking on the 'Search' icon at the bottom of the window.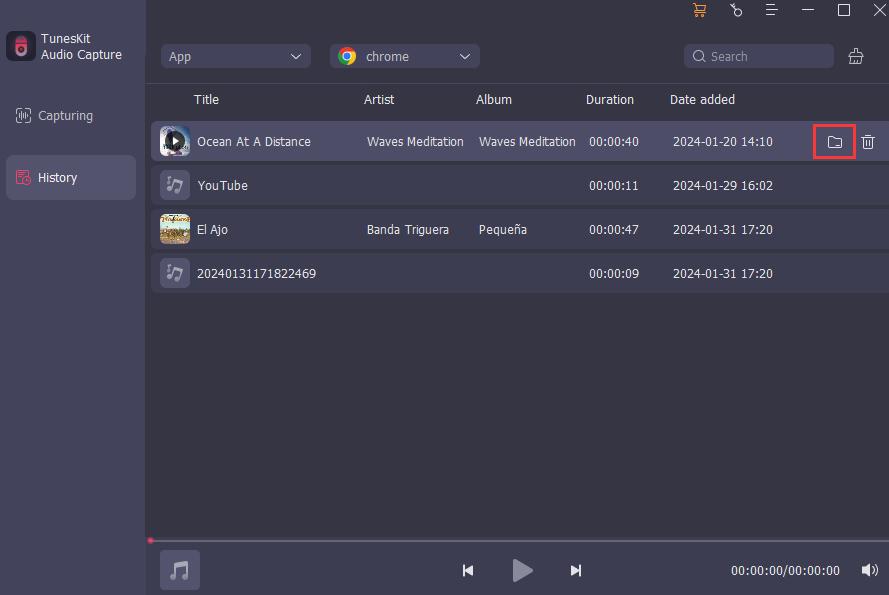 This is how you can record music from Netflix with lossless quality using the above way.
Part 2. How to Record Audio from Netflix with Apowersoft Online Audio Recorder
In case you are looking for a free online Netflix audio recorder that will take care of recording Netflix audio without using a third-party application, turn to Apowersoft Free Online Audio Recorder. Without any plug-in service installation or a direct download across the device, Apowersoft Free Online Recorder enables you to a series of options in audio recording across both Windows and Mac. With easy operation and high-quality output, this online software ensures explicit originality in your Netflix audio results.
To understand its simple functioning, you need to look over the guide provided as follows.
Record Audio from Netflix with Apowersoft Netflix Audio Downloader
Step 1: Launch Software
You need to open a reliable browser and access this software's original website link. On its home screen, tap on 'Start Recording' to initiate the procedure in a few seconds.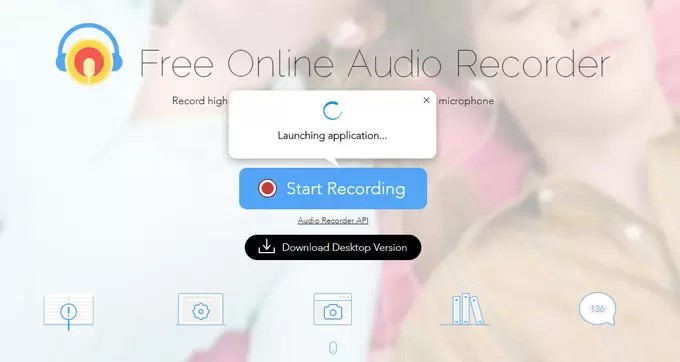 Step 2: Selecting Netflix Audio Source
Over the next screen, you need to come up with selecting the options for your audio recording. To easily record the audio of Netflix, you need to select 'System Sound' from the options provided across the button on the bottom-left corner of the screen.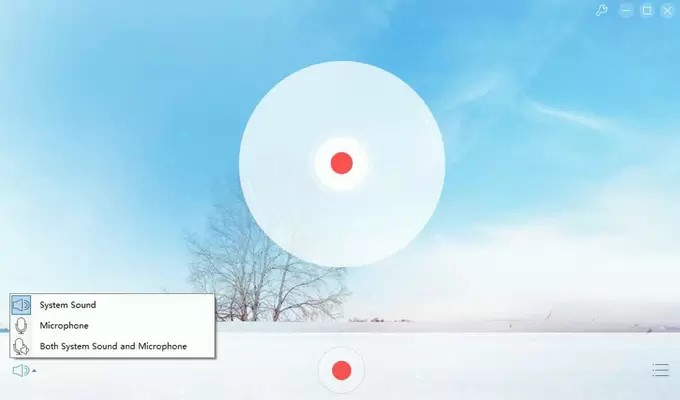 Step 3: Record and Stop Netflix Audio Recording
Play the respective Netflix audio and tap on the 'Start' button on the webpage. Stop the recording once it is done.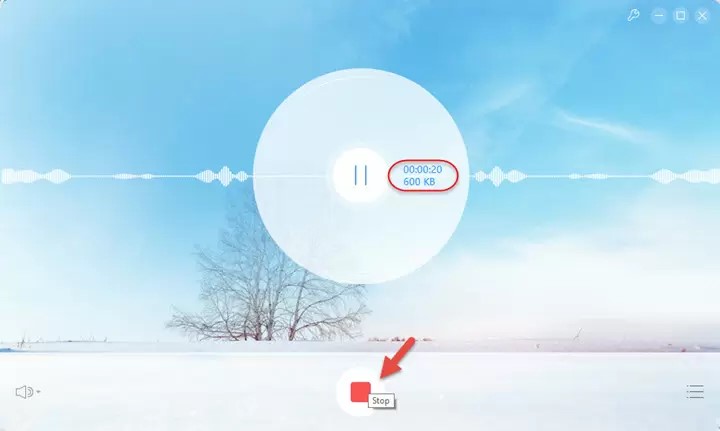 Step 4: Edit ID3 and Export Netflix Recorded Audio
With the built-in library provided by Apowersoft, you can select the recorded Netflix audio and tap on 'Edit ID3' to change various information relating to it. Once recorded, the Netflix audio file will be saved into the PC with ease.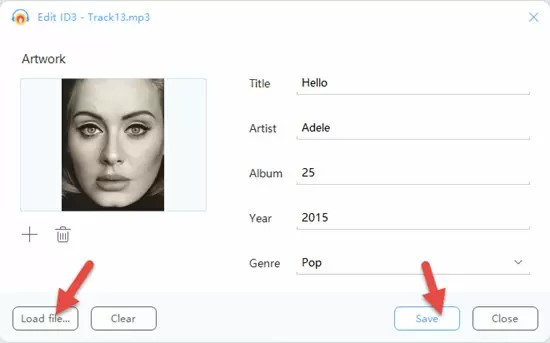 Part 3. How to Rip Audio from Netflix for Free with Audacity
If you want to edit the audio after you download audio from Netflix, such as trimming, or cutting audio clips, adding sound effects, etc., then Audacity might be worth considering.
Audacity is a free and open-source audio recorder that is available on Windows, Mac, and Linux. It can assist you to extract audio from Netflix to MP3, WAV, OGG, FLAC, etc., and it includes various sound effects for you to choose. What's more, with the visiable audio track, you are able to easily and accurately cut, trim, or copy the Netflix audio, and add sound effects to generate a new Netflix audio clip. When you export the new Netflix audio track, you can also customize the bit rate and edit the Id3 tags.
Rip Audio from Netflix to MP3 with Audacity for Free
Step 1: Prepare the Netflix audio you wantot record. Then launch Audacity on your computer.
Step 2: First, you can select 'MME' or 'Windows WASAPI' in the 'Audio Host', then choose the preferred option in 'Recording Device'.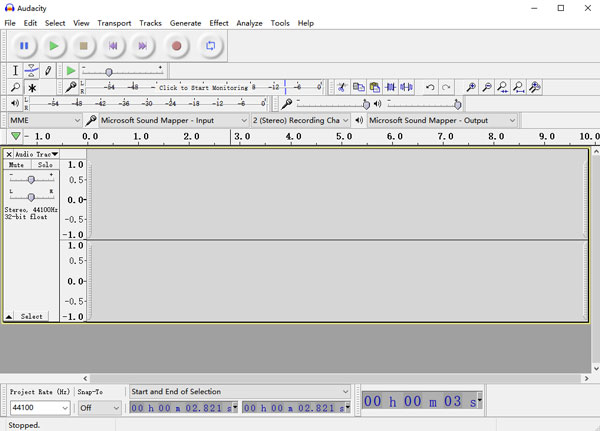 Step 3: After that, click on the red 'Record' button on the top menu, then back to Netflix to play the content, When it finishes, click the 'Stop' button and you can see a waveform audio track shown on the interface of Audacity.
Step 4: Now you can edit the Netflix audio. For example, to cut and remove the unwanted portion of the audio, you can long left-click and slide on the unwanted part, then hit the 'Cut' icon or press the 'Delete' key on your keyboard.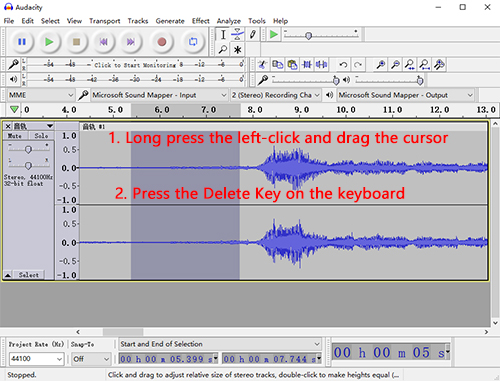 Step 5: To export the audio of Netflix to MP3, click the top menu File > Export > Export to MP3. Then you should set the saving path and complete the ID3 tags, after that, click on 'OK'.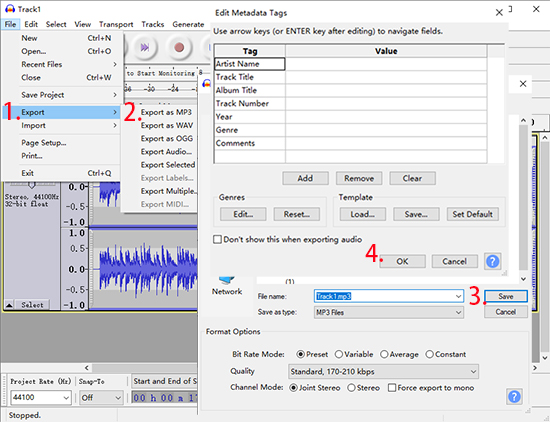 Part 4. Extra Tips on How to Record Netflix Video
In the meantime, many people are seeking ways to record Netflix videos. Thus, we'd like to show you a multi-functional tool to capture audio and video on your PC or Mac, TunesKit Screen Recorder.
The versatile 2-in-1 video and audio recorder can record any screen and video from any source on your computer and then convert them into your desired format. TunesKit Screen Recorder can be your best assistant if you want to record Netflix videos.
Part 5. Conclusion
In this article, we have summarized the 3 best ways to download audio from Netflix to MP3 and an alternative method to capture Netflix video. TunesKit Audio Capture is the most favorable way to get your favorite audio from any Netflix TV show or movie and listen to it offline. It does not affect the sound quality and maintains the ID3 tags. So, never miss out to enjoy your favorite audio file from Netflix.