It's the perfect time to start streaming SiriusXM on the go and at home. You can create personalized stations powered by Pandora, dig in to 5000+ hours of On Demand shows, performance and interviews, even watch SiriusXM video online or on the app. Otherwise, you could explore Xtra online channels and receive personalized recommendations based on what you're listening to.
Here we guide you how to use SiriusXM at home or on the go when you are subscribing the upgrading plan, and also tell you how to download audio or music from SiriusXM and listen to SiriusXM outside the car even though you stop the subscription.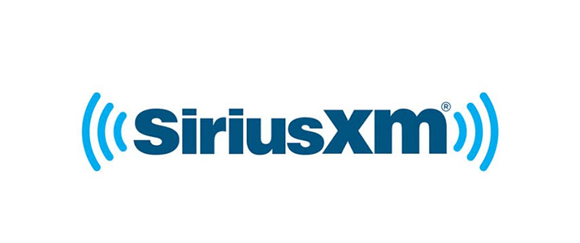 Part 1. Listen to SiriusXM Outside the Car or at Home
It's easy to enjoy SiriusXM at home on tons of devices you may already own. Control it all with your voice on devices with Amazon Alexa, play SiriusXM from your iPhone or iPad directly to your Apple TV with AirPlay, and much more. In addition, you could also start the playback of SiriusXM in the car when going out.
How do you start listening to SiriusXM outside-the-car?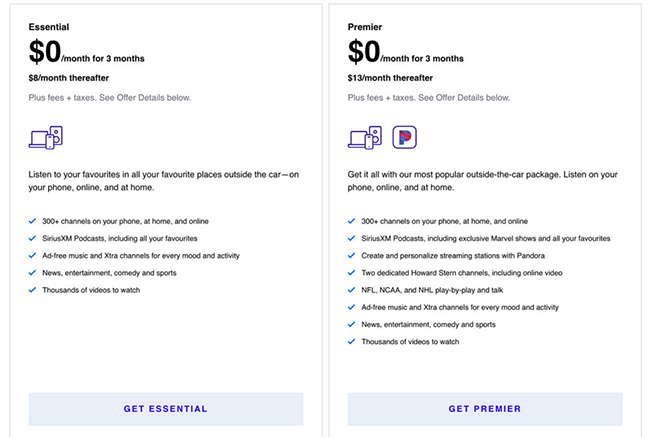 1. If you already have an All Access package in your car, it's included. Get My Username & Password.
2. Or sign up for 30-day free trial.
3. Then after 30 days, sign up for a plan that works for you.
How can I listen to SiriusXM at home?
Listen to SiriusXM at home on a wide variety of devices, many of which you may already have, including: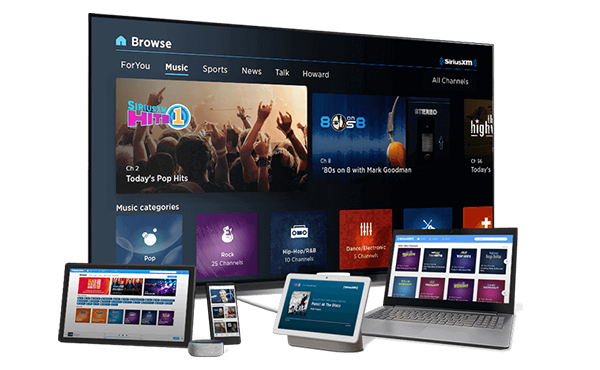 1. Connected speakers including devices with Amazon Alexa, Sonos and Bose
2. Media players including Roku players, Amazon Fire TV and Apple TV
3. Smart TVs from your favorite brands including Sony, Samsung, LG
4. Gaming consoles including PlayStation
5. Home audio systems from Denon, Yamaha, DTS Play-Fi
It's easy to enjoy SiriusXM at home. All you need is:
A SiriusXM username and password.
The SiriusXM app installed on your connected device.
Part 2. Download and Record Audio from SiriusXM Free
With a SiriusXM subscription, you can enjoy outside-the-car service like streaming SiriusXM at home on smart speakers, smart TVs, gaming consoles or more. So, if you are not a subscriber, you would don't have the opportunity to enjoy these services. The answer is not, and you could still get audio from SiriusXM anywhere after cancelling your subscription on SiriusXM.
With the assistance of TunesKit Audio Capture, it can help you to capture any audio playing on the computer and save the recorded tracks in the format of MP3, WAV, AAC, FLAC, M4A, and M4B with original audio quality and ID tags preserved for playing on any device. So, you could get audio from SiriusXM via TunesKit.

Key Features of TunesKit SiriusXM Audio Downloader
Record and download streaming audio from any programs and websites
6 plain formats including MP3, AAC, FLAC, WAV, M4A, and M4B available
Preserve streaming music with the original audio quality and full ID3 tags
Support many customization functions and groove the songs even offline
Just download the trial version of SiriusXM audio downloader and follow the below tutorial.
Step 1

Open TunesKit Audio Capture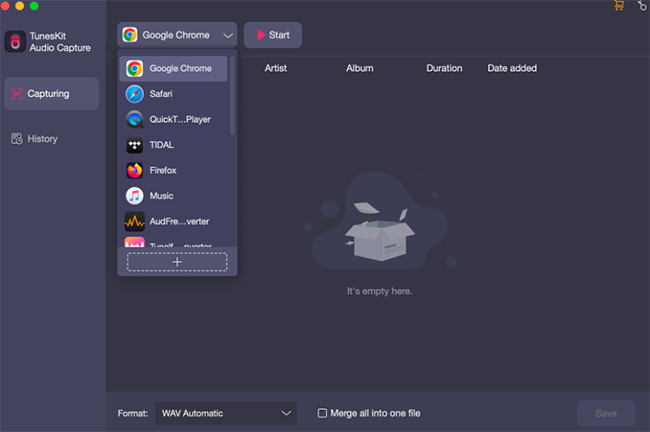 After launching the program, you will see there are some apps listed on the window. Check whether the browser you want to navigate to SiriusXM with is in the list; if it is not, you can click the "+" icon to select the browser. Or you can also drag and drop the browser into the window, which is an easier way to add the program.
Step 2

Set the output audio parameters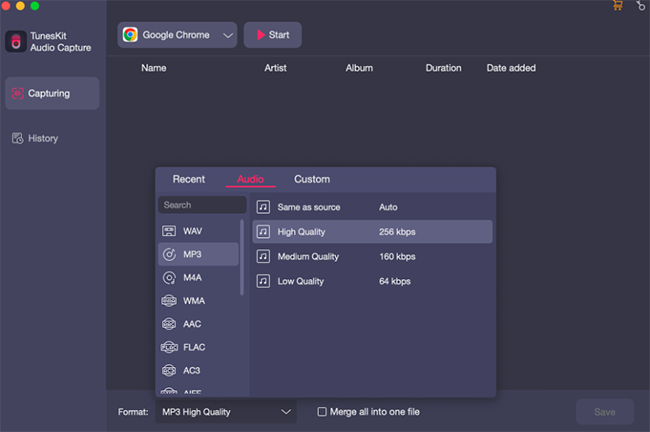 The next step is to set the output audio parameters. There are six popular formats including MP3, FLAC, AAC, WAV, M4A, and M4B for you to choose from. You could set the output format as MP3 for playback in the car or at home. Then you could continue to set the bit rate, sample rate, and audio channel.
Step 3

Begin to record SiriusXM audio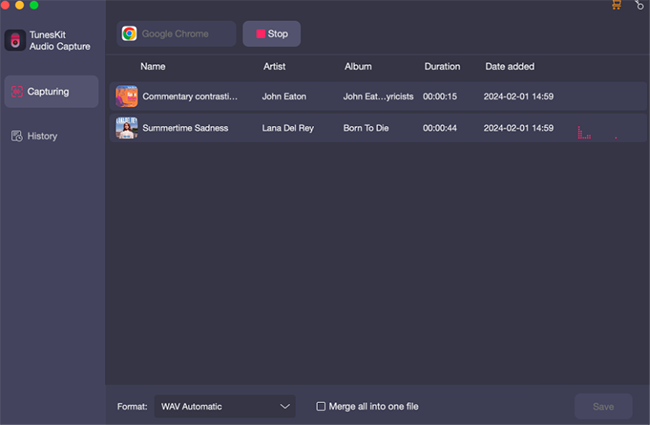 Tap the icon of the target web explorer and search for 'SiriusXM' to go to the official website. You could choose a playlist to play and then the downloading will be started by TunesKit Audio Capture after several seconds. When you have downloaded all beats you want, click the 'Stop' button to stop the downloading and then proceed the tracks.
Step 4

Customize the recorded SiriusXM music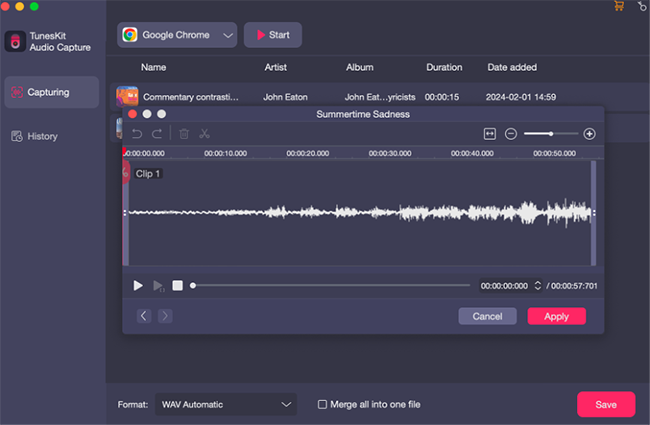 After proceeding your downloaded tracks, you could go to edit these downloaded music files by clicking the 'Edit' button at the rear of each track to open the service of customization. With the service, you could trim and merge all the tracks and also edit the ID3 tags and other music information. Finally save your edited music tracks to your computer.
If you have completed the downloading and recording of audio from SiriusXM, you could process the final step – listen to audio or music from SiriusXM offline on the move. You don't need to an internet connection to start the playback of music from SiriusXM.
Part 3. Final Words
In this tutorial, we've mainly focused on how to listen to SiriusXM with subscription during your commutes or at home, as well as the method to download your favorite SiriusXM audio or music. If you just want to get a smooth offline streaming experience, TunesKit SiriusXM audio downloader can be a good choice for your consideration.