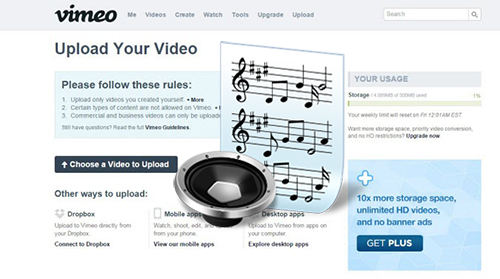 With over 60 million fans joining this high-quality video sharing platform, Vimeo is one of the best online video-sharing websites, which allows video lovers to make, upload, as well as watch ad-free HD videos. As one of the Vimeo addicts, we are aspired to explore the world of Vimeo HD video along with pleasant audio tracks. Sometimes, we will involuntarily be fascinated by the background music appeared in the Vimeo videos. At this moment, will you choose to find out the pleasant song's name from thousands of music, which could be a difficult task for anyone who has no idea about the song? In order to avoid getting in trouble, you can turn up to a Vimeo to MP3 Converter, which can capture almost all particular audio tracks from Vimeo HD videos. Now, we will give the detailed introduction of Vimeo audio recording tools and the complete tutorial on how to convert Vimeo videos to MP3 with lossless quality preserved.
1. Best Streaming Audio Recorder to Recode Vimeo Videos as MP3
Developed and marketed by TunsKit Studio, TuensKit Audio Capture is a professional audio recording application that is specialized in recording any audio track from browsers and web players, such as Chrome, Internet Explorer, Vimeo, Youtube, etc. as well as media players, including iTunes, Window Media Player, and more. With the clean and easy-to-use interface, this multi-track recording software is capable of grabbing any sound from Vimeo HD videos. The output formats of this smart audio recorder includes almost all common audio formats, that is to say, it enables you to define the output format as MP3, AAC, M4A, WAC, FLAC, M4B, etc. for the recorded Vimeo audios. Therefore, you are able to listen to Vimeo audio tracks on multiple portable devices without any limitation.
Main Features of TunesKit Vimeo Audio Recorder
Record unlimited number of Vimeo music
Convert recorded Vimeo audio to MP3, AAC, WAV, FLAC, M4A, M4B
Keep original audio quality and ID3 tags
Support multi-track recording, audio cutting and merging
Capture any other streaming music like Apple Music, Spotify, etc.
How to Record Pleasant Audio Tracks from Vimeo Videos
Before you start to follow this guide to extract audio files from Vimeo videos as MP3, please make sure that you have downloaded and installed TunesKit Audio Capture on your computer in advance.
Step 1

Open TunesKit Vimeo Audio Capture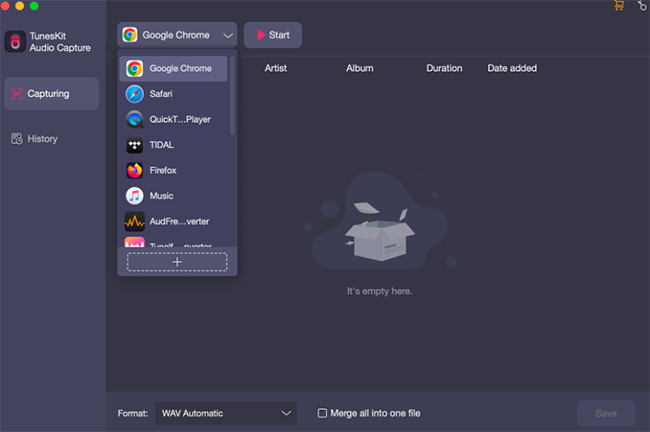 Double click to launch the TunesKit smart audio recording software. Once this TunesKit software was opened, you will see there is a list of applications that installed in your computer, such as browsers, web players, and media players. If there is no software you want, you can click the big "+" option to make more programmers to here. Since the default output format is MP3, you don't need to set the output format for the recorded Vimeo audios.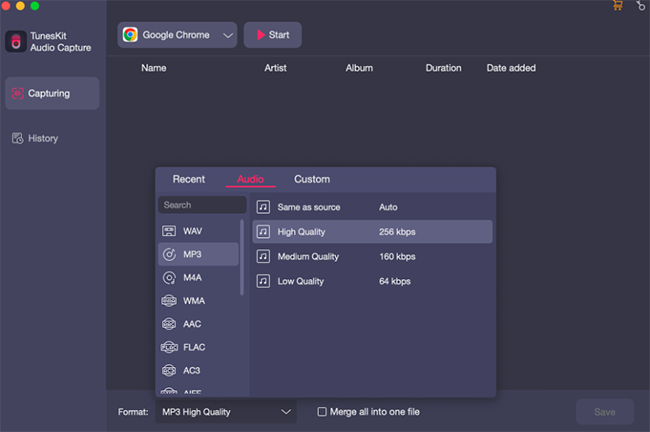 Step 2

Play Vimeo video & record special Vimeo audios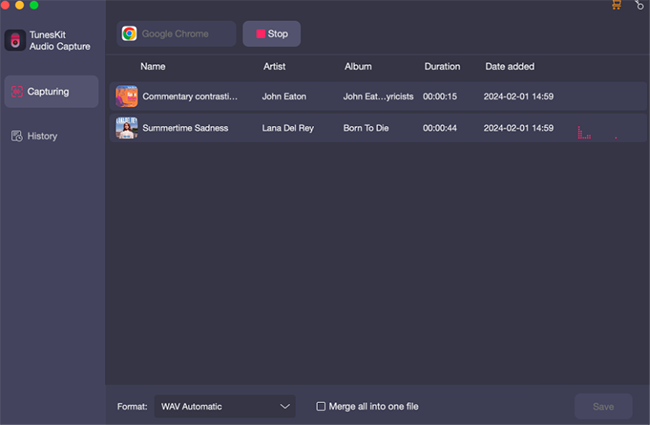 Now, you can choose the web browser you usually use, and click the browser icon, this software will open automatically in a new window, in which you can paste the link of Vimeo videos that you would like to record favorite audio tracks from. When you start to play Vimeo videos, TunesKit Audio Capture will also begin to record the Vimeo audio files simultaneously.
Step 3

Cut unwanted recorded Vimeo audio tracks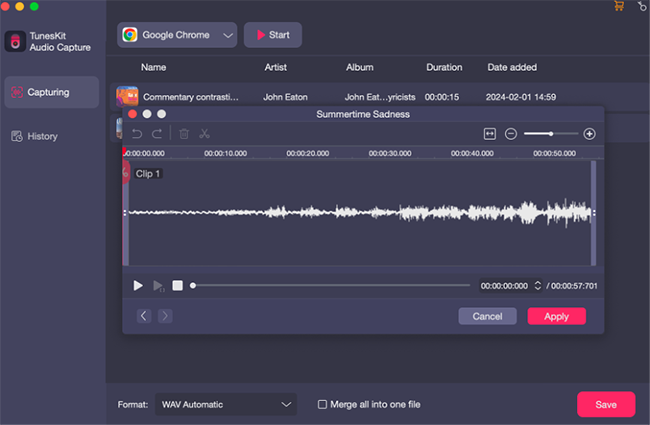 If you just would like a part of the long audio file, you can tab the "Edit" option behind each track. It will pop up a new window, in which you can customize the start time and end time according to your needs and get a whole and wanted audio segment from recorded Vimeo audios.
Step 4

Output the recorded Vimeo tracks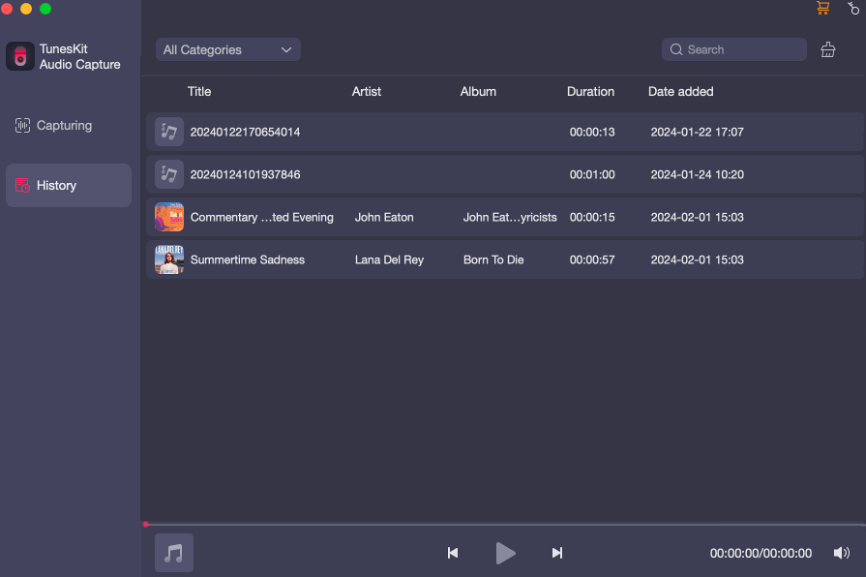 In order to stop the recording process, you just need to close the browser or Vimeo application. And then you will see the Cancel button will switch to Save tab immediately. Please touch the "Save" button and you can discover the recorded Vimeo tracks on the destination folder. By the way, this software also supports a real-time preview, and you can listen to recorded Vimeo tracks in this software to make sure that these audio tracks are retained completely.
2. Online Vimeo to MP3 Converter – Apowersoft Free Vimeo to MP3 Converter
There is an alternative to TunesKit Audio Capture, called Apowersoft Free Vimeo to MP3 Converter, which is able to save any online videos or other streaming media content as MP3. If you don't like to install any extra software on your computer, this online Vimeo to MP3 Converter is the preferred tool instead of recording audio tracks from Vimeo HD videos. Let's take a look at the easy steps to record sound with Apowersoft.

Step 1.Open your browser, enter into Vimeo video page, and copy the video link that you would like to save it as MP3.
Step 2. Go to the Apowersoft official website, and choose Free Video to MP3 from online solution.
Step 3. Click the Convert from Web option, and enter the video link you copied to URL box under the Convert from Web tab. It will take a few seconds to detect given Vimeo video, but you can define the output format as MP3 at the same time.
Step 4. Start to touch the Convert button near the URL box. You will find out all recorded Vimeo audios on your desktop automatically.