Free Ways to Record Audio Online on PC/Mac
Posted by Adam Gorden on Feb 25, 2022 16:00 PM • Category:
Record Audio
5 mins read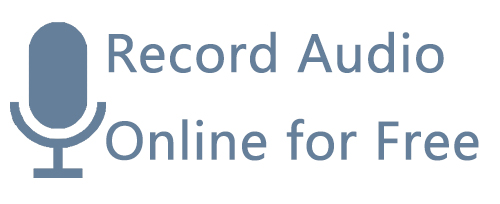 When you surf the web, you may want to listen to music, watch videos, listen to streaming audio, and more. You might suddenly hear a track so compelling that you stop what you're doing to see what the audio is. Most of the time, you can find the source of the audio and download it directly, but sometimes it is not allowed, or need to install additional software to download, you may feel it is a pity or a waste of time to download an application song.
Well, you are lucky today. We'll introduce two tools that fully support audio recording online, each of which is very easy to use. By this means, you can record audio online directly on your Windows or Mac system computer.
Part 1. Record Audio Online for Free via Vocaroo
Vocaroo is an easy and fast online audio recorder with a simple recording audio function. It is capable of recording any sound over the interwebs, has recording settings like removing background noise and automatically adjusting volume. And it supports sharing the downloaded audio online, saving it in different ways, including QR code, embedded, and download. That is to say, you can use it and get good quality recorded online audio for free.
How to Record Audio Online for Free
Step 1: Open vocaroo.com and you will see a quite simple interface. Click the Setup icon to turn the remove background noise option and automatically adjust the volume option on or off.
Step 2: Click the record button, and play music on any website, then this audio recording online tool is in capturing now.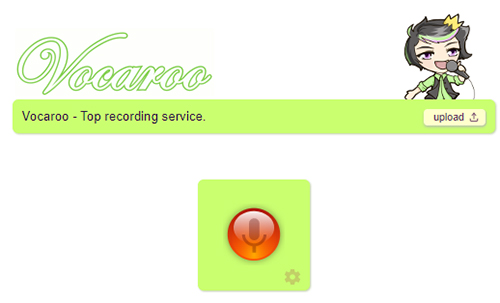 Step 3: When the music ends, click the stop button, and it will show an audio recording page. You can click the play button to preview the recorded music.

Step 4: Click the save & share icon. You can share the recorded MP3 online or on any social media. And save it any provided way.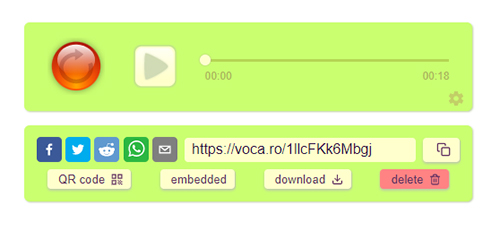 Part 2. How to Record Online Audio for Free via Online Voice Recorder
Online Voice Recorder is another must-have free online audio recorder we present today. With the convenient and simple interface, you can record any streaming audio online without hassle. Meanwhile, it also can capture the microphone sound when you use it. Besides, it features an auto silence trimming function, which can automatically detect the mute part at the beginning and end. There are no hidden fees for this tool, and you can record any online audio for free.
Record Streaming Audio Online for Free
Step 1: Open online-voice-recorder.com and wait for the recording.
Step 2: You can click the microphone setting icon on the right side to choose the output sound source if you need it.
Step 3: Click the recording icon, and open a music site to find the desired song. Now the recorder is on capturing.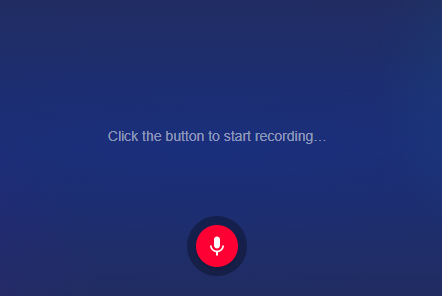 Step 4: Click the stop button, and you can see a recorded online audio track. You can preview, cut length as you like. After that, click the Save icon. Then the audio recorded online is saved successfully.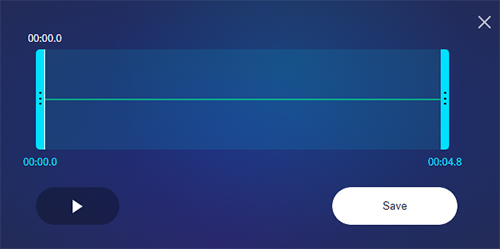 Part 3. Alternative Way to Record Music Online
Now you know two simple and useful online audio recorders. For most people, using online tools is a good choice to record audio online. But that is not enough for people who want to record audio online and do additional editing. So we now introduce you to an audio online recorder alternative, TunsKit Audio Capture, which is an easy-to-use and powerful third-party audio recording software that can capture both online and desktop sound on your Windows/Mac computer.

Key Features of TunesKit Audio Capture
Record audio online losslessly and full ID3 tags
Convert online straming audio to MP3, AAC, WAV, FLAC, etc.
Support recording various desktop sound or online music
Support multi-track recording, audio cutting and merging
Record any audio on Mac, like Spotify, YouTube, etc.
Try It Free
600,000+ Downloads
Try It Free
600,000+ Downloads
With the help of professional audio recording tool, you can record any kind of online audio losslessly, obtain multiple audio formats, such as MP3, M4A, AAC, FLAC, etc., and make editing to the online recorded audio to meet your needs. Now please read the tutorial on how to record music online.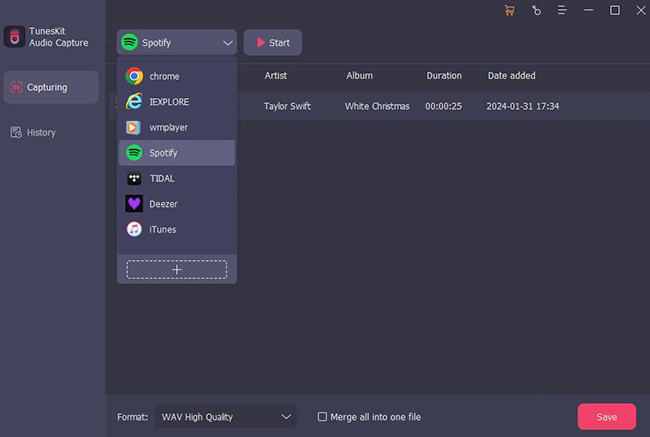 How to Record Music Online
Step 1: Download and launch TunesKit Audio Capture.
Step 2: You can see some software icons in this interface. Click the browser in it to open a website, enter the audio page you want to record. Play the audio, then TunesKit Audio Capture will automatically capture as soon as possible.
Step 3: Then click the Stop button, and the online audio recording will be shown in the Capture List. Click the Edit icon, you can preview the song, cut the length, and complete ID3 tags. After that, click OK.
Step 4: Click Save and it will display a History list, you can double-click to preview again. Or Click the Search icon to open the saving file.
Part 4. FAQs about Recording Streaming Audio Online for Free
Q1: Can I use an online audio recorder to record my desktop audio?
Yes, you can. These online audio recorders can both record online and desktop audio.
Q2: Can I get high-quality when I record audio online?
To be honest, the quality of the Online Voice Recorder is average. Vocaroo quality is good, and recording online audio by TunesKit Audio Capture can get lossless quality.
Q3: How to Record Audio on PowerPoint Online?
There are two ways for you. The first one is to use the built-in program on PowerPoint to record audio.
Step 1: Go to the insert tab at the top and find the Audio option. Click Option>Record Audio.
Step 2: It will show a window called Record Sound. Click the start recording icon on it, then it is on the recording. And click the stop button, and click the play button to preview it.
Step 3: Click OK. And an audio icon will be displayed on the slide.

The second way is to use the above online audio recording tools to achieve it. As long as you open the online audio recording tool, click the Record button, then you can use your PowerPoint to continue the job. And the online sound recorder can capture any audio from the PowerPoint or yours(if you plug in the microphone). Once you're done, click stop and save it.
Part 5. Conclusion
These are our recommended methods for recording audio online. It includes two online audio recording tools and one perfect and powerful alternative to them: TunesKit Audio Capture. All three are great for recording music online. The first two tools are similar in function and can only save recorded online music as MP3, while the alternative can save it in various formats and edit ID3 tags. You can try all of them and figure out what works for you when recording online audio.