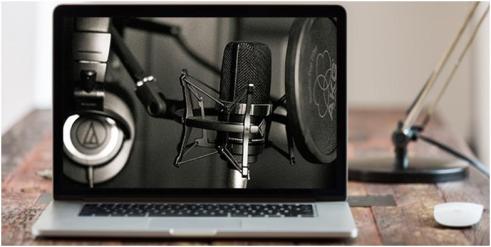 Growing up in a digital word, more and more people are exploring virtual awe-inspiring digital culture to get more amazing entertainment. Listening to pleasant music, watching delightful movies and TV shows, playing games on portable devices are most popular activities for people to spend leisure time. As the most convenient digital entertainment, listening to MP3 tracks from music and videos on MP3 player could be the most common phenomenon when taking a subway or on bus. However, most of you might have some troublesome in downloading and recording audio tracks from music and videos as MP3. Thanks to innovative MP3 recording tools created by different software developers, we have a wide range of options to record audios to MP3 with ease, no matter for desktop based MP3 recording solution or online MP3 recording tools. Here, we will pick out top 4 best MP3 recorders available for online service directly.
Top 1. Apowersoft Free Online Audio Recorder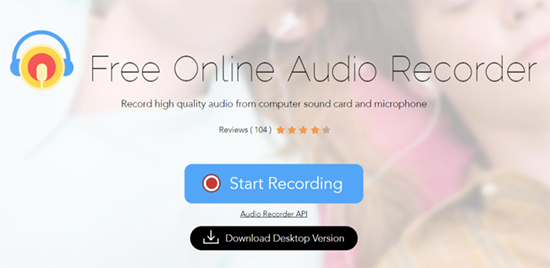 When we are looking for some free online audio recording solutions, we always are required to plug-in or subscribe to specific services. But when it comes to Apowersoft Free Online Audio Recorder, this rule is broken as Apowersoft allows you to record any sound you can hear in original quality without any extra requirement, except for entering to its official website page. Available for Windows and Mac operating system, Apowersoft MP3 recorder gives you the ability of capture audio tracks from various channels, including system sound, microphone, and system sound and microphone.
Due to support both system sound and microphone, Apowersoft audio recording software is able to record audios from streaming music sites, radio stations, in-game sound, background music of a video, voice chat, and any other audio input approaches. Apart from recording and saving music as MP3, it also supports the following common formats, WMA, AAC, FLAC, M4A and OGG.
Pros:
1. Support both microphone and system sound;
2. Save recorded audio tracks as MP3 and other formats;
3. Have a multiple compatible players and devices.
Cons:
1. There is not an optional editing function;
2.The output quality from recording music form videos is not ideal
Top 2. Convert2MP3.net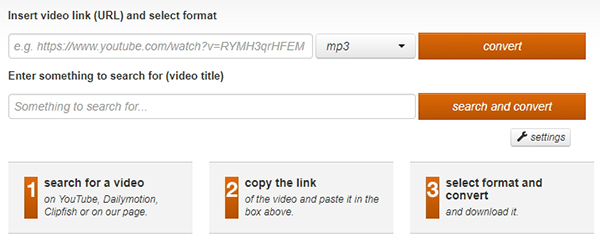 For the first time I met Convert2MP3.net, I wrongly assumed it's only an audio recorder to recording any background sound from video sharing websites, like YouTube, Dailymotion and other programs. Actually, Convert2MP3.net is not only an audio capture recording music tracks as MP3, but also a professional video converter considering it enables users to convert shared and uploaded video files to MP4 freely.
When opening this all-in-one audio and video recording tool, there are two approaches for you to import media files you want to record, respectively using copy&paste action to import video URL to the text box and search for the video including favorite music tracks by entering something like video title directly on the web page. After that, selecting MP3 as the output format is the last thing you should do, and the recording MP3 audio files are downloaded to your computer completely.
Pros:
1. Record audios from video sharing website as MP3;
2. Support downloading videos as MP4;
3. Be free of charge.
Cons:
1. Limited input approaches ;
2. The output format of audio is limited as MP3.
Top 3. Online Voice Recorder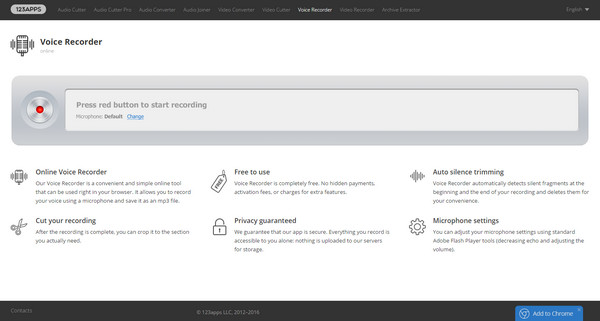 With the easy-to-use and clean interface, Online Voice Recorder is one of the most convenient and simple online audio recorder applications as you can use this audio recording software via web browser directly without requirement of downloading any extra software. When you get into Online Voice Recorder web page, there is a big striking sentence, "Upload and Share Any Sound". Under this slogan, you can see there are two options for your choice, respectively REC and choose files.
You need to pay attention to the point that this online audio recording tool is capable of recording your voice using a microphone and save them as MP3 files only. So if you would like to capture audio tracks from streaming music and playing videos, you can turn up to other audio recorders I mentioned. Plus, once your recording process ends, Online Voice Recorder allows you to cut and crop recorded MP3 files to the sections you actually need.
Pros:
1. Record Voice via a Microphone and save it as MP3;
2. Cut and trim unwanted recorded audio files;
3. Support various input formats, like MP3, AAC, etc.
Cons:
1. The sound could be not very clear;
2. Can't record audios from streaming music and videos.
Top 4. Record MP3 Online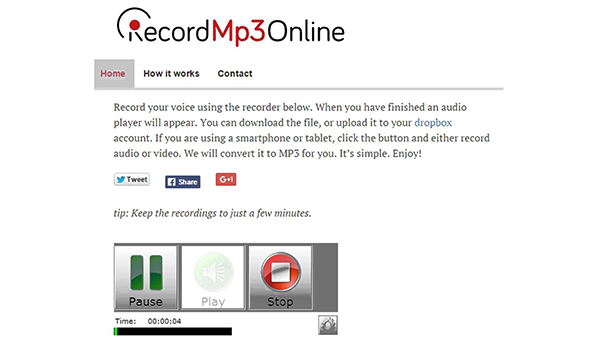 With this free online music recording software, you are able to record MP3 and other audio files online and download recorded audio tracks as MP3 format effectively. But the usage of this Record MP3 Online is a little different from other MP3 recorders mentioned above. Because ther is no direct button for you to record audio tracks as MP3 files meaning when you finished grabbing a complete audio tracks, you need to send the raw recorded files to the administrators of Record MP3 Online. After received these uploaded audio tracks, they will convert them to MP3 format. So the converting process could be a little complicated than other audio captures.
After recording audios with using this audio recording tool, it allows you to download the recorded files or you can upload recorded audio files to your dropbox account directly. It's worth mentioning is that this smart online audio recorder is available on portable mobile devices, like smartphones and tablets and it also has the ability of capturing videos.
Pros:
1. Available for multiple mobile devices;
2. Support recording audio and video files.
Cons:
1. The recording process is too tedious;
2. Can't support cutting unwanted recorded audio files.
Alternative to Online Free MP3 Recorder – TunesKit Audio Capture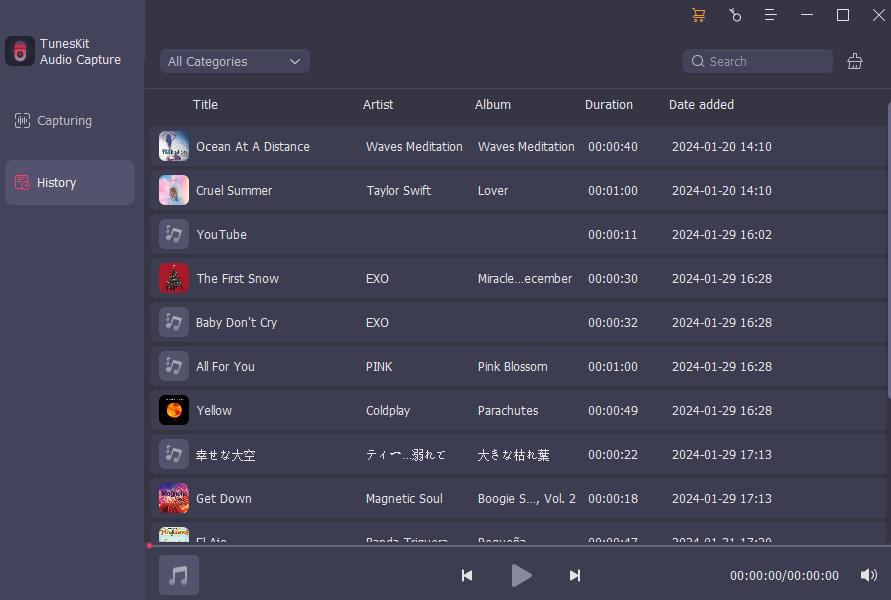 Since all audio recording tools are totally free and we should keep in mind that free software always comes with some predictable shortcomings. With the purpose of recording audio tracks with high output quality and advanced features added, a paid yet professional audio capture needs to be equipped on your computer. Taken price and performance into consideration, we highly recommend a prefect audio recording program for you, namely TunesKit Audio Capture, that takes you only $19.95 but comes with various extraordinary features. Available for both Windows and Mac, TunesKit audio recording software is capable of grab any sound from streaming music, live broadcasts, in-game sound, background music of videos, movie soundtracks, and more via web browser, web players, media player and other programs effectively. As a mulit-track audio grabber, it can not only convert and save recorded audios to MP3, FLAC, AAC, WAV, M4A, M4B, etc. but also fix and edit ID tags for recorded files according to your needs. With built-in editing function, you are able to cut and trim unwanted recorded audio files by doing a few clicks.
Pros:
1. Provide multiple input ways via system sound;
2. Support almost all common audio formats;
3. Have a wonderful editing function.
Cons:
1. Can't support recording voice via microphone;
2. Be paid.
Conclusion & Suggestion
Different free MP3 recorders have different and unique features. Obvious, compared to these free online audio records, Apowersoft online audio recorder could be put on the priority considering Apowersoft application is available for recording audio files as MP3 from system sound, microphone, as well as system sound and microphone and it also features some special functions. If you would like to explore a high quality audio track, and make your exclusive music for offline listening, TunesKit Audio Capture seems the smart choice for capturing audio files as MP3 losslessly. Of course, I'm not to say other software is not good for recording audios to MP3. As for which one to choose finally, you can try them one by one to get the best suitable MP3 recorders.

Nick Orin is a review writer, software geek and Mac OS enthusiast. He spends all his free time in searching useful software and gadgets to share with others.