Where you could find new, exciting electronic music for listening? Or where you can find your favorite tracks for your own DJ sets? There are a handful of online music websites and platforms for you to hunt for great music tracks, including Beatport, Soundcloud, Mixcloud, Traxsource and more.
Traxsource could be one of the leading online music stores for most of DJs around the world. It offers a home for both creative artists and music lovers where you can find various of electronic music tracks. It is also a download site for you to get your required tracks. Here we'll introduce how to download tracks from Traxsource in official way and for free.

Part 1. How to Download Music from Traxsource in Official Way
As a well-know music label store, Traxsource provides any flavor of house music for you to discover. Th most important thing is that you can listen to all music tracks in there before deciding whether you need to add it to your carts for buying and downloading. If you want to buy and download tracks from Traxsource, and follow the below steps.
How to Buy and Download Tracks from Traxsource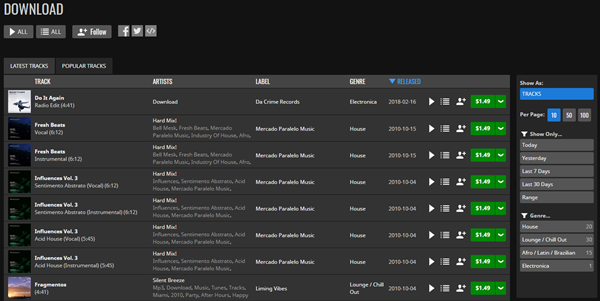 1. Log into your personal account on Traxsource and add your favorite Traxsource tracks to your carts.
2. Go your carts and choose to buy Traxsource tracks as the format of MP3, AIFF or WAV file.
3. Hover over the Traxsource logo head and choose the Download option.
4. Click the blue download button next to the track you want to download.
The above solution is only available for downloading Traxsource tracks from your browser, and you could also choose to download your music from Traxsource via Traxsource Downloader or Dropbox.
Part 2. How to Download Music from Traxsource for Free
For most of people, it's not cheap to buy all your favorite tracks from Traxsource. So, someone would want to find a free way? Here we do recommend TunesKit Audio Capture to you. Indeed, TunesKit Audio Capture is essentially a Traxsource download tool which can help you record and download your favorite music from Traxsource.
TunesKit software will simplify the process of getting your Traxsource music onto your computer and provide you with power to download your favorite tracks for free. With its help, you can get any tracks from Traxsource for free and save them to most of popular audio formats like MP3, AAC, WAV, FLAC, M4A, and M4B.

Key Features of TunesKit Traxsource Downloader include:
Capture music from streaming music services such as Traxsource
Convert the recorded Traxsource tracks to popular audio formats
Preserve music tracks with the original audio quality and ID3 tags
Support multi-track editing like trimming, merging, and splitting
Perform the following steps to download Traxsource tracks for free with TunesKit
1

Open TunesKit Audio Capture on your computer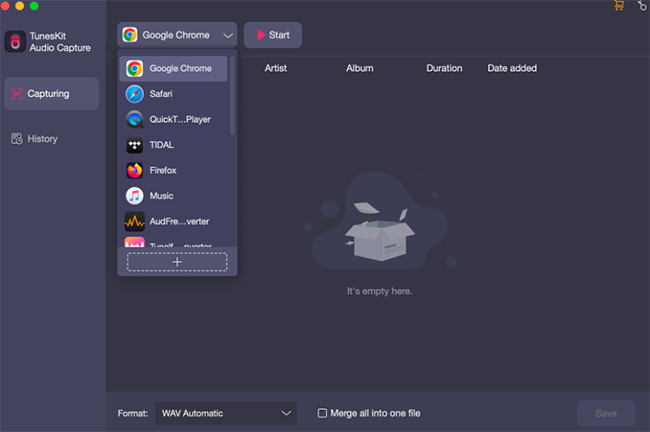 Open TunesKit software on your computer and you will see a list containing a bunch of programs like browsers, streaming services and others. You should check whether there is a browser for you to navigate to Traxsource in the list. If not, you can drag and drop your required browser to the interface of TunesKit software.
2

Customize the output Traxsource audio parameters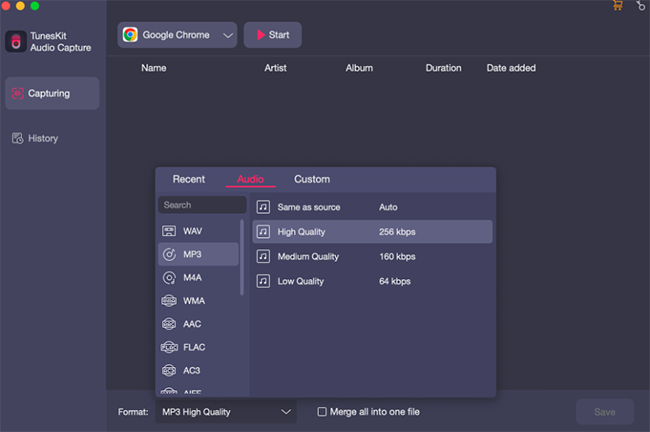 Now you need to set the output audio parameters before recording Traxsource tracks. Click on the Format icon and you will see a pop-up window. There are some options for you to adjust, including format, bit rate, sample rate, channel, and codec. You can select one audio format as your output audio format.
3

Begin to record audio from Traxsource with TunesKit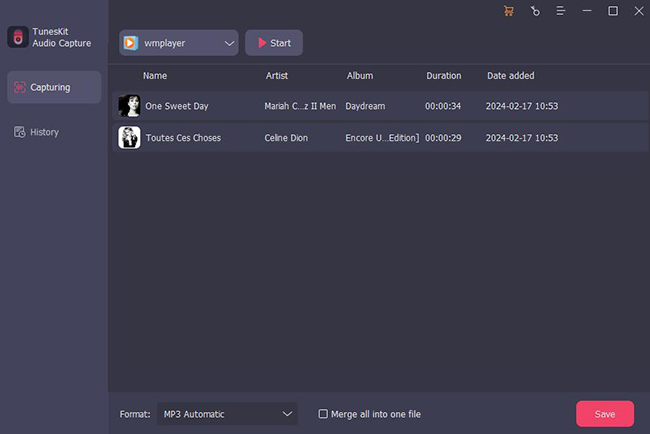 Simply touch the web browser to enter into the home page of Traxsource from the program list. Then you can log into Traxsource with your register account and discover your preferred tracks on Traxsource. TunesKit software will automatically capture and convert playing Traxsource tracks when you play Traxsource tracks.
4

Save Traxsource tracks to your computer after editing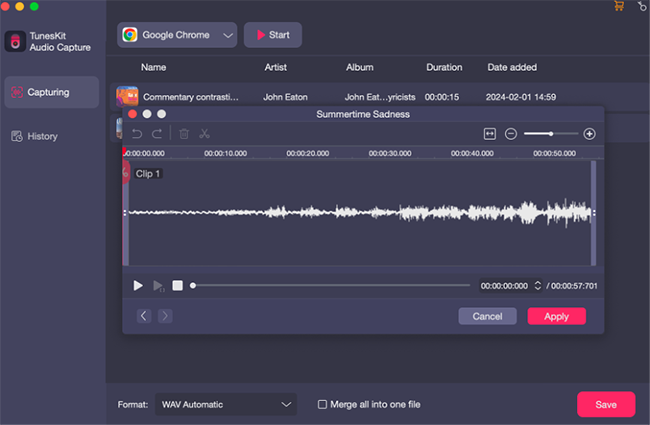 Once your required Traxsource tracks are recorded, you can stop the recording process by clicking the Stop button. With built-in extraordinary audio editor, you could click the Edit button at the rear of each track. Then you can customize Traxsource tracks. After the editing, you need to click the Save button to save Traxsource tracks.
Sum up
In general, the above two methods can help you download beats from Traxsource. You could choose to buy your favorite tracks from Traxsource first, then download them to your computer for listening or mixing. The other is to download Traxsource beats with TunesKit Audio Capture to six plain audio formats. Besides, you can also use it to save your preferred tracks from other music services.