How to Listen to Deezer Music Offline for Free in 3 Ways
Posted by Adam Gorden on Jul 7, 2022 6:00 PM • Category:
Record Audio
5 mins read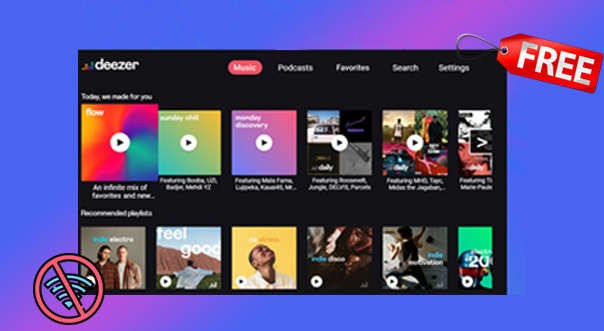 Deezer accounts that want to listen offline on the Deezer app are generally paid subscriptions, such as Deezer Premium, Deezer Family, or Deezer HiFi. Because Deezer Free only lets users listen to shuffle-based music, not the whole length.
Thus, you are able to turn on the Offline Mode for offline listening on the Deezer app based on the paid account, but does that mean you can not listen to the Deezer music offline for free? In fact, there are amount of solutions to tackle this problem, and we workaround some methods on how to listen to Deezer Offline for free. Please take a look.
Part 1. How to Listen to Deezer Offline for Free Officially
For the people who just want to listen to the music from the Deezer app, they can try the free trial of the Deezer paid subscription. But it's only for the new member. So if you're new to Deezer, you are possible to take advantage of the free trial in 1 month offered by Deezer Premium, Deezer Family, or Deezer HiFi, hence, the full functions are available and you are able to set the Offline Mode to download Deezer free music and listen offline.
How to Listen to Deezer for Free Offline on the Deezer App
Step 1: Open the Deezer official site and click on Subscribe or Try for Free, then select the plan as you like.
Step 2: After that, open the Deezer app on your phone and log into your account. Then turn to the Settings and turn on the Offline Mode option.
Step 3: Now you are free to download any Deezer music, and listen to them offline for free. But remember once your free trial expires, the downloaded music from Deezer won't be playable offline.
Part 2. How to Record and Listen to Deezer Offline for Free
In fact, the downloaded music on Deezer is a cache file that can not be played outside of the Deezer app. It's quite inconvenient when you want to listen to the Deezer free music offline on other devices or media players. To avoid this limitation, you might want to utilize the additional tools to help you play the Deezer music for free offline. So the first solution is to resort to a powerful audio recorder, which is TunesKit Audio Capture.
Unlike other audio recorders, Tuneskit Audio Capture does not record directly from the output device of your computer or phone but requires you to lock the target source, Deezer, before you start recording. Upon launching Deezer, it will capture the audio data automatically as soon as you start playing music, and then download the lossless Deezer music with ID3 tags. Then you have more choices of the output formats to export the Deezer music downloads to be compatible with different devices.
What's more, it comes with an editing tool so that you have the chance to cut the Deezer music length or edit the ID3 tags. Now let's have a look at how to get Deezer music offline listening.

Key Features of TunesKit Audio Capture
Download Deezer music and other audio from any media websites losslessly
6 plain formats including MP3, AAC, FLAC, WAV, M4A, and M4B available
Has an editing tool to cut the Deezer music and edit ID3 tags
Support recording Deezer music and merge them into one track
Try It Free
600,000+ Downloads
Try It Free
600,000+ Downloads
How to Get Deezer Music Offline Listening
Step 1: Download and Launch TunesKit Audio Capture. You will see the main interface with several program icons. To open Deezer, you can click a browser and access the Deezer website, or click the "+" icon to add the Deezer desktop software.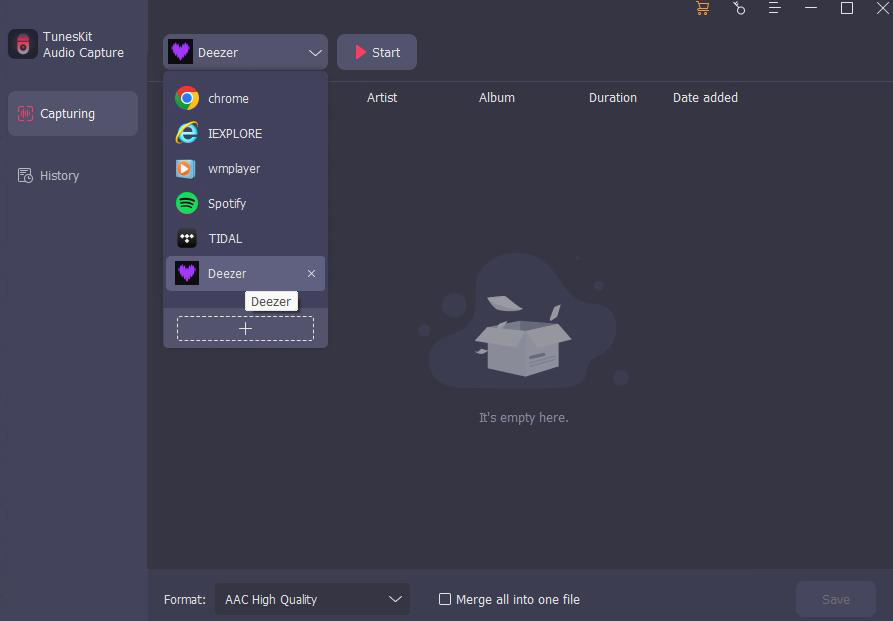 Step 2: You can change recording parameters by clicking the Format button at the bottom right. In this panel, you are able to select the output format like MP3, M4A, FLAC, etc., or change the codec, bit rate, and others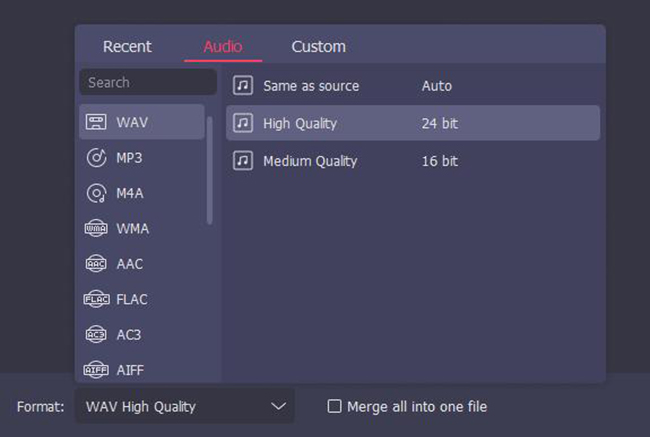 Step 3: Next, tap the target icon to open Deezer. And TunesKit Audio Capture will pop up a capture window. Once you play the music on Deezer, it will automatically capture the song immediately. When the song ends, click the Stop button and you'll see the downloaded Deezer music in the Capture list.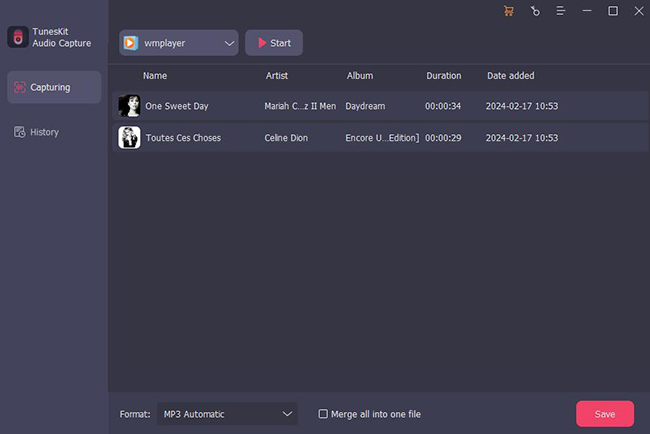 Step 4: If you need to trim or cut the Deezer music downloading, tap the Edit button, then you can cut the music on the Trim side, and complete the ID3 tags on the Tag side.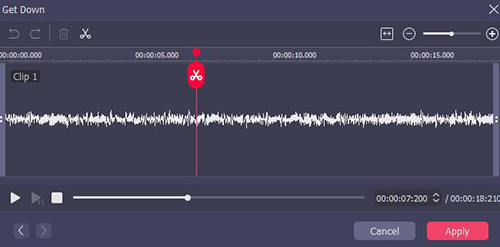 Step 5: When everything is done, hit the Save button, and the latest recorded Deezer music will be shown in the History list. And you can also tap the Search button to locate to the destination folder. Now the Deezer music file can be transferred to any device for free offline listening.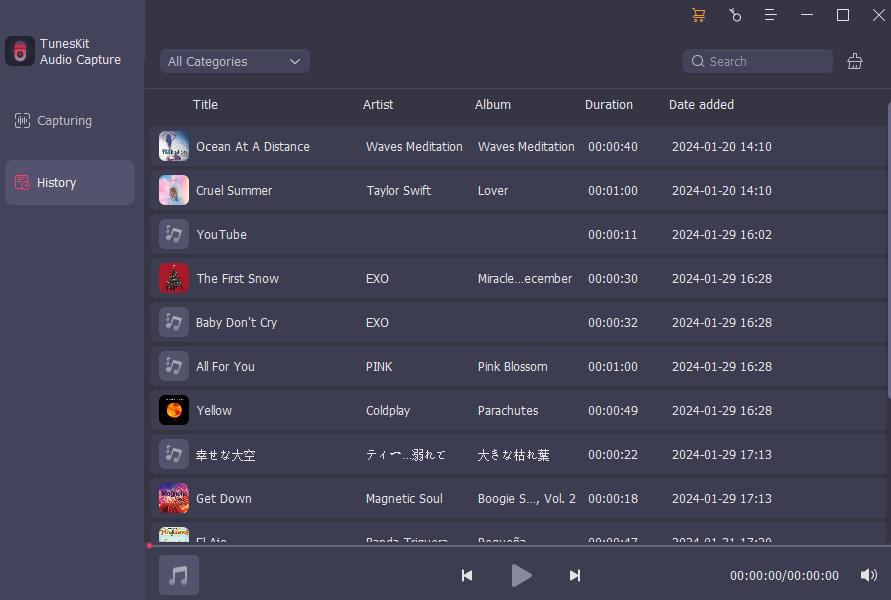 Part 3. How to Transfer and Listen to Music from Deezer for Free Offline
In case you're tired of playing Deezer music and recording them one by one, and you'd like an easier way to download entire Deezer albums, playlists, or podcasts in bulk, AudFree Deezer Music Downloader can easily make it out.
This software is specialize in downloading and converting any content on Deezer to the local storage of your computer so that you can get Deezer music listened to offline for free. No matter the free or paid subscriptions are, you just need to register your Deezer account into AudFree Deezable, and then it has the ability to help you download any content on Deezer you want and convert them to six formats such as MP3, WAV, AAC, M4A, M4B, FLAC. Please read the tutorial below to learn how to listen to Deezer free music offline.
How to Convert and Listen to Deezer Free Music Offline
Step 1: Make sure you have installed the Deezer desktop app on your computer first. Then download and run AudFree Deezable. It will auto-open the Deezer desktop app and you're required to log into your Deezer account according to the prompt required.
If you need to activate the full version, just click on the three-line icon on the top bar and select Register to type into your Email address and registration code.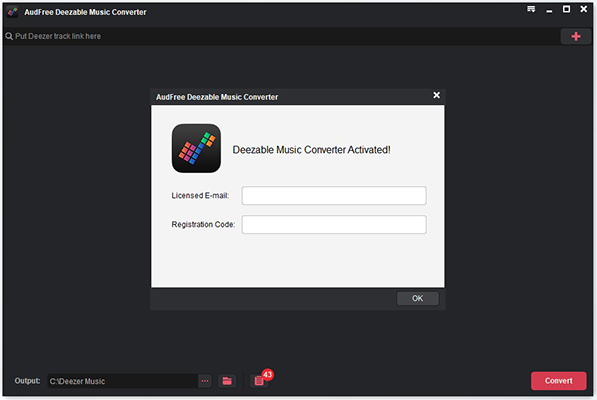 Step 2: This step is optional, you can skip it if you don't need to change the settings. Click the three-line icon and select Preferences, here you can change the output format, bit rate, sample rate, etc.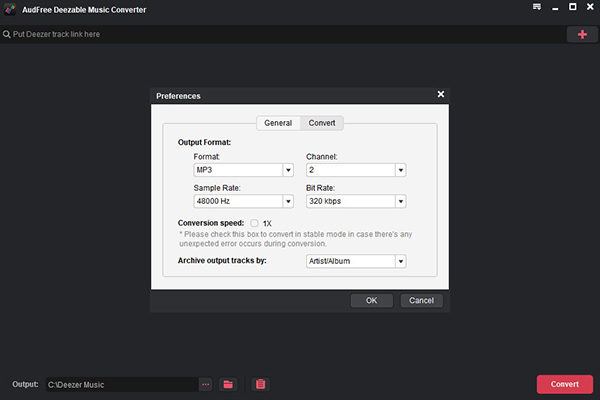 Step 3: Next, you need to find out your desired Deezer music or album on the Deezer app. Then tap the three-dots icon, choose Share > Copy, then paste the link into the search bar on Deezable, and hit the "+" button.
Step 4: After a few seconds and you will see the result, click the Convert button at the lower right, then you can check the converted Deezer music in Converted. And now you can click the Search icon to open the Deezer music file for free offline listening.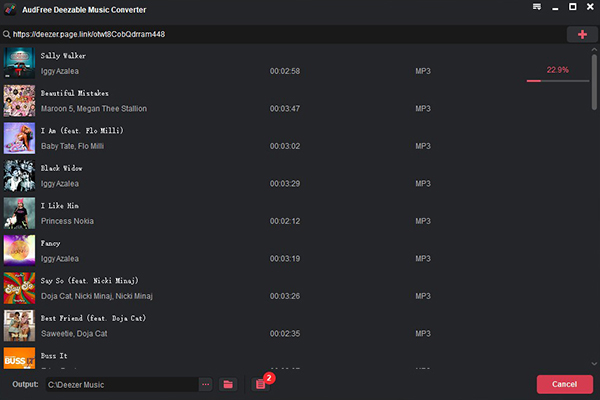 Part 4. Conclusion
This post has tackled the problem of how to listen to Deezer offline for free with 3 practical methods. You can try the free trial of the paid subscription if you're a new user, or use TunesKit Audio Capture or AudFree Deezer Music Downloader to download and listen to Deezer for free offline. Anyway, just pick the suitable one and start your Deezer free offline trip.