Deezer is an online music streaming platform from French that provides users with high-quality music through Deezer HiFi, especially FLAC music files. Now it can be used on the web, Android phones, iPhones, Windows, and macOS so that you can hear the song on it anytime. But for people who want to download high-quality FLAC music, they need to first become a Deezer HiFi subscriber who pays $14.99 per month.
Maybe for some people, this price is so higher than the budget that they give up the idea of downloading FLAC music and think about whether there is a more affordable way to get FLAC files instead. Fortunately, we will list some possible ways to download Deezer FLAC music for you.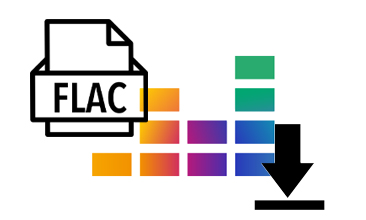 Part 1. Official Way to Get Deezer FLAC Downlaod
If you are already a Deezer HiFi subscriber, you can download the Deezer FLAC music directly on your Deezer mobile app or Deezer desktop app. And one thing that should be noted is that the FLAC songs you downloaded only can be played on the app for offline listening.
Download FLAC from Deezer on Mobile Phone
Step 1: Launch the app and log into your Deezer HiFi account.
Step 2: Select your favorite album or playlist that you want to download. If you want to download the individual song, you need to add it to a playlist first.
Step 3: Go to Favorite at the bottom, click the album or playlist and select the song you would like to download. Click the three dots on the top right corner, and click Download album. Or just slide the Download button to start Deezer FLAC downloading.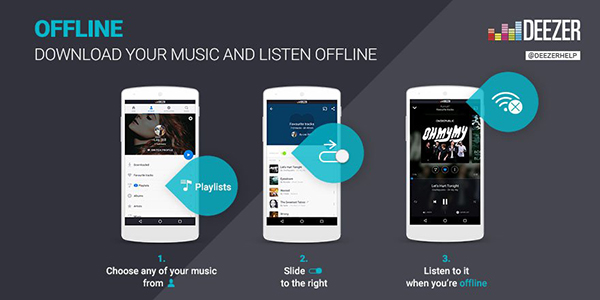 Part 2. How to Download Deezer FLAC Music via TunesKit Audio Capture
For the people who just want to only download a single song or song track, they might prefer to find other ways to get the FLAC music on Deezer without the Deezer app. A powerful third-party software can help you to achieve it, which is called TunesKit Audio Capture. It allows you to download Deezer FLAC music for offline listening, sharing with others, or burning to CD.
Although it's just an audio recording app, it can capture Deezer music with original quality and ID3 tags, and output it in FALC format or others, such as MP3, AAC, WAV, M4A, M4B. What's more, this software offers an audio editing tool that allows you to trim or split the Deezer FLAC download.
By the way, it supports users to record audio from Tidal, YouTube, Pandora, and other types of sound on your computer. Keep reading and see how to download Deezer FLAC music via TunesKit Audio Capture.

Key Features of TunesKit Audio Capture
Download Deezer music to MP3 FLAC, AAC, WAV, M4A, etc.
Support multi-track downloading, audio cutting, spliting and merging
Record any types of audio, such as desktop audio, online audio, and more
Preserve original Deezer music quality and track information
How to Download FLAC Music from Deezer
Step 1: Open TunesKit Audio Capture, and click the Format button to preset the format as FLAC. Then click OK.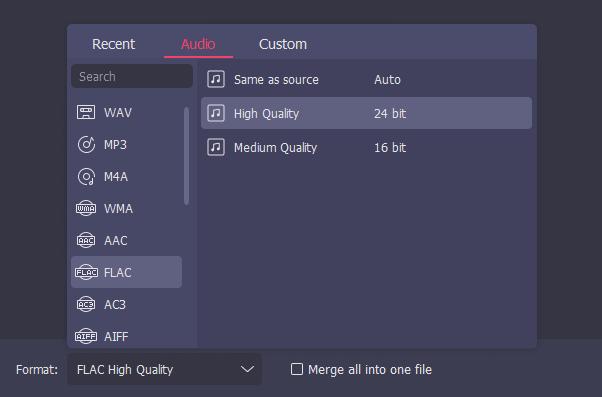 Step 2: In the main interface, open a browser by clicking the browser icon, then enter the Deezer web and find the song that you want to download.
Step 3: TunsKit Audio Capture will start downloading the song as long as you play it. After that, click Stop, and the Deezer FLAC download will be displayed in the Capture list.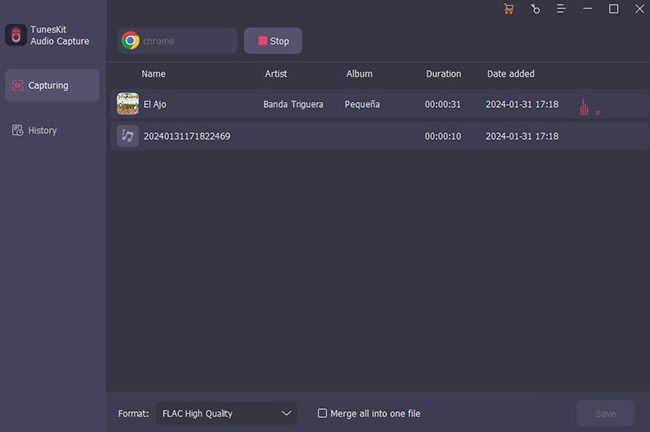 Step 4: Click the Edit icon to open the editor, you can trim or split the Deezer FLAC download here, and edit the ID3 tags on the Tag side. When you've done, click OK.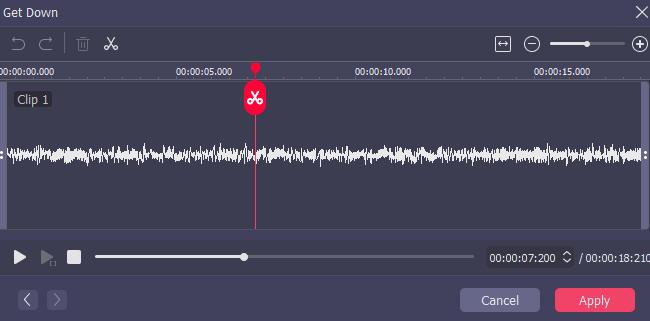 Step 5: The edited Deezer FALC music will be in the Capture list first, click Save and it will be saved in the History list. You can double-click to listen to the song, or click the Search icon to open the folder to check the Deezer FLAC download.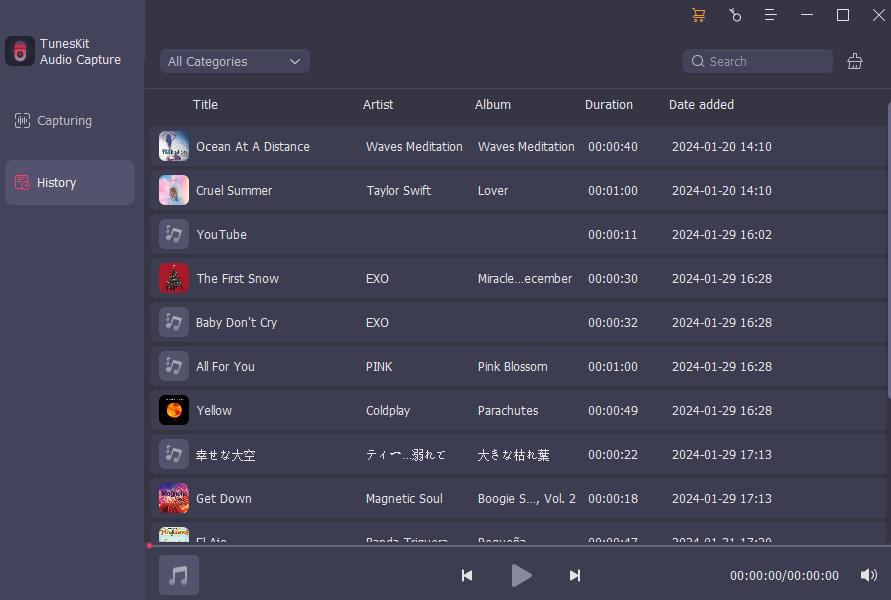 Part 3. Download FLAC from Deezer with Deezer Music Converter
When you're using the Deezer app to download the song, you can not hear the downloaded song again if you cancel the subscription or the subscription expires.
So another Deezer music downloader that we want to introduce is AudFree Deezer Music Converter. This Deezer music converter will be released in May, and is available on Windows and macOS that can download Deezer songs losslessly with music metadata, and convert them to FLAC and other formats. Thus you can hear the song offline. Want to know how to use it to download Deezer FLAC music, here comes the steps:
How to Download FLAC from Deezer
Step 1: Download and launch AudFree Deezer Music Converter. Drag the desired Deezer music from Deezer desktop app to the AudFree interface.
Step 2: Click the drop-down menu on the top right to select Preference>Convert, then set the format to FLAC and click OK.
Step 3: Click the Convert button on the button right, after a few seconds you can get the Deezer FLAC music download successfully.
Part 4. Download FLAC from Deezer with Deezloader Remix
Deezloader Remix, an improved version of Deezloader, is a free tool to help you download FLAC music from Deezer. This program can be used on Windows, macOS, and Linux, supporting users to download Deezer music directly from a URL. Now you can follow the steps below.
Step 1: Install and launch Deezerloader Remix, click on Setting at the upper right, and log into your account. Paste the token and click Update User Token and click Save.
Step 2: Now you can type the song name or paste the URL of the song, click the Search button.
Step 3: When the result comes out, click the Download button. After a few seconds, the Deezer FLAC music has been downloaded successfully.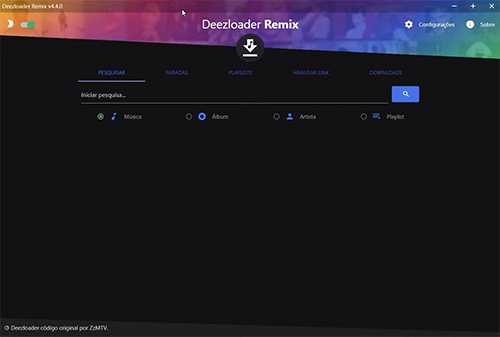 Part 5. Conclusion
That's all 4 methods we have to download Deezer FLAC music, which includes the official way, paid software and free program. It's worth mentioning that using TunesKit Audio Capture not only allows you to download FLAC music from Deezer but it can also be used to capture other kinds of sound, so you can use it to record any audio you want without any hassle. If you have any other way to download FLAC music from Deezer. Please leave your comments.