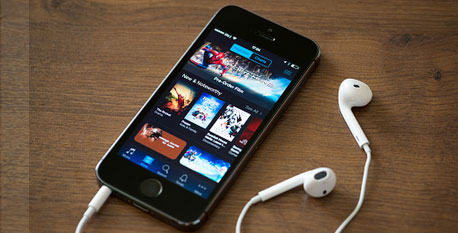 With 16 million monthly active users and 6 million paid subscribers, Deezer is the first French internet-based music streaming service, which allows users to access to over 43 million song tracks. If you are the newbie using Deezer music website with the registered Deezer account, although you can listen to the whole Deezer library, there is no download link for you to download Deezer music streams for offline listening, only in the case that you have updated your account to paid version, including Premium+ for $9.99 per month with 30-day trail and Deezer Family for $14.99 a month.
So you might wonder to know is there an effective solution for free users and trial users to download and record Deezer music tracks for playing them without Internet connection? In order to get rid of this hassle, there are three selectable ways offered in the following article to capture and download music from Deezer music streaming service.
Method 1. Best TunesKit Deezer Music Capture to Download Deezer Music Streams
When it comes to downloading streaming songs from Deezer, most of us will think of looking for some professional Deezer music downloader to download Deezer songs. But there is also another professional and simple way to make Deezer music downloadable. You can use TunesKit Audio Capture to download and record audio tracks playing on computer, including Deezer, Spotify, Apple Music, Pandora Music, and other popular streaming services. With built-in advanced and innovative recording technology, you can grab and download Deezer music to MP3, MAV, AAC, FLAC, and more without touching original quality. This excellent and powerful audio recording tool is available for Window and Mac supporting almost all web browsers, like Google Chrome, Sarari, Internet Explorer, etc. TunesKit Deezer music recorder comes with an intelligent ID3 tag editor, which means that you can customize the metadata info of recorded Deezer streaming songs, such as year, cover, genre, artist, etc.

Key Features of TunesKit Streaming Audio Recorder
Download and capture all sorts of Dezzer music streams
Convert recorded Deezer music to MP3, AAC, WAV, FLAC, M4A, M4B
Keep and fix original audio quality and ID3 tags
Support multi-track recording, audio cutting and mixing
Capture Spotify, Apple Music, Amazon Music and any other sound on computer
Download and Record Music from Deezer with TunesKit Audio Capture
Since TunesKit Studio provides the trial version of TunesKit Audio Capture to test its performance before purchasing, please download and install TunesKit audio recording software on your computer firstly. Now, you can refer to the following step-by-step guide to learn how to download and record Deezer streaming music.
Step 1Launch TunesKit software and set the basic settings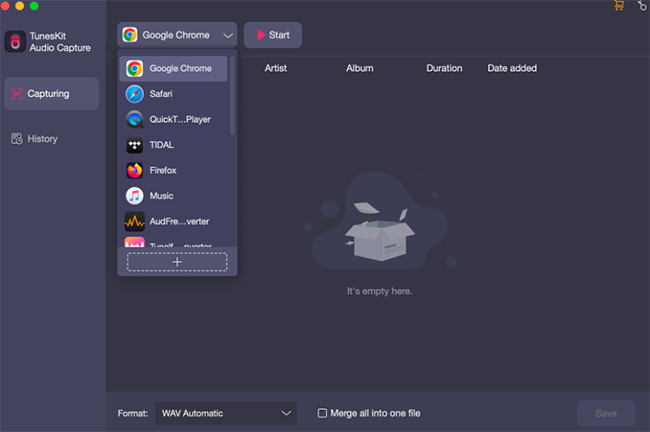 Once you have launched TuensKit Deezer streaming music recording tool, you can see there is a complete list of downloaded and installed web browsers, media players, and other programs in the main interface. Please make sure that the web browser you need is in the line of the program list. In this step, the other thing you need to do is clicking the Format button to set the output format for recorded Deezer music, like MP3, AAC, FLAC, WAV, etc.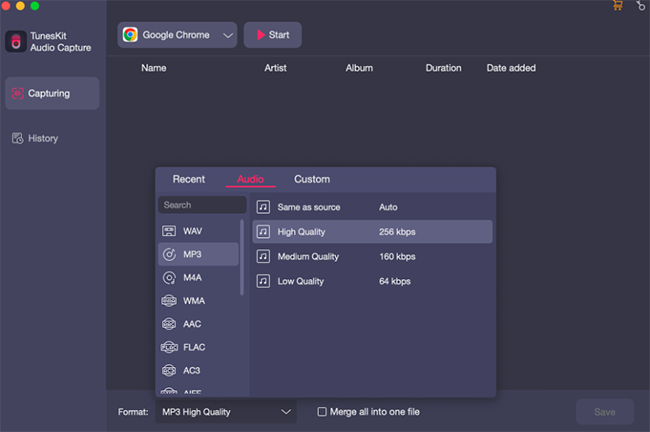 Step 2Begin to play and record Deezer music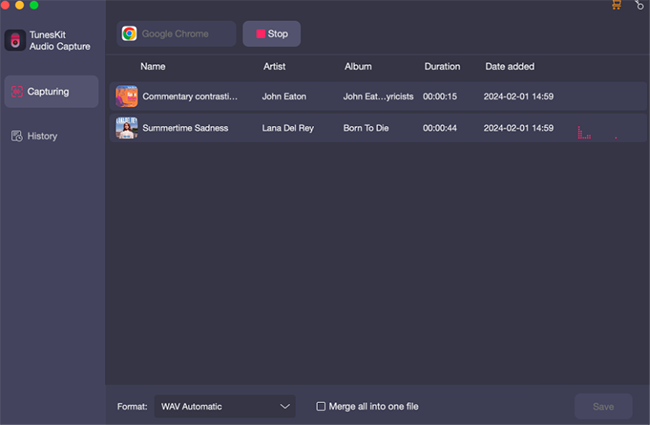 Open one of the web browsers from Chrome, Safari, IE and others to enter into the home page of Deezer. You can start to sign in your Deezer account and locate to the Deezer library. Now, you can play the favorite Deezer music stream that you would like to record and download. TunesKit software supports multi-tracks audio recording technology, you can play all Deezer music at the same time and TunesKit audio recording tool will automatically launch the recording process to capture and download all playing Deezer tracks.
Step 3Customize exclusive Deezer music by cutting and trimming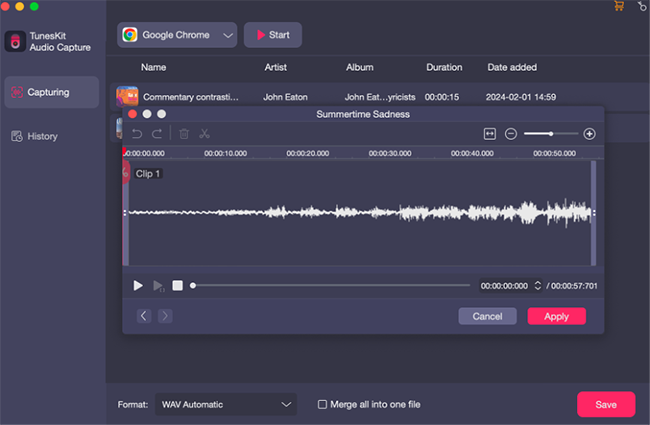 This step is optional, so you can skip it and keep by default. Each recorded Deezer audio track has an Edit icon, and you can simply click it to open a cutting window, in which you need to set the start time and end time for making special Deezer songs. Also you can edit the ID3 tags in this step.
Step 4Stop and export recorded Deezer tracks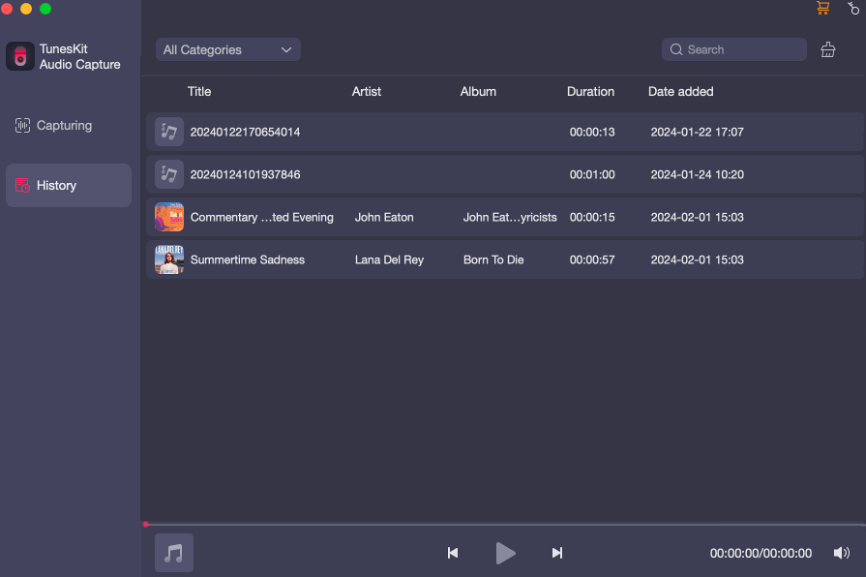 If you would like to stop the recording process, you have toquite the whole web browser or stop playing Deezer songs. Now, you can locate the downloaded Deezer music on the History folder. In order to make all Deezer songs meet your requirements, there is a real-time preview for you to detect output quality and cut unwanted segments again.
Method 2.How to Download Music Steams from Deezer by Using Deezify
As a Chrome extension, Deezify can be used on Google Chrome only. In spite of this limitation, Deezify is totally free and you can download all sorts of streaming music from Deezer to MP3 without any ads. In order to get this wonderful software to download Deezer music, you have to install it on your computer firstly. Here, I will give the simple tutorial to let you how to make Deezify download audio tracks from Deezer on your computer.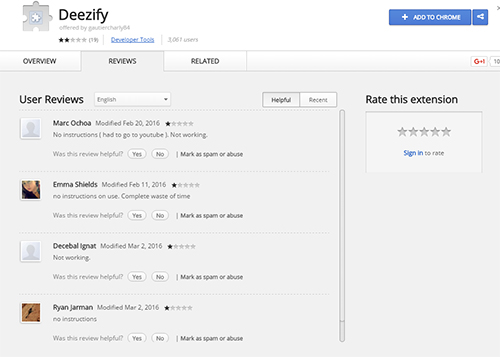 Step 1. Open your Google Chrome, choose the Tools option from the dropdown list on the far end of the address bar, and then you can click the Extensions button to enter into a new window.
Step 2. In the new window, there is a list of downloaded extensions. You need to type in Deezify to find it and install in on your Chrome browser.
Step 3. Open Deezer in the web browser and start to play your favorite Deezer songs, Deezify will automatically help you download streaming music from Deezer to MP3 files.
Method 3. Audacity - Best Free Deezer Music Downloader to Record Deezer Tracks
Beyond all doubt, if you would like to use some paid audio recording software to download and record Deezer music files, TunesKit Audio Capture seems the No.1 choice for downloading lossless Deezer music tracks. However, if you want to try some free Deezer music downloader, we highly recommend Audacity, a free and open-source streaming audio recording tool, which is specially designed to record streaming audio tracks from Deezer and other websites freely. With the easy-to-use and clean UI, Audacity allows you to adjust pitch, bass, and treble, or normalize noise and add effects like reverb and phasing to recorded Deezer audio files as you like. But, there are following important points you should pay attention: the recorded Deezer audios can be saved as WAV or AIFF only and the editing tool can damage the original audio tracks.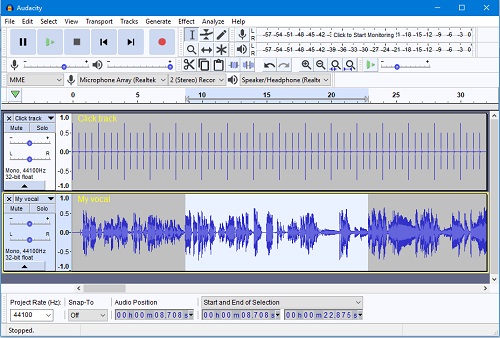 Summary & Suggestion
From all ways of downloading and recording Deezer streaming music, I prefer to use the first solution using TunesKit Audio Capture to record and download music from Deezer. Thought this audio recording software is not free of charge, compared to subscribe Deezer every month, it can save a lot of money for you. Output quality is the best important factor when choosing a great Deezer audio recorder. Obviously, the output Deezer files recorded and downloaded by TunesKit software is better than Audacity. Of course, using Deezify to download Deezer music to MP3 is also worth recommending solution. You can try three solutions mentioned-above one by one, and choose the most suitable way to download and record Deezer music for offline listening.