How to Download BeatStars to MP3
Updated by Adam Gorden on Nov 2, 2023 4:00 PM • Category:
Record Audio
5 mins read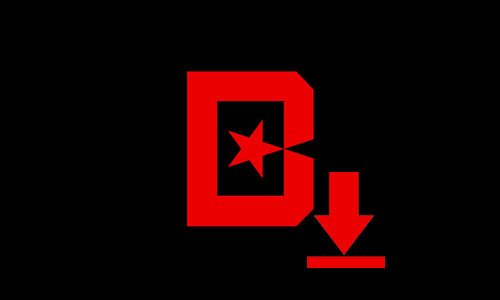 Whether one is composing or editing a vlog, nothing is complete without a tune. Creating beats on their own can be a challenge, especially for those who don't know much about composing. Therefore, they prefer to download or buy beats or tracks online in order to add them to their compositions. Here, we would like to introduce you to BeatStars, one of the famous music licensing platforms from which you can download any kind of beats or tracks.
BeatStars is a global music platform that brings together recording artists, beat makers, producers, and others to upload, distribute, collaborate, license, and sell their works. And you can sample any type of track and get a license to use it. So here comes the question, how to download BeatStars to MP3? This post will give you the answers.
Part 1. Official Way to Get BeatStars Downloads
Everyone is able to browse and listen to samples on BeatStars, but they need to register before downloading or buying the tracks they want. And if you download BeatStars music by this way, you cannot download BeatStars to MP3. There are two different download methods available for BeatStars tunes. The first is to download free beat samples directly under the Free Beats section; the second is to acquire a license to unlock full audio-only tracks that are free of audio watermarks.
1.1 How to Get BeatStars Free Sample Downloads
Step 1: After visiting the BeatStars homepage, log into your account and click on the Tracks option and select Free Beats.
Step 2: The beats in this directory are available for a free audition and download but with audio watermarks. These tracks will be marked with a free download icon next to the price.
Step 3: Click on the Download icon for the track you want, and select Follow on BeatStars to download it now.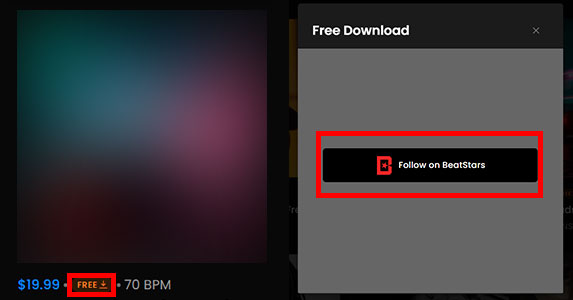 1.2 How to Download the Full BeatStars Tracks
Step 1: Click on the preferred track title to go to the details page.
Step 2: Select the Licensing you want to buy according to the different options and click Add to Cart.
Step 3: Go to the shopping cart and pay.

Part 2. How to Download BeatStars Samples without Purchasing
Although most of the tracks on BeatStars support free download samples, there are still some that don't show a free download button. If you really need a beat for use in your works, we still recommend you choose to buy a license. Alternatively, if you don't care about audio watermarks and just want to download the tracks for offline listening only, without any editing, distribution, or application of the tracks, you can use a professional audio grabber, namely TunesKit Audio Capture.
In addition to the BeatStars website, TunesKit Audio Capture provides a quick and practical fix any time you come across a website or application lacking music download choices. It's an audio recorder, but it's also different from the usual recording tools.It has the ability to record the audio you want losslessly, without worrying about sudden noises interfering with the recording process.
Moreover, after the recording is done, it is able to keep the ID3 tags of the tracks and also allows you to merge, trim, split, and even edit the ID3 tags of the recorded tracks. Finally, it can export and download BeatStars tracks in the audio format you specify, such as MP3, AAC, FLAC, WAV, M4A, and M4B. Please read the tutorial on how to download BeatStars to MP3 via TunesKit Audio Capture.

Key Features of TunesKit BeatStars Downloader
Get BeatStars music downloads losslessly and keep the ID3 tags
Record audio from website and desktop program without quality loss
Export music recordings to MP3, AAC, FLAC, WAV, M4A, and M4B
Come with an audio editor to merge, trim, and split the audio and edit the ID3 tags
Try It Free
600,000+ Downloads
Try It Free
600,000+ Downloads
How to Get BeatStars Downloads via TunesKit Audio Capture
Step 1

Download and install TunesKit Audio Capture

Download and install TunesKit Audio Caputre on your computer. Open it and you'll see a program list on the main interface. Check if a program can access BeatStars website. If not, you can tap the + button or drag and drop the target one to the recorder home screen.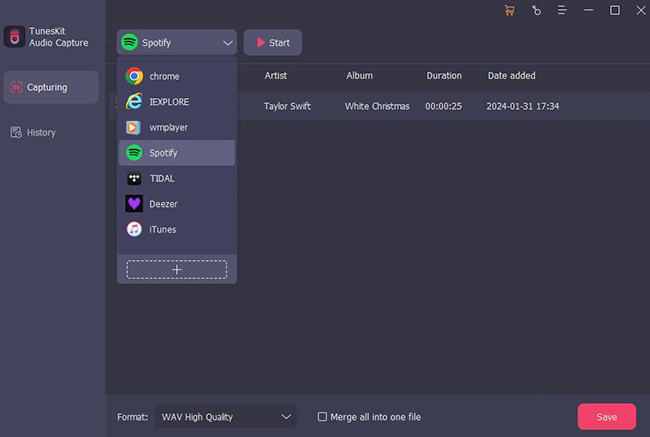 Step 2

Customize output format

This step is optional. The Format button at the bottom right corner allows you to adjust the audio parameters, such as output format, codec, channel, sample rate, and bit rate. You can change the options as you like.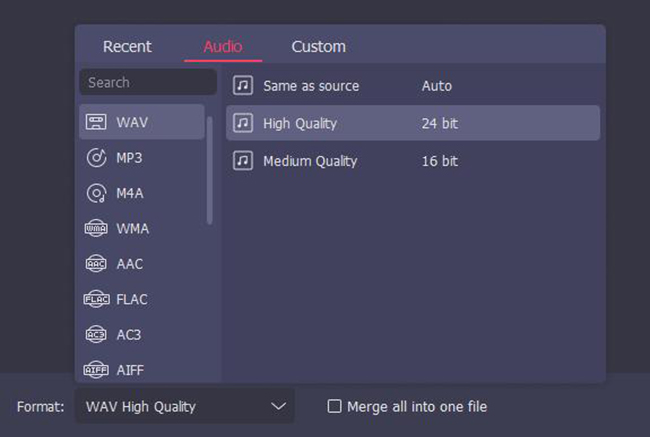 Step 3

Start recording audio

Click on the target program from TunesKit Audio Capture home page to access BeatStars webiste. Simply play the track you want to download. TunesKit Audio Capture will begin to record the audio immediately. You can also open several tabs to visit BeatStars page and play different beats at the same time, and TunesKit Audio Capture will record them without affecting each track.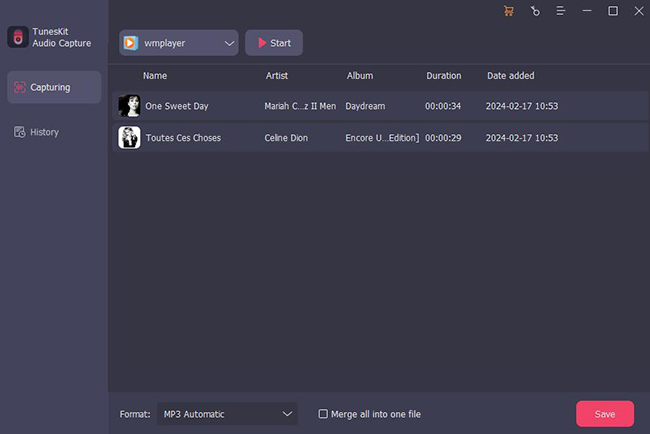 Step 4

Stop and edit

When you finish, click on the Stop button. The downloaded BeatStars tracks will be in the Capture list. And you can edit them by clicking on the Edit icon at the rear of each track.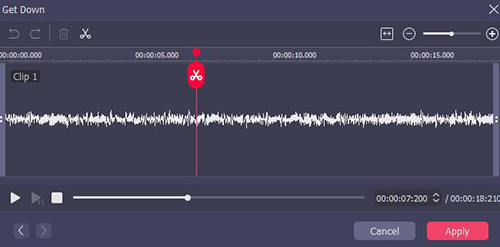 Step 5

Save and locate downloaded files

When all is done, hit the Save button and the BeatStars download tracks will be shown in the History list. You can locate the local folder by tapping the Search icon at the rear of each track.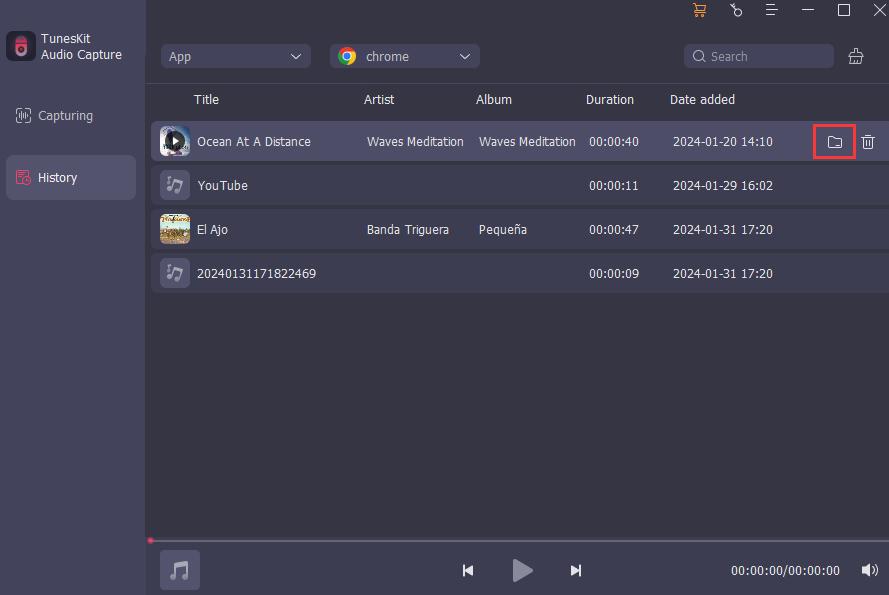 Part 3. FAQs about BeatStars Downloads
Q1: Can you download from BeatStars?
As long as you acquire the license, BeatStars allows you to download the beats and tracks. In addition, some tracks include free samples with audio watermarks for download.
Q2: How do you download beats from BeatStars?
There are two allowed methods to download beats on BeatStars. The samples with audio watermarks can be free downloaded, or you can purchase a license to unlock the full pure track.
Q3: What does free download on BeatStars mean?
BeatStars free download can let you download BeatStars to MP3, which means the track will include audio watermarks. And you may not take the track downloads for any commercial purpose.
Q4: When you buy a beat on BeatStars do you own it?
A non-exclusive license grants you the right to use the beat in your projects, but the producer has the right to sell the beat to other artists. It means that if the beat does't belong to you, you cannot use it in your project and post it to any social media.
Part 4. Conclusion
BeatStars bring great convenience when someone wants to get a beat and track used in its creation. We have explained two official ways for you to get BeatStars downloads. In addition, we also recommend an effective audio recorder, TunesKit Audio Capture, for you to lossless download BeatStars to MP3 that do not feature free download options. But one important thing you should note is that you may not use these BeatStars free downloads for any commercial use; the only way to be allowed is to purchase the license for the track you want.