[4 Methods] How to Download SoundClick to MP3
Posted by Adam Gorden on Nov 3, 2022 6:00 PM • Category:
Record Audio
5 mins read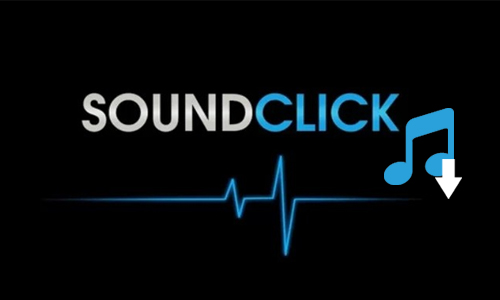 SoundClick is one of the best music platforms for exploring music. It is an online independent music community founded in 1997, with millions of registered members, for exploring genres, artists, beats, and music. It's also a free outlet for artists to upload and sell their singles and beats, everyone can upload and sell their singles, albums, and music productions for free streaming.
Also, the music here is mostly free for downloading to a local MP3 file. In this post, we'll mention 4 ways to download music from SoundCloud to MP3 file with different SoundCloud to MP3 converters. Let's get started.
Part 1. How to Download SoundClick to MP3 Officially
If you are a loyal user of this site, you will be familiar that much of the music on the platform is available for free download, as a download button is clearly at the back end of the track. And some of the songs provide different audio quality and formats, such as MP3, and WAV. As for the songs that require payment, the download option will be shown after the purchase. Anyway, the download process is the same, and you can refer to the steps below to download music from SoundClick to MP3.
How to Download Music from SoundClick
Step 1: Locate the SoundClick music you want to download. Tap the Download icon after the track.
Step 2: It will bring up a small window allowing you to choose the format and quality of the download. Here we suggest MP3 320kbps as you can enjoy high-quality SoundClick MP3 anytime.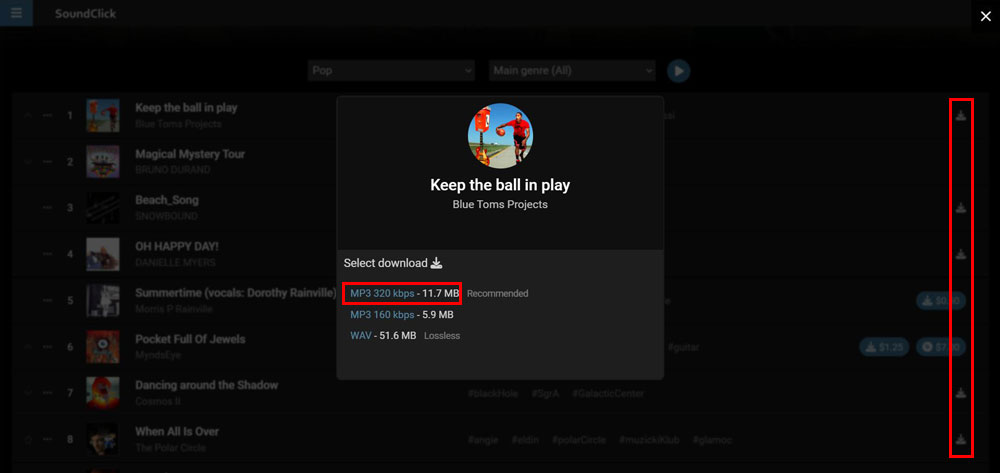 Part 2. How to Download SoundClick with SoundClick to MP3 Converter
However, not every beat of songs is available for purchase or download. There are still other tracks without a download button on SoundClick. In this case, third-party audio download software comes in handy. For example, TunesKit Audio Capture.
TunesKit Audio Capture is a professional audio grabber that downloads any kind of audio or music from any platform or program. With this SoundClick to MP3 converter, you're able to download SoundClick to MP3 as well as AAC, FLAC, AAC, and other formats with the original quality and full ID3 tags preserved. Plus, it comes with a simple audio editor, allowing merging, trimming the SoundClick music tracks, and editing the ID3 tags as you like. Now learn the tutorial on how to use TunesKit SoundClick to MP3 Converter to download music.

Key Features of TunesKit SoundClick to MP3 Converter
Download SoundClick music and other streaming music losslessly
Convert SoundClick to MP3, AAC, FLAC, WAV, M4A, and M4B
Multiple tracks can be recorded simultaneously without affecting each track
Feature an audio editor for merging, cutting, and editing ID3 tags
Try It Free
600,000+ Downloads
Try It Free
600,000+ Downloads
How to Download SoundClick with TunesKit SoundCloud to MP3 Converter
Step 1: Download and install TunesKit Audio Capture on your computer. Launch the program and you'll see the main screen of the included programs, which can choose the audio source. Select the program that can access SoundClick. If not, click the + button to add the target one.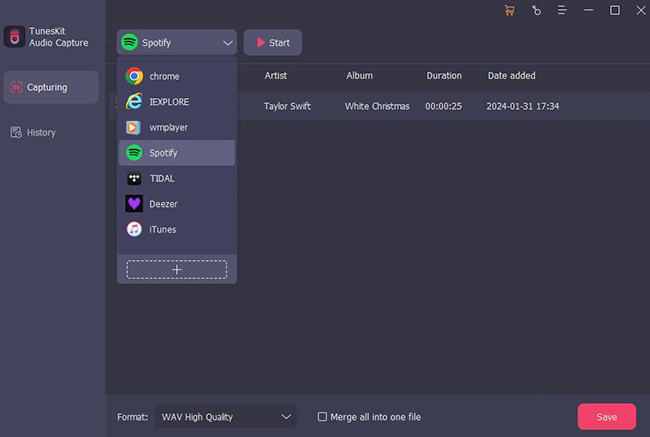 Step 2: For SoundClick MP3 downloads, you can preset the music parameters before going to SoundClick. Click on the Format button to open the settings. The default mode of the program is MP3 if you are using it for the first time. But you can still adjust other options such as codec, channel, sample rate, and bit rate.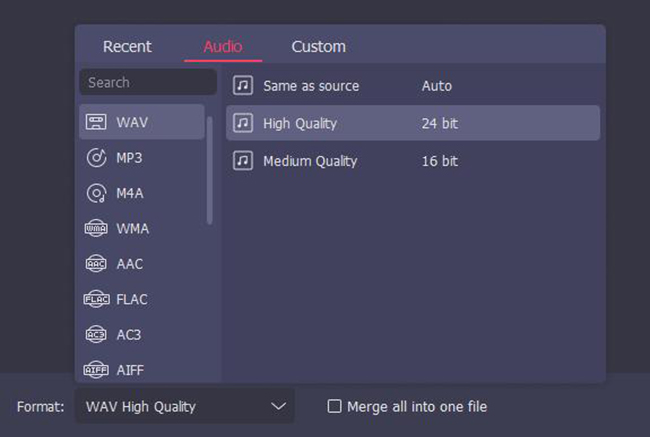 Step 3: It's time to download the SoundClick to MP3. Open the target program from TunesKit Audio Capture and navigate to the SoundClick website, then play the music your want to download. TunesKit Audio Capture will start recording the audio immediately. When you finished, click on the Stop button or quit SoundClick.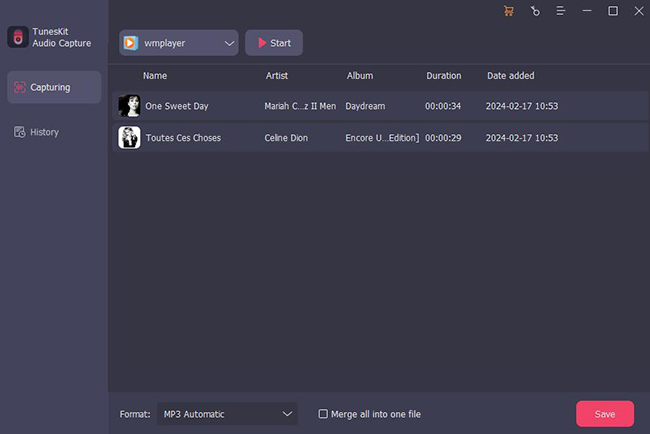 Step 4: The SoundClick MP3s will be listed in the Capture List. You can merge them by hitting the Merge button at the bottom left or edit each track by clicking on the Edit icon, such as trimming the music length and filling in the ID3 tags.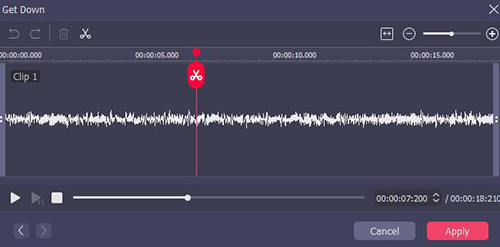 Step 5: Last, tap the Save button when you are finished. All SoundClick MP3 downloads will be in the History list. And you can locate the destination folder by clicking on the Search icon.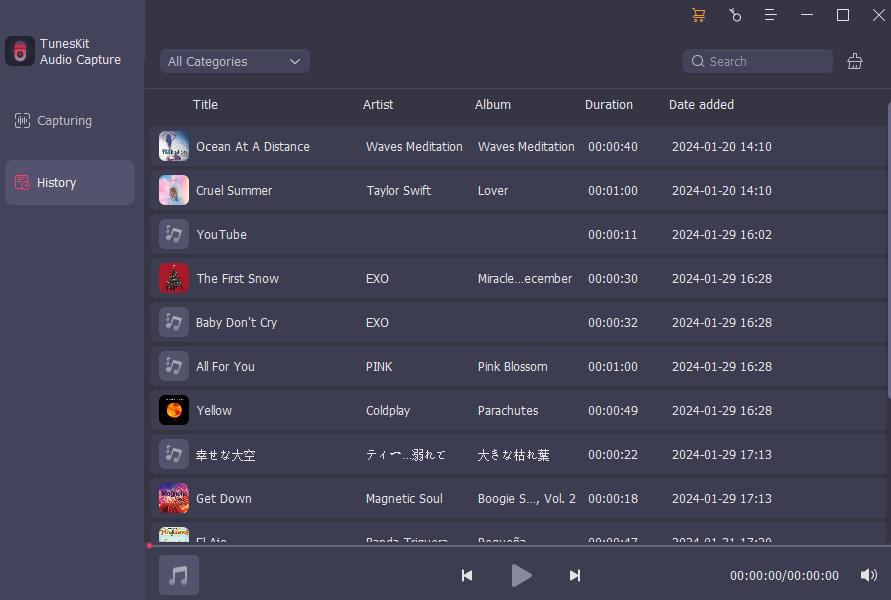 Part 3. How to Download SoundClick to MP3 Online
There are still other direct ways to download and convert SoundClick to MP3, which is by using DevTools. Have you ever heard of this tool? If yes, you'll understand it's also a convenient path to get SoundClick MP3 downloads. After you launch the tool, you will be able to see the data of the playing beat from SoundClick and download it with a few clicks. You can refet to the steps below.
How to Download Music from SoundClick
Step 1: Open SoundClick website and play the preferred music.
Step 2: Tap the F12 key to call out DevTool.
Step 3: It will auto-detect the music data. Click on Network > Media, and right-click the music file and choose Open in new tab.
Step 4: When the new page pops up, tap the three-dot button and select Download.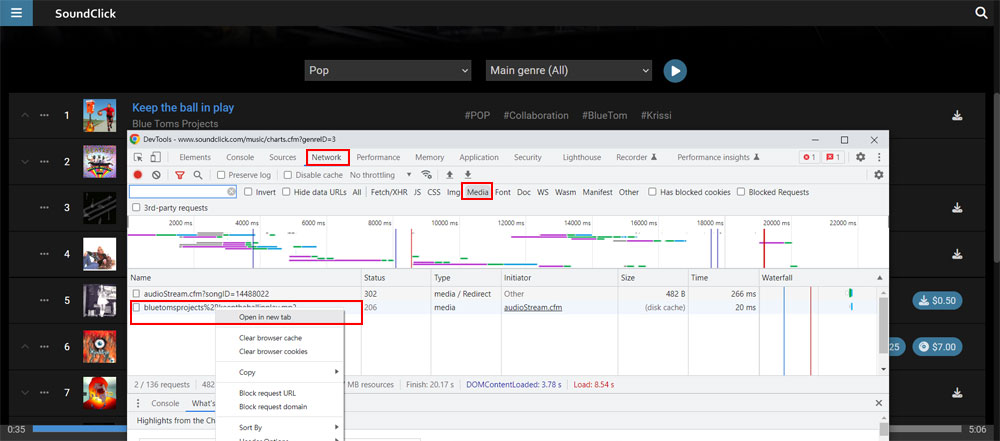 Part 4. How to Download SoundClick for Free with Browser Extension
If you're a Chrome or Firefox user, you're possibly gaining another free way to convert SoundClick to MP3.
There is a browser extension called Video DownloadHelper available on Chrome and Firefox, which has the ability to parse the music data and then download them in MP3 to your computer. All you need to do is add the extension to the browser and initiate it while playing the SoundClick music, and it will soon recognize and process the MP3 download options.
How to Download SoundClick to MP3 for Free with Video DownloadHelper
Step 1: Go to the Web Store to search and add the Video DownloadHelper extension to the Chrome browser.
Step 2: Turn to the SoundClick website and play the target song. Then click on the Extensions drop-down menu and initiate Video DownloadHelper.
Step 3: It will process the SoundClick music and show you the MP3 option. Simply click on Download to save SoundClick MP3 music to your computer.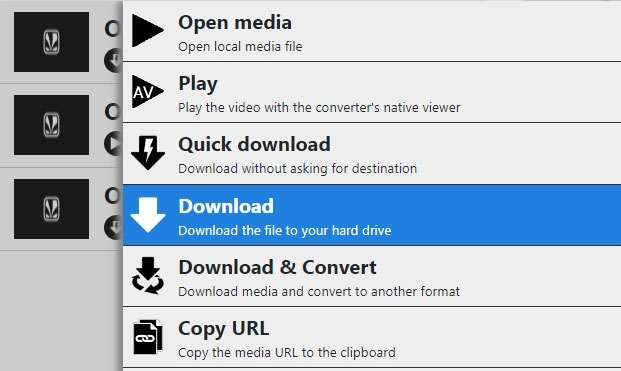 Part 5. Summary
We have walked through 4 effective methods to download SoundClick to MP3 files to your computer. You can directly access those songs that are available for download or purchase from the SoundClick website. As for others that do not have a download option, you may resort to TunesKit Audio Capture as well as other online SoundClick to MP3 converters. Incidentally, Tuneskit Audio Capture is capable of downloading music, no matter from mainstreaming music services or media programs, which gives you six audio format options and high-quality recordings.