Use YouTube Music on Rekordbox? Solved!
Posted by Adam Gorden on Dec. 20, 2019 4:15 PM • Category:
Record Audio
4 mins read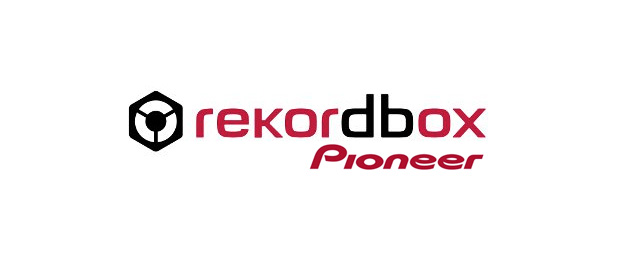 Rekordbox provides the service with you to organize your music library, make playlists, and prepare your tracks for export to a USB drive. Unlike Trakor or Virtual DJ, Rekordbox make not have the same recognition, and it also lets you do all the cool digital DJ stuff too like set hot cues, memory loops, and even get song keys and tempo before you even set foot in the DJ booth.
In this article, we're going to walk you through how to achieve the transferring of YouTube Music to Rekordbox. Then we'll tell you to download music or audio from YouTube, and get your YouTube music into Rekordbox for recreating. Let's get started.
Part 1. Download YouTube Music to Rekordbox Supported Formats
As the biggest name in streaming video, the strength of YouTube cannot be overestimated. Given YouTube's close partnerships with labels, you certainly won't face issues with locating a particular track on YouTube Music. On top of that, YouTube is also home to thousands of non-label tracks which you won't find on any streaming platform except for YouTube Music.
Now, you could find your preferred music or audios on YouTube and then use them with Rekordbox. Here we will download music or audio from YouTube with the help of TunesKit Audio Capture first. Let's go.

Special Features of TunesKit YouTube Downloader
Record audio or music from YouTube to FLAC, MP3, AAC, M4A, M4B, WAV
Download and capture streaming audio from any programs and websites
Preserve streaming music with the original audio quality and full ID3 tags
Support many customization functions like trimming, cutting, and merging
Try It Free
600,000+ Downloads
Try It Free
600,000+ Downloads
Step 1

Open TunesKit Audio Capture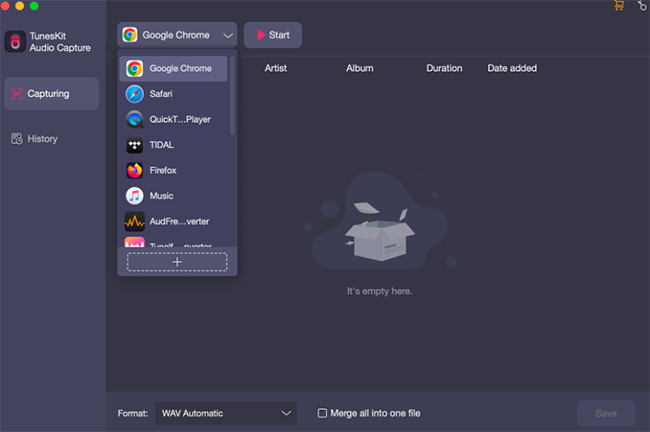 First, you need to fire up TunesKit Audio Capture on your computer, and then you will see the interface of TunesKit where there are lots of programs listed. If there is no browser for you to navigate to YouTube website, you could drag and drop the browser to TunesKit or click the "+" icon to select the browser. And you don't need to open the browser at once.
Step 2

Set the output audio parameters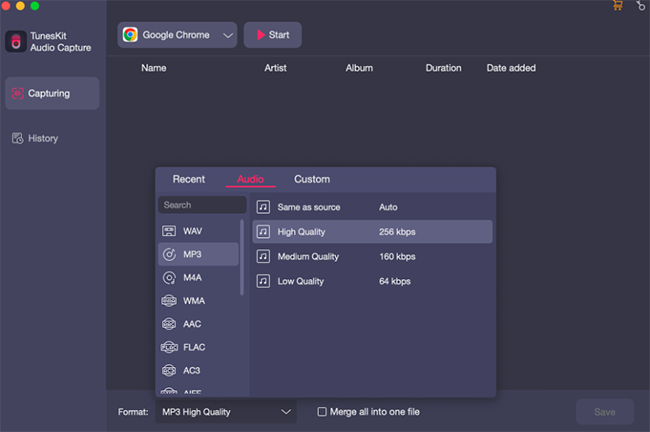 Then, you need to configure the output audio parameters. There are six formats like MP3, AAC, WAV, FLAC, M4A, and M4B for you to choose from, but you need to set it in the format of MP3 file for using YouTube music on Rekordbox. Otherwise, you could continue to adjust the value of the bit rate, sample rate, and audio channel for better output audio quality.
Step 3

Download YouTube music tracks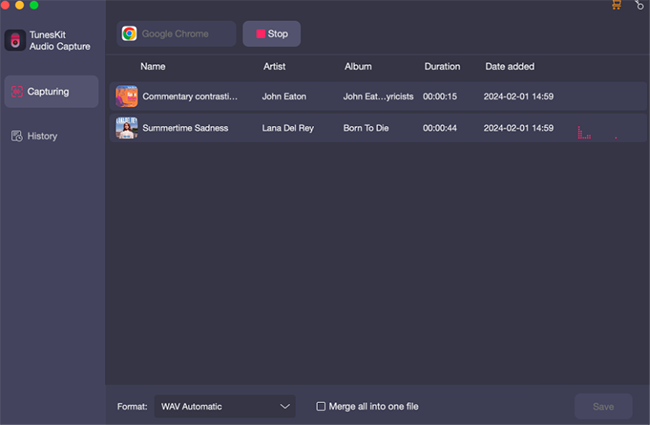 Next, go to YouTube website by opening the browser from the main home of TunesKit. You could choose one music video or several music videos from YouTube and then TunesKit will begin record audio from YouTube after several seconds. And you could stop YouTube music songs download by clicking on the "Stop" button as you like.
Step 4

Trim and save YouTube music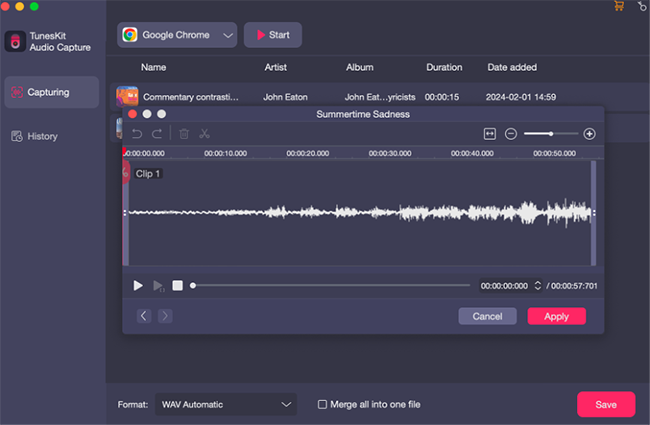 Finally, you could go to edit these downloaded YouTube music files by clicking the "Edit" button at the rear of each track to open the service of audio customization. With the service, you could trim and merge all YouTube music tracks and edit the ID3 tags and other audio information. Then save all your edited music tracks to your computer after customization.
Part 2. Steps to Transfer YouTube Music to Rekordbox with Ease
After you download YouTube music to FLAC or other plain audio formats, you can use YouTube music on Rekordbox with ease. Just add YouTube songs to your Rekordbox collection by dragging YouTube music songs from your hard drive or importing YouTube music songs from iTunes. There are two methods of getting your YouTube music into Rekordbox: dragging your YouTube music files from your hard drive or using iTunes. Let's get into.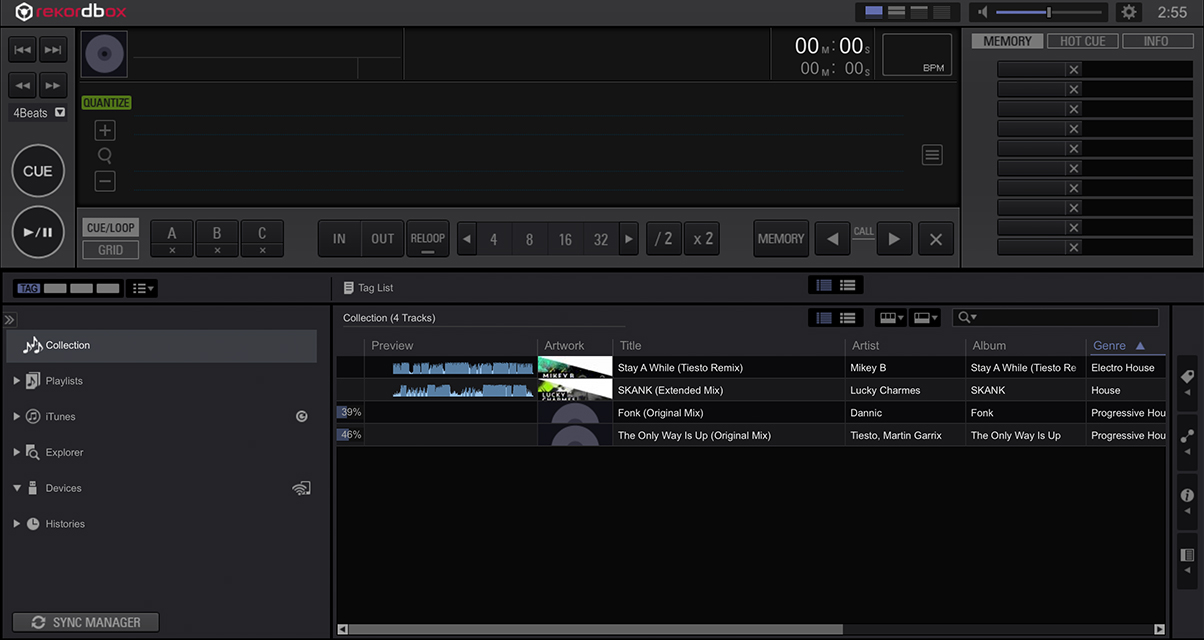 Import YouTube Music to Rekordbox from hard drive
1. Locate your YouTube music folders or YouTube music files you want to import into Rekordbox.
2. Make sure that "Collection" icon to the left of the playlist tree is highlighted, then drag YouTube music onto the track windows at the bottom of the Rekordbox screen.
3. Rekordbox analyses these YouTube music files and adds track data, including waveforms, song key, and BPM and these YouTube music files are ready to be dragged onto a playlist.
Upload YouTube Music into Rekordbox from iTunes
1. Go to the iTunes icon and click on the arrow to expand the tree.
2. You can choose to look for YouTube music songs within your entire track collection (All Tracks), or in playlists that you've made in iTunes.
3. Once you've found the YouTube music songs and playlists you want, Rekordbox will import these YouTube music files into its own collection and add the track data and waveforms.
More Tip: Sync Songs from Rekordbox to USB
Syncing your created songs from Rekordbox is as simple as choosing the playlists you want to transfer. Just perform the following steps, and you will get music from Rekordbox on your hard drive.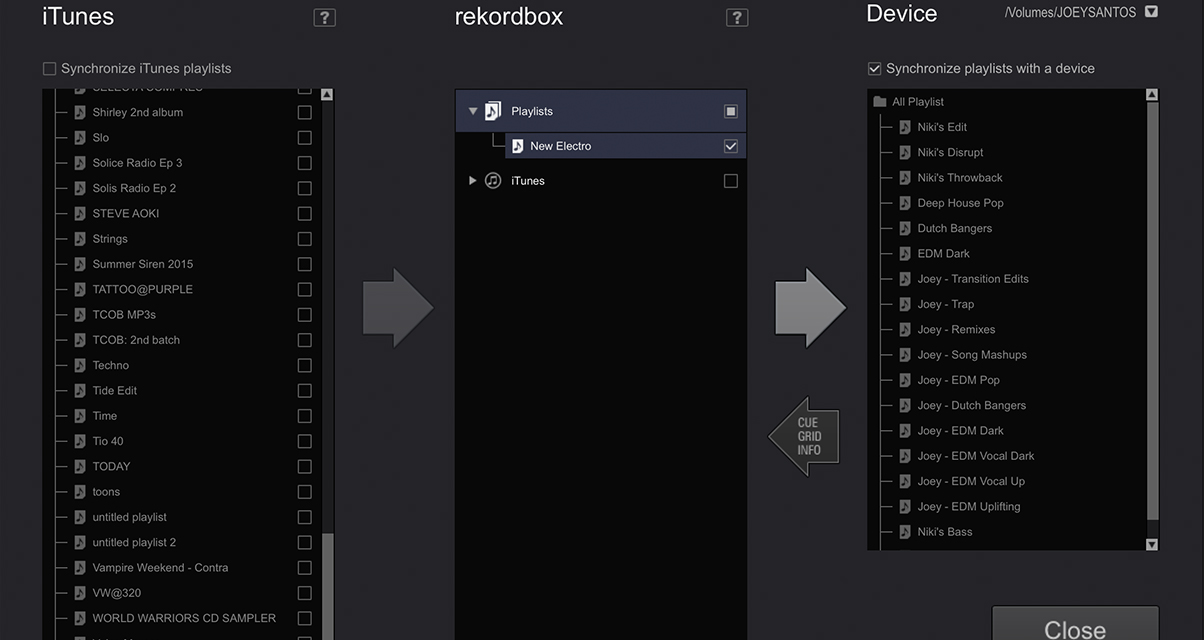 1. Click the "Sync Manager" button at the bottom left of your screen.
2. There are three columns here. The first one contains your iTunes playlists; the middle has playlist you've made in Rekordbox; and the third one includes the playlists in your USB drive.
3. Choose the playlist you'd want to transfer to your drive, then click on the big right arrow.