Want to download tracks, playlists or album from Yandex Music to your local devices for later listening in offline mode? If you are looking for this solution, here is your right place to come. In this post, we will walk you through on how to import music tracks into Yandex Music from other places and how to download your favorite beats from Yandex music.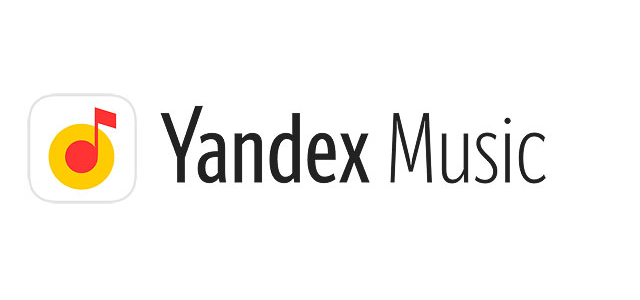 Part 1. What You Can Get on Yandex Music
Yandex Music is a music streaming service developed by Yandex. Users select musical compositions, albums, collections of musical tracks to stream to their device on demand and receive personalized recommendations. The most popular feature if Yandex Music is the smart playlists, which is updated daily for each user and features recently played tracks, similar music to that are based on user's taste.
With the Yandex Music, you can:
1. Listen to more than 35 million tracks from the catalog, without violating copying laws.
2. Discover new music with collections and personalized recommendations.
3. Build your own music collections: create a playlist and add tracks, as well as import music from your device.
4. Download tracks for listening without an Internet connection, in offline mode.
You can enjoy the above features with a free account, but if you have a subscription, you can get more:
1. Listen to any tracks from the Yandex Music catalog in high quality.
2. Disable ad.
3. Use Yandex Music to listen to in offline mode.
4. Use the paid features of Yandex Radio: skip any number of tracks and listen to the radio without any ads.
Part 2. How to Upload Music into Yandex Music
You are allowed to import tracks from your device or computer to Yandex Music for playing. All the tracks that are found will be added to a new playlist. If there are more than 10,000 imported tracks, the service will create several playlists for them. Here's how to.
1. Import tracks from a device
You can import tracks to your library to listen to them on all the devices where you installed Yandex Music and in the web version of the service:
1. In the upper-left corner of the My music screen, tap Setting.
2. Select Music sources in the settings.
3. Select Music on iPhone or Music on iPad.
4. Tap Import.
2. Import tracks from your computer
In the web version of the service, you can import music from your computer:
1. In the upper-right corner of the page, click My music.
2. Go to the Playlists tab.
3. Create a new playlist or open an existing one.
4. Under the playlist description, click Upload track and select files from your computer.
3. Import based on a list of track names
In the web version of Yandex Music, you can add tracks from playlists on other services:
1. Go to the audio recordings list on another service.
2. Select all the tracks and copy their names as plain text.
3. On the Import music collections page, add your list of tracks to the field with the yellow frame or upload a file in the field below.
4. Click Find.
Part 3. How to Download Music from Yandex Music
There are three methods for you to save music from Yandex Music locally for listening when you are in areas where there is no internet connection or you want to spend less money on mobile data. Just go on reading the post and know the detailed steps.
Method 1. To download music with a subscription
Without a subscription, you can only use Yandex Music for listening in online mode. However, the subscription can empower you to turn offline mode, then you could listen to downloaded tracks in this mode.
1. Find the track, mix, playlist, or album.
2. To download a track, tap … to the right of its name and then tap Download. If you want to download all of the tracks from a mix, playlist, or album at once, open it and tap Download underneath its name.
Method 2. To download music with YA Music
YA Music is a simple and rapidly fast extension which helps to download audio from Yandex Music maintaining proper audio titles. With its help, you can save music from Yandex Music for offline playback.
1. Add YM Music extension to your browser from chrome web store.
2. Choose one track, mix, playlist or album you want to listen, then you will find Download icon. Just click on Download button.
Method 3. To download music with TunesKit
TunesKit Audio Capture is a professional and powerful audio recorder and editor which can enable you to capture and edit any sound on your computer with high quality and track information and convert the recorded audios to popular audio formats.

Key Features of Yandex Music Downloader
Record and download streaming audio from any programs and websites
6 plain formats including MP3, AAC, FLAC, WAV, M4A, and M4B available
Preserve streaming music with the original audio quality and ID3 tags
Support many customization functions and groove the songs even offline
Step 1

Fire up TunesKit Audio Capture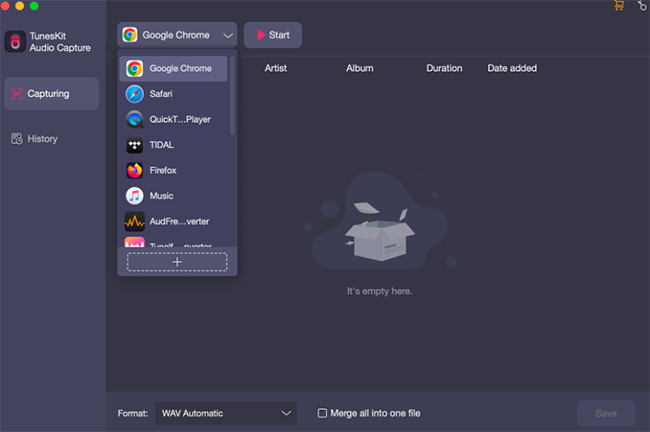 Open TunesKit on your computer and add the Chrome browser to the main home of TunesKit if you don't see the Chrome browser on the main home where there are lots of programs listed.
Step 2

Set the output audio parameters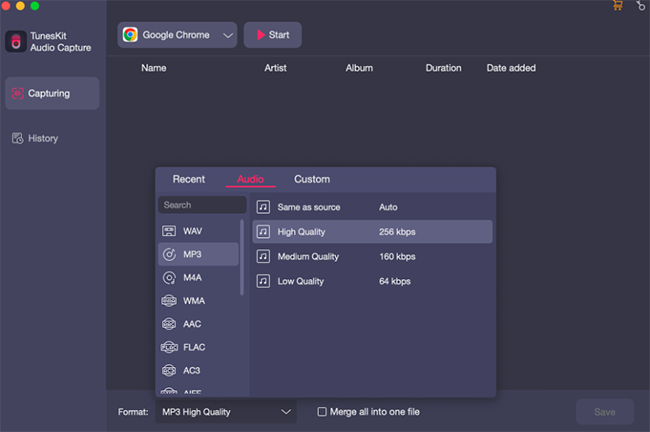 Click on Format button and you could go to set the output audio parameters. There are six audio formats for you choose. In addition, you could also change the bit rate, audio channel, and sample rate on your demand.
Step 3

Record audio from Yandex Music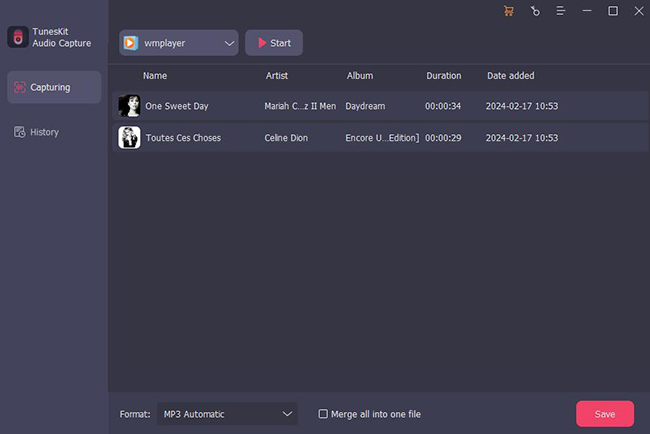 Launch the Chrome browser from TunesKit and navigate to Yandex Music. Then log into your account on Yandex Music and choose one track, playlist or album to play. TunesKit will begin to record audio from Ynadex Music after several seconds.
Step 4

Save Yandex Music after editing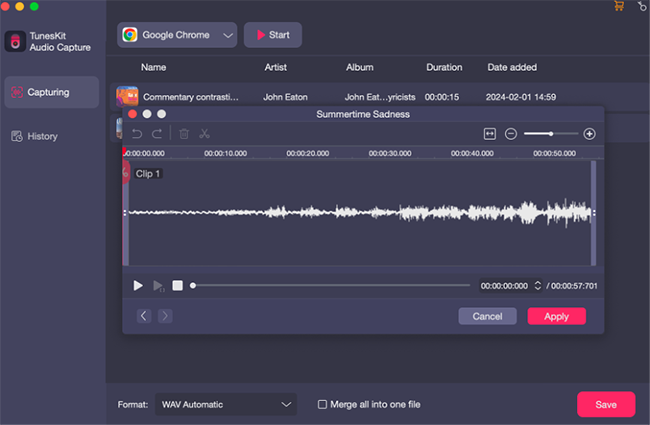 Click on Stop button on TunesKit to stop the recording and then you will see the recorded audios on TunesKit. You could click the Edit button at the rear of each track to customize the recorded audios and chose to save them your computer.