Easily Turn iPhone Live Photos to Still Photos [Quick Tips]
Posted by Brian Davis on October 29, 2018 18:02:11 PM • Category:
Restore iPhone
3 mins read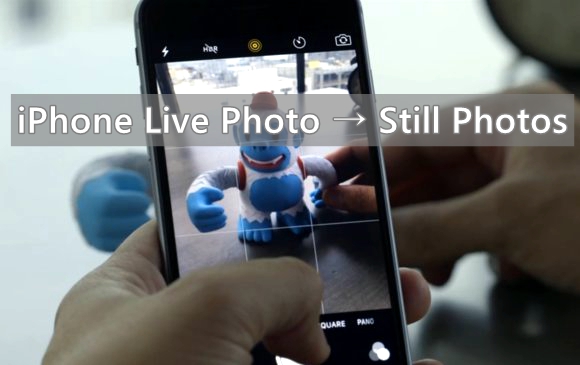 Live Photo, a brand-new real-time camera function which is used to record a 1.5 second motion video before and after the photo is taken, available on iPhone 6s and later iPhone models. You can attach a sound while taking a photo. The Live Photos feature means that users can view "Dynamic Photos" by pressing the screen with the new 3D touch function of the iPhone 6s. To be specific, when you click on the photo, it will automatically play the dynamic effect. The feature is really cool since it can also be set as lock screen wallpaper to reproduce dynamic moments at any time. However, if you don't want to save as live photos and pretend to convert them to still, follow the article to make it.
Method 1. Turn live photos to still by photo editing
Turning a live photo to still one is actually a simple process that takes just a few short steps, just follow the detailed guide below to complete.
Step . Launch the Photos app on the iPhone, and select the Live Photo you intend to turn to a still photo.
Step . Tap "Edit" button in the upper right corner of the photo.
Step . Click on the "Live Photo" icon on the top, it will turn white and you can save it as a still photo by clicking the "Done" button at the bottom.
Now that the Live sign vanish on the live photo you edited, which means that it has already been converted to a still one successfully.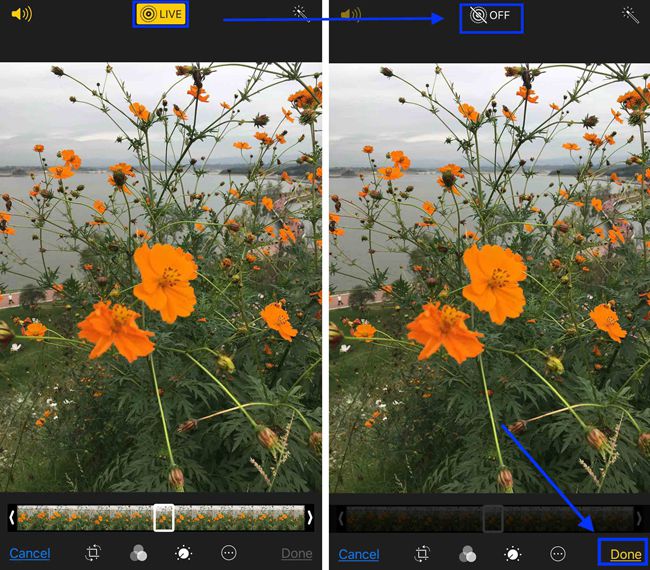 Method 2. Convert live photos to still via duplication
Next we will introduce the second way to convert iPhone live photos to still by duplicating it in the Photos app on your iPhone, here's the operation to do.
Step . Choose a live photo you would like to turn it to still in the Photos app, Click on the Share icon in the lower left conrner.
Step . Select Duplicate and click on "Duplicate as Still Photo", then you will be able to see a copied still photo saved in the Camera Roll.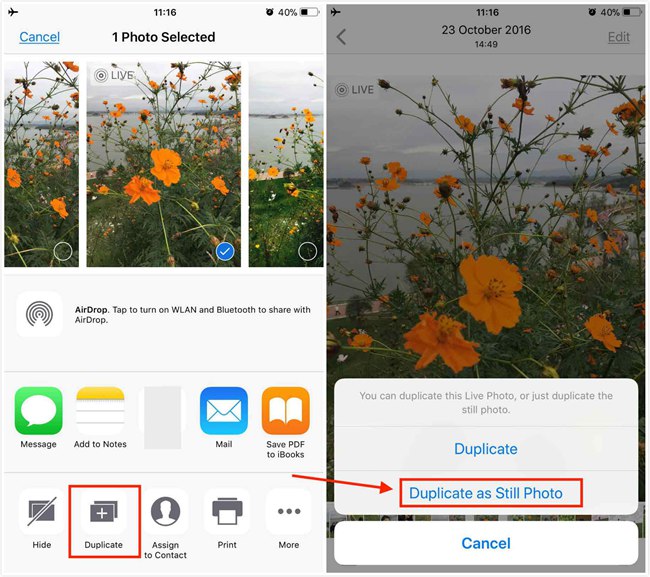 3. More Info...
Although clearing live photos on your iPhone may free up some space, however, what if you accidentally delete several live photos you want to keep originally? There's no need to be anxious about as the powerful iOS data recovery tool TunesKit iPhone Data Recovery will be here to rescue you with its ability to recover lost or deleted live photos on the iPhone in various data loss cases such as device lost, jailbreak error, iOS upgrade failure, etc. It can help retrieving lost files even if you don't have a backup from iTunes or iCloud.
The Bottom Line
After reading this post, you may have an idea about how to turn a live photo on your iPhone to a still one with 2 ways mentioned above. What's worth to be noted is that TunesKit iPhone Data Recovery can restore up to 20 types of lost data on the iPhone including videos, contacts, reminders, safari bookmarks, iMessages, notes, WhatsApp messages and so forth. Therefore, if you have other data loss issue occurred on your iOS devices like iPhone X, iPad Air 2, iPad Mini, iPod Touch 5 or other models, just don't hesitate to use TunesKit iPhone Data Recovery to solve it.