Why Won't My Music Download Apple Music? Here's Why & Fix!
7 mins read
With a subscription service like Apple Music, you will have all your songs in one place and you can easily access them with a few taps. In addition to that, you can download your favorite songs and listen to them offline so that you do not need to rely on a constant internet connection. But recently, the complaint from users "why won't my apple music download to my phone" is commonplace. No matter if you've been using Apple Music for years or you're just joining, it's frustrating when songs and albums won't download. Today, let's explore the reasons why Apple Music is not downloading songs and what you can do to fix the problem.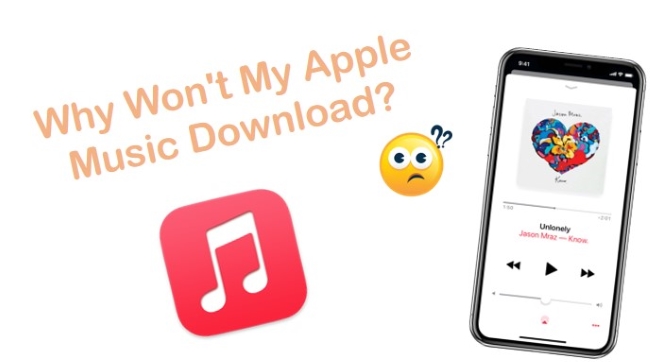 Part 1. The Reasons Why Won't My Apple Music Download
There are several reasons why Apple Music does not download songs for users:
* Not enough storage space
* Unstable internet connection
* System Bugs
Part 2. The Best Answers for Why Won't My Apple Music Let Me Download Songs
Fix 1. Force Close Music App
Closing the app and restarting your iPad or iPhone are some of the basic tips from Apple. This should usually be your first step when having issues with your device.
Step 1. For iPhone X or later, swipe up from the bottom. For other models, double-click the Home button.
Step 2. Then swipe it up to close the Apple Music.
Step 3. Next, launch the Apple Music on the main page to restart it. Check if the music download is now possible.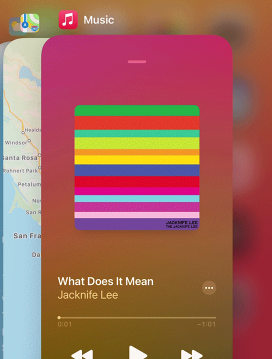 Fix 2. Turn OFF iCloud Music and Restart iPhone
Apple Music won't download songs as expected because you have some background apps running. To resolve this issue, please follow these steps:
Step 1. Launch the "Settings" app and go to "Music".
Step 2. Tap on the toggle to switch off the iCloud Music Library.
Step 3. Shut down your device normally and then reboot it.
Step 4. Back to the option for iCloud Music Library and, when prompted, turn on "Enable".
Step 5. Open the Music app to check if the Apple Music download problem still exist.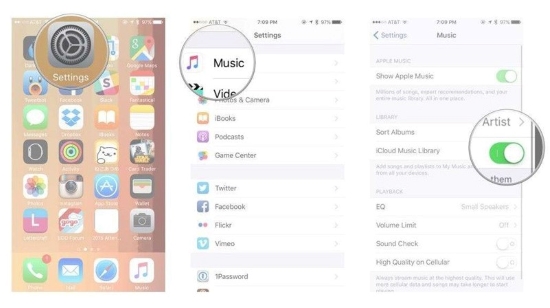 Fix 3. Sign out Apple ID
Apple Music as well as other apps require your Apple ID. If the Apple Music not downloading problem persists, you can try signing out and back in again. Steps to follow:
Step 1. Open "Settings" on your phone.
Step 2. Tap where your name is written and choose "Sign Out".
Step 3. Sign back in using the same steps and then run Apple Music and try to download a song.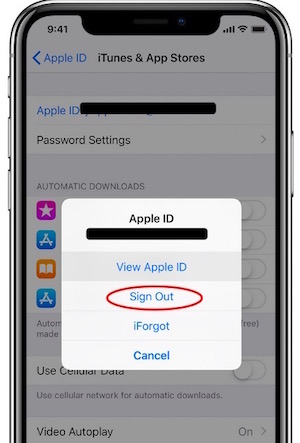 Fix 4. Update Apple Music App
Is it still not working? Updated versions of Apple Music can resolve the problem of music not downloading to the library or cloud. Steps to follow:
Step 1. Launch "App Store" and tap on "Updates".
Step 2. Update your Apple Music app if you see the "Update" button. If not, it proves that you are using the latest version. Keep reading to find the next ways for fixing your problem.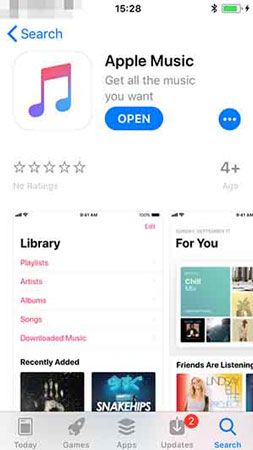 Fix 5. Offload Apple Music
It might be a good idea to offload the Music app. Compared to deleting uninstalled apps from your device, offloading only removes the app data while preserving all the data associated with the app. For example, when you reinstall Music, your settings will all be preserved. Here are the steps for offloading Apple Music:
Step 1. Head to Settings → General → iPhone Storage.
Step 2. Scroll down to navigate Music.
Step 3. Tap the Music app and go to Offload App.
Step 4. Tap Offload App again to confirm.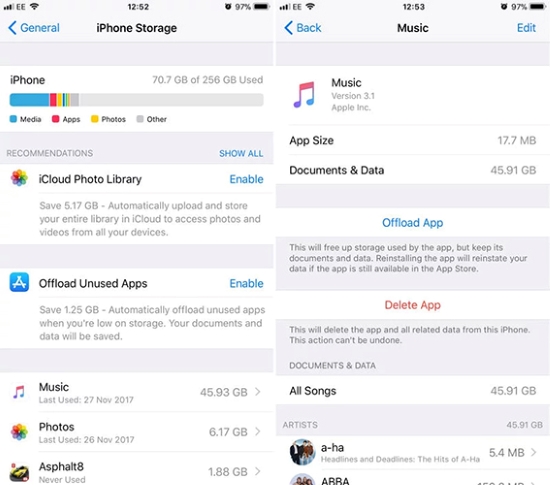 Fix 6. Check the Storage Space
It's possible that your iPhone or iPad doesn't have enough space to download Apple Music songs, so your Apple Music won't download music. In this case, you should check your settings and make changes as necessary to make room for new music.
Step 1. Navigate to the Settings app on your device. If your iPhone storage is full, you'll see an alert at the top of the screen telling you "iPhone storage full". Tap on this alert to view details.
Step 2. Then you'll get to the next page, here tap on "Manage Storage".
Step 3. By clicking on this link, you will be directed to the storage details of your iPhone or iPad. Look at the recommendations it gives you for saving space—the suggestions could include deleting large attachments and downloaded videos, or offloading apps that take up space on your phone.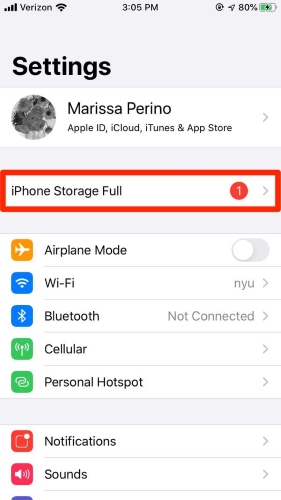 If you haven't seen the banner that warns about low storage space, you can clear your music storage through another method.
Fix 7. Check Your iCloud and Music Settings
Make sure your iCloud sync works properly by refreshing your connection when syncing your music library. To do this, go to the "Music" section of your Settings app and double-check your settings.
Step 1. Launch the Settings app on your device.
Step 2. Scroll down to the "Music" tab and tap to open it.
Step 3. Ensure that "Show Apple Music", "Add Playlist Songs", "Sync Library", and "Cellular Data" are all turned on. When all of them are currently on, turn them off and wait a few moments before turning them back on. It might also be a good idea to enable "Automatic Downloads", which will allow you to listen to songs even when you're offline.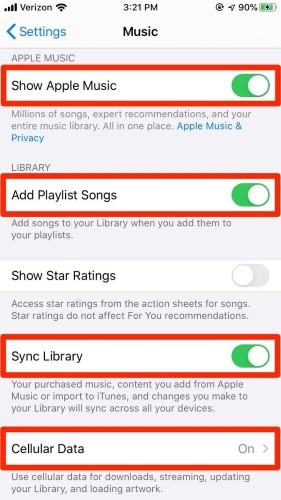 Fix 8. Check Your Connection
Last, make sure your iPhone or iPad with cellular data has an active internet connection. When you download music, the best way is over Wi-Fi, but if you have enabled the feature in your settings, you can download it over cellular data.
Step 1. Tap to launch the Settings app on your device and double-check the Wi-Fi network you're connected to. Change to another network if you're able to.
Step 2. To ensure you can use mobile data, turn off Wi-Fi and tap the "Cellular" tab in the first section of Settings. Meanwhile, make sure that Wi-Fi isn't enabled.
Step 3. Check that "Cellular Data" is turned on at the top of the page.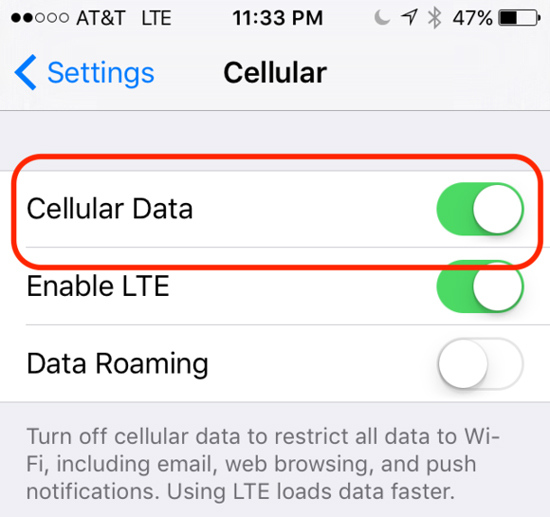 Step 4. It's important to make sure that mobile data is turned on specifically for the Music app as well, even if it is turned on for the entire device. You can find the Music app on the Cellular Data page, and make sure its toggle is turned on.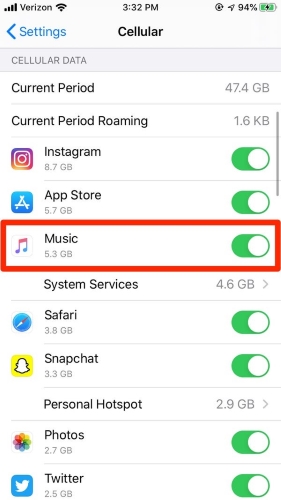 Fix 9. Use the Top-Notch Repair Tool—TunesKit iOS System Recovery [Zero-Loss 100%]
In case you don't have the technical know-how or don't want to deal with the complex and cumbersome processes by yourself, you can ask third-party tools for assistance. Consider the award-winning tool—TunesKit iOS System Recovery. A program developed exclusively for iOS users is designed to resolve any Apple music problems, like Apple Music not working on iPhone/iPad, Music automatically playing on iPhone/iPad, and more. As a bonus of this fantastic iOS repair tool, your data will not be wiped. Therefore, the process is completely secure, and no data will be lost.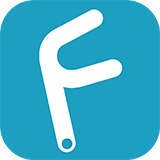 Key Feartures of TunesKit iOS System Recovery:
Fix Apple Music won't download without data loss
Supports other devices including iPhone, iPad and iPod.
Compatible with all iOS versions including the iOS 15.
One-click to enter or exit recovery mode.
Easy fixing steps and user-friendly interface.
Try It Free
600,000+ Downloads
Try It Free
600,000+ Downloads
Now go through the steps beneath to fix this problem.
Step 1

Install TunesKit and Connect iPhone to Computer

This software must be downloaded and installed on a Mac or Windows PC. Plug your device into your computer with a USB cable. Your device is now connected and ready for repair. Just click "Start", and the new interface will appear.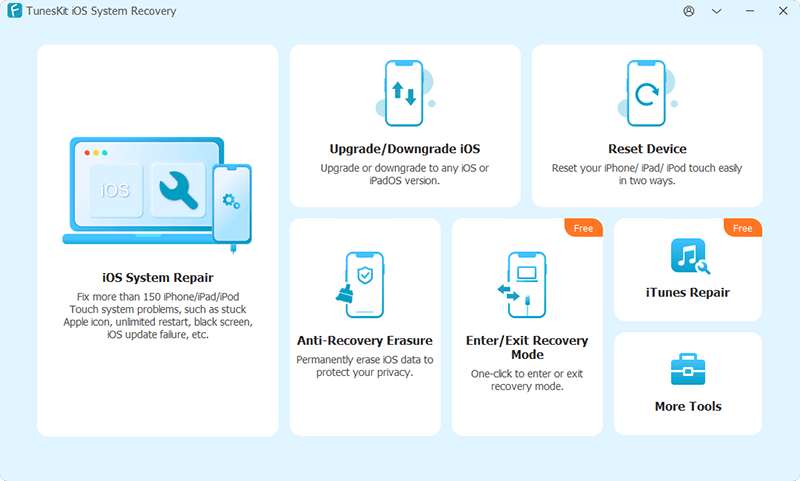 Step 2

Set Standard Mode

The screen displays two repair modes for you to choose from. Click on Standard Mode as needed. It's enough to fix the majority of iOS issues, but Advanced Mode will erase your iPhone. So please do not get confused.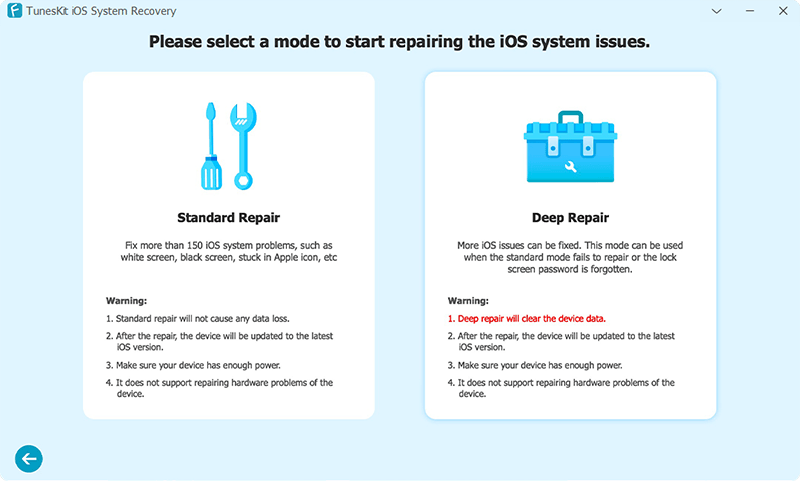 Step 3

Download Firmware Package

Identify your iPhone's model and other details, then click Download to save the Firmware Package to your computer. Using a slow internet connection will make it take a long time to complete, so be patient.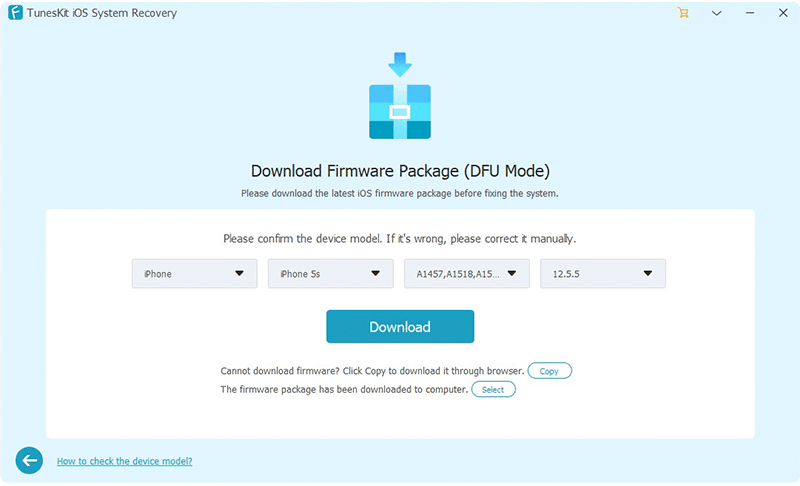 Step 4

Fix Music Won't Download Apple Music

After the download is complete, select "Repair" to start the repair process, it will only take a few minutes. Make sure that your iPhone is connected during the entire process. Once it ends, boot your iPhone and try downloading Apple Music.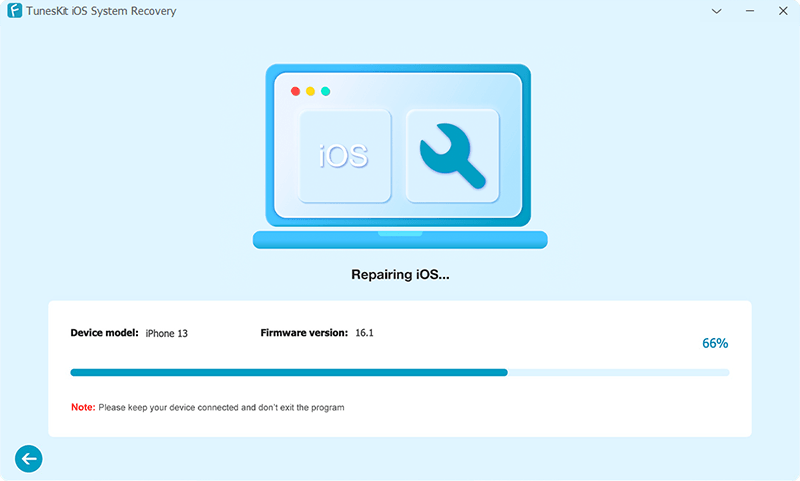 Fix 10. Reset Network Settings
It may be necessary to reset the networking settings if none of the previous solutions worked. Keeping this in mind, you will have to restart all your network settings as well as your saved Wi-Fi networks, and everything will have to be set up from scratch. Here's how to reset network settings:
Step 1. Open Settings → General → Reset → tap on Reset Network Settings.
Step 2. Enter your password or PIN and then confirm the selection.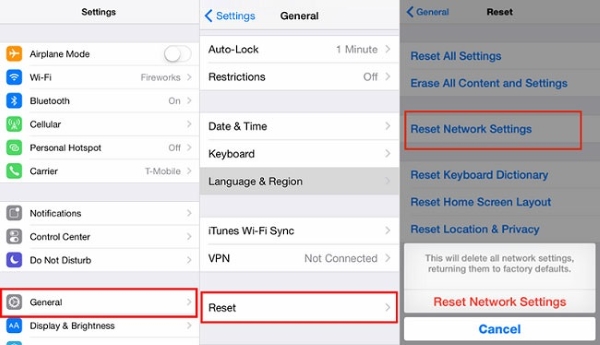 Part 3. Final Verdict
That's about it. We believe the above article has cleared your doubts about "why won't my music download on Apple Music". We hope at least one of these solutions helped you resolve the Apple Music won't download problem. Following the article method to try one by one may seem lengthy, but it is well worth your efforts. To save time and increase the success rate, skip all of the other methods, try TunesKit iOS System Recovery, it will give you a big surprise. If you have any questions, suggestions, or comments, feel free to let us know in the comments box below.