WeChat Not Working on iPhone – 6 Useful Fixes
4 mins read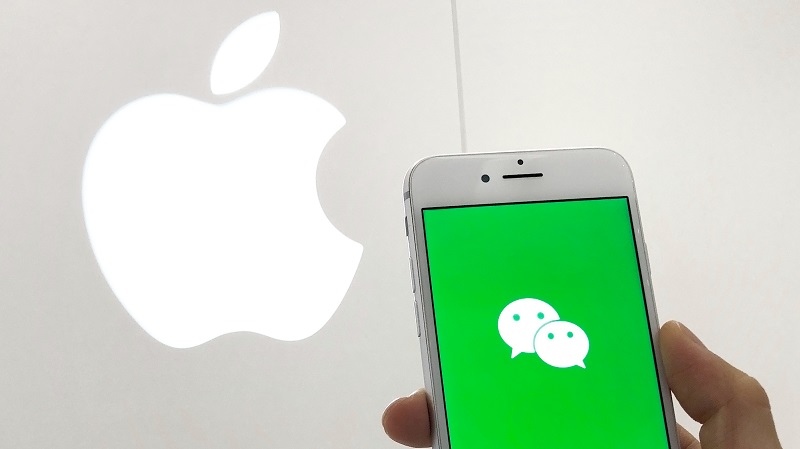 WeChat is an app available for not only Android phones but also iPhone. It is a social media, a messaging app, and also a paying app. Its powerful functions and clear interface attract many users. Many of them rely on this app in several aspects of life. If this app has some problems, their lives will be influenced then. Unfortunately, some iPhone users reported that their WeChat cannot work well and make them unable to use this app normally.
As a matter of fact, solutions to fix WeChat not working on iPhone are not a few. We collect most of the useful ones here. Hope this passage can help those who have iPhone WeChat issues. If you are one of them, do not hesitate to check the solutions below.
Way 1: Clean WeChat Cache to Fix WeChat Not Working on iPhone
This solution is simple but useful. Clean the WeChat cache to remove the burden of this app and make it running smoothly. You can open the WeChat app and follow this route to clean WeChat cache: Settings > General > Storage > Clean WeChat.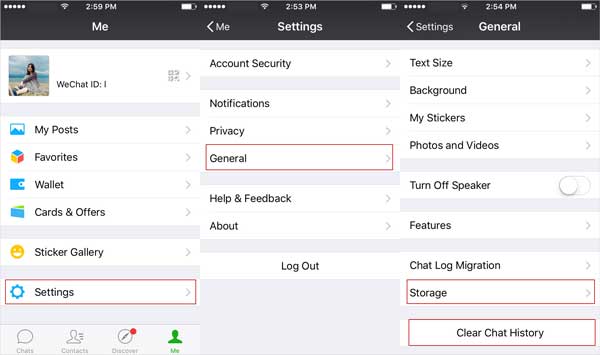 Way 2: Clean Storage on iPhone
This method is like the former one. When the WeChat crashes, you might store too many unnecessary files or install too many apps on your iPhone. This may make your iPhone slow too. You need to release the storage of iPhone to revive WeChat and also your iPhone. You can think about which apps and files are not so indispensable for you and are too large. And then delete them. You can follow this route to find apps which occupy large space.
Go-to: Settings > General > iPhone Storage.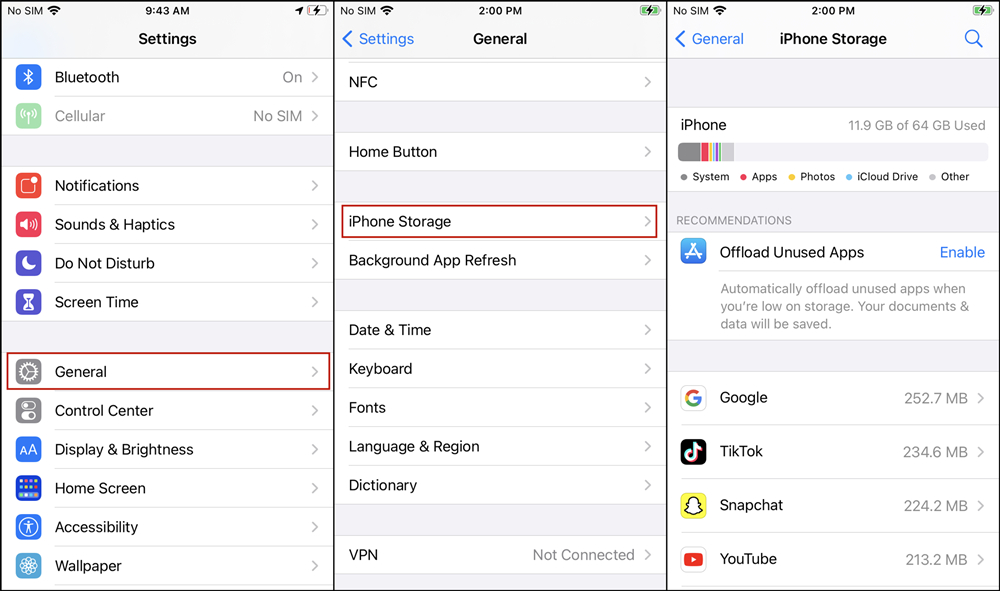 Way 3: Update WeChat to Fix WeChat Not Working on iPhone
Your WeChat may be outdated and that makes WeChat not working on iPhone. So, what you need is to update it and find whether your problem can be solved. Just follow this: Run the App Store and tap on the Update button. Then, tap the Update button next to the WeChat app.
Way 4: Update iOS to Fix WeChat Not Working on iPhone
When you find that WeChat is not working on the iPhone, you can check the iOS of the iPhone. When the iOS is not the latest version, probably many glitches will occur to your iPhone. Go to check that if your iOS need to be updated. If it needs an update, do it immediately, or it may incur other troublesome problems.
How to: Settings > General > Software Update.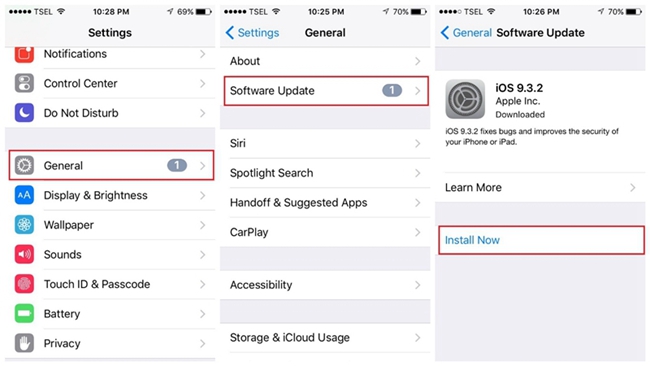 Way 5: Re-install WeChat
If the WeChat app keeps crashing or not working on your iPhone, there might be some files corrupted on your WeChat app. You can try to uninstall the WeChat app and then install it again to fix the WeChat not working on iPhone issue. You can uninstall WeChat apps by keep holding the WeChat icon. Then select the X icon or the Delete App option. After the installation, you can download WeChat again from App Stores.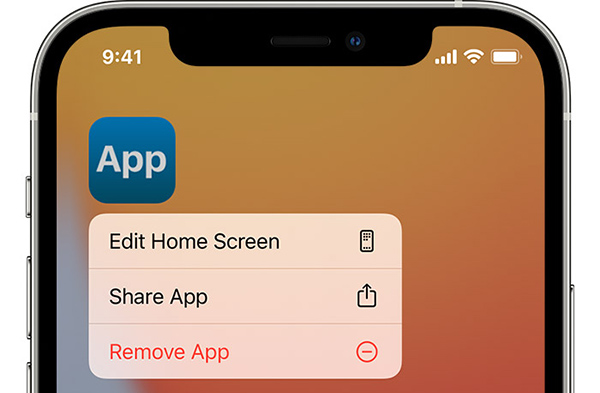 Way 6: Fix WeChat Not Working on iPhone via TunesKit iOS System Recovery [100%]
There is the possibility that iOS system has some problems, which you cannot solve by adjusting settings on the iPhone. You have to use iOS repair tools to fix it.
TunesKit iOS System Recovery is an extraordinary tool which can help you. This professional helper is proficient in solving all kinds of iOS system errors and save those who have these problems just like you. Tens of thousands of iOS products users successfully fix their iOS system thanks to this tool. This software can fix 150+ iOS system issues like apps not working on iPhone, containing iPhone stuck in white Apple logo, headphone mode, or becoming black/disabled screen, etc. This tool can be used to fix system problems of iPhone, iPod touch, iPad, and Apple TV.
The two modes of TunesKit iOS System Recovery are worth to mention. They are called Standard mode and Advanced mode. Having common iOS system issues like WeChat not working on iPhone, WhatsApp not working on iPhone, you can use the Standard mode to fix iOS devices without data loss. Meeting serious ones, you need to use Advanced mode.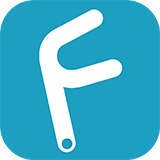 Important Things about TunesKit iOS System Recovery
Supports other devices like iPad and Apple TV.
With two repairing modes: Standard Mode and Advanced Mode.
Compatible with all iOS versions including the iOS 16.
Fix WeChat not working on iPhone without data loss
Simple-to-operate steps and users-friendly interface.
Try It Free
600,000+ Downloads
Try It Free
600,000+ Downloads
Only 3 steps can you fix WeChat problems like WeChat keeps stopping using this software.
Step 1

Connect your iPhone to Computer

Connect the iPhone with a PC and start this magical tool - TunesKit. There are some common issues this tool is capable of fixing on the first page. Tap the Start button.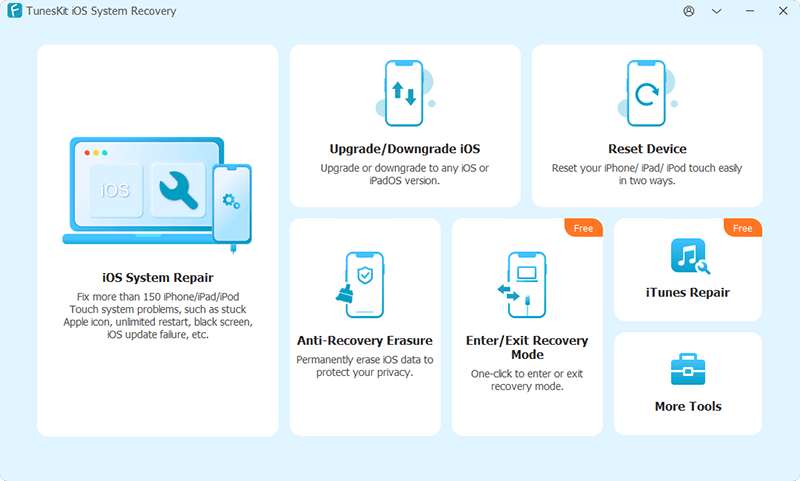 Your problem is an easy one. And the Standard Mode is enough. Click it and the Next button.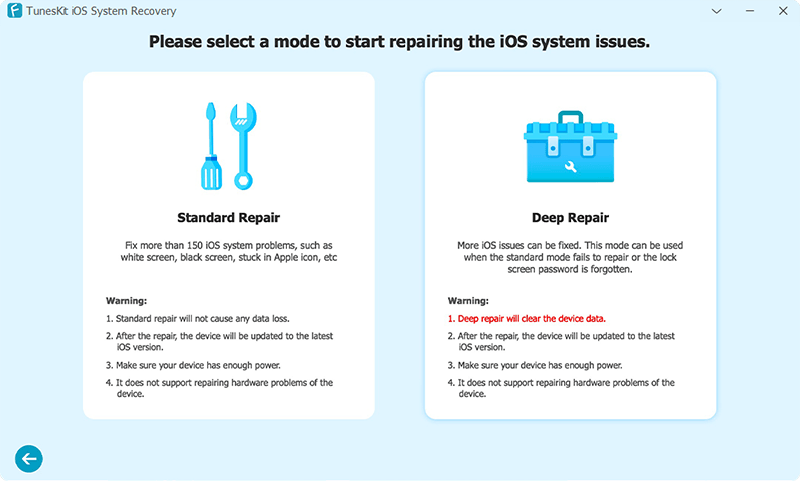 Step 2

Download Firmware Package to Fix WeChat Not Working on iPhone

Check the information of your iPhone shown here carefully. You should edit the wrong info to make them all correct. Then, click the Download button to download the firmware for the next step.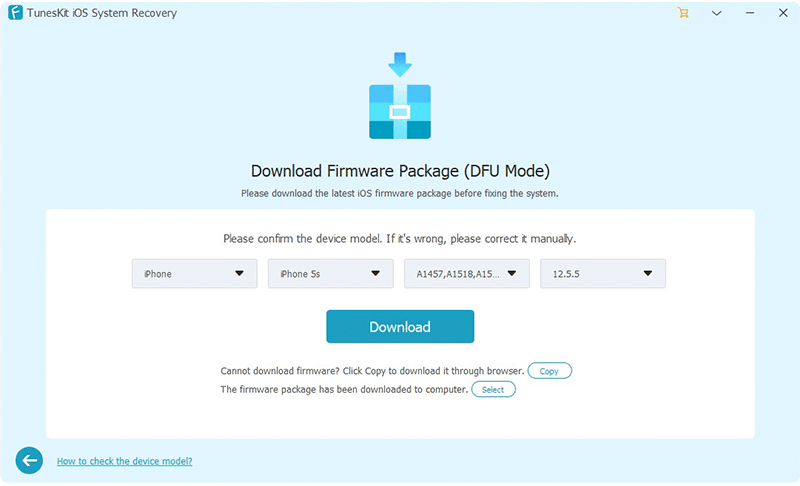 Step 3

Fix WeChat Not Working on iPhone

While the firmware is downloaded, just click the Repair button to fix the WeChat problem. You need to wait for just a few seconds for its finishing.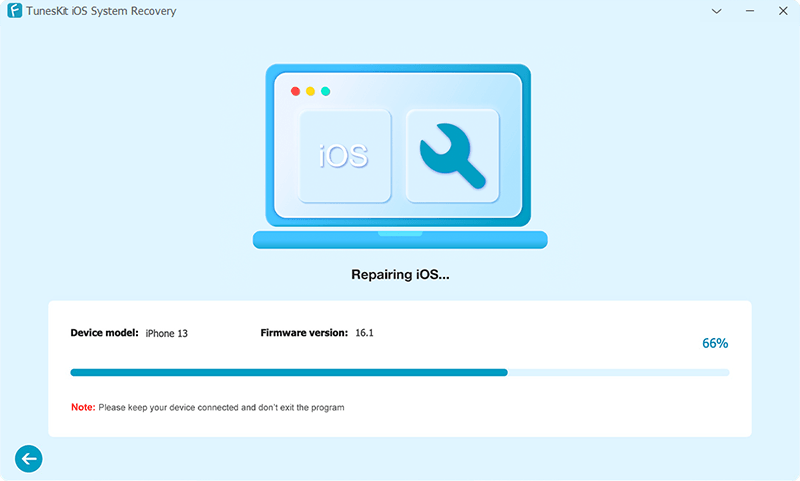 Final Words
We highly recommend that you follow our suggestions to solve WeChat not working on iPhone. Our suggestions are workable and will not cause data loss on your iPhone. We do not suggest you reset all the settings or do other things which will erase everything on your iPhone. Instead, we think you can try iOS-fixing tools like TunesKit iOS System Recovery to fix iPhone and avoid data loss at the same time.