[Proven Methods] How to Stop Apple Music from Automatically Playing on iPhone
8 mins read
"How do I stop Apple Music from automatically playing? After I updated the iOS on my iPhone, I experienced some serious glitches. One of them is that it automatically starts playing music. What can I do?"—from an iPhone user
Apple Music is a paid music streaming service that offers more than 75 million songs. Autoplay is one of the features in Apple Music that aims to make it more user-friendly and comprehensive. If you need to listen to music or podcasts while driving, this makes it easier than ever. Meanwhile, it also has affected iPhone owners for years as some of your content will begin playing as soon as the last song ends. Not everyone enjoys it.
Fortunately, there are finally some steps that you can take if you want to know how to stop Apple Music from automatically playing on iPhone. Let's find out.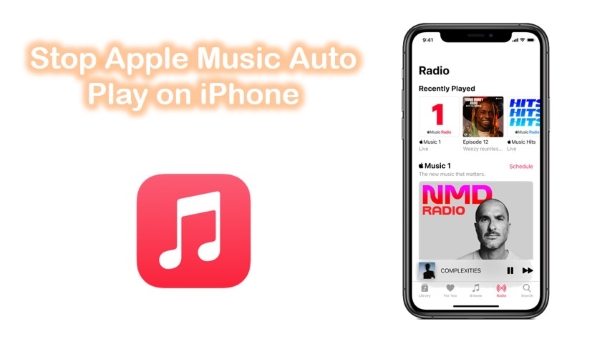 Part 1. How to Stop Apple Music from Auto Playing on iPhone?
Way 1. Turn off Apple Music AutoPlay on iPhone Settings
Autoplay is represented by an infinity symbol in Apple Music. By default, Apple Music's Autoplay feature kicks in after the last song in an album or playlist. That means the music will never stop! Some users find this feature irritating and would rather have full control over what music is played. Luckily, you can easily disable Autoplay in Apple Music if that bothers you.
Step 1. Open the Music app on your iPhone.
Step 2. On the bottom of the screen, tap on the song mini-player.
Step 3. In the lower-right corner of the screen, tap on the Up Next icon.
Step 4. If the AutoPlay feature is enabled, you should see an Autoplay playlist on your phone. Tap the AutoPlay icon (shaped as an infinity symbol) to turn it off.
Step 5. If you carefully follow the steps, the Autoplay playlist should disappear right away and Apple Music should now stop playing music on its own.
Way 2. Stop Apple Music from Playing Automatically by Turning off the Shake to Shuffle
Using the new gesture feature of your iPhone, music will automatically be put on shuffle once it is shaken. Thus, you should make sure that there hasn't been a recent vibration before taking drastic measures. The settings can also be changed. Follow these steps.
Step 1. Head to your iPhone's Setting menu, and then tap on Music.
Step 2. Navigate the Shake to Shuffle option, and turn it off by tapping the slider near it.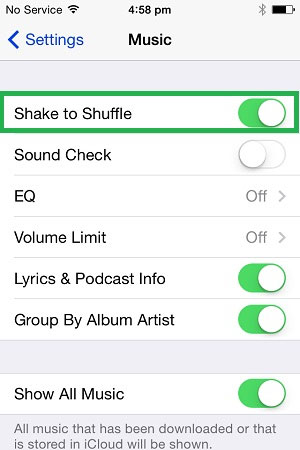 Note: If you have tried the above two methods and are not able to disable Apple Music Autoplay, then it is likely that there is a problem with your Apple Music software or a glitch in the iPhone system. Read on, you can find other ways to deal with these situations.
Way 3. Get Apple Music to Stop Playing Automatically by Force Quit Music App
The music application itself, such as Apple Music or Spotify, is typically responsible for your iPhone automatically playing music. In this situation, it is best to quit and restart the app. Here's what to be done:
Step 1. If you are using iPhone X or later, swipe up from the screen bottom. On other iPhone models, click twice times on the Home button.
Step 2. Swipe horizontally to find the Apple Music app that you want to force close.
Step 3. Drag the Apple Music preview card all the way up to force quit it.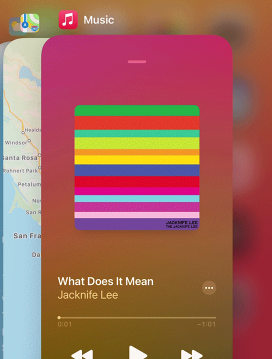 Way 4. Turn off Auto Play on Apple Music by Updating Apple Music App
The latest version of Apple Music may resolve the problem of Apple Music automatically playing. Here are the steps you need to take for updating it to the latest version:
Step 1. Open "App Store" on your iPhone.
Step 2. On the bottom of the screen, you should see the "Updates" button and tap on it.
Step 3. If there is an "Update" button beside your Apple Music app, simply tap it. If aren't find the option, your device is running the latest version of Apple Music. You need to use other methods to fix it. Please read on.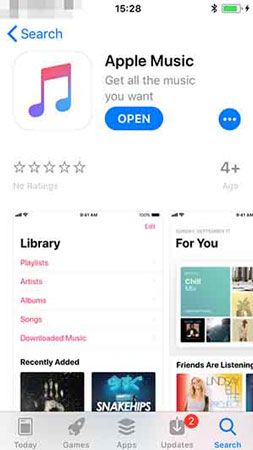 Way 5. Stop Apple Music Automatically Playing by Offloading Music App
By offloading an app, all of its data and documents are preserved, so that when you reinstall the app, they will all be automatically reconnected. Here are the steps to offload Apple Music, head to Settings → General → iPhone Storage → navigate to Apple Music, then tap on it → choose Offload App, and tap it again to confirm your action.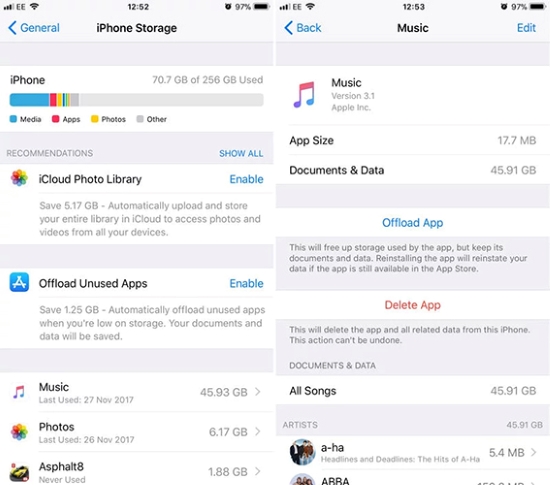 Way 6. Make Apple Music Stop Playing Automatically by Resetting App Settings
This way is resetting Apple Music settings, it's quite simple. We should turn off its iCloud sync feature before proceeding. Here's the procedure to do so:
Step 1. Launch the Settings app and tap on Music.
Step 2. Disable the iCloud Music Library option.
Step 3. Wait for some minutes, and turn on it again.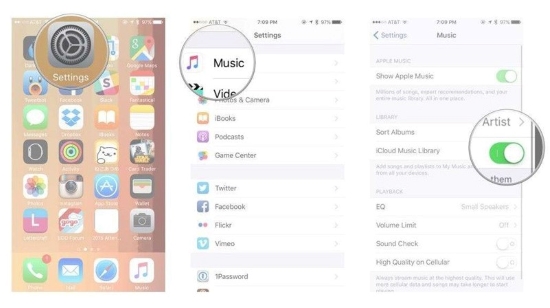 Step 4. The next step is to access Apple Music. Then tap on your profile.
Step 5. Quit the app running in the background.
Step 6. Now, open the app and enter your Apple ID and password to sign in again to help solve Apple Music automatically playing issue.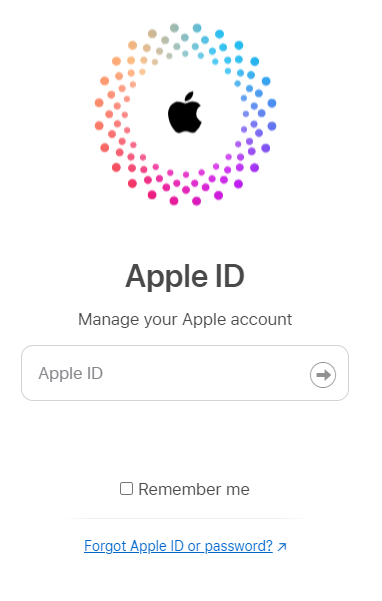 Way 7. Stop Apple Music from Automatically Playing on iPhone with TunesKit iOS System Recovery [Loss-Free Repair]
Using a specially designed utility may be necessary to accomplish this certain task. You might benefit from a premium toolkit such as TunesKit iOS System Recovery if you often experience this issue. As well as stopping Apple Music auto play, this versatile software can also fix over 150+ iOS issues with no data loss, such as Apple Music freezing on iPhone, Apple Music downloading on phone, iPhone headphones not working, and so on.
No matter how hard the problem is, TunesKit iOS System Recovery can be resolved within 10 minutes. After you fix the issues with it, they won't bother you anymore. Additionally, its capability extends to all types of iDevices and it offers you a complimentary feature—one click to enter/exit the Recovery mode. Consequently, millions of iOS users worldwide trust this program.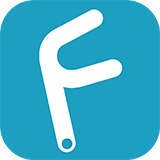 Why Choose TunesKit iOS System Recovery?
Stop Apple Music from auto playing with simple steps
Repair over 150 iOS system issues successfully
Trusted by numerous customers and famous media
Work well on all iOS models and versions
The program is simple to operate
Try It Free
600,000+ Downloads
Try It Free
600,000+ Downloads
Here's a guide to show you how to stop music from automatically playing on iPhone with TunesKit iOS System Recovery step by step:
Step 1

Connect iPhone to Computer

Take an original Apple USB cable to plug your iPhone into the computer and launch TunesKit iOS System Recovery. The program will automatically recognize your iPhone and after that, click the "Start" button.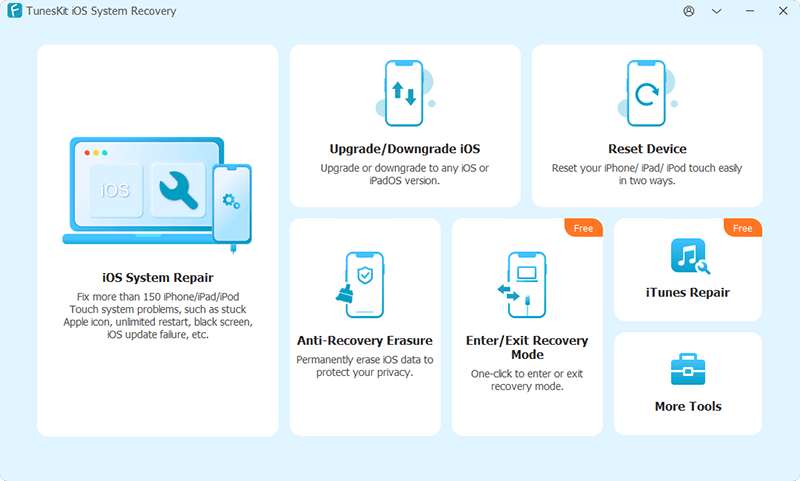 Step 2

Choose Standard Mode

Standard Mode and Advanced Mode will show on the main screen. Choose Standard Mode to repair your issue, which won't be affecting your data. Click on the "Next" button.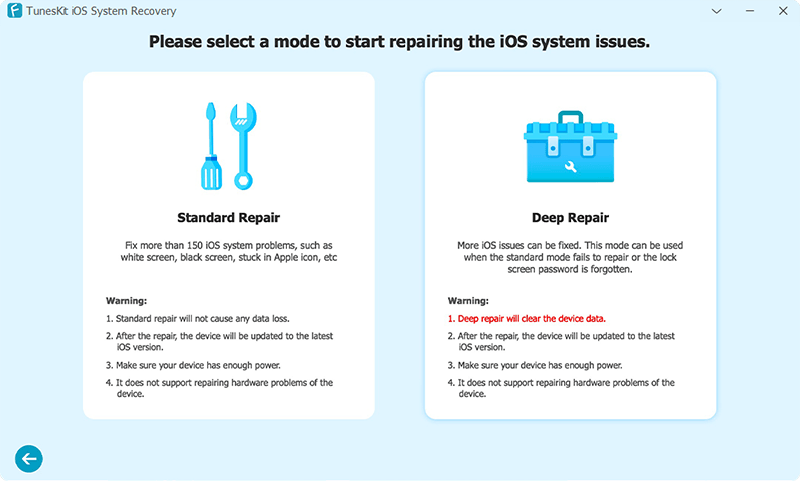 Step 3

Download Proper Firmware Package

Make sure the firmware package matches the iPhone's information. Please make the correction manually if it is incorrect. After that, you need to "Download" the proper firmware package.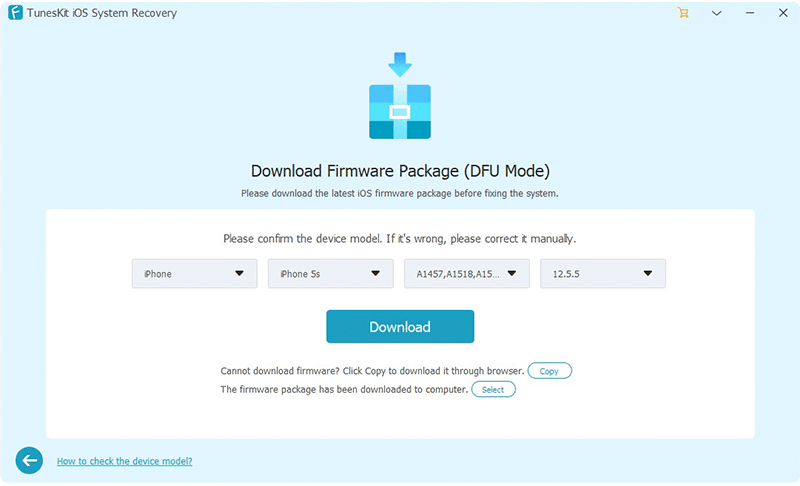 Step 4

Stop iPhone from Automatically Playing Music

As soon as the downloading process has been completed, click the Repair button. The problem will be automatically fixed by the software. It is very important that you have your iPhone connected to your computer throughout the entire process.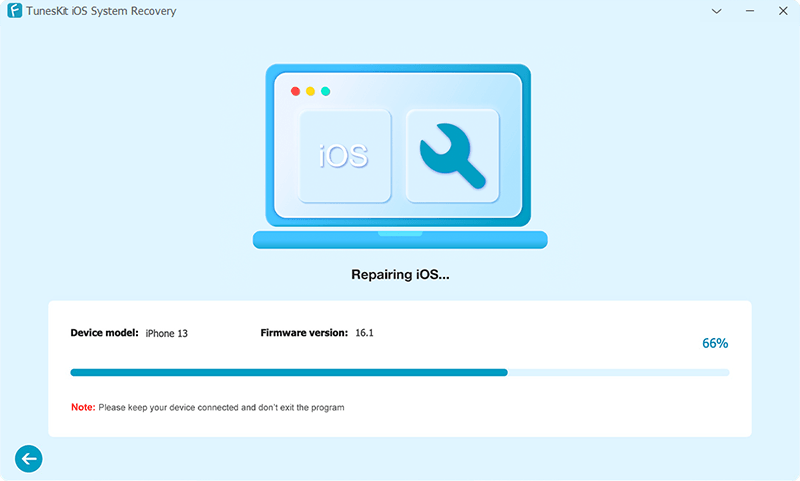 Way 8. Keep Apple Music from Automatically Playing by Resetting All Settings
Apple Music might be playing automatically on your iPhone after you changed the settings recently. Don't worry if that's the case! If you reset all settings, neither iTunes nor iCloud backups will be erased; rather, the default values will be restored. Continue reading for details.
Step 1. Access the iPhone Settings.
Step 2. Next up, tap on the General option, and choose Transfer or Reset iPhone.
Step 3. Lastly, hit on Reset All Settings and you should enter your iPhone's password to confirm the action.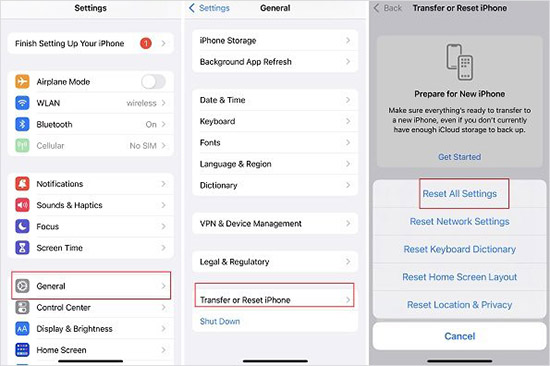 Part 2. FAQs about Apple Music Automatically Playing
1. Why Does Apple Music Automatically Play?
It's hard to find a one-size-fits-all way to answer this question. The reasons why Apple Music automatically plays are different, depending on the specific setup on your iPhone. In some cases, users may enable the "Auto Play" feature on their iPhone's Music app or set a custom music playback mode. In addition to problems with the phone settings, there may be problems with the software itself. Plus, a damaged iPhone system could also be responsible for this issue. So, we are going to show you some methods that may help.
2. More Ways to Stop Apple Music from Automatically Playing?
Connecting Apple Music to a set of earphones or headphones, a speaker, or a car system may cause it to start automatically. While an official iPhone or Apple Music feature is unlikely to be the cause, you can still try beneath tips to prevent this from happening.
Disable Handoff
Step 1. Go to the Settings app on your iPhone.
Step 2. Navigate to "General", then "AirPlay & Handoff".
Step 3. If you are not using the feature, tap on the toggle to disable it.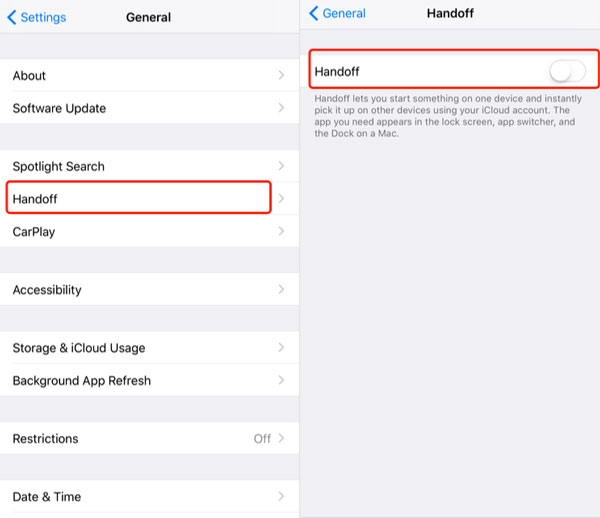 Disable Bluetooth on iPhone
Turning off your iPhone's Bluetooth can stop it from making a connection, which will also stop Apple Music from playing automatically in the car. Simply head to the Control Center and tap on the Bluetooth icon to turn it off.
Check Your Earphones
Similarly, many earphones like Apple's AirPods can be turned on and off the Apple music. So it's possible to make the apps open seem it automatically plays by themselves.
Part 3. The Takeaway
We have provided you with all the essential solving tips and tricks to clear out your doubt about how to stop Apple Music from automatically playing on iPhone. In short, if your phone has the Autoplay feature turned on, simply go to Settings to turn it off. Other iPhone Settings may also cause your Apple Music to play automatically, so if you don't know which setting is wrong, you may need to try them one by one. But if there is a problem with your phone system, we suggest you use software like TunesKit iOS System Recovery directly, which can fix many iOS problems in a simple and fast manner while preserving your data. So that you won't face any difficulty in fixing the iPhone issues yourself. But if you have other iOS-related problems, feel free to connect with us. We are present 24×7 email support to help you in a jiffy!