[Tutorial] How to Restore iPhone Firmware without iTunes
Updated by Brian Davis on May 13, 2022 5:37 PM • Category:
Fix iOS Issues
5 mins read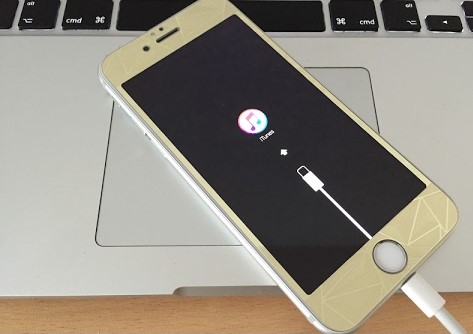 Restoring iPhone firmware is a great solution to a lot of iPhone-related problems. Normally, we need to use iTunes to restore iPhone firmware. But sometimes, there are some situations where we cannot use iTunes to restore the firmware, or we don't want to use iTunes to erase the phone data while restoring. Is it possible to restore iPhone firmware without iTunes? The answer is YES, and here in this article, you will find the best way to do that.
Part 1. How to Restore iPhone Firmware with/without iTunes
In the first part, we will talk about 3 different methods to restore iPhone firmware. Don't hesitate to check them one by one.
Solution 1: The Best Way to Restore iPhone Firmware without iTunes (No Data Loss)
Before we head to more complicated solutions, the most recommended method is restoring iPhone firmware TunesKit iOS System Recovery. TunesKit iOS System Recovery is a powerful system repair tool to help you get rid of the problems and restore the firmware on all kinds of Apple portable devices as well as Apple TV. Most importantly, the program can restore your iPhone firmware package without any data loss.
With such useful features, TunesKit iOS System Recovery is very easy-to-use. To restore iOS firmware, all you need to do is to click several buttons. Minutes later, your firmware on iPhone will be restored. The whole process doesn't require any usage of iTunes, and it works even if your iPhone is suffering from issues like iTunes 4013 error.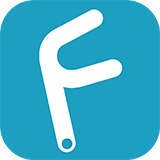 Characteristics of TunesKit iOS System Recovery:
Can restore iPhone firmware without iTunes with ease
Repair different tvOS/iOS issues by yourself
Work on both Windows and Mac operating systems
Easy to use with a friendly and intuitive interface
Two different iOS repair modes, Standard Mode and Advanced Mode
Try It Free
600,000+ Downloads
Try It Free
600,000+ Downloads
Steps to Use TunesKit iOS System Recovery to restore firmware package without iTunes.
Step 1

Connect iPhone to the computer

Install TunesKit iOS System Recovery and open it. Use an Apple USB cable to link your iPhone with your computer. To put your iPhone into the Recovery mode with one click, press the "Enter Recovery Mode" button. This is the prerequisite to the entire repairing process. Press the "Start" button to begin.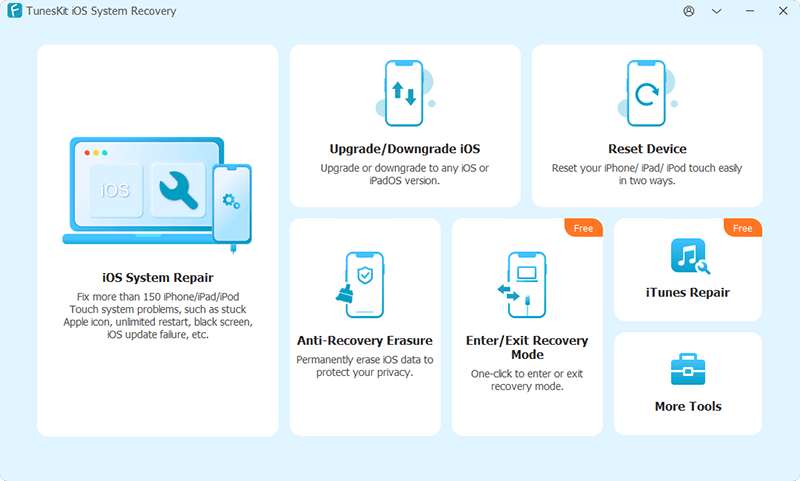 Step 2

Select a mode

In this window, you will see two boxes showing two modes for you to choose from. Choose the "Standard Mode" box so that your iPhone firmware will be restored without any data loss (The "Advanced Mode" will erase all the data). Then press the "Next" button to proceed to the next window.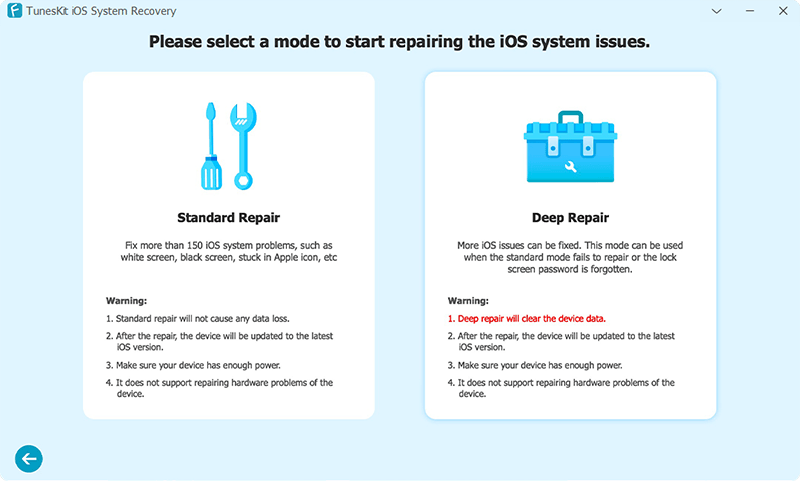 Step 3

Download firmware package

The program will detect and show some basic info about your device. Please ensure that all the info is correct, then click the "Download" button to download the firmware that matches your device.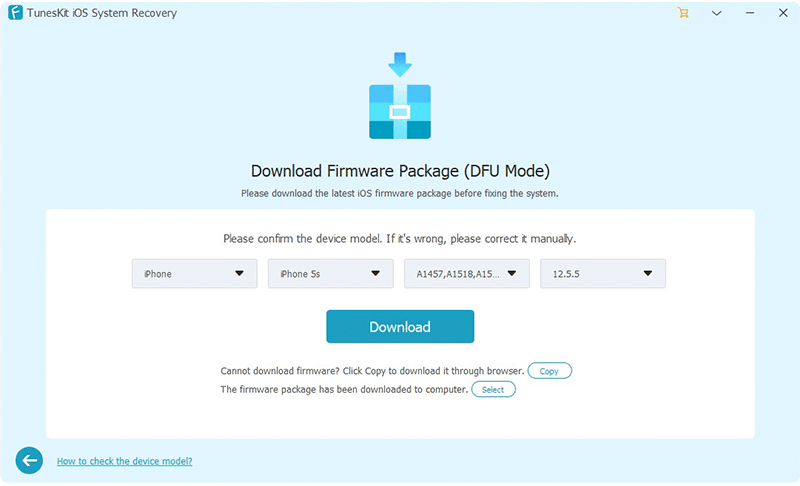 Step 4

Restore iPhone firmware without iTunes

Once the firmware is downloaded, simply push the "Repair" button to unzip the firmware and start installing it on your iPhone. By the time it completes, unplug the phone and you can see the firmware has been restored properly.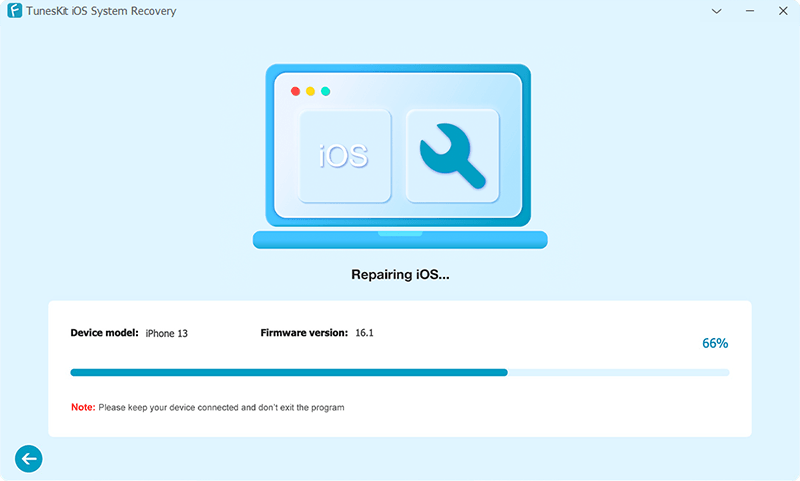 Video Tutorial: How to Restore iPhone Firmware with TunesKit
Solution 2: Restore iPhone with iTunes
If the firmware is still not restored after using the TunesKit iOS System Recovery, you can still try using iTunes to restore the firmware. That's because there might be system software errors preventing your phone from repairing its firmware, and now those errors have been fixed by TunesKit iOS System Recovery. Nevertheless, it is worth noting that restoring through iTunes will erase all your iPhone data.
It might be more complicated to use iTunes to restore the firmware package. Just follow the steps below, and you can repair your firmware with iTunes.

Step 1. Go to Microsoft Store and search for iTunes. Click the Install button under the iTunes tab and it will be installed on your computer. Wait until the installation completes.
Step 2. Go to ipsw.me, then find the firmware you want for your iPhone and download it.
Step 3. Launch iTunes and connect your iPhone to the computer. Find your device in iTunes. Press and hold the "Shift" key and then click on the "Update" option.
Step 4. Select the IPSW file you downloaded and click "Choose". Now you just need to wait until the iPhone updated as usual.
Solution 3: Seek Help from Apple Support
If the previous solutions fail to solve the problem, seeking help from Apple Support is the last option for you. The reason is that the firmware restores failure may result from hardware issues. Apple Support is the most reliable agency to repair hardware or fix the firmware one thing for all. Therefore, don't hesitate to ask Apple Support for advice or even send your phone to them for inspection.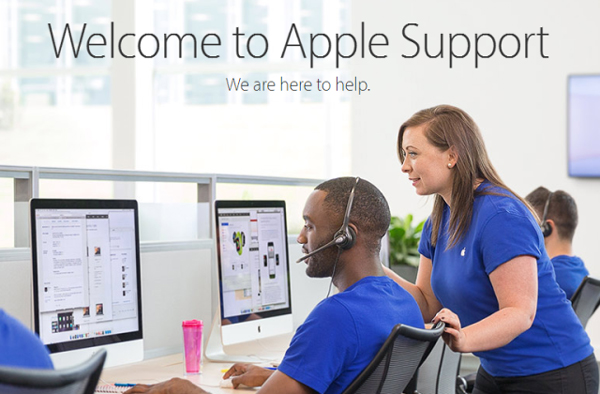 Part 2. When Do You Need to Restore iPhone Firmware without iTunes
Normally, most users won't even know what is firmware. Basically, A firmware is an IPSW file package that stores everything needed to run the core operating system, which is iOS for iPhone or iPad users. iOS is one of the best systems for mobile phones, but that doesn't mean it is flawless. There are some occasions where you would have to restore the firmware, and this can be done through iTunes normally.
In the following cases, you will have to restore firmware without iTunes:
1. You try to update your iPhone but fail. The iPhone is stuck at some stage of the update process or completely bricked. At this point, iTunes cannot recognize your iPhone.
2. You want to downgrade the iOS version. iTunes doesn't allow downgrade of iOS. Therefore, you can only resort to other options.
3. You are about to flash your iPhone firmware with iTunes, but the installation just fails.
4. Your iTunes fails to recognize your iPhone because it is bricked. Similar problematic situations include iTunes error 9, 4013, 4005, etc.
5. Your iPhone is stuck in the Recovery Mode or DFU Mode and iTunes cannot recognize the phone.
6. Your iTunes encounters bugs, cannot function normally, or you cannot install iTunes to your computer. Under such circumstances, iTunes will not be able to complete the firmware restore process even if it can start the process.
7. The iPhone runs slow. It is true that restoring the firmware package will make the phone runs will make your device run more smoothly.
8. The restoring procedures are too complex and you wouldn't bother to learn them.
Part 3. Conclusion
With all this information, you must have known why you need or need not restore the firmware on iPhone, the result of it, and how to restore iPhone firmware without iTunes. We truly hope that you find this guide helpful and your firmware can be restored properly. If you have any other questions, please feel free to leave us a comment below, or download and take TunesKit iOS System Recovery a try.