Messages Repeat Alerts Not Working On iPhone: Reasons & Solutions
5 mins read
iPhones are very advanced and innovative technologies to make things easier. The iPhone alert feature of Apple is very helpful, which will never let you forget responding to a notification. All the features are very supportive and work effectively, but sometimes they can stop working, leading to a problematic situation. If you are going through problems like iPhone Messages Repeat Alerts not working, you can resolve them by following the ways presented in this article.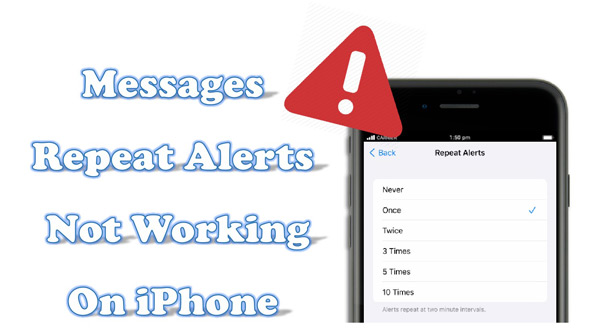 Part 1. Main Reasons Behind Why Messages Repeat Alerts Not Working
You must be wondering why the iPhone is a reliable device but these problems emerge. The list of reasons that cause the stopping of alerts is very fast. Some of the reasons that may cause the stopping of Messages alerts not working are as below:
1. Sometimes, a bug comes up that can alter the settings of the iPhone devices. It can enter the device via unreliable sites, affecting the settings, like Repeat Alerts.
2. One of the most common reasons behind this issue is the iPhone glitch. When your iPhone is not using upgraded software, it will affect its speed, leading to glitching and flickering issues.
3. If your Messages app comprehends a glitch, you won't be able to get Repeat Alerts of messages. It can be caused by low device storage, memory issue, and problems with Apple services or cellular service outages.
Part 2. Three Useful Methods to Resolve Messages Alerts Not Working On iPhone
There are many methods by which you can get rid of these Messages alert problems, and some of the most effective methods are mentioned here:
Method 1. Force Restart Your iPhone
One widely used method to resolve iPhone repeat notifications not working issue is force restarting the iPhone. If you have no idea how to force restart the iPhone device, feel free to follow the steps listed underneath:
Force Restart iPhone 8 and Other Latest Model Of iPhone
Step 1: Initially, press and release the "Volume Up" button and do the same with the "Volume Down" button.
Step 2: After this, you must press and hold the "Power" button. Keep it holding until you see the Apple logo appearing on the screen. By this, your iPhone will be force restarted.
Force Restart iPhone 7 Series
If you are an iPhone 7 series user, you must press and hold the "Power" button and "Volume Down" buttons simultaneously. Keep them holding until the Apple logo appears on the screen.
Force Restart iPhone SE, iPhone 6S, or Earlier
Press and hold the "Power" and "Home" button together and keep them holding until the Apple logo appears. After this, the glitches in your iPhone will be fixed.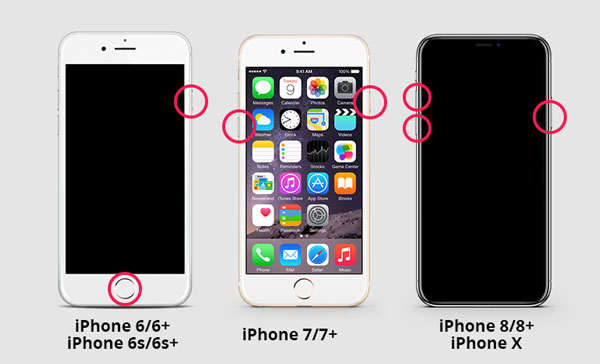 Method 2. Enable and Disable Messages Repeat Alerts
If you are still facing the issue of Messages Repeat Alerts not working on iPhone, there is nothing to worry about because it can happen due to a glitch in your Messages app. You can follow the simple but effective procedure mentioned below to get rid of this problem:
Step 1: To get started, open "Settings" on your iPhone device and scroll down through the options. Locate the "Notifications" option and select it.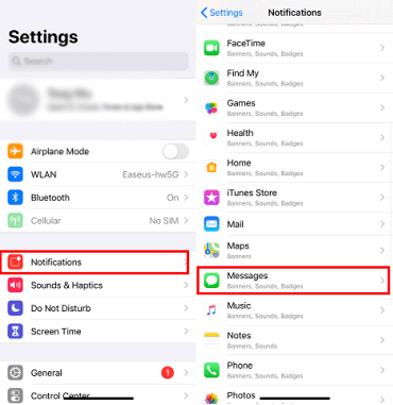 Step 2: After selecting "Notifications", you will see all the options of apps whose notifications you can manage. Select the "Messages" option. From its settings, select "Customise Notifications" from the bottom of the screen.
Step 3: On the next screen, select the option of "Repeat Alert" and hit "Never", and by this, your notifications will be disabled. For enabling notifications again, you will see options of "Once", "Twice", "3 Times", "5 Times", and "10 Times". Select the option of your choice, and the repeat Messages alert problem will be solved.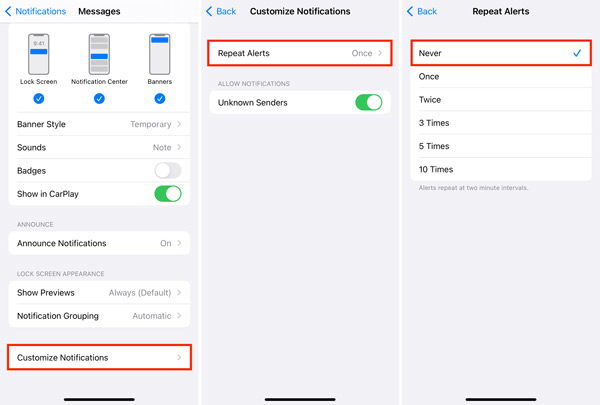 Method 3. All-in-One iOS System Recovery Tool (Without Data Loss)
Every person has their important and private data stored in their phones, and no one wants to lose it, no matter what issue they are working on. If you want to solve an issue in your iPhone device without losing important data, you can rely on a wonderful tool named TunesKit iOS System Recovery.
This software comprehends the most innovative and intuitive technology by which problems like Messages repeat notifications not working can be resolved. Moreover, this iPhone repair tool is a widespread tool compatible with iOS 7 to iOS 16. You can enter the repair or recovery mode with just one click.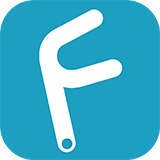 Characteristics of TunesKit iOS System Recovery:
Enables users to fix Messages Repeat Alerts not working on iPhone
It enables you to resolve 150+ iOS issues with ease
You may put iPhone into recovery mode with only one click
Compatible with the most recent iOS 16 version and iOS devices
Try It Free
600,000+ Downloads
Try It Free
600,000+ Downloads
If you wish to tackle the problem of Messages alerts, follow the steps listed beneath:
Step 1

Connect your Device to Computer

Download the TunesKit iOS System Recovery tool on your computer, and once downloaded, launch it. Then, connect your iPhone to a computer using a USB cable to establish a connection. Afterward, proceed with the "iOS System Repair" tool.

To move forward, choose the "Standard Repair" option from the next window and select the model of your device. After this, follow the instructions, put your iPhone in DFU mode, and click the "Next" button.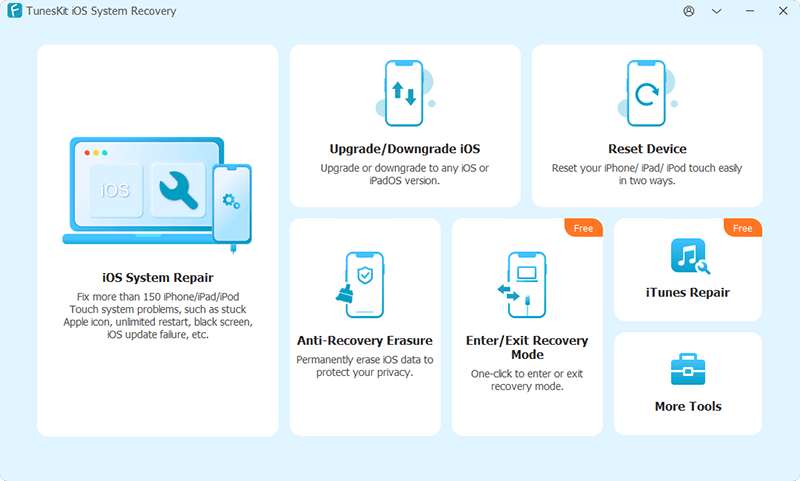 Step 2

Download iOS Firmware Package

Now, confirm the model and iOS versions of your iPhone device to help TunesKit download the firmware package that matches the version of your device. For downloading, hit the "Download" button from the middle of the screen.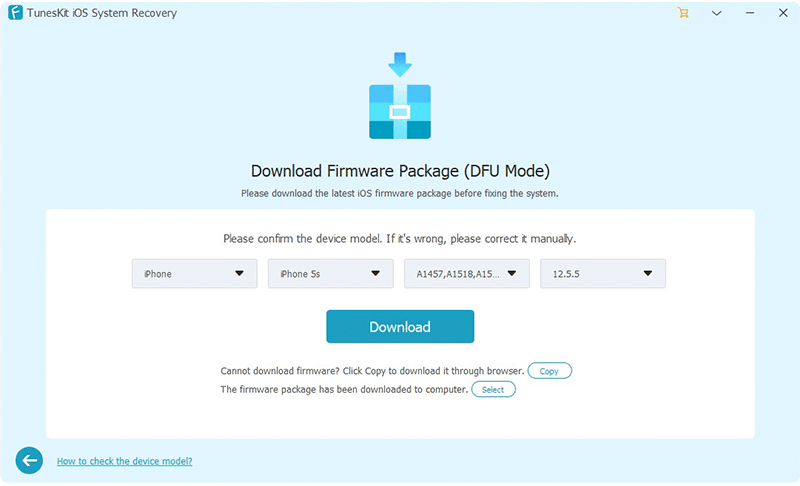 Step 3

Initiate the Recovery Procedure

Once the firmware is downloaded successfully, click the "Repair" button, and after this, the software will automatically fix the device. Make sure you don't interrupt the connection during the fixing procedure.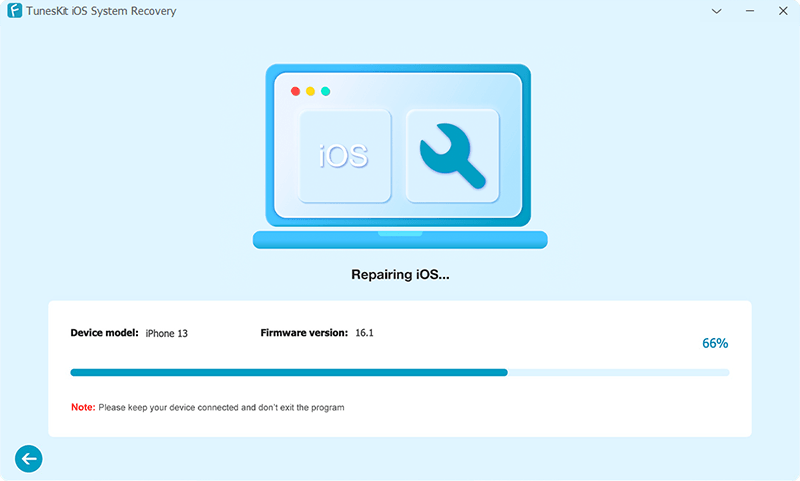 Part 3. Summary
As dictated in this article, you have found multiple solutions for iPhone repeat notifications not working. There are many ways to cater to this issue but the most reliable and recommended one is to resolve it using the TunesKit iOS System Recovery program. It is an exceptionally supportive tool by which you can get rid of many irritating problems in your Apple devices without data loss.