Edit or Unsend Messages Not Working on iPhone? Solutions to Fix!
6 mins read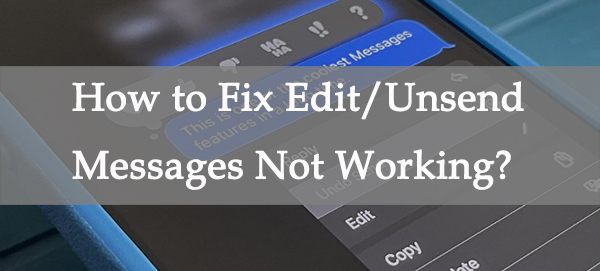 Have you ever had an embarrassing moment when sending a message completely deviated from its true meaning because of a misspelled letter? Or accidentally send a message "Love you~" to the person you hate most. It's definitely a maddening thing to us. In this situation, allowing re-edit and withdrawing a message plays a vital role. There is no need to type the content and send it again to correct the words, saving you effort and time. And you can also withdraw messages, videos and photos if you have sent to the wrong contact.
Apple supports unsending messages within 2 minutes and editing messages within 15 minutes on iOS 16. However, many users have encountered so many problems while using Message on the iPhone, such as why can't I unsend messages on iPhone? How can I fix edit or unsend messages not working? In this article, reasons and solutions are written in detail. Try to fix your issues with the methods recommended below.
Part 1: Why edit/ unsend messages not working on iPhone?
In fact, the edit/unsend messaging feature is not supported in all iOS versions and is only available for iOS 16 or higher, so does the recipient's device. If the recipient's device running iOS 15.6 or earlier, they receive a new message with your updated text. Nor does it work if you go beyond the specific time and opportunity. And what few people know is that it does not support Message, and only work for iMessage. In addition, unstable networks or glitches on the iOS system can also cause the unsend iMessage not working or editing feature not showing.
Diagnose your iPhone and find the best of the 4 solutions mentioned below.
Part 2: How to fix edit/ unsend messages not working?
Method 1: Upgrade your iOS version
Edit and unsend messages feature are designed and applied to iOS 16 version or higher. So, this feature only works if both your device and the recipient's device are running iOS 16 or later. You and the recipient can see the message before editing by tapping on "Edited" below the message bubble, and hide it by taping "Hide Edits". Therefore, to ensure successful use of edit and unsend, you need to upgrade your system to iOS 16 or higher. Follow the detailed steps below to upgrade your iOS version to iOS 16 or later.
1. Navigate to Settings.
2. Tap General and look for Software Update.
3. Tap on Download and Install to upgrade your iOS version to the latest one.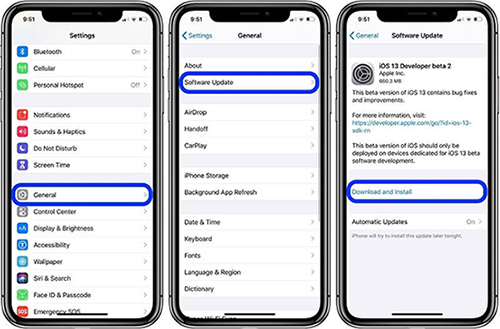 Method 2: Enable iMessage on your iPhone
Edit and unsend messages can only be used in iMessage. If you text someone with Message, you cannot edit or unsend the messages. How do we figure out if we send a message with iMessage? Actually, we can identify it by the color of the message bubble. If the message bubble turns green, it means that you have sent a message with Message. And if it's blue, that means you've already sent a message with iMessage. Therefore, make sure that you have enabled iMessage on your iPhone. Here's a tip to check.
1. Go to Settings.
2. Scroll down to find Messages and tap on it.
3. Turn on the iMessage button.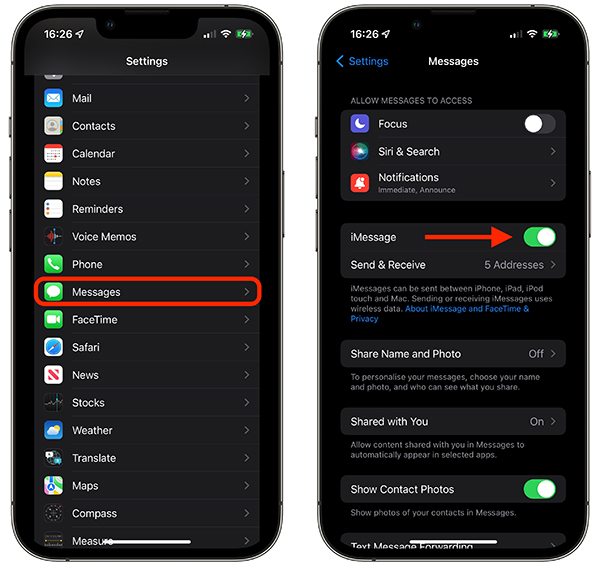 Method 3: Edit/Unsend messages within limited time & opportunities
Some are wondering why can't I undo send on iMessage anymore even though they have successfully used the feature an hour earlier. That's because of the specific time and chance set by Apple. Users can only withdraw messages within 2 minutes and edit messages in 15 minutes, and a message only can be edited 5 times. You cannot edit your messages again if you have edited it more than 5 times.
Method 4: Fix your iOS system with TunesKit iOS System Recovery
If the solutions mentioned above do not help you at all, some system problems may occur to your iPhone running iOS 16 or higher. It is a good choice to select a professional and practical tool to figure out the difficulty. The complex issues can be fixed with the 100% working system repair tool TunesKit iOS System Recovery.
TunesKit iOS System Recovery is an integrated system repair tool with a high success rate and simplified operation. It can fix more than 150+ system problems, including setting problems, black screen, mode stuck, apple driver error and other problems. TunesKit iOS System Recovery enables system upgrade and downgrade, reset device, enter or exit recovery mode with one-click. A simple interface and detailed step-by-step instructions are provided by this professional iOS system repair software to help you successfully and easily fix your iOS issues such as iMessage edit not working, iMessage not showing contact names.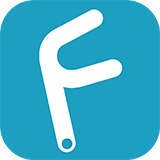 Key Functions of TunesKit iOS System Recovery
Fix 150+ iOS issues and other Apple TV problems
Simple interface & Easy to use
High success rate & Unlimited Usage within Validity Period.
Compatible with all iOS versions including iOS 16
Try It Free
600,000+ Downloads
Try It Free
600,000+ Downloads
Here's the detailed guide to fix edit or unsend messages not working on iOS 16 with TunesKit iOS System Recovery.
Step 1:

Connect Your Device

You need to download TunesKit iOS System Recovery first, then launch it. Use a USB cable to connect your device to the PC. After that, click "iOS System Repair". Ensure your device keeps connecting while repairing your system.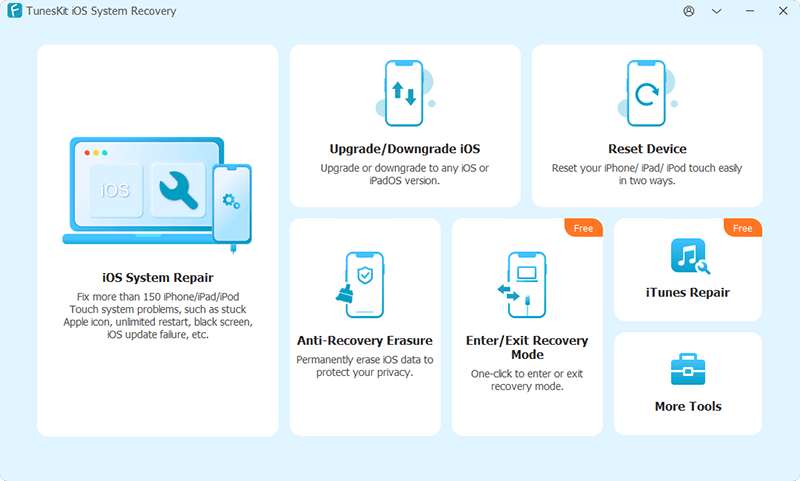 Step 2:

Choose problems & Repair type

Click "Device Problems" showed on the left of the interface, then click "Start". If you click "Standard Repair", the data will not be removed in this mode. Standard Repair is recommended first. And if it still does not work for you, you can use Deep Repair to fix your system issues, but it will erase all the data on your device. Choose the appropriate mode to fix your system problems according to your condition.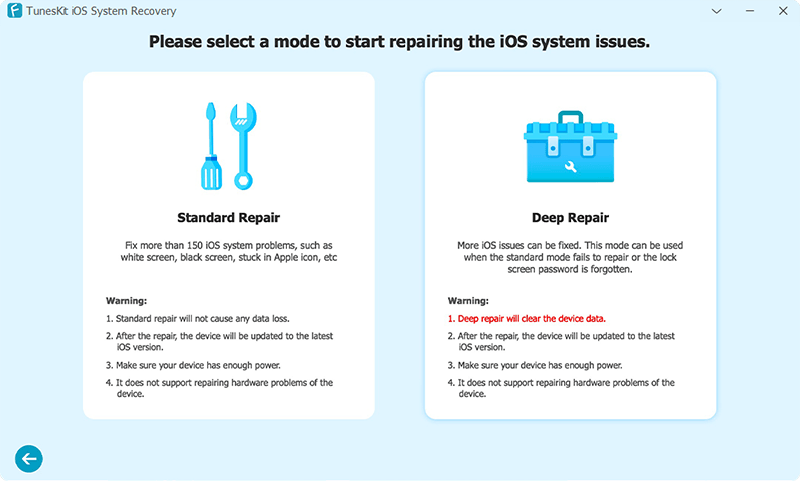 Step 3:

Download firmware package & Start to repair

Check your device's info and then download the matched firmware package. After verify the firmware package, click "Start" to fix your system. Be patient and wait for it. It only takes a few minutes to fix edit and unsend messages not working on your iPhone and other iOS system issues.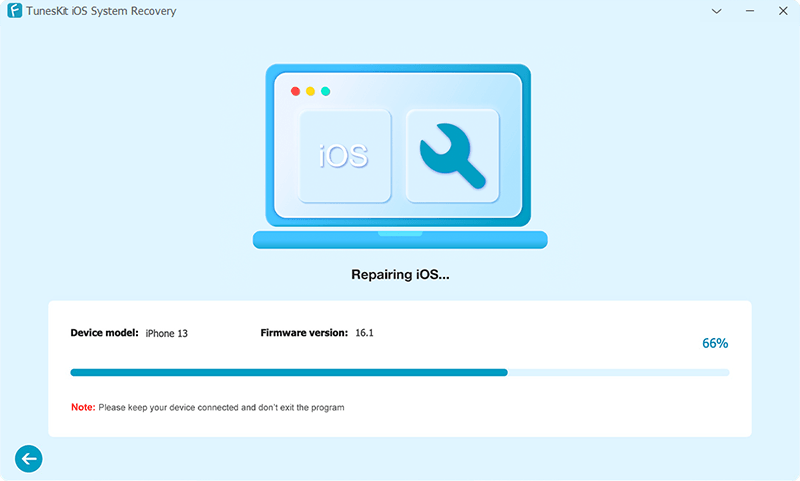 Part 3: Conclusion
In short, make sure of your network is stable enough, upgrade your system to iOS 16 or higher, enable iMessages and edit and unsend message within the specific time and chances, you can successfully access to this feature. And TunesKit iOS System Recovery is highly recommended to help you fix unsend iMessage not working with its high success rate. Hope that you can learn something or fix your issues with this article.