Five Useful Fixes for iPhone SIM Failure [2022 Guide]
5 mins read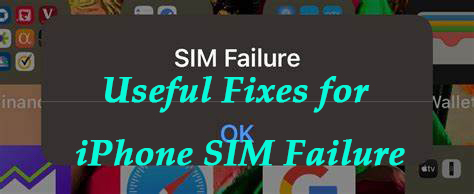 For iPhone users, it's common to encounter SIM failure when they use their devices. Without doubt, if users don't know how to fix it, SIM failure will cause a lot of trouble for users, such as being unable to connect to the cellular network, or send and receive text messages and phone calls. If this problem also bothers you, you can read this post and we'll tell you the main reasons for iPhone SIM card failure and how to fix it.
Part 1: Why Does My iPhone Say SIM Failure
Generally, SIM failure iPhone issue is caused by software or hardware problems. Here are some common reasons for iPhone saying SIM failure:
1. There is something wrong with the SIM tray of your iPhone. Especially if you change your SIM card, or drop your iPhone by accident, your SIM card is easily misplaced or improperly closed, making your iPhone unable to recognize the SIM card.
2. Sometimes, the SIM card you are using may be damaged. You can change another SIM card to check if it can be recognized.
3. It may be possible for SIM failure that your iPhone has software glitches, which are not complex to fix by yourself. You can try to fix it by the methods we list in the second part.
4. In some cases, hardware problem is to be blame for iPhone SIM failure, which is tricky to deal with by yourself.
Part 2: How to Fix SIM Card Failure iPhone
By now, you probably have some ideas about what causes your problem. If it is caused by software, don't worry. Here are some methods you can take to try and get your iPhone fixed.
Method 1: Toggle the Airplane Mode to Fix iPhone SIM Failure
To start with, you can try this simplest solution first. Toggling the Airplane mode can not only fix iPhone WiFi issues, cellular data, or Bluetooth problems, but also be possible to work when you meet the SIM failure iPhone problem. Below are the steps that you can take for how to fix SIM card failure iPhone.
Step 1. Click on the Settings icon on the interface of your iPhone.
Step 2. Navigate to Airplane Mode and turn the switch on.
Step 3. Wait for about 15 seconds, then turn off the Airplane Mode.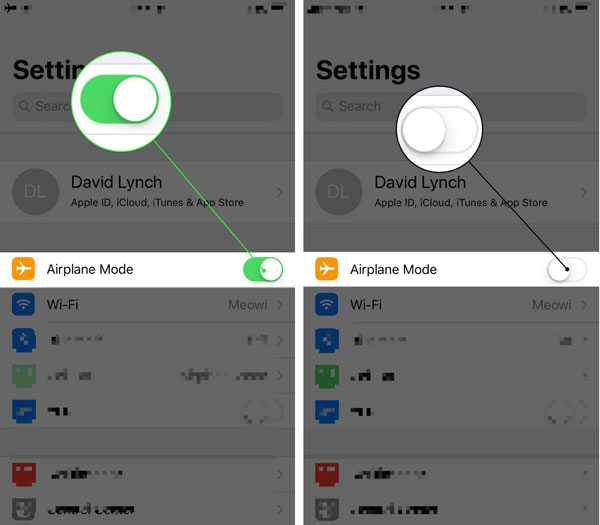 Method 2: Force Restart Your iPhone to Fix iPhone SIM Failure
In addition to turning on/off Airplane mode, force restarting your iPhone, which can solve some simple system errors, is also an easy and viable way for you to choose to fix iPhone SIM card failure. Here are the specified steps for you to have a try. To force restart your iPhone, you need to know the model of your iPhone first, and then choose one matched method for a force restart.
If you want to force restart iPhone 8 and newer, you can briefly press and swiftly release the Volume Up button and the Volume Down button in succession. Then, what you need to do is to hold down the Power button till you see the Apple logo on the screen.
For iPhone 7 and 7 Plus, press the Power and the Volume Down buttons at the same time and hold them until the Apple logo shows up.
For iPhone 6 and earlier, you need to press and hold both the Power and the Home buttons, and let go off them when the Apple logo comes out.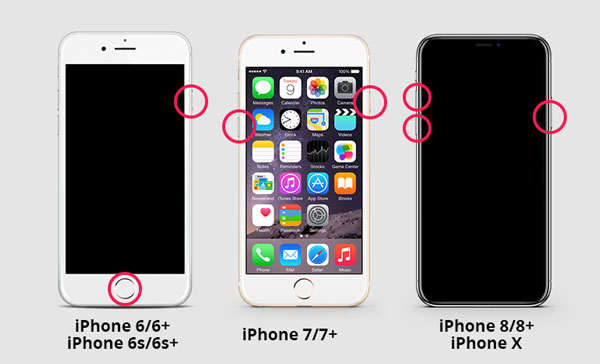 Method 3: Reset Network Settings to Fix iPhone SIM Failure
Another solution to deal with SIM failure iPhone problem is to reset network settings, which is able to rule out your iPhone errors resulting from wrong network settings. Detailed methods will be shown in the following.
Step 1. Hit on the Settings app on the main interface of your iPhone.
Step 2. Tap the General option, then Transfer or Reset iPhone.
Step 3. Go to Reset and then hit on Reset Network Settings.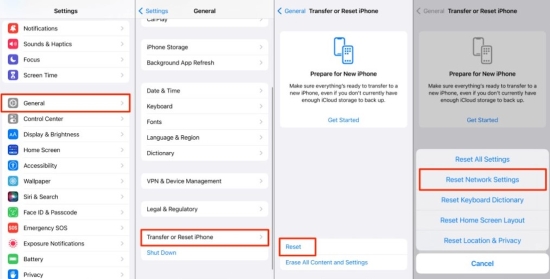 Method 4: Update Your iPhone to the Latest Version to Fix iPhone SIM Failure
If you have not upgraded the system version on your iPhone, it may lead to iPhone SIM failure problem. Before starting the upgrade, first ensure that your device is charged or has enough power to complete the system update.
Step 1. Navigate to the Settings app, and then select General.
Step 2. Choose Software Update and check if there is any update available.
Step 3. Tap Download to download the latest version of iOS.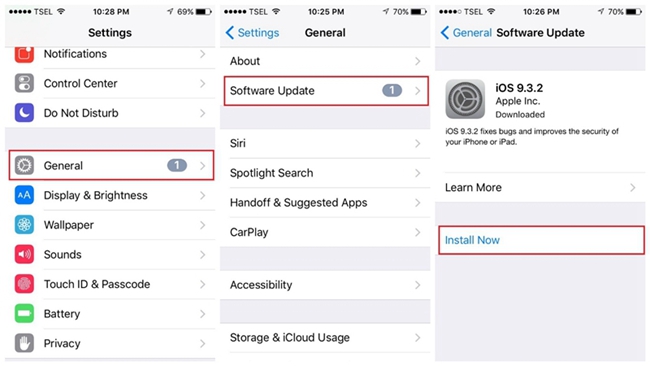 Method 5: Use a Practical Third-Part Tool to Fix iPhone SIM Failure
In addition to the previous four methods, we recommend that you can try to fix iPhone SIM card failure by using TunesKit iOS System Recovery. As a good iOS system repair tool for iPhone/iPad/iPod touch, TunesKit iOS System Recovery is the ideal solution for you to resolve over 150 iOS system problems, including iPhone not reading SIM card, iOS devices stuck on checking for update, DFU mode, iPhone/iPad/iPod black screen, etc.
Whether you know anything about electronic devices or not, you can easily and quickly repair your iPhone with the help of TunesKit iOS System Recovery without losing data. In addition, this software provides two modes for you to choose from, so you can choose any one according to your needs.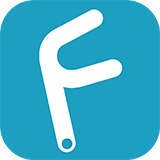 Why Choose TunesKit iOS System Recovery?
Fix iPhone SIM failure without data loss
Repair over 150 iOS system issues successfully
Trusted by numerous customers and famous media
Work well on all iOS models and versions
The program is simple to operate
Try It Free
600,000+ Downloads
Try It Free
600,000+ Downloads
Here's a complete guide on how to fix SIM card failure iPhone.
Step 1. After downloading and installing TunesKit iOS System Recovery, get your iPhone connected to the computer using an original cable.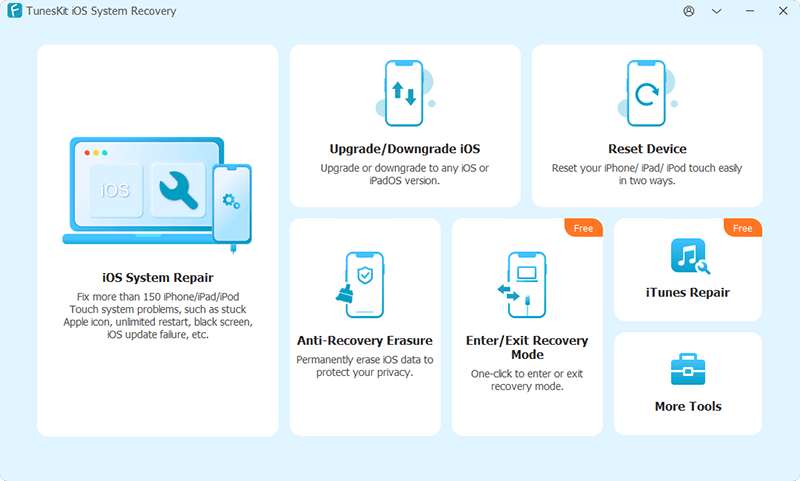 Step 2. Then, choose a mode to fix SIM failure iPhone. Either Standard Mode or Advanced Mode is available for you to choose. When you finish choosing a mode, get your iPhone into DFU mode using the guide provided by the software.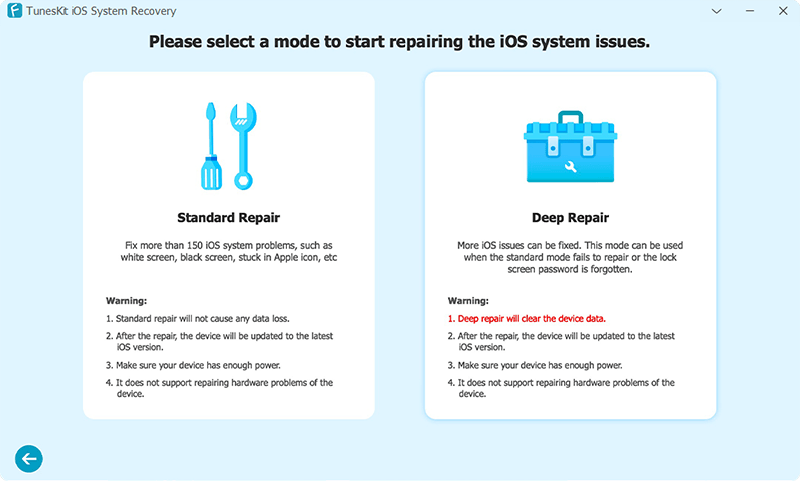 Step 3. In this section, first examine the device information detected by the software, and then click on the Download button. When the download process finishes, tap on the Repair button to fix your iPhone SIM failure.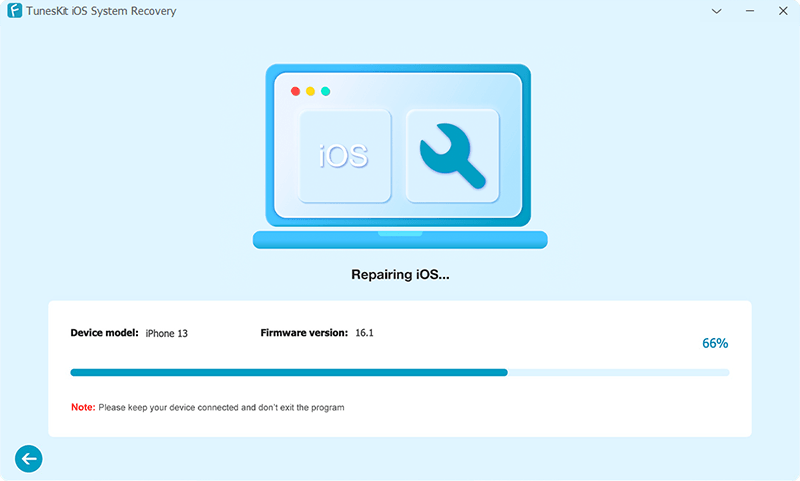 Part 3: Conclusion
In conclusion, the methods mentioned above are basic and effective ways for you to deal with iPhone SIM card failure. If you want to fix your iPhone instantly and simply, we think that TunesKit iOS System Recovery is the top choice for you. You can solve your iOS system problem assisted by this software with only three simple steps.