"Invalid SIM card" or "SIM card error"? I am much familiar to these words that were shown on my iPhone ever. There have been no issues with my iPhone since I bought it, yet earlier in this year, the problem suddenly appeared and I have no idea about what to do to save it. So I searched the Internet to seek ways and finally resolved it. In order to give a hand to many other people who have the same trouble, I wrote this article and managed the following approaches to solve invalid SIM card on iPhone.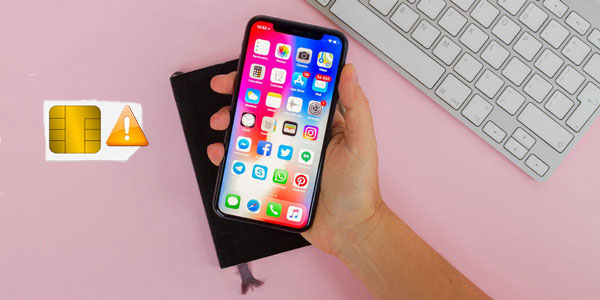 Part 1: What Is SIM card?
First and foremost, we need to understand what SIM means. Subscriber identification module, abbreviated as SIM, is a card that saves subscribers' information for a network and activates the internet connectivity services. If there is iPhone not reading SIM card, it means the failure to connect wireless carrier's network. But how do you know your SIM not valid? Well, if you cannot see the carrier name and signal dots or bars at the top screen of your iPhone, or invalid and searching, the iPhone has a problem with the SIM card.
Part 2: Why Does iPhone SIM Card Error Occur?
The problem of iPhone SIM not valid may appears on iPhone 5/6/7 and other models. So why does this issue appear on the iPhone? There are some possible reasons as presented below.
1. Hardware damage.
2. System glitches.
3. iPhone gets too hot.
4. Dust on the SIM card and more.
Part 3: How to Find SIM Card?
Before looking at the fixes to iPhone SIM card error message problem, you have to know where the SIM card is. Its location relies on the iPhone models.
For iPhone, iPhone 3G, and iPhone 3GS, there is a tray with a tiny hole between the sleep or wake button and headphone jack which is at the top of the iPhone. That is the slot that saves SIM card.
For iPhone 4 and later, the right side of the iPhone, which is close to the sleep/wake or side button, is the location of SIM card. The iPhone 4 and 4s have a microSIM, and newer iPhone models use a smaller and more modern nanoSIM.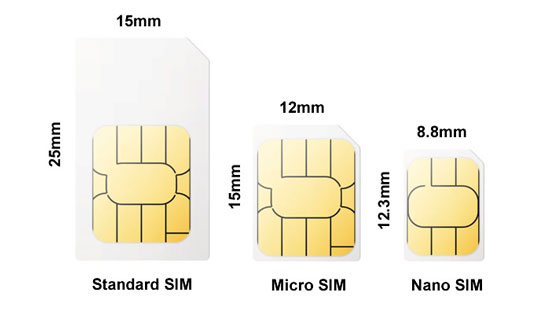 Part 4: How to Fix iPhone Not Reading SIM card?
Although the SIM card is inserted in our iPhone, yet the device cannot recognize or detect it. This is indeed annoying as we are unable to send messages, use cellular data and the like. If the iPhone shows SIM card error message or other like invalid SIM card, then following methods are worth trying.
4.1 Remove SIM card and reinstall it
Given that the iPhone says SIM card error message, it is necessary to check whether the SIM card is dislodged or loose. To make sure the trouble is not caused by this, try to remove and then reinsert the SIM card on iPhone. It should be noted that switching off the iPhone before reinstalling the card is a must.
Step 1: Put a SIM ejector into the tiny tray of iPhone.
Step 2: Push the tool and pull the slot out, then take out the SIM.
Step 3: See if the card gets damaged, or otherwise place it back with the right orientation.
Step 4: Push back the tray that hold the SIM.
Step 5: Switch on the iPhone.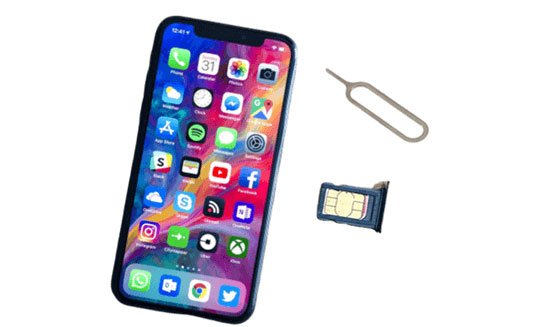 4.2 Try a different SIM card
Moreover, you can change the SIM card so as to determine whether the matter results from iPhone or the SIM card problem. Just put a different into the iPhone card by borrowing the friends or relatives' one you trust. Associated steps are the same as the ones in the first approach.
4.3 Force Restart iPhone
If the iPhone SIM not invalid issue goes away, then you can be sure that the problem goes wrong with the card itself. If the circumstance is the other way around, it might be attributed to the iPhone. In this case, forcibly rebooting the device first may possibly resolve the issue on iPhone.
iPhone 8 and newer models, briefly press and quickly release the volume up button and the volume down button respectively. Then keep holding the power button till the Apple logo pops up on the screen.
iPhone 7 and 7 Plus, simultaneously press the power and volume down buttons until the Apple logo appears.
iPhone 6 and older, hold the power and home buttons at the same time until the Apple logo is shown on the interface.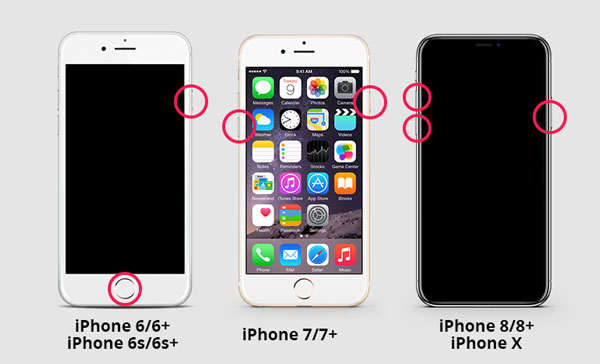 4.4 Turn Airplane Mode on and off
If restarting iPhone doesn't work, you can examine other minor errors like cellular or wireless network connectivity. First you can toggle the airplane mode on and off. This may do the trick because it can swiftly refresh and restart the wireless radios and rule out related glitches. Here's what to do.
Step 1: Click Settings of the iPhone.
Step 2: Choose Airplane Mode and turn the Airplane Mode switch on.
Step 3: Restart iPhone, then go to Airplane Mode in Settings.
Step 4: Switch off the Airplane Mode button.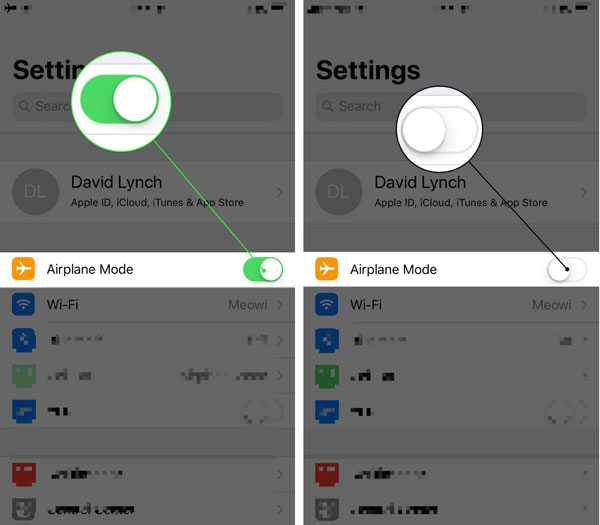 4.5 Reset network settings
Another network-related fault you can check is to reset network settings. This can rule out some errors from wrong network settings by remove existing settings like Wi-Fi and cellular data. Please remember your Wi-Fi passwords for the sake of reconnecting the internet afterward.
Step 1: Tap General in Settings on iPhone.
Step 2: Click Reset>Reset Network Settings.
Step 3: Confirm the order.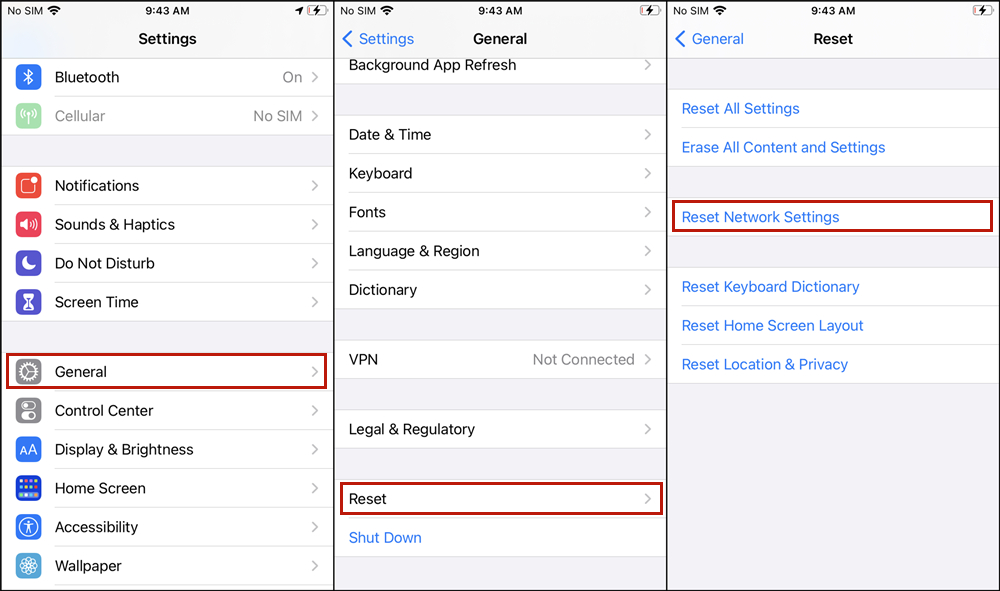 4.6 Update the carrier settings
Besides, updating the carrier who provides the network service can also address errors associated with the network, which may result in iPhone not reading SIM card. This option can strengthen network functions and other features. So do as steps below.
Step 1: Hit Settings on your iPhone.
Step 2: Head to General > About.
Step 3: Install the latest carrier (if available), then follow the instructions.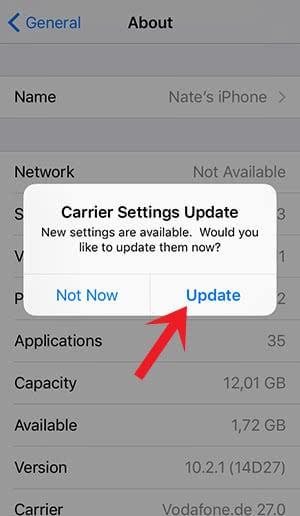 4.7 Reset all settings
You can also attempt to reset the settings of your iPhone. But it's worth noting that this method will erase all your information on the device. So you are suggested to back up them before following procedures.
Step 1: Click General in Settings.
Step 2: Head to Reset and tap Erase All Content and Settings.
Step 3: Choose Erase iPhone and terminate the process.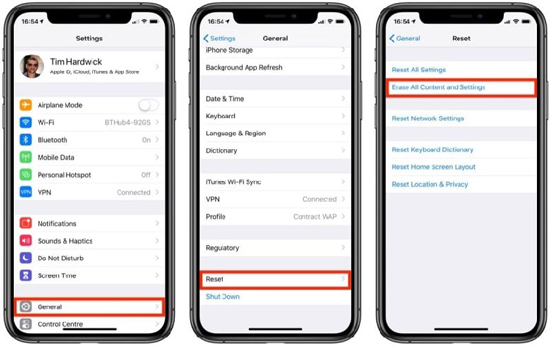 Note: TunesKit iPhone Data Recovery can get your former data on iPhone back without backup.
4.8 Use TunesKit iOS System Recovery
Apart from the ways mentioned above, it is good to try another more professional one, That is using professional iOS system recovery tools such as TunesKit iOS System Recovery. Except its professionalism and effectiveness, the largest one attractive function is that it won't bring about any data loss while resolving the trouble. And its other features are also listed as below. Besides iPhone not reading SIM card, it can also fix iPhone stuck on checking for update, recovery mode, DFU mode, etc.

Key points of TunesKit iOS System Recovery
Solve all iOS and tvOS system problems including iPhone SIM card error, etc.
Support iPhone/iPad/iPod/iPod touch, etc.
2 smart recovery modes: standard and advanced modes.
Support iPhone, iPad, iPod touch and Apple TV
Easy steps and customer-friendly interface.
Step 1: Connect iPhone to the computer and open TunesKit iOS System Recovery software on computer. Click the Start button at right corner on the screen. Then choose the standard mode.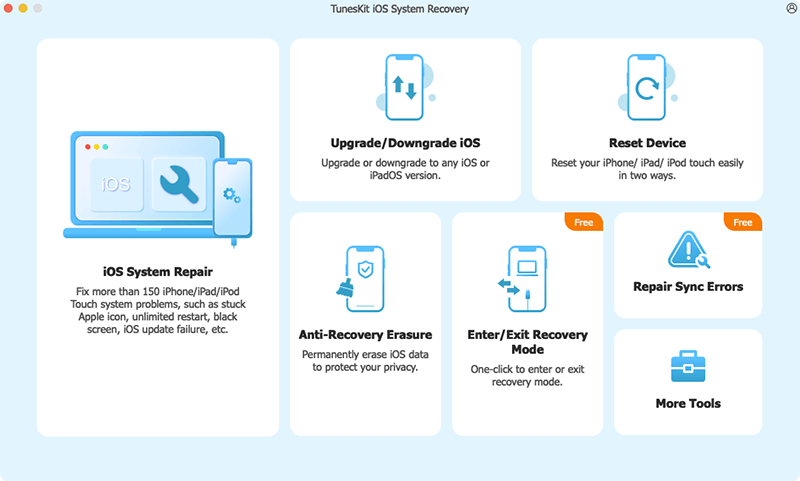 Step 2: Confirm your device model and other information on the four frames. Next tap the Download button. At this time, the program will begin to download and verify the latest iOS firmware package matched to your iPhone.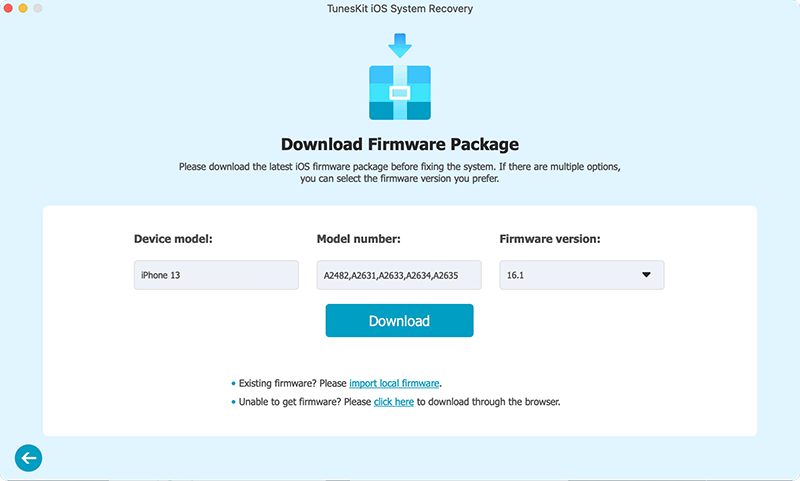 Step 3: After completing firmware package download and verification, hit on the Repair button, then the application will start fixing the iOS system issues. Keep your iPhone connected to the computer during the process.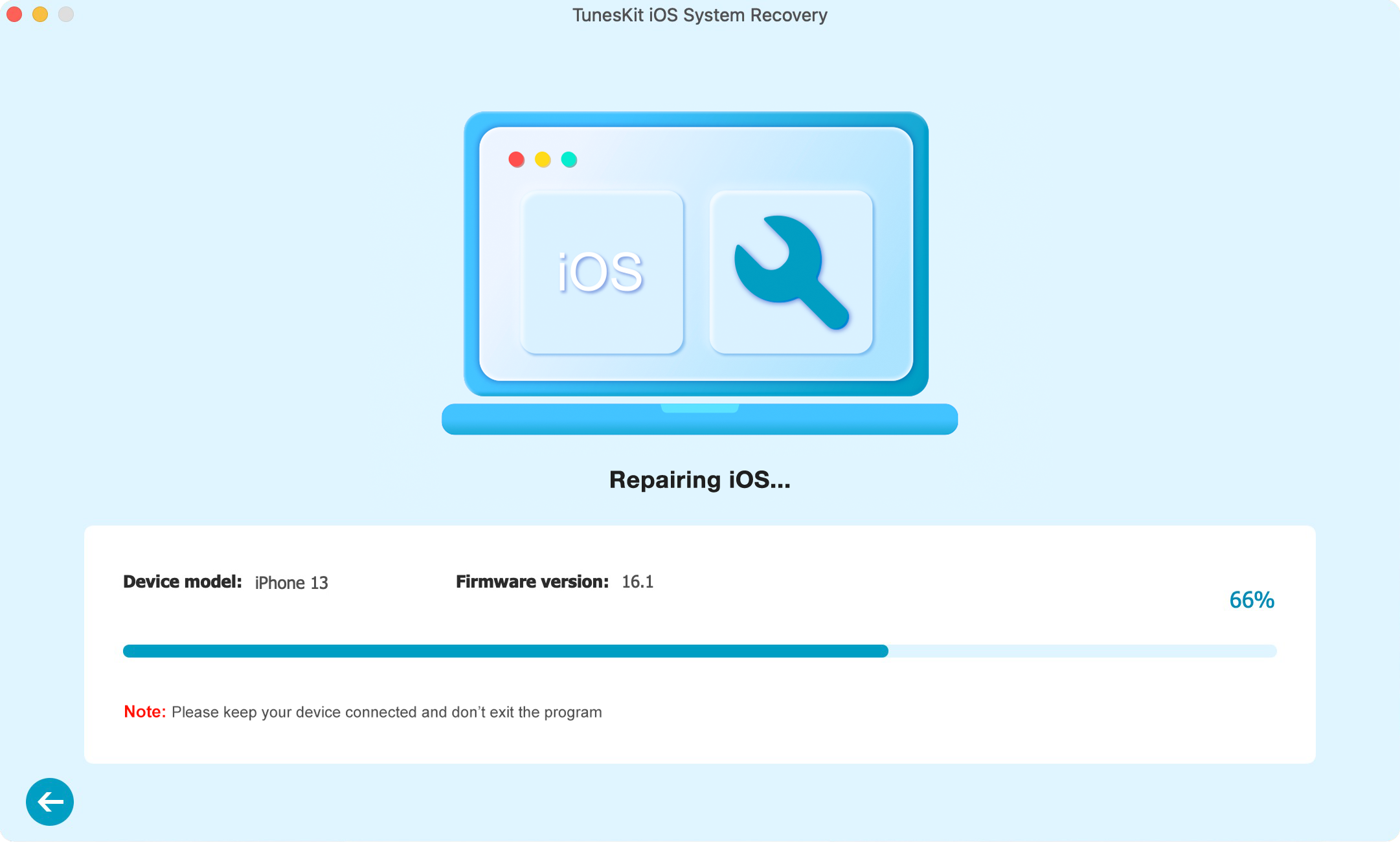 4.9 Install the latest iOS version
If it is not network-related and SIM card problems, then it could be software-related factors. Thus updating iOS version may potentially fix some bugs that cut off SIM signal receiving. At this time, you just go to Settings tab and tap General button, then hit Software Update button. Before that, you have to be sure that your iPhone is hooked up with stable network connection and sufficient memory. And the battery of your iPhone should not be less than 50%. After all is set, open your iPhone and see whether the problem is addressed.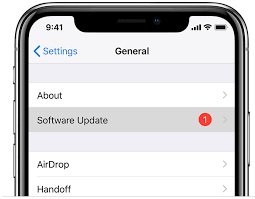 4.10 Check iPhone account
The final way to settle iPhone SIM card error is to check if the device's account is valid. A licensed and active account from the iPhone company assures your device connected to the network of the company. If the account has been paused or occurs other issues, the SIM card on the iPhone may become invalid.
Part 5: The Bottom line
Above methods are appliable to all versions of iPhone. There are basic methods and the professional way to work out iPhone not reading SIM card. If you are more willing to fix this problem once and for all, then employing iOS system recovery tools is your top choice. Finally, if you are reluctant to resolve it by yourself, you can go to the Apple center to seek suggestions. And if any questions confuse you, please connect with us.

Brian Davis has covered tech and entertainment for over 10 years. He loves technology in all its forms.