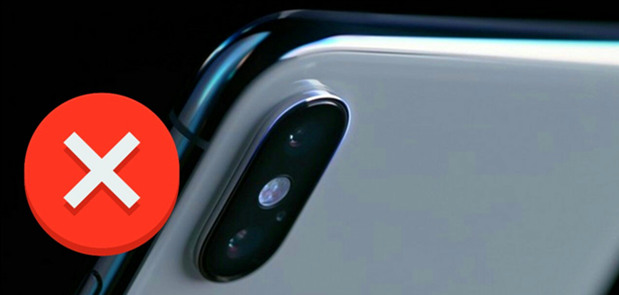 Currently, there are over 900 million iPhone users across the world. Wow! That is quite an overwhelming number. Well, the iPhone is fitted with some of the most detailed, quality, unique and amazing features; that's why almost everyone would love to own an iPhone phone. Interestingly, not all features seem to matter a lot to iPhone users until they actually fail, like iPhone flashlight not working. Flashlight malfunction means that you cannot take clear photo at night or use the LED to light your path at night. This piece will help you solve this particular problem step by step.
Reasons behind the Flashlight Not Working on iPhone
There several reasons why probably your flashlight is not working. They include the following:
• iOS Update: It is the most probable reason for this misfortune. Updates to more recent iOS version such as iOS 10, iOS 11and iOS 12 have been sighted to cause flashlight 'greyed out'.
• Hardware damage: This mostly happens when you carelessly drop you iPhone on hard ground.
• Water Damage: Probably dropping it in a pool of water could compromise flashlight functionality.
• Overheating after longtime iPhone usage.
• Improper flashlight settings.
Fixing Tips for iPhone Flashlight Not Working (iOS 12 Supported)
To this regard, here are number basic solutions to the flashlight not working on iPhone, even on the latest iOS 12 systems.
1. Turn off the Camera App
In some instances, the camera and flashlight app maybe running at the same and there causing a function conflict which result to flashlight failure. Hence, you should turn off the camera app by simply pressing the Home button twice and swipe on the swiping on the camera to end running.
2. Adjust Flashlight Brightness Level
This is another basic fix. Sometimes the flashlight will not work simply because the brightness is low. You should adjust the brightness to maximum level by simply accessing the control center and check for flashlight icon. Press firmly to access the flashlight brightness level and check the flashlight is working.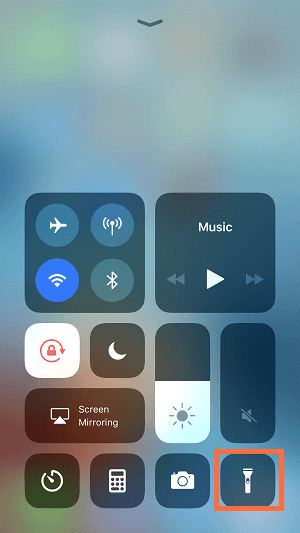 3. Reboot iPhone
It is one of the most widely recognized remedies to solve a whole range of iPhone glitches. System bugs and failed software update are some of the reasons why your flashlight is not working. Force restart allows for fresh running of OS as well as the flashlight application. With all factors held constant this particular fix is bound to work. In fact it is a top list troubleshooting technique recommend by Apple on its devices. Here is a guide on how to 'force restart' you iPhone.
For iPhone 8, 8 Plus and X series, quickly press the Volume Up button then Volume Down button and finally Power button and hold until the screen goes black.
For iPhone 7, 7 Plus, press and hold the Power and Volume Down button simultaneously until the phone restarts.
For earlier iPhone models, simply press the Power and the Home buttons concurrently.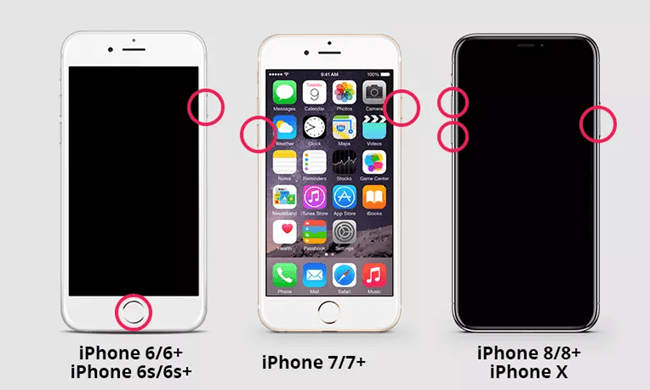 A force restart is a safe fix and you not any chance of losing your data. If this does not work you can now process to Reset Settings
4. Reset iPhone to Default Settings
This is basically, back rolling all setting to their original state i.e. original settings at the time of purchase. To initiate the process, go to the 'Settings' and select 'General'. Scroll down and tap on 'reset' and proceed to select 'Reset All Settings' as shown below.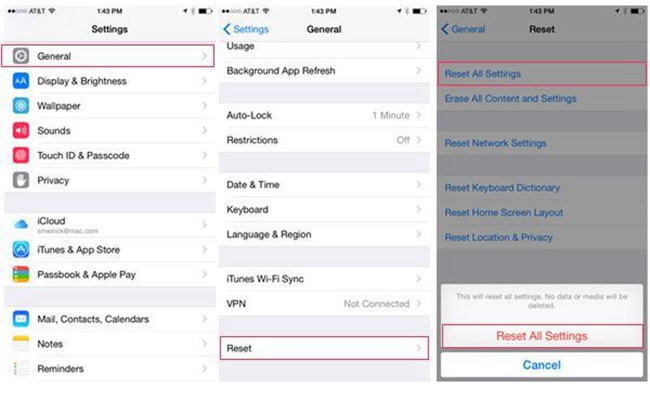 Check to confirm whether the iPhone flashlight not working problem is solved. If not, proceed to iOS update.
5. Update Device with New iOS Software
Lack of regular software update could another reason behind nonfunctional flashlight on your iPhone. Apple does constantly provide new software updates to curb iPhone glitches. Well, if you have not updated your software, then it high time you consider doing that. To update got to 'Settings' then 'General' and select 'Update Software'. Always make sure that you device is connected to Wi-Fi and charged to capacity.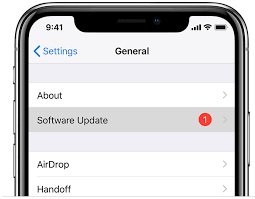 6. Fix iPhone Flashlight Not Working without Data Loss
After tried all the aforementioned methods, if your iPhone flashlight problem still exist, you can now turn to a professional third-party iOS repair tool for help. Luckily, TunesKit iOS System Recovery is such a tool to provide you with a better option: fixing your iPhone flashlight issues with no risk of data loss. You do not have to undergo the stress of backing up your data and feeding it all over again after restoration. Apart flashlight problem, it is powerful enough to fix more than 30+ iOS related problems like iPhone stuck in recovery mode, iPhone keyboard not working, black screen of death, iPhone won't turn on, etc.
TunesKit guarantees you a 100% data safety as well effective fixing of the flashlight problem. All you need to is to download, install on your Mac or PC and follow the guide below.
Step 1: Launch the TunesKit software and then connect iPhone to your computer using a USB cable. Click 'Start' and proceed to select 'Standard Mode' and then click 'Next' Put your device into DFU mode or recovery mode and click 'Next' to continue.
Step 2: Then a new download window will pop up. Always make sure that the devices details are correct i.e. the device model and OS version. Make any necessary change here and proceed to hit 'Download' button to download and verify the corresponding iOS firmware package.
Step 3: After complete download, click 'Repair' button. iOS system recovery process will start automatically. Wait till it is over. Do not disconnect your iPhone until the process is complete. It may cause device bricking.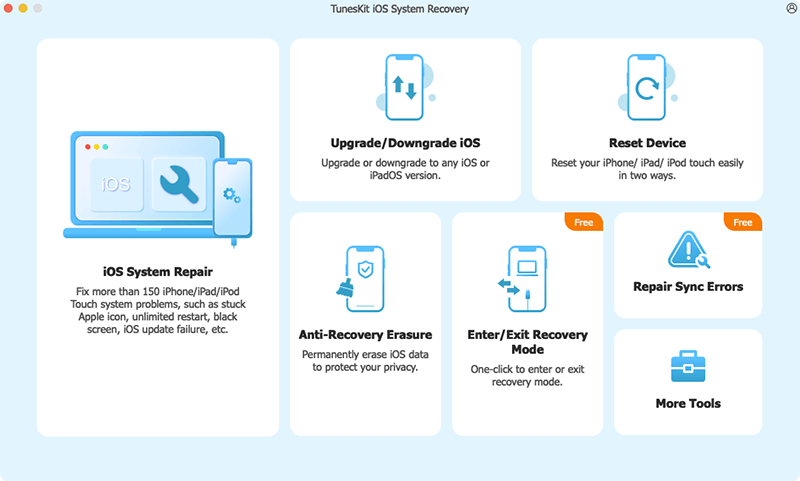 After If this does not work, then you have to restore your phone. You can either use TunesKit iOS Sytem Recovery Advanced Mode to restore device or using iTunes app to do so. Both of them will erase the existing data on your iPhone.
7. Restore Your iPhone using iTunes
It should be the last option for you. Restoring your iPhone condition means that you have to lose all your saved data. So, how do you restore your iPhone? The following are the quick steps.
Step 1: Download, install and launch the iTunes software on your PC. Then use a USB cable connect your iPhone to the PC and wait for it to detect.
Step 2: A new windows will pop up with an option to restore the iPhone
Step 3: Confirm action by clicking on 'Restore iPhone'. Confirm 'Restore' option and wait for the process to complete.

Conclusion & Suggestion
All the above solutions have proved effective as far as solving the flashlight not working on iPhone problem is concerned. It is paramount that you first of all use the simple troubleshooting methods such as rebooting and revisiting the LED flash settings. For iPhone restoration, it is highly recommended that you use TunesKit iOS System Recovery software to avoid data lose.

Brian Davis has covered tech and entertainment for over 10 years. He loves technology in all its forms.