Top 6 Solutions for iPhone Text Message Sound Not Working
5 mins read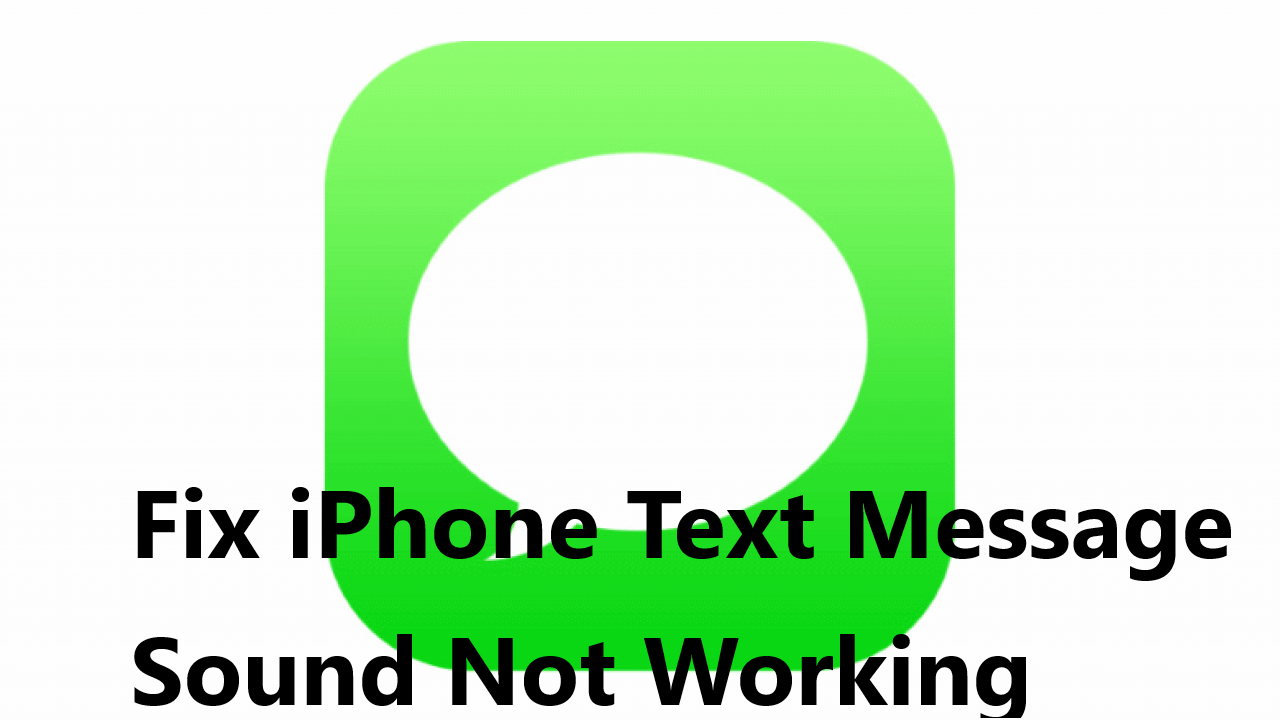 Although many people in this era tend to use social media like WhatsApp to communicate with friends, family members, and colleagues, text and call are still indispensable. But some iPhone users reported that their iPhone text message sound not working recently. When receiving a text message, a normal iPhone will let out a sound, show an alert on the screen and vibrate once. When the text sound disappears, they are easy to miss some texts. Worse still, some of which are extremely important for them.
If you are bothered by this problem as well, you are highly suggested to try the following solutions in this passage, which have free many people out of this text sound problem.
Part 1: Why iPhone text message sound not working?
The issue you are facing now can be due to various reasons. It is not a serious problem, and we can fix it within several minutes by ourselves. According to recent research, we have found some probable causes that may help you fix this problem.
1. Confirm that Do Not Disturb is disabled on your phone.
2. If you are using an outdated iOS system, this issue may occur on your phone.
3. Your internet connection is disconnected.
4. Disconnecting from Bluetooth may be a feasible method.
5. Your iPhone is facing software issues.
Part 2: Top 6 Methods to fix iPhone not alerting me of texts
#1. Check the Contacts app
Some of you may find that the iPhone custom text tones not working only when some specific people sends texts to you. If so, possibly you have set it for some of the contacts. You'd better check it for sure by following this:
Step 1. Launch the Contacts app.
Step 2. Find a contact that you cannot listen to text sound when he or she send texts to you.
Step 3. Choose the Edit and the Text Tone button.
Step 4. Choose a new tone and tap the Done button. Ask him or her to send you a text to check whether it is fixed.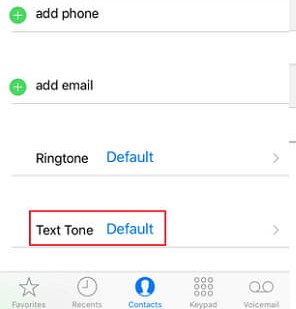 #2. Verify the Text Tone setting
From the Settings app, you can shut down the Text Tone feature. Thus, before you try other fixes, you can check this setting first to solve iPhone text message sound not working problem. You can find the Sounds choice easily after turning on the Settings app. After finding the Text Tone button, you can change another sound. Finally, find the Ringer and Alerts switch and bring the slider to the right.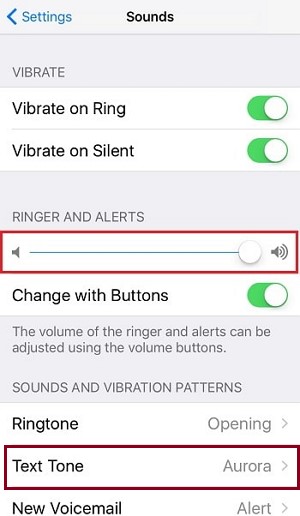 #3. Use an iOS system repair tool
This fix is to repair the iOS system since some people meet this problem because of the problematic iOS system. To fix your iOS system, you need a helper - TunesKit iOS System Recovery.
It is an extraordinary and professional helper which does well in solving all kinds of iOS system errors. Tens of thousands of iOS products users successfully fix their iOS system of iPhone, iPod touch, iPad, and Apple TV with the help of this tool. This software can fix 150+ iOS system issues, containing iPhone won't send text messages, iPhone stuck in white Apple logo, or becoming black/blue/disabled screen, etc.
The two modes of TunesKit impress me the most. They are the Standard mode and the Advanced mode. Meeting common iOS system issues like iPhone not alerting me of texts, you can use the Standard mode to fix without data loss. Meeting serious ones, you should use Advanced mode. Now you can download, install this tool, and check the 3 steps to fix iPhone text tone not working.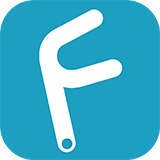 Features of TunesKit iOS System Recovery
Fix iPhone not alerting me of texts with no data loss
Repair 150+ iOS/padOS/tvOS system problems
Freely enter/exit the recovery mode automatically
Work well on the latest iOS System icluding iOS 15.2
Available on both Windows and Mac platforms
Try It Free
600,000+ Downloads
Try It Free
600,000+ Downloads
Step 1

Connect the iPhone with PC

Connect the iPhone with a PC and start this iOS repair tool - TunesKit. Tap the Start button.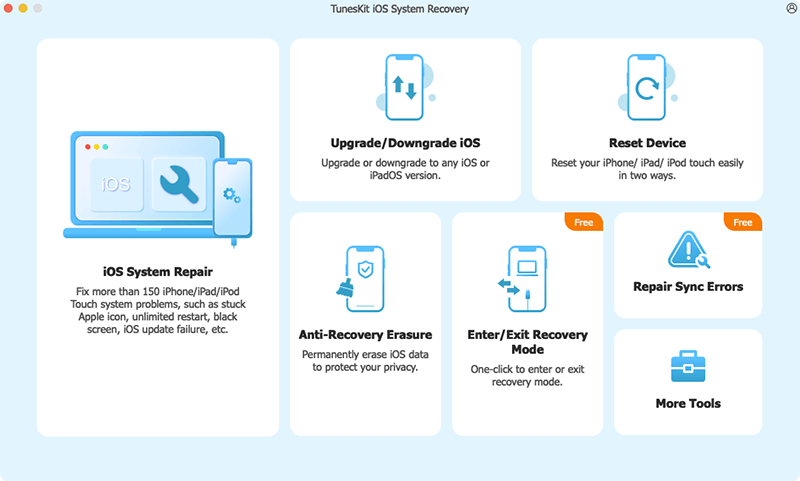 Step 2

Choose Standard mode

Your problem is easy to fix with the Standard mode. Click it to fix without data loss and tap the Next button.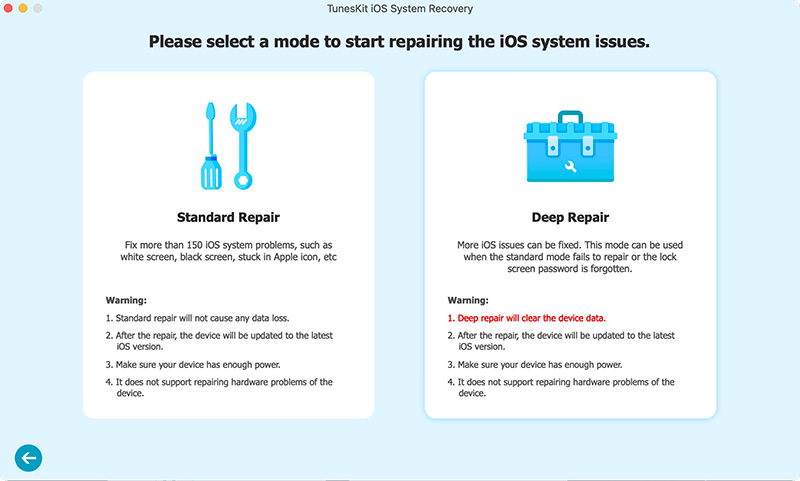 Step 3

Download firmware and repair iPhone text message sound not working

Verify the information of your iPhone shown here. You should edit the wrong info. Then, click the Download button. While the firmware is downloaded, just click the Repair button to fix the iPhone text sound problem.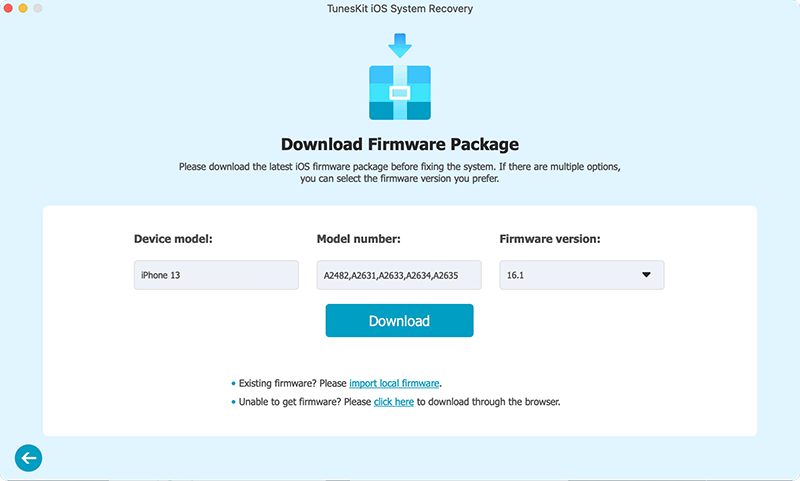 #4. Turn off the Mute mode
The Mute mode protects you from any bothering interference when you need to go to sleep or want to pay all your attention to work or study. If you unconsciously turn it on, it will remove all the alerts for you. So, to fix iPhone sound not working, just turn off this Mute mode. You can turn it off with the button on the left side of your iPhone.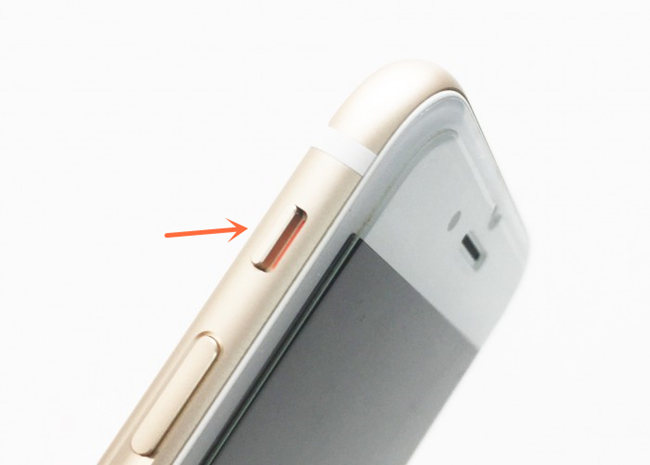 #5. Disable the Do Not Disturb feature
The Do Not Disturb feature is another factor for iPhone text tone not working. Likewise, it is also used to protect users from external bother. After you check the Mute mode, it is considerable for you to check this feature. Firstly, make sure you did not apply this feature to specific contacts. Launch the Messages app and check whether there is a moon sign on any contacts. Secondly, go to the Settings and find out the Do Not Disturb button. Turn it off.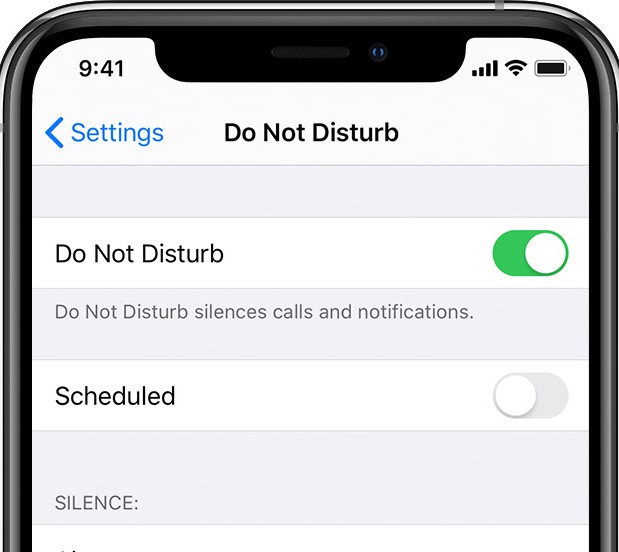 #6. Check the Date & Time
The wrong setting of Date & Time may make your iPhone text sound not working and even raise other problems. How to know if you set the Date & Time wrongly? Just open the Settings app and tap the General option. Find the Date & Time choice and turn on the Set Automatically option.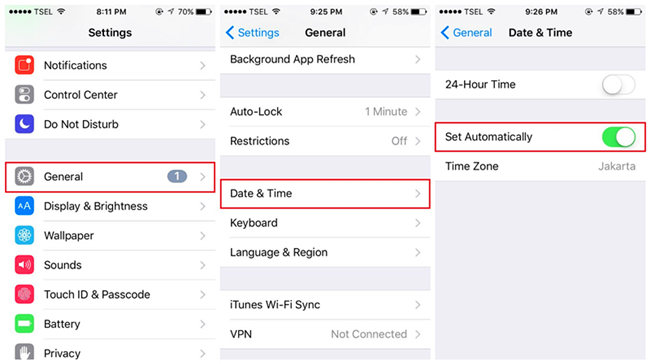 Summary
When you find your iPhone text message sound not working, you'd better fix it as soon as possible. Otherwise, you may miss some important messages. So, use the methods in this passage before it brings more trouble to you.