Solved: iPhone Fingerprint Not Working
4 mins read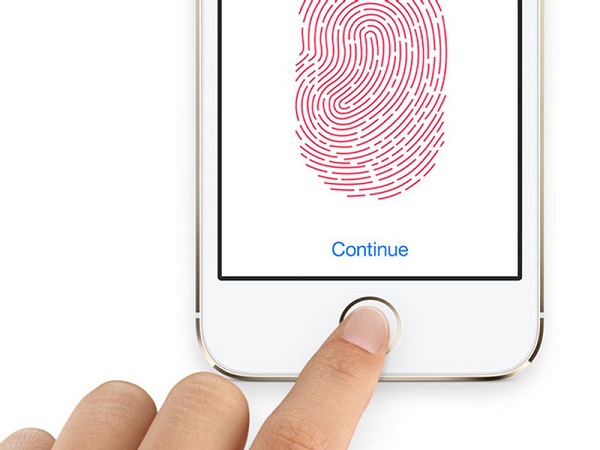 Among so many iPhone issues, fingerprint not working can be the most disturbing because fingerprint supposed to bring us convenience rather than troubles. Fingerprint can help secure our iPhone or iPad and make purchases in the App Store or iTunes Store. Once fingerprint not working on iPhone, you may not be able to unlock the device if you are overdependent on it and don't remember your pin number at all, let alone using other functions.
So today we list some possible causes and prepare an inclusive troubleshooting guide for you to handle such annoyance when your Touch ID failed to recognize your fingerprints.
Possible Causes of Fingerprint Suddenly Not Working
Fingerprint Not Working After Updating
Recently, many iPhone users complained that their fingerprint not working after updating to iOS 11 or the latest iOS 12. It's natural that we all will update to the newest iOS system eventually and updating should not be something get in the way of your Touch ID using.
Hardware Related Causes
The problem is more serious when iPhone fingerprints not working is caused by relevant component damaged or software malfunction. Relevant component here refers to a fingerprint sensor, or Home Button. The previous instance of dropping or exposure to liquid could be the most possible way to damage the fingerprint sensor. iPhone fingerprint not working after replacing screen or battery is another common reason why your fingerprints failed to activate. Unluckily, these damages require a professional technician to repair.
Before you get to the apple store, you can try some solutions we've outlined below. They may save you a lot of money and waiting time as well.
How To Solve iPhone Fingerprint Not Working?
1. Reboot Your iPhone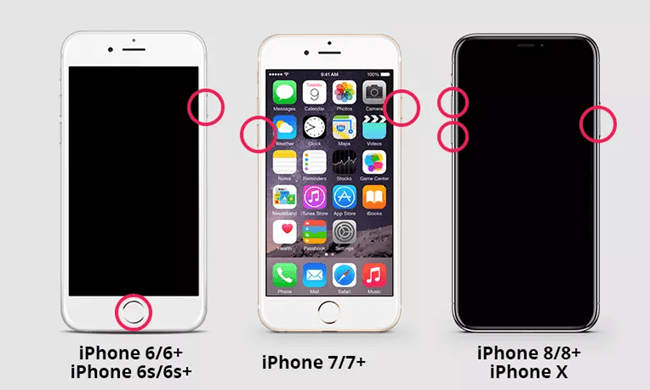 Surely you know force restart is a panacea for your iPhone daily trifling glitches and yes this method must be the first thing you should give a try.
For iPhone 6, iPhone 6S or earlier devices, first long-press the Home and Wake/Sleep button at the same time for at least 10 seconds.
If you have an iPhone 7 or 7 Plus, then press the Volume Down and the Sleep/Wake button simultaneously to restart your device.
For iPhone 8 and later devices like iPhone XS (Max)/XR, quickly press and quickly release the Volume Up, then do the same to the Volume Down. Holding the Side Button until the white Apple logo turns up.
2. Retrain Your Touch ID Fingerprints
If a reboot doesn't solve your problem, try to retrain your Touch ID fingerprints. Two steps will be needed and the premise is that you still remember your passcode.
Step 1. Remove your old fingerprints
Go to "Setting", scroll down and tap the "Touch ID & Passcode", then you will be asked to enter the passcode. When it is done, choose the fingerprints that you've added one by one and remove them by "Delete Fingerprint".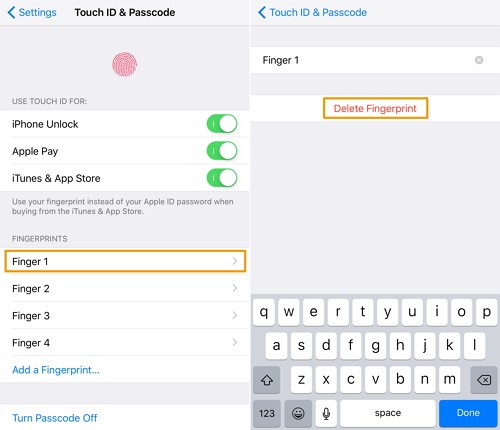 Step 2. Set new fingerprints
Follow the same route: go "Setting"> "Touch ID & Passcode"> enter passcode. Then hit on "Add a Fingerprint" and press the Home Button gently. You can feel a vibration every time your fingerprint is detected. Keep pressing the Home Button using different angles of your fingerprint till the process is finished.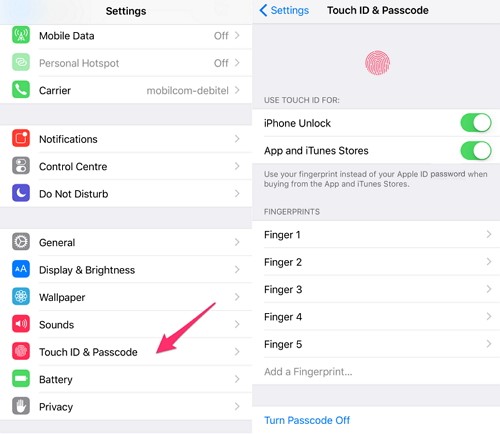 3. Restore Your Fingerprint Using TunesKit iOS System Recovery
The previous method might not be suitable for you under the circumstance that you completely forget your passcode. In case of forgetfulness, you should opt forTunesKit iOS System Recovery. As an excellent software to restore the iOS system, TunesKit is capable of getting your Touch ID back to normal without losing any data. Let's know more about how to use TunesKit to fix the iPhone fingerprint not working problem.
Step 1. Go to the official site of TunesKit and download the TunesKit iOS System Recovery that compatible with your computer, be it Windows or Mac. Next, connect your iPhone to your PC and launch the program. Go on to the next step by clicking "Start".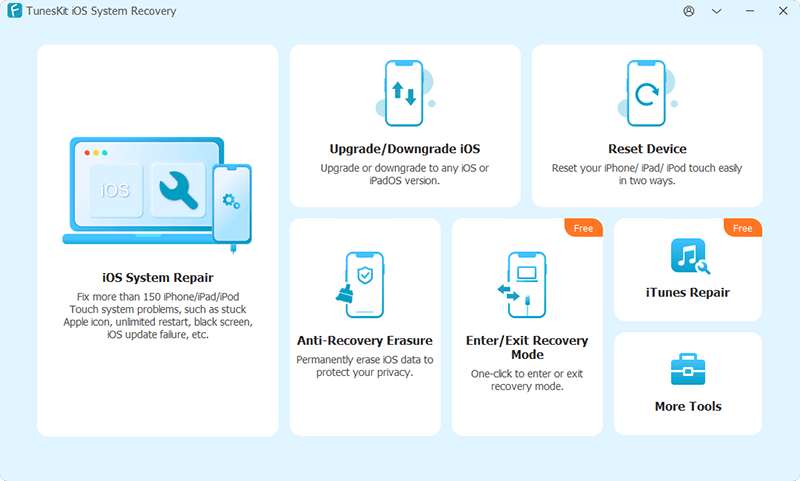 Step 2. In this step, you will be facing a choice of 2 modes, Standard Mode and Advanced Mode. Try Standard Mode first and press "Next". For you to know, Advanced Mode is designed for more severe problems and it will wipe all your data.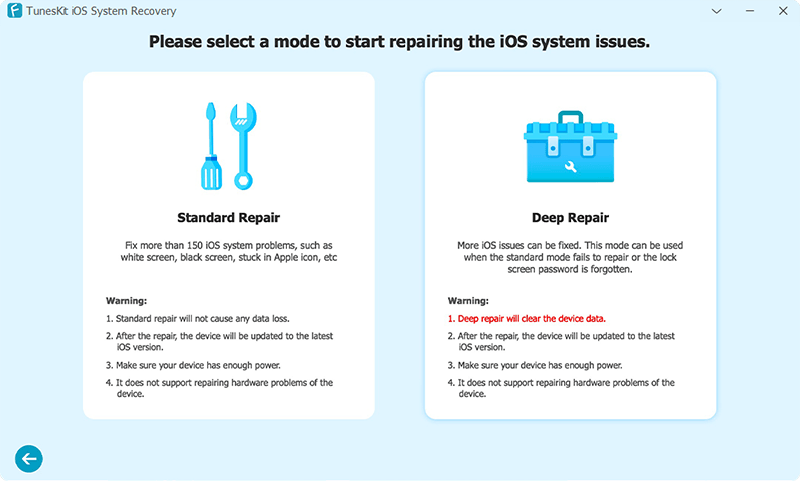 Step 3. Select the device model fit for your iPhone and download the firm package. When the downloading is done, hit on "Repair" to fix your fingerprint issues.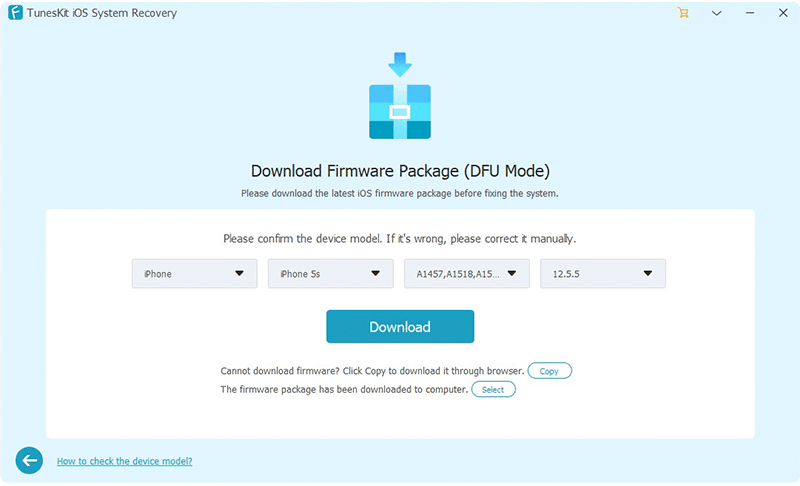 After that, your can turn on your iPhone and see if the fingerprint works again. TunesKit is especially appropriate for Touch ID not working after updating problem. To enrich your knowledge, we have some extra tips for you in the following section.
Bonus Tips
1. If your finger is wet or sweat, or there is water on your Home button, please wipe them both before using fingerprints to activate your iPhone.
2. Go check if your Touch ID is enabled for iPhone Unlocking and authorizing Apple Pay, iTunes, and the App Store.