How to Fix AirPods Won't Connect to iPhone/iPad?
Posted by Brian Davis on May 18, 2020 16:12 PM • Category:
Fix iOS Issues
4 mins read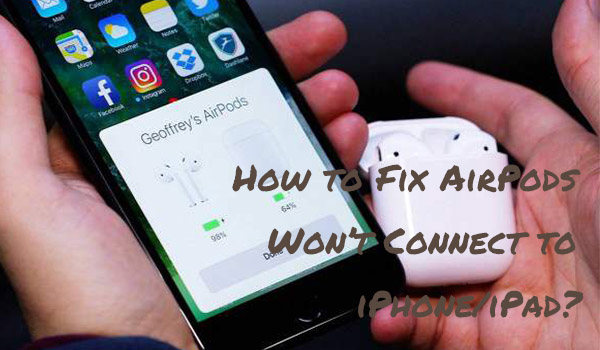 Simply take them out and they're ready to use with all your devices. Put them in your ears and they connect immediately, immersing you in rich, high-quality sound. Although this is a copy of the AirPods AD on apple's website, it's very similar to the actual experience. You only need to pair the AirPods on one of your own Apple devices, and the AirPods can be used directly and seamlessly switched between your multiple Apple devices.
After the launch of AirPods Pro in 2019, AirPods have become increasingly popular with Apple users. But people may encounter into the situation that their AirPods won't connect to iPhone/iPad successfully after they updating their iOS system. So If you are also frustrating about the same issue, this article will help you analyze why this situation will happen and provide you the full guides to fix it.
Why won't my AirPods connect to iPhone?
The common causes for this problem will be listed as follow:
1. iPhone software issue
2. AirPods is in low battery
3. Some dirt in the AirPods case
4. iOS system hasn't been updated
5. iOS system has been damaged for unknown reasons
6. Hardware issues
How to connect AirPods to iPhone/iPad successfully?
Tip 1. Fix iPad Is Disabled Connect to iTunes with iTunes
If you have backed it up recently and you know your iPhone password, you can simply unlock the device
Step 1. Press the button to which the blue arrow points according to the picture below until your phone's interface appears a slider.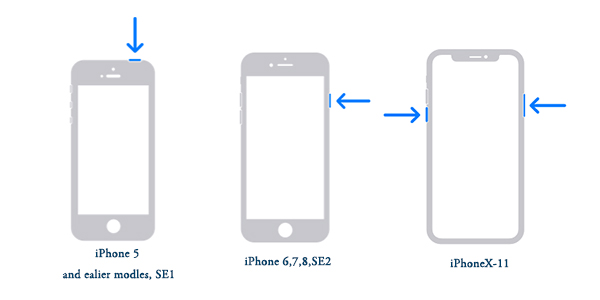 Step 2. Drag the slider and wait for 30 seconds to turn off your phone.
Step 3. Press the button shown in the picture again to turn on your phone
Tip 2. Reset your AirPods
The next thing you can do is to reset your AirPods with your iPhone. You should put your AirPods in their case and wait 30 seconds, then open the lid. To reset your AirPods, you should do the following steps.
Step 1. Go to 'Settings'>Find 'BluetoothF'
Step 2. Find your AirPods and Tap on the 'i' icon adjacent to your AirPods
Step 3. Tap 'Forget This Device'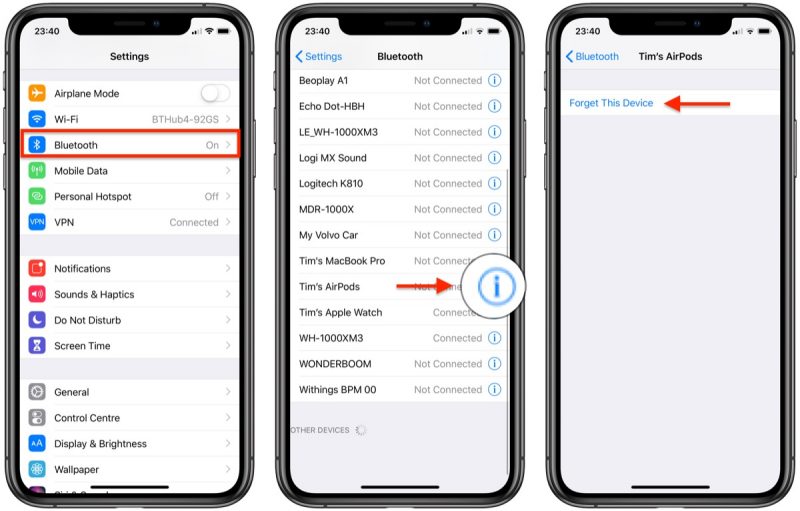 Note: Or you can reset your AirPods with the lid, press and hold the setup button on the back of the case for about 15 seconds, then you will see the status light flashing amber. Then try to reconnect your AirPods by opening the lid.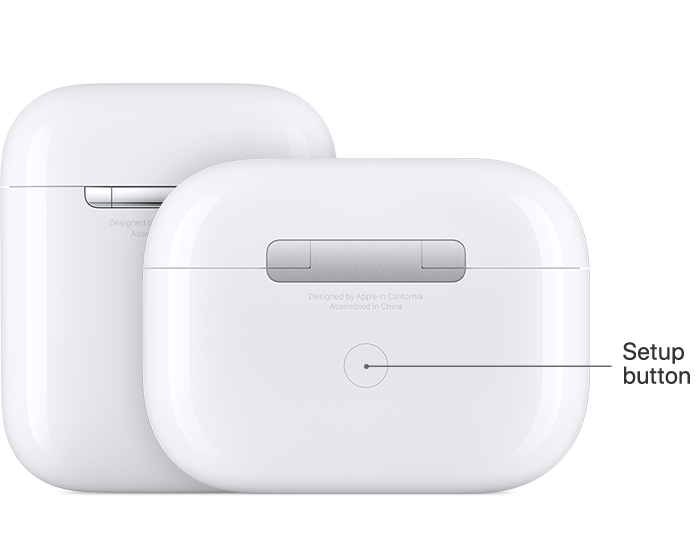 Tip 3. Charge your AirPods
Besides, you should make sure that your AirPods has been charged and has enough electricity to work. If your AirPods doesn't have enough electricity, you should charge it first and then try to connect it to your iPhone/ iPad again.
Tip 4. Clean your AirPods case
It's quite helpful to go ahead and clean the AirPods case and the AirPods as well. You can see there are little metal connectors at the base of the AirPods and this allows them to charge down the base of the actual case. So you need to use a cotton swabs to clean any dirt or debris that may be built up in the bottom of the case and the base of mental connections of the AirPods as well. The grime, grease and dirt will prevent your AirPods from connecting to the AirPods' case and connecting to your iPhone/ iPad.
Tip 5. Update your iOS system
If your iOS system has not been updated to the latest version, some system issues in your iPhone/ iPad will not be recoverable. Here are the steps to update your system.
Step 1. Got to "Setting"> Find "General"
Step 2. Tap "Software Update"
Step 3. Choose "Install Now"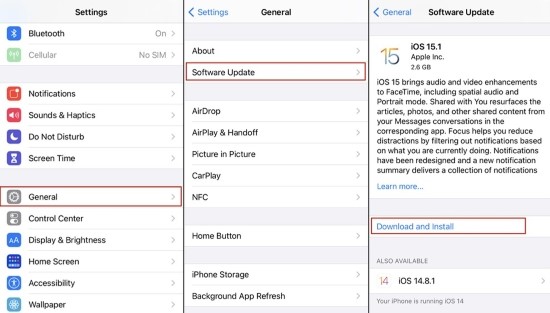 Tip 6. Clean your AirPods case
If the 5 tips above still cannot fix your problem, maybe the iOS system on your iPhone/ iPad has been damaged for some unknown reasons. So you can try to fix AirPods won't connect to iPhone/iPad by using TunesKit iOS System Recovery software. Regarded as one of the best iOS repair tool in 2020, TunesKit can effective fix more than 50 iOS system issues without any data loss on your devices. It also supports all the iOS devices like iPhone, iPad, Apple TV, and iPod touch.
Here are the steps on fixing your problem by using TunesKit.
Step 1.Open TunesKit and Connect Your iPhone to Computer
First you need to download TunesKit on your computer and then connect your phone to the computer via a USB cable. After your phone has been detected, press "Start".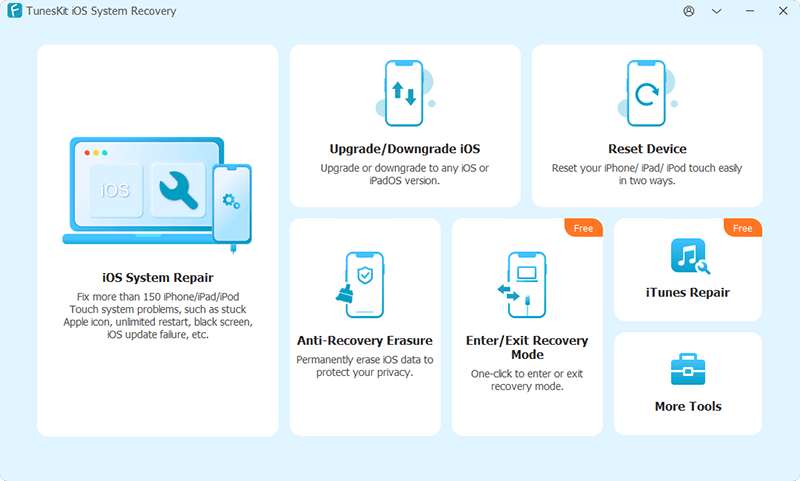 Step 2.Select a Repairing Mode and Download Firmware Package
To fix AirPods wont connect to iPhone, choose the Standard mode first. If Standard mode still can't fix your problem. Then you can try Advanced mode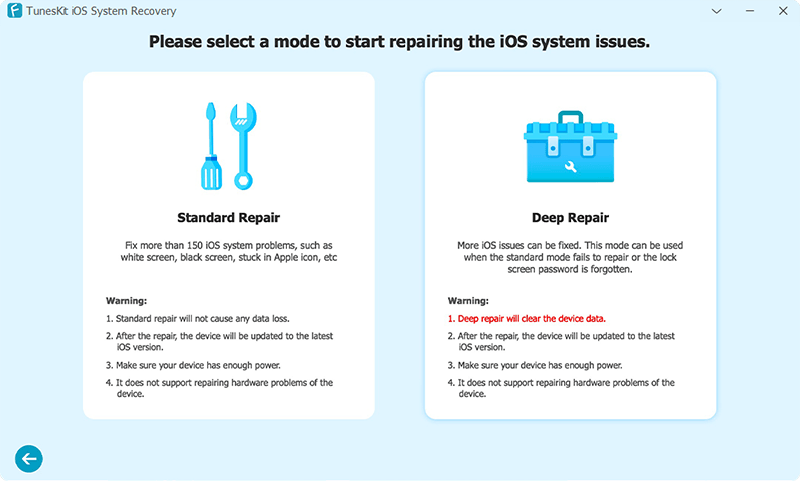 Note: Standard Mode can solve the common iOS issues and repair the iOS system without any data loss. Advanced mode can fix more serious issues, but it will erase all data on your phone.
Next, confirm your device information and press "Download".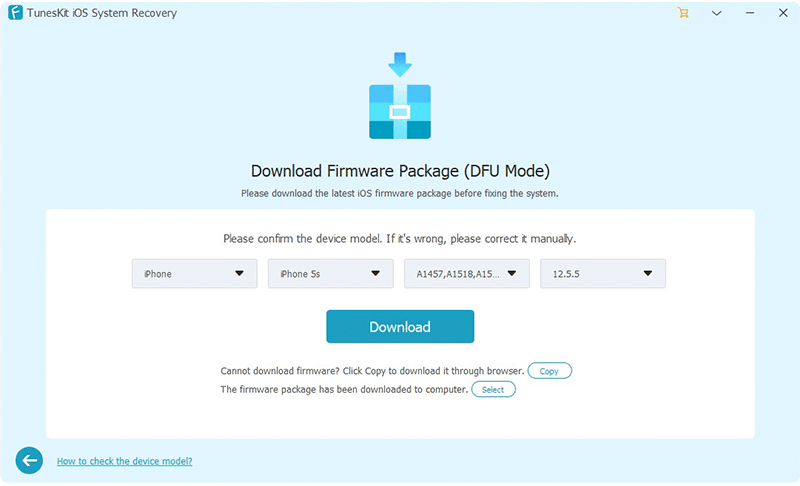 Step 3.Recover the iOS system
After the download process has finished, click the "Repair" button and wait for your phone being recovered.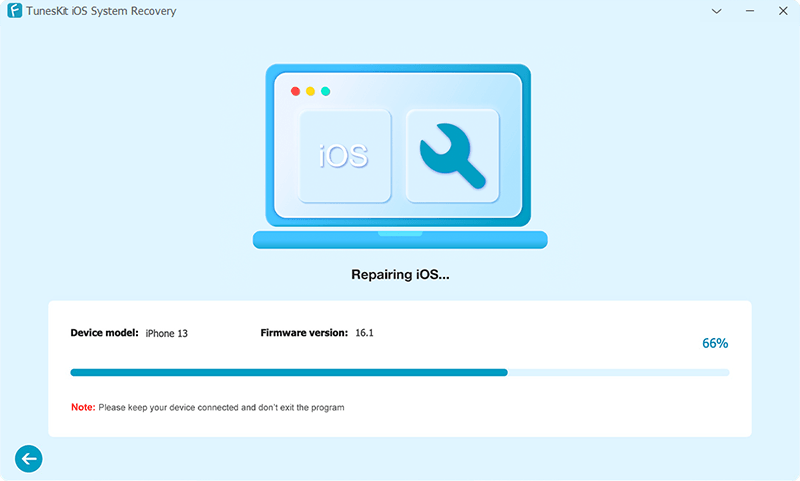 TunesKit can also help you fix iPhone stuck on white Apple Logo/ Recovery mode and can downgrade iOS, fix iTunes errors. What's more, it will provide you 2 repairing mode and provide you the function 1-click to enter/ exit recovery mode for free. Why not download it and have a try?
Conclusion
Here are all the 6 tips to fix AirPods wont connect to iPhone. If you still have any difficulties in fixing this problem, please do not hesitate to leave your comment below and we will try our best to provide you the detailed guides.