Want to Downgrade iOS Without iTunes? The Best Method Here!
5 mins read
"I had installed the iOS 15 version a couple of days ago, and I didn't find this helpful update because I'm having issues with my iPhone after installing it. Can I downgrade iOS without iTunes?"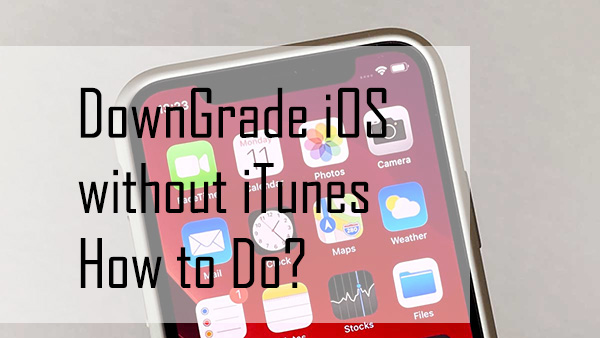 Apple tends to release the latest versions of the iPhone to make the user experience better, and the iOS 15 update is one of the latest versions that Apple has released. Surprisingly, the iOS 15 version had seen an unbelievable hype even before it got released. iPhone users were asked massively about the quality of this update, and the users thought it would make their experience top-notch.
Unluckily, iOS 15 didn't live up to users' expectations without undermining the few fantastic features as many users are having issues with this. Many people asked us about the ways to download the iOS 15 version. That's why we're going to explore why people opt to downgrade iOS 15. Luckily, you'll also learn about the ways to downgrade your latest update.
Part 1. Why do people wonder how to downgrade from iOS 15?
After installing iOS 15 Beta, many iPhone users opt to downgrade to previous versions. Many people assume the different reasons behind this move. Following are some of the main reasons iPhone users opt to downgrade from iOS 15.
Disability of Moments
The iOS 15 Beta version does so badly for iPhone to restrict them from uploading Moments videos. Many people would love to share their great time in Moments.
Lag situation
Another reason iPhone users want to downgrade the iOS 15 version is that whenever they opt to turn the power saving mode on, they're most likely to face a lag situation. We all know how a lag situation can create many problems and how it frustrates you.
Software glitches
It has been noted that some of the features don't bother to function correctly after installing the iOS 15 update. This chaos can be caused due to the older iPhones. However, it is a big problem, and no one would want to get stuck in this unwanted situation. Hence, the user will surely wish the device downgraded to the previous version.
Apart from issues we've discussed earlier, there are many more things that force you to downgrade iOS 15 updates. For instance, it can cause your mobile application to crash whenever the iPhone gets heated up. Moreover, iPhone tends to heat more than usual when you install iOS 15 updates.
Part 2. Downgrade iOS without iTunes - TunesKit iOS System Recovery
If you want to downgrade your iOS device due to the reasons mentioned above, you can hire the prestigious services of TunesKit iOS System Recovery. It is a prestigious iOS system recovery program with a 100% success rate. Using this fantastic third-party tool, you can fix over 150 iOS device issues without any fuss. Moreover, the user interface TunesKit iOS System Recovery comes up with is truly remarkable and doesn't ask you to gather prior knowledge of this program to put things in order.
Here's the guide that will show you how to downgrade iOS without Apple signing.
Step 1: First of all, you'll need to visit the TunesKit iOS System Recovery official website and download the software from there. After downloading the application, you'll need to install and launch it. Moreover, you'll also need to connect your iPhone device to your PC.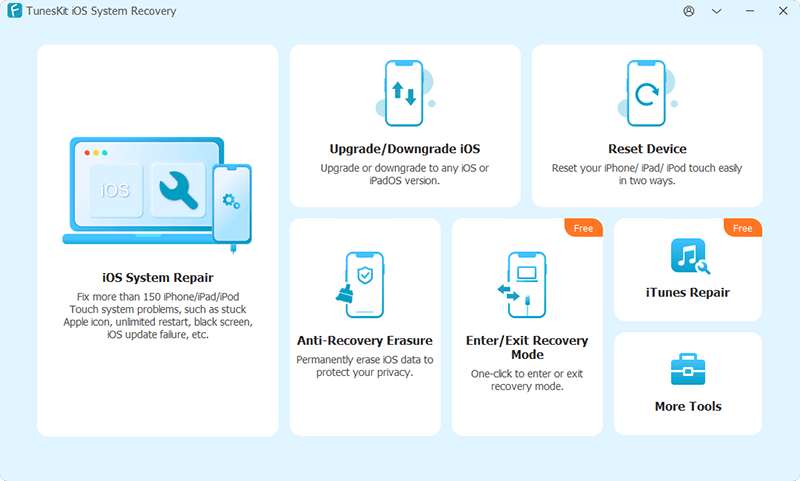 Step 2: Since you don't want to lose important data, you'll need to select the Standard Mode option from there. What Standard Mode does is it doesn't cause any data loss.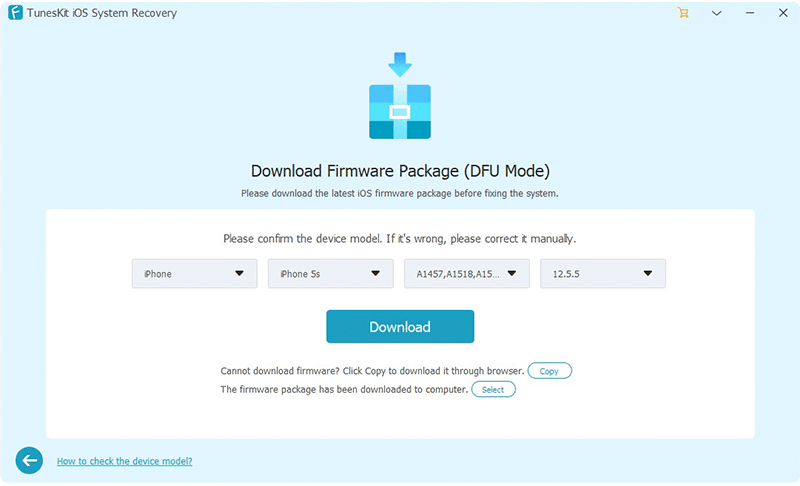 Step 3: After selecting the repair mode, you'll need to be a bit careful and look for an appropriate firmware package option. Remember, if you don't download the reliable firmware package, it can cause the Repair process to run a bit slower than usual. It will help if you hit the Download icon after having the best firmware package up in the sleeves.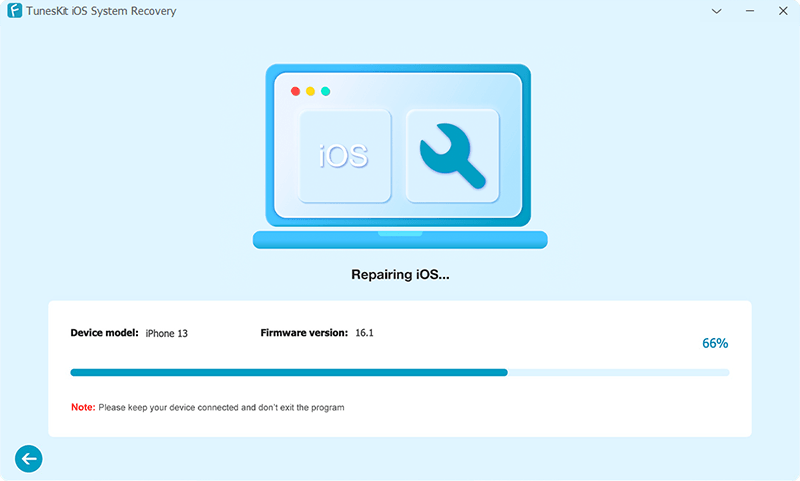 Since you've now downloaded the reliable firmware, you need to do no further delay to put the things in order. Hence, you'll need to press the Repair button Start repairing your device. The process will primarily take a few moments before it completes the work for you. After restoring your device, TunesKit iOS System Recovery will restart your device. Now, you'll see the iOS version you're using is the older version.
Part 3: How to use iTunes to downgrade iOS
If you're going to the iOS downgrade, using iTunes won't be a bad idea, as iTunes allows you to get your job done with minimal effort. However, the disadvantage you carry by restoring your device via iTunes is that you'll lose all your important data. That's why you need to back up your data before restoring your device via iTunes. After backing up your data, you can follow the guide below to put the thing in order.
Step 1: First of all, you'll need the Download the IPSW file after visiting the ipsw. me. Later, you'll need to navigate the'' iCloud'' option after launching the iPhone settings. Next, you'll need to turn off Find My iPhone.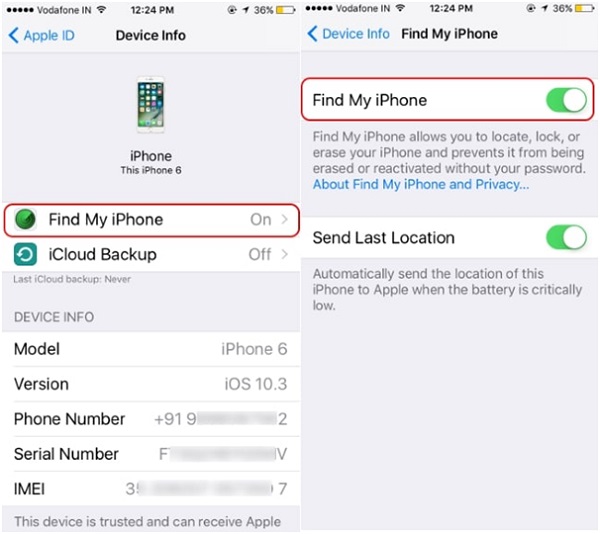 Step 2: Navigate to the Device icon after connecting your iPhone device to Mac or PC.
Step 3: Later, you'll need to hit the Restore button to restore your device. After refreshing your device, you'll need to follow on-screen instructions to downgrade iOS.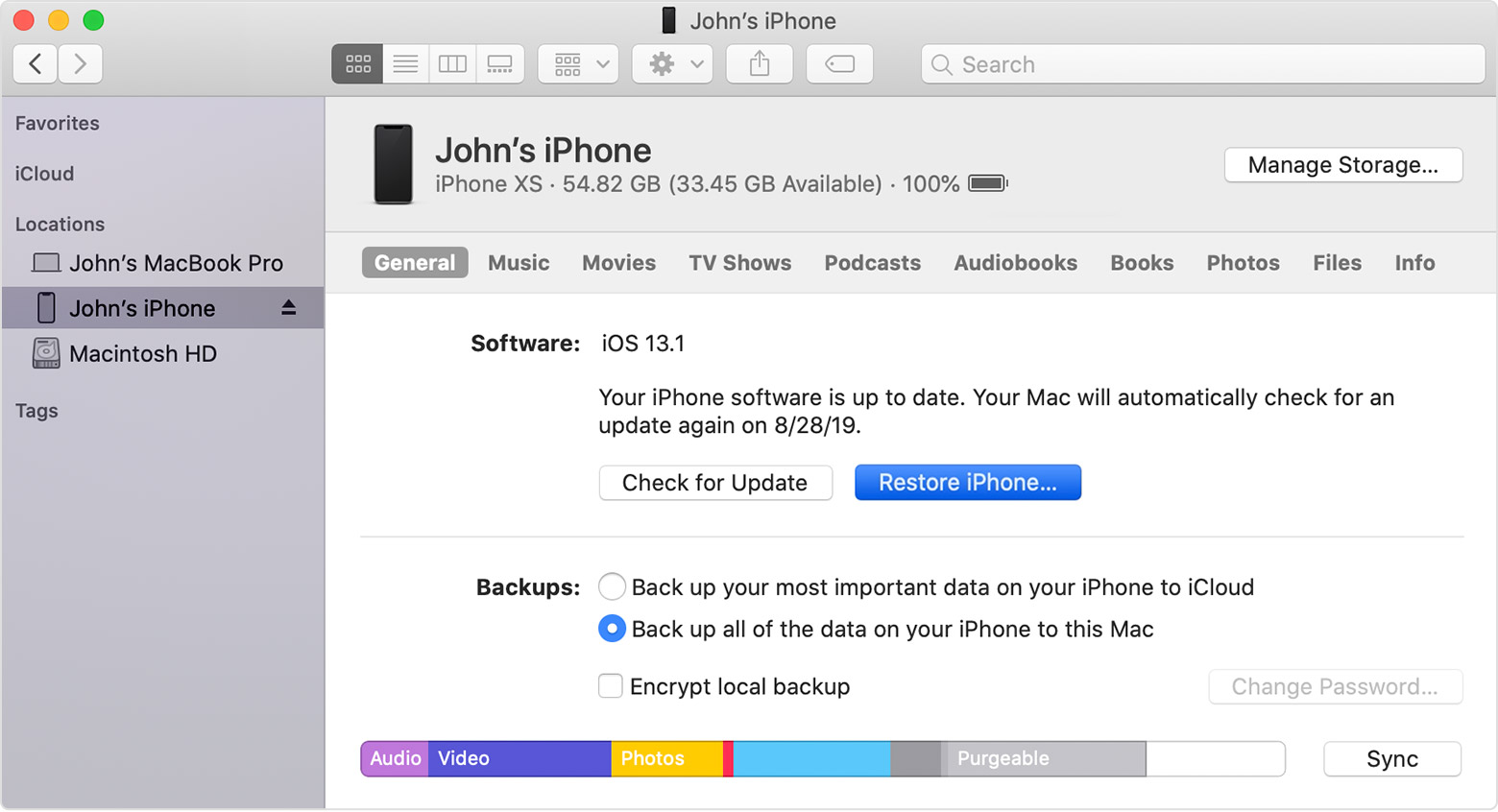 Conclusion
In today's guide, we discussed why iOS 15 updates didn't turn out to be where they should have been. Moreover, you'll learn about the issues people face with IOS 15 Beta version. Luckily, we've also been exploring the way to downgrade via iTunes. However, if you what to downgrade without iTunes, you can take the mind-blowing services of TunesKit iOS System Recovery. It comes with a flawless interface and the ability to downgrade your iPhone faster than you expect.