Top 5 Tips to Fix iPhone Stuck in Zoom Mode
4 mins read
iOS provides some interesting features for users, such as Face ID, 3D Touch, Zoom mode, etc. Users thus get many conveniences from them. Zoom mode is an important function for many iOS users. It can make things on your iPad or iPhone bigger so that it is easier for you to read them. You can simply tap on the screen with 3 fingers to zoom in.
But recently, some users complained that their iPhone stuck in Zoom mode. They zoomed in as usual but cannot zoom out. The screen just kept showing the magnification of a part of screen for a long time no matter how they taped on the Home button or screen. How to fix the Zoom issue on iPhone? That's what this passage is going to discuss.
Tip 1. Use Three Fingers to Zoom out
Why iPhone zoomed in and won't zoom out? Maybe you did not use the correct method to zoom out. Double-tapping with three fingers is a way to zoom out. When you do it, keep your fingers divided to let your iPhone recognize easily.
Tip 2. Disable Zoom Mode
You can choose to close this feature to avoid iPhone 3 finger-double tap not working. Just follow the steps below if you are not sure where can you find this feature.
Step 1. Open the Settings app first.
Step 2. If your iPhone is loaded iOS 13 and later, find the Accessibility button from Settings. If yours is iOS 12 or earlier, tap on the General and the Accessibility button.
Step 3. Find the Zoom and turn off it.
You can try to turn on the Zoon mode after a while. Sometimes, it can be fixed.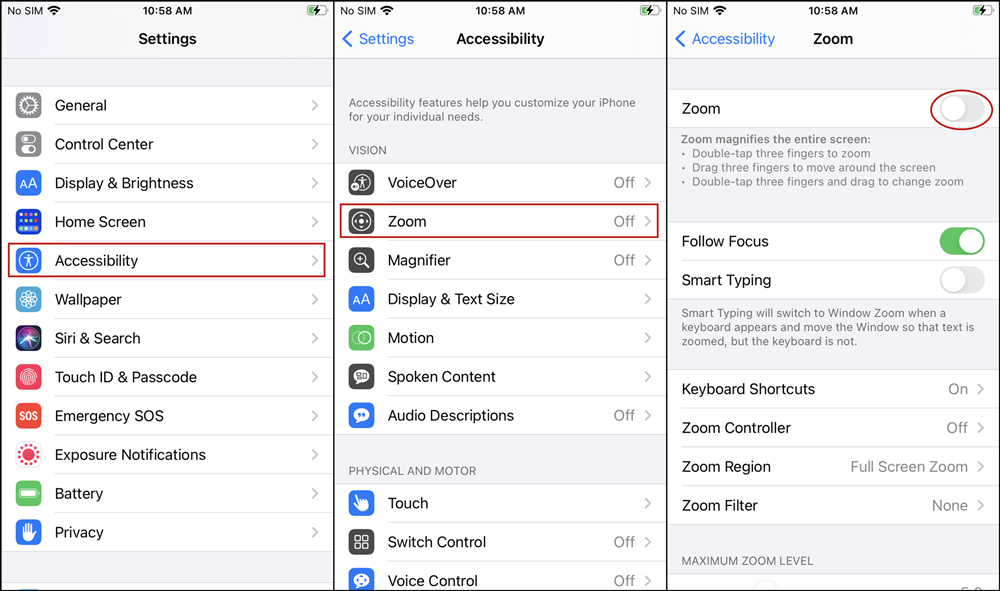 Tip 3. Force Restart Your iPhone
When your iPhone gets stuck on Apple logo, recovery mode or meets other iOS system issues, you can try this tip. It is easy and also useful. So, when many people ask me how to unfreeze zoom on iPhone, I tell them to force restart iPhone. Some may not know how to do it. This is a little complicated compared with simply restoring iPhone. The operation is different for various iPhone models.
When you own iPhone 8 or the newer ones, press and release the volume up button and the volume down button respectively and quickly. Then you should press and keep holding the power button until the Apple logo appears on the screen.
When you own an iPhone 7 or 7 Plus, press the power and volume down buttons at the same time and hold them until the Apple logo appears.
When you own iPhone 6 or the older ones, hold the power and home buttons at the same time until the Apple logo appears.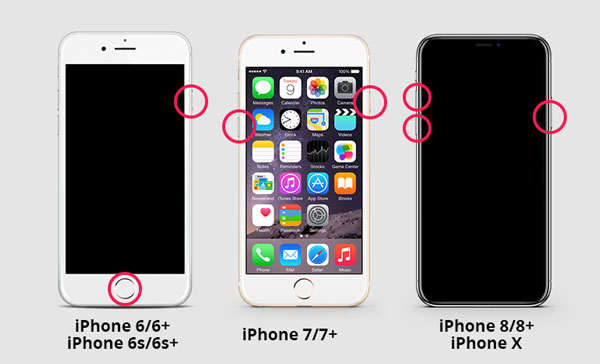 Tip 4. 100% Solve iPhone Stuck in Zoom Mode Problem
The tips listed above cannot fix your iPhone? We still have a final trump card. You can use some iOS system repair software. TunesKit iOS System Recovery is one of them. TunesKit can fix all iOS and tvOS system problems, including iPhone stuck in Apple logo, iPhone error 50, 4003, and other issues. If your iPhone, iPad, iPod touch, or Apple TV have any system problem, just use it and you will get satisfying results. It has two modes: one is Standard Mode (fix general issues without data loss) and another one is Advanced Mode (fix issues hard to resolve).
Easy operations and customer-friendly interface make me like it more. Just use 3 steps to fix the iPhone. First and foremost, just download and install it.
Step 1

Launch TunesKit

Connect the iPhone with your computer. Launch TunesKit. Click the Start button.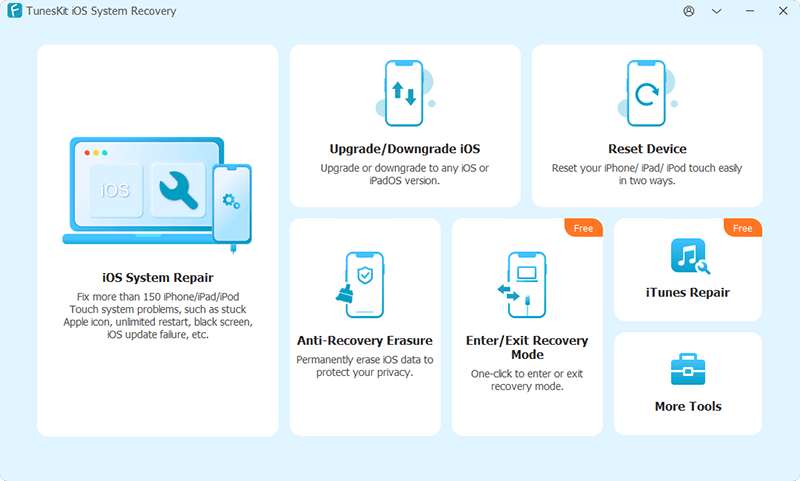 Step 2

Choose Mode

Click the Standard Mode and then the Next button to go to the next step.

(No data loss will be brought under this mode.)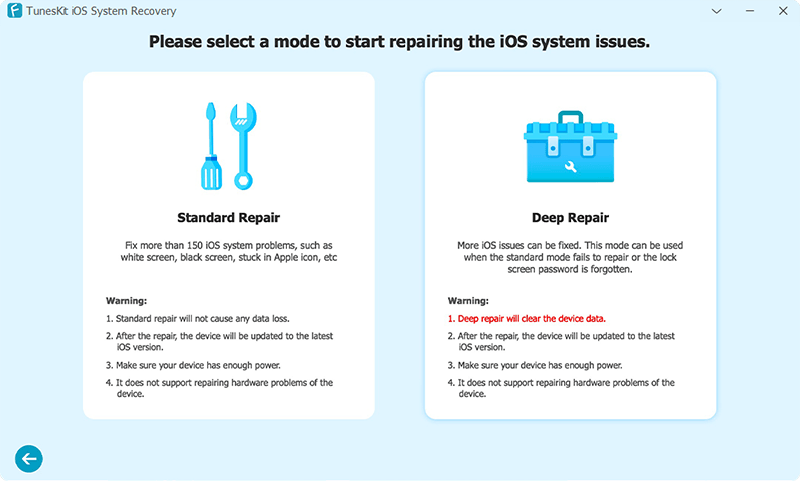 Step 3

Download Firmware

Check the information which belongs to your iPhone and tap the Download button. You are now downloading firmware. When it ends, click the blue Repair button and just wait for 1 or 2 minutes to get a fixed iPhone.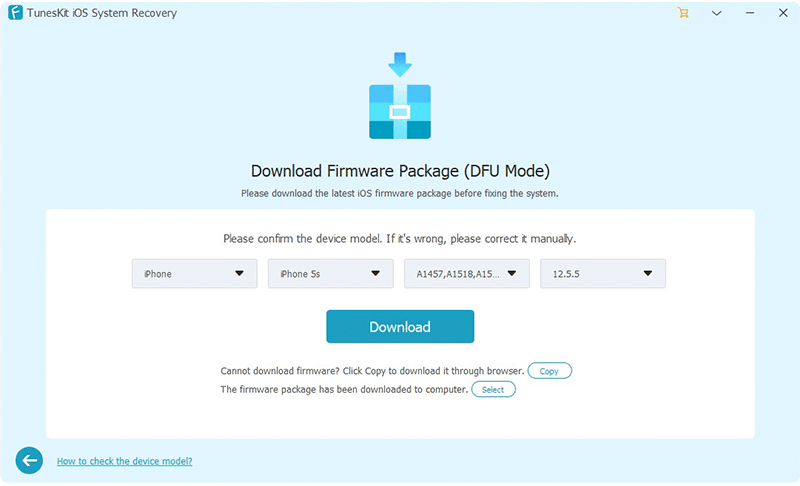 Tip 5. Reset All the Settings
Resetting all settings is a great method to fix iOS system problems like iPhone 3 finger-double tap not working. Since it will erase all the settings on your iPhone, you have to back up all your data on iPhone, or you will lose them all.
Step 1. In the beginning, open the Settings.
Step 2. Then you should go to the General.
Step 3. Tap on Reset and Reset All Settings.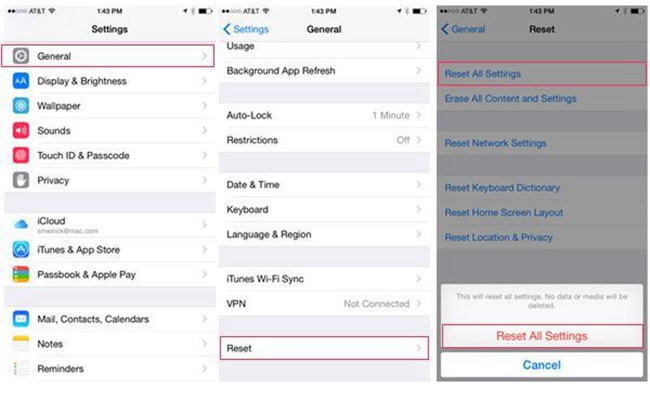 Video Tutorial: iPhone Stuck in Zoom Mode? Fixed It with 5 Solutions!
The Bottom Line
iPhone Stuck in Zoom Mode is a problem hard to tackle. We collect and list 5 practical solutions to fix it. You can use some methods frequently seen like force restart iPhone or reset all the settings. Or you can use an iOS repair tool - TunesKit iOS System Recovery. This tool is created to solve iOS system glitches like the Zoom problem of yours. So, the possibility of successfully fixing the problem with it is much higher than with other methods.