[7 Methods] How to Fix iPhone Face ID Not Working
Posted by Brian Davis on Jan 31, 2023 3:00 PM • Category:
Unlock iOS
5 mins read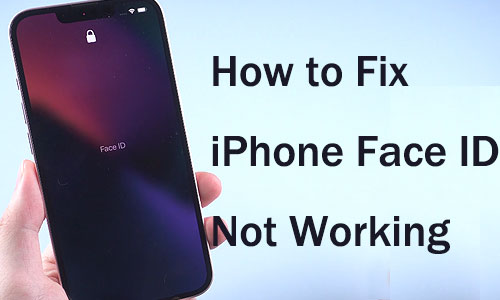 Starting with the iPhone X, Apple has phased out Touch ID in favor of the new Face ID technology to provide iPhone users with a new way of rapidly unlocking the iPhone screen. Face ID is much more convenient than the former, allowing you to unlock your iPhone instantly by simply pointing your face at the front sensor, which makes the iPhone passcode less crucial than before. However, if the Face ID sensor fails for any unknown or known reason, you won't be able to access your iPhone if you forget your passcode.
As many iPhone users have said they have encountered problems with their iPhone Face ID not working, we will provide some practical solutions to this problem in this article.
Part 1. How to Fix iPhone Face ID Not Working
Method 1. Clean the Face ID Sensors
When you find that Face ID is not working on your iPhone, start by checking for stains or dirt in the area that contains the Face ID sensor on the top of your phone. If this is the case, gently wipe this area with a soft microfiber cloth.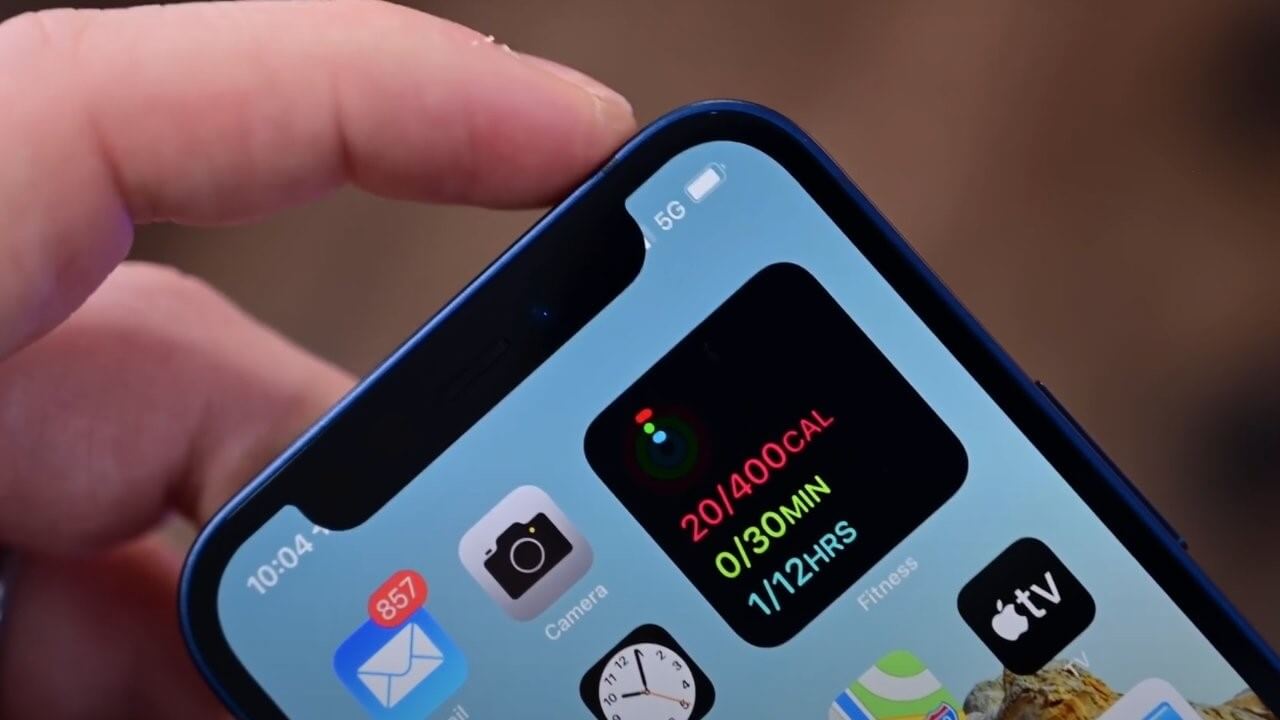 Method 2. Enable Face ID with a Mask Feature
Another reason for Face ID not working could be that you're wearing a mask in front of the sensor. But the good news is that a stunning feature called Face ID with a Mask is available on the iPhone 12 or later with iOS 15.4 or later. That is to say, if you have this function enabled, you can simply unlock your iPhone with Face ID even if you are wearing a mask.
To turn on this feature, go to Settings > Face ID & Passcode, toggle on Face ID with a Mask, and then set up Face ID when wearing a mask.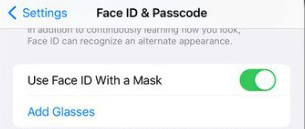 Method 3. Check Face ID Settings
The iPhone Face ID not working problem will turn up if it is not set up properly. You should go check your Face ID settings to see if the option enable or if the Face ID setup is done. If yes, make sure you have turned on the iPhone Unlock option in Face ID settings.
To check Face ID settings, go to Settings > Face ID & Passcode, and then enter your passcode. In this scene, check if you set up your Face ID correctly, and then turn on the iPhone Unlock options to ensure the Face ID works properly.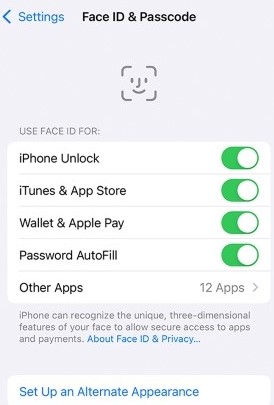 Method 4. Reset Face ID
If it is enabled but you still cannot unlock your iPhone via Face ID, you may try to reset the Face ID or set up an alternative appearance. At this point, you can then reset the facial recognition by following the on-screen instructions. Make sure you are around to allow the phone to fully scan your face before you try again to unlock the phone using Face ID.
To reset your Face ID, go to Settings > Face ID & Passcode, enter your passcode, and scroll down to Reset Face ID.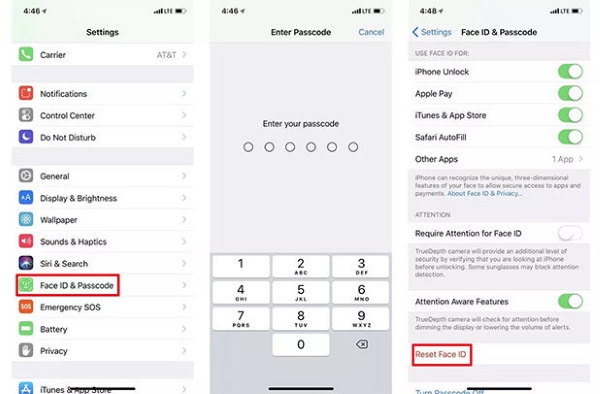 Method 5. Force Restart Your iPhone
Restarting your iPhone is also one of the quickest ways for fixing the iPhone Face ID not working problem. By doing so, your phone may fix itself to resolve some of the system errors that cause FaceID not to work and restore this feature again to help you unlock your iPhone quickly once your device is powered back on. Here's how to force restart on different iPhone models.
For iPhone 8, X and later: Press and release the Volume Up button, press and release the Volume Down button, press and hold the Side button until the Apple logo appears.
For iPhone 7, 7 Plus: Press and hold the Volume Down button and the Sleep/Wake button at the same time until the screen goes dark and an Apple logo appears on the screen.
For iPhone 6 and earlier: Press and hold both the Home button and the Sleep/Wake button until the Apple logo appears.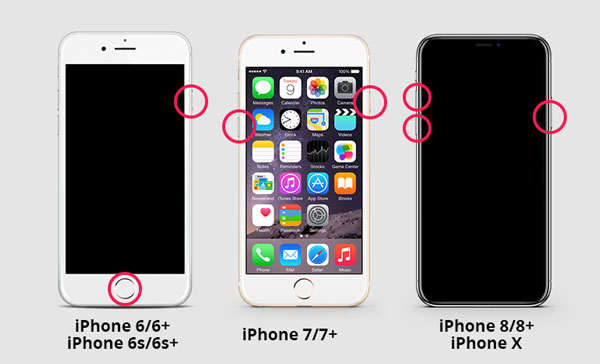 Method 6. Update Your iPhone
An outdated iOS system can also result in Face ID not working, especially if you are wearing a face mask, as iPhone has been able to unlock Face ID with a mask on from iOS 15.4. Updating the iOS to the latest version will not only improve the unlocking conditions but will also eliminate some system bugs. So if there's an update available, you'd better try it out.
To update your iPhone to the latest iOS system, turn to Settings > General > Software Update. Then click on Download and install if the new one is available.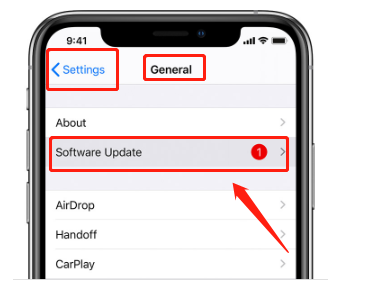 Method 7. Try TunesKit iPhone Unlocker If Your Forgot the Passcode
If your iPhone Face ID is not working and you've forgotten the passcode, TunesKit iPhone Unlocker should be your last resort for accessing your iPhone. TunesKit iPhone Unlocker is a professional iOS device unlocking tool available on Windows and Mac, helping users easily fix Face ID not available, unlock screen lock, remove disabled Apple ID, and other limits. With its aid, you are able to solve iPhone Face ID not working problem and access your device without a passcode. But once you start the procedure, this tool will unavoidably wipe everything off your iPhone, so please make a backup before using it.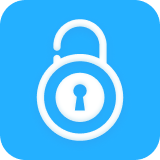 Key Features of TunesKit iPhone Unlocker
Available on the latest iOS version including 16
Fix iPhone Face ID not working with ease
Unlock screen lock, Apple ID, Screen Time, and MDM
Compatible with most iOS device, including iPhone, iPad, and iPod Touch
Try It Free
600,000+ Downloads
Try It Free
600,000+ Downloads
Now please read the tutorial on how to fix Face ID not working on iPhone via TunesKit iPhone Unlocker
Step 1

Connect Your iPhone to Computer

Launch TunesKit iPhoe Unlocker after the download, and then connect your iPhone to the computer via a lightning-to-USB cable. Then select Unlock iOS Sreen and click on Start.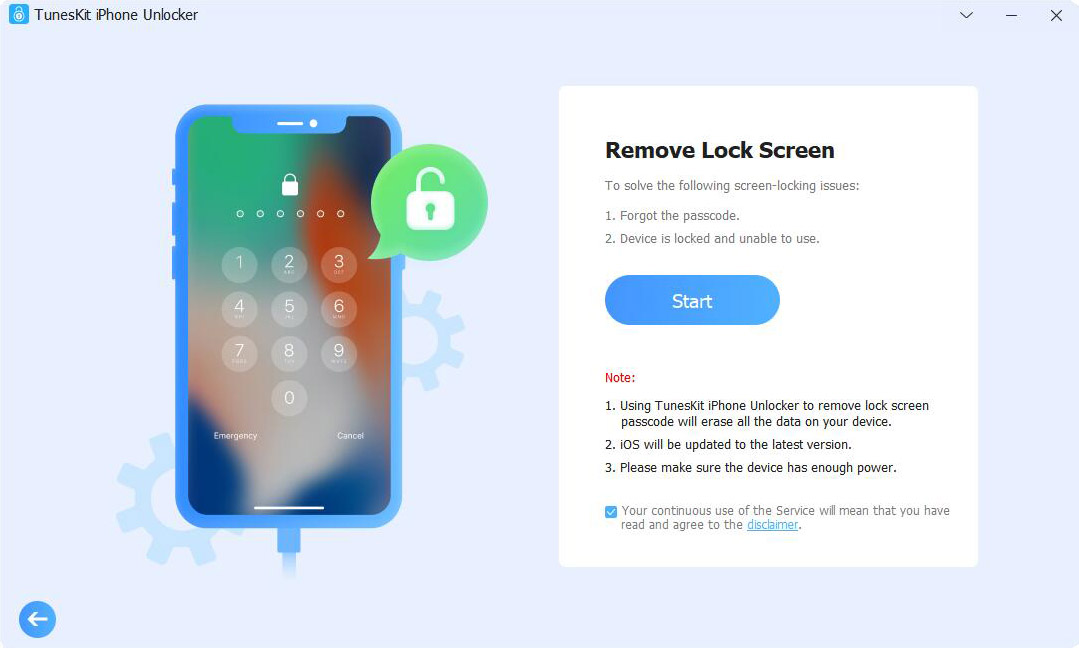 Step 2

Put Your iPhone into DFU Mode

Follow the instructions to put your iPhone into DFU mode, then go to the next step.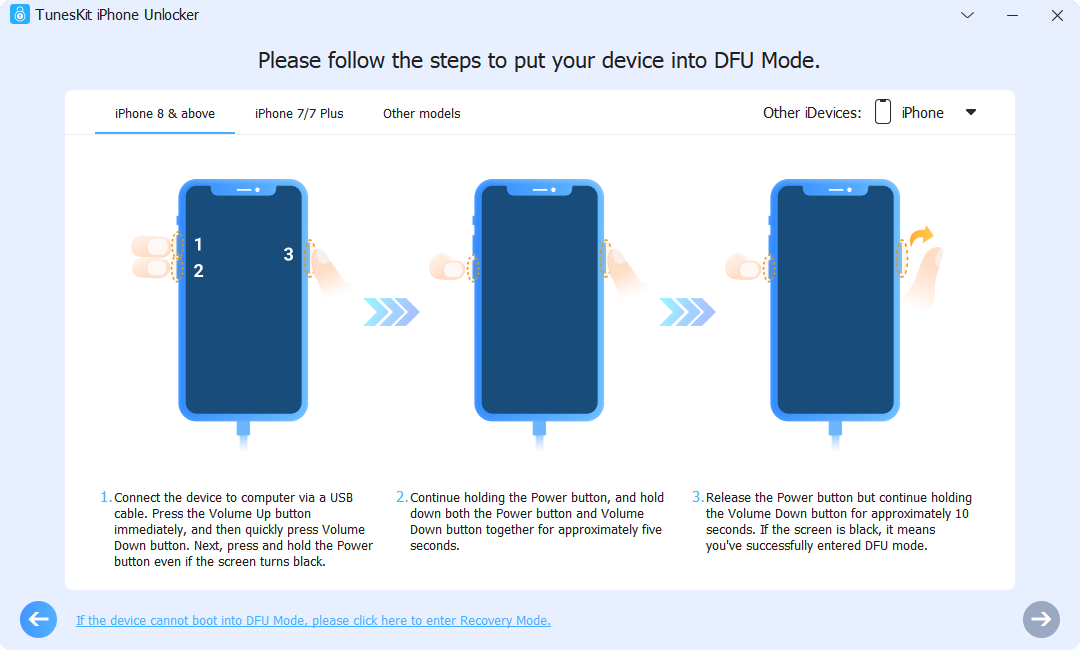 Step 3

Download Firmware Package

Now you should check your device information and the firmware package. After that, tap the Download button to start downloading it.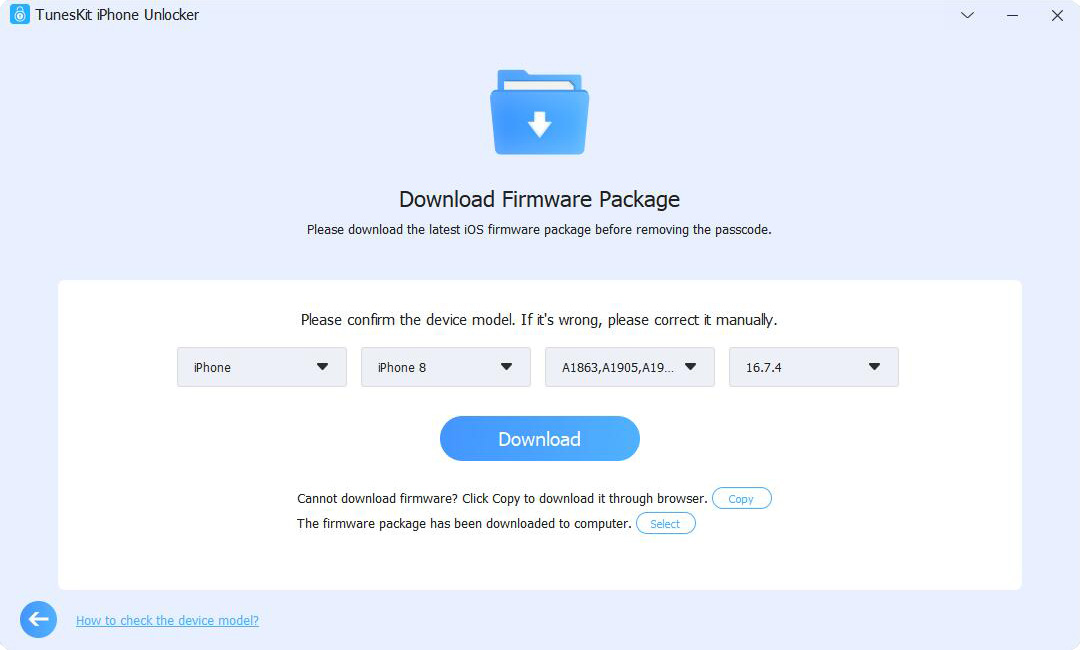 Step 4

Start Fixing iPhone Face ID Not Working

When fishing the download, you may click on the Unlock button to start fixing the Face ID not working on your iPhone. And you could access your iPhone without Face ID or passcode later.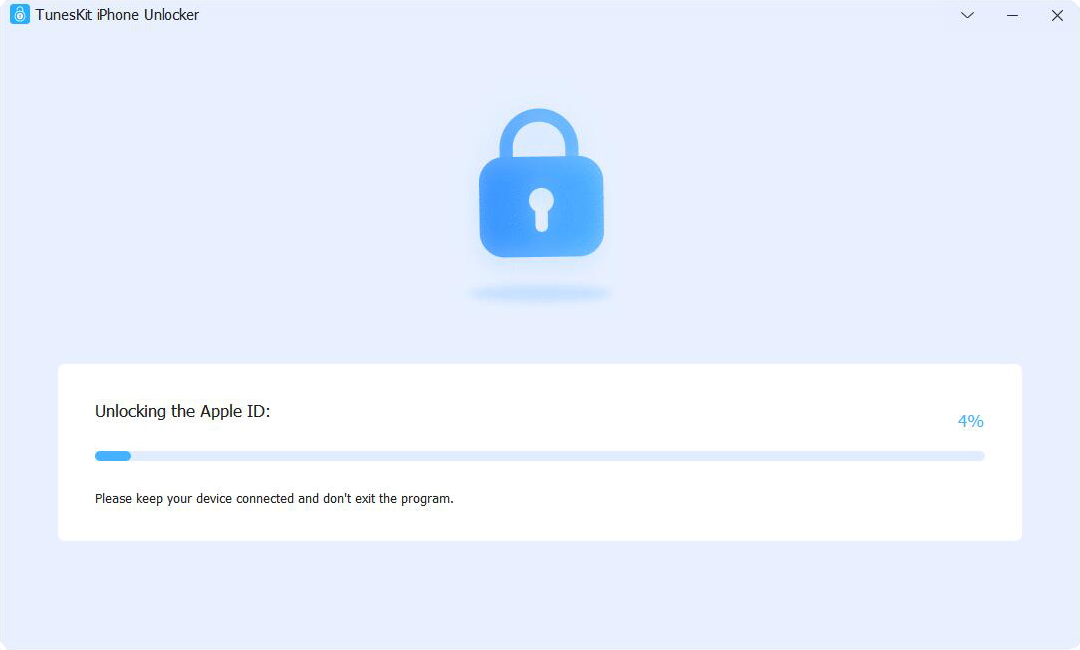 Conclusion
The above are the seven methods that can fix iPhone Face ID not working. The first six methods are only available if you still remember your passcode, while the last tool, TunesKit iPhone Unlocker, is applicable if you forgot the iPhone passcode, as it will help you unlock your iPhone even though the Face ID fails. But, unfortunately, if the dropped iPhone results in Face ID not working, you should contact Apple Support for offline repair.