Apple ID Does Not Exist? Find 5 Solutions Here!
Posted by Brian Davis on Nov 10, 2022 2:30 PM • Category:
Unlock iOS
6 mins read
"Help! Apple said my Apple ID did not exist when I tried to download some apps in the Apple Store. I entered my Apple ID password repeatedly but failed. Can anyone tell me what I can do to recover my Apple ID?"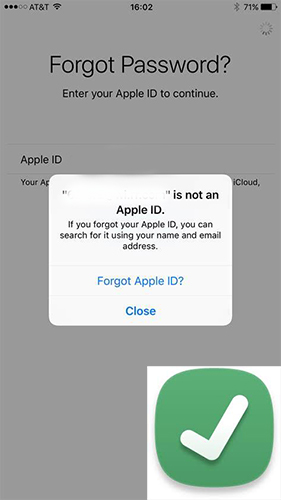 Have you ever met the issue that Apple says the email does not exist? This issue often occurs when you try to sign out of Apple ID, access Apple Store, or download a new application in the App Store. In this case, you will be prompted that your Apple ID doesn't exist and stuck in the loop of entering your Apple ID and password. What may cause this problem? How to fix this error? Don't panic. Read this post, and you'll find out the best 5 solutions to fix Apple ID does not exist anymore issue.
Part 1: When Will Apple Say My Apple ID Does Not Exist?
Users may get a message that says their Apple IDs do not exist in different scenarios. It occurs mostly when you are asked to enter your Apple ID password or conduct other operations related to Apple ID. For example, when you input your Apple ID password to download or update applications on your iPhone, a message may pop up to tell you that your Apple ID is not existing. If you go to reset Apple ID password, or change the Apple ID to another email, this error is also likely to emerge. However, sometimes, your iPhone may ask you to input your Apple ID constantly. And you will be told your Apple ID is invalid after you enter the right password.
Part 2: Why Does Apple Say My Apple ID Does Not Exist?
There are several possible reasons why Apple says my Apple ID doesn't exist. Here we'll list some general causes for this issue that you can refer to:
1. Someone changes your Apple ID email, but doesn't sign out of all your iOS devices.
2. You use a secondary email. Sometimes Apple will only recognize your Apple ID when you use your primary email.
3. You have jailbroken your iPhone before. When you install or use insecure applications on your jailbroken iPhone, you may meet this issue.
Part 3: How to Fix Apple ID Does Not Exist Error
Method 1: Search for Your Apple ID in iCloud
When you meet this error, you can first try to search for your Apple ID using iCloud. Head to Settings on your iPhone and click on your name at the top of the interface. If you use iPhone with iOS 10.2 or earlier, you need to go to the Settings app and choose the iCloud option. Then, you can check whether your Apple ID is still signed in in iCloud.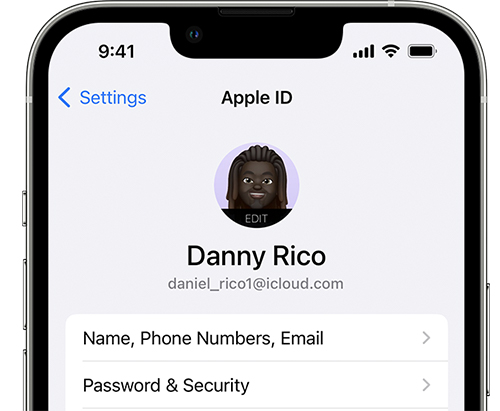 Method 2: Look for Your Apple ID Using iTunes & App Store
You can also look for your Apple ID that doesn't exist with iTunes & App Store. Head to the Settings menu and choose the iTunes & App Store option. If you use iPhone with iOS 10.2 or earlier, go to Settings > iTunes > App Stores. Then you can see whether the Apple ID shown on the screen is yours. However, this way may fail. If you access the App Store but are prompted that Apple ID does not exist, the method doesn't work for you.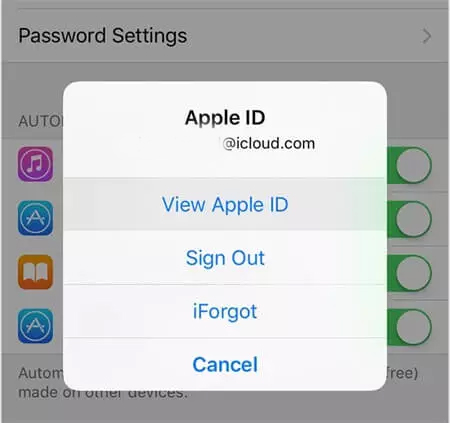 Method 3: Look Up Apple ID via the Apple Website
If you can't find your Apple ID that does not exist through iCloud, and iTunes and Apple Store, you can also try to recover it via the Apple website. There are some limitations to this method. You must know the Apple ID password and the recovery email when you use this method. Here are the detailed steps for how to find Apple ID through the Apple website.
Step 1: First, navigate to iforgot.apple.com, and then click on the look it up link.
Step 2: You will be asked to enter your Apple ID, first name, last name, as well as the recovery email. If what you entered is matched, the website will show you where your Apple ID is.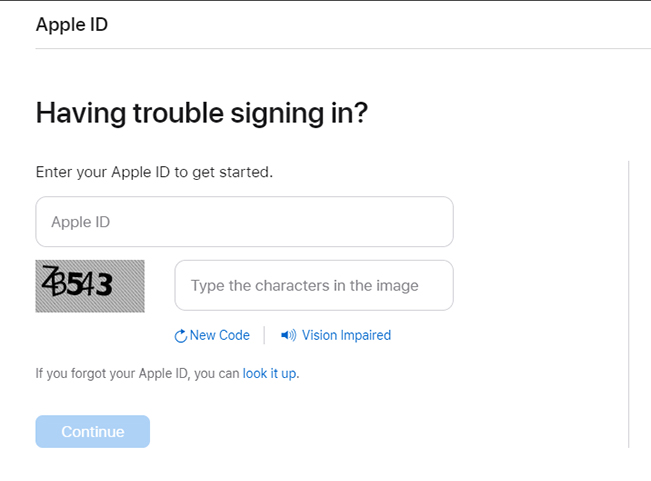 Method 4: Use TunesKit iPhone Unlocker to Unlock Apple ID
However, all the previous methods only work for finding out where the Apple ID is. If your Apple ID has been compromised or changed by others, your iPhone will keep prompting you that Apple ID does not exist anymore. In this case, you can get rid of these irritating prompts by unlocking your Apple ID with TunesKit iPhone Unlocker. With this professional and excellent unlocking tool for iPhone/iPad/iPod, you can easily remove Apple ID from iPhone when Apple says Apple ID does not exist.
What's more, if you have trouble unlocking iOS lock screen, bypassing Screen Time passcode, or removing MDM restrictions, TunesKit iPhone Unlocker can also be helpful to you. All you need to do is to click on several options according to the clear guidance. Then you can get into your locked iPhone without passcode instantly.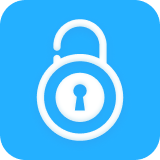 Key Features of TunesKit iPhone Unlocker
Fix Apple ID does not exist without password
Fully compatible with most iOS device models
Available on the latest iOS version including 16
Unlock iPhone/iPad/iPod touch with ease
Easy-to-use feature and user-friendly interface
Try It Free
600,000+ Downloads
Try It Free
600,000+ Downloads
Now, let's see how to get rid of Apple ID when it does not exist with TunesKit iPhone Unlocker.
Step 1: Download and launch TunesKit iPhone Unlocker on your computer and keep your iPhone connected to it. Then, choose Unlock Apple ID option and click on the Start button to go on.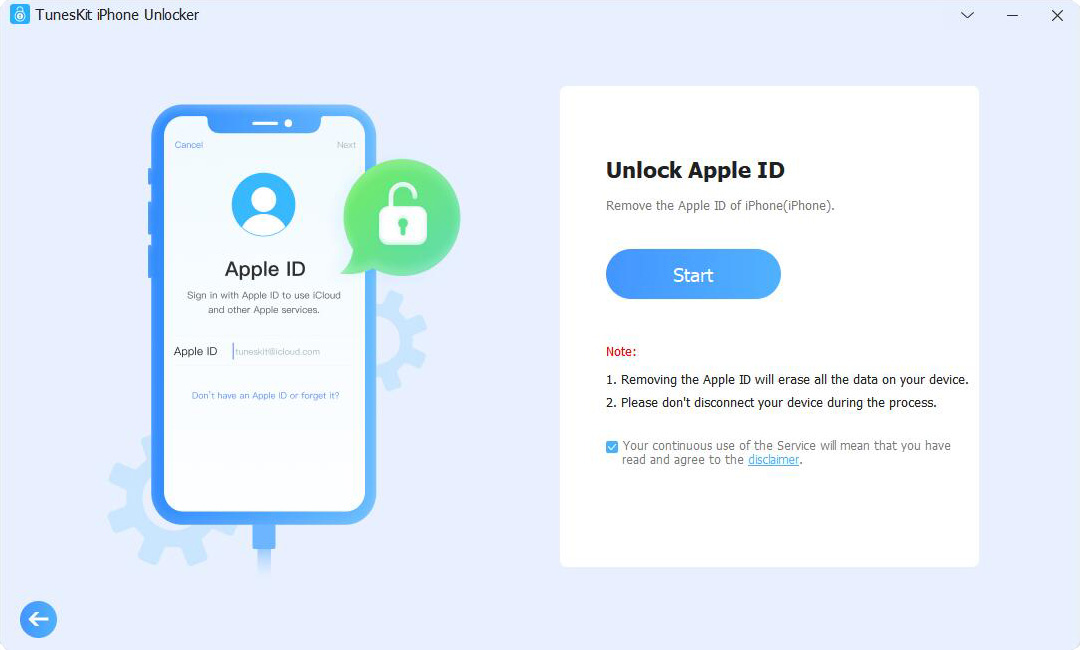 Step 2: Now, you will be required to check your iPhone status. If the Find My iPhone feature is turned off, you can skip to the last step immediately. If not, you need to ensure that you have set up a screen lock and enabled the two-factor authentication on your iPhone.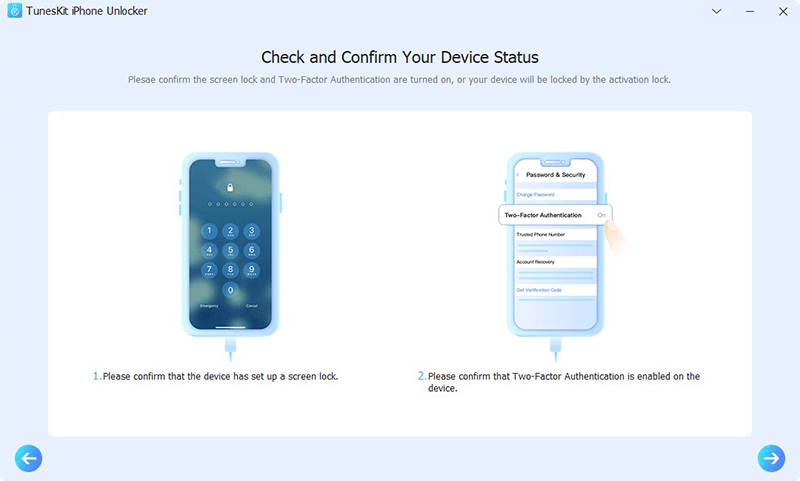 Step 3: After checking the status, you need to download a matched firmware to unlock Apple ID. Hit on the Download button if the onscreen information is totally fitted with your iPhone.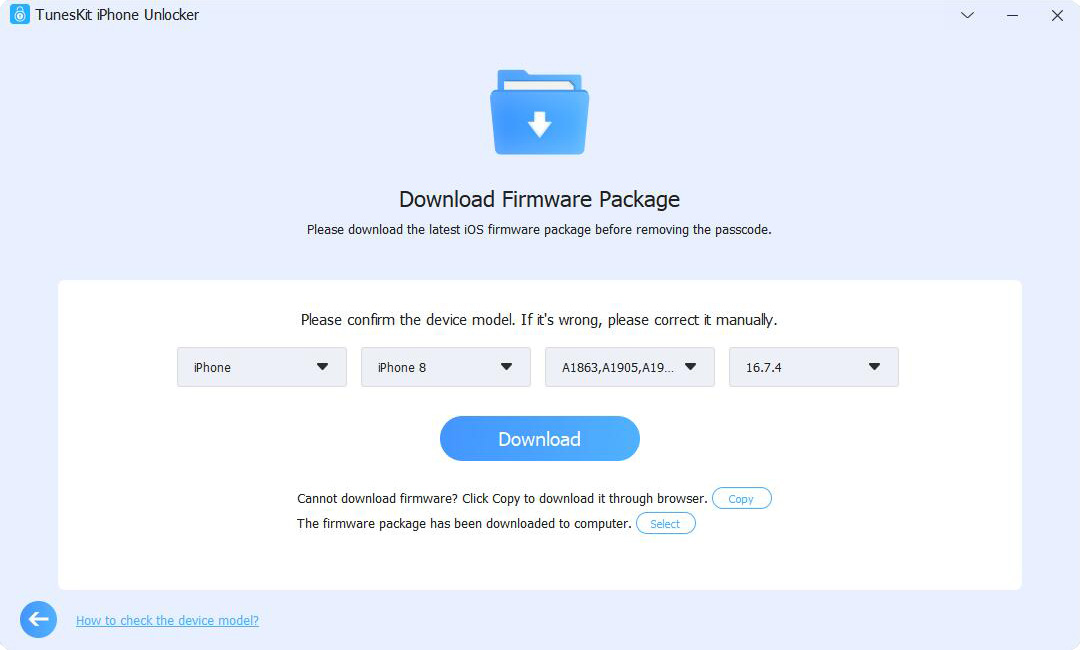 Step 4: When the downloading finishes, please click on the Unlock button, and wait a short period of time. Then, you can get rid of Apple ID not existing with ease.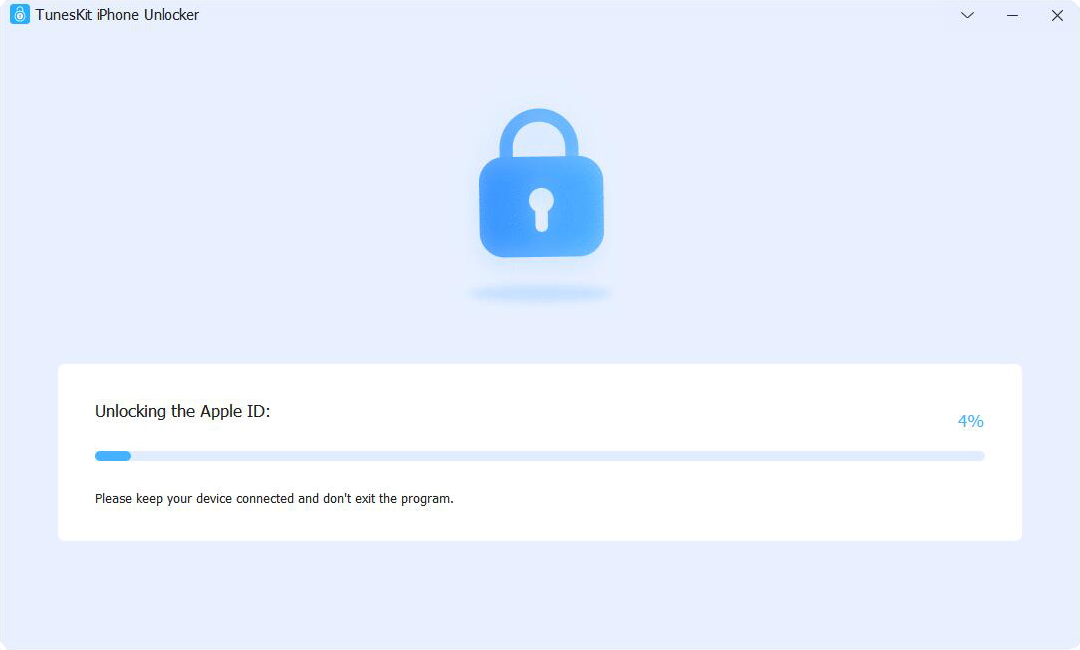 Method 5: Contact Apple Support for Help
If you have two emails on the Apple account, or change the email associated with Apple ID, you are suggested to contact Apple Support for help. You can go to getsupport.apple.com and choose the device you want to get support for. Then, click on Apple ID > Other Apple ID Topics and choose Get a Copy of Your Apple ID Data. After that, you can get specific help from Apple's professionals.
Part 4: The Bottom Line
In this post, we have shown you when and why does it say my Apple ID does not exist first. Then, we introduce 5 practical and simple methods for you to solve this problem. If you don't want to get stuck in the loop of entering Apple ID password, TunesKit iPhone Unlocker is the best choice for you. You can download it from the button below and try it now if you are in trouble.