How to Override Lost Mode on iPhone Without Passcode
Posted by Leonard White on Jul 27, 2023 11:00 AM • Category:
Unlock iCloud
6 mins read
iPhone Lost Mode is a useful feature to protect others from accessing your personal information, especially when your device is lost or stolen. You can easily turn on Lost Mode via Find My feature on iCloud.com through a web browser.
How to unlock Lost Mode on iPhone? It may be the first thing comes to your mind when you found your iPhone. Frankly speaking, it is quite easy if you know the screen passcode. All you have to do is opening iPhone screen as usual and entering your passcode. But what about those who unfortunately forgot password? This passage is going to give you a brief introduction about iPhone Lost Mode and 4 possible methods to bypass Lost Mode on iPhone without passcode or Apple ID.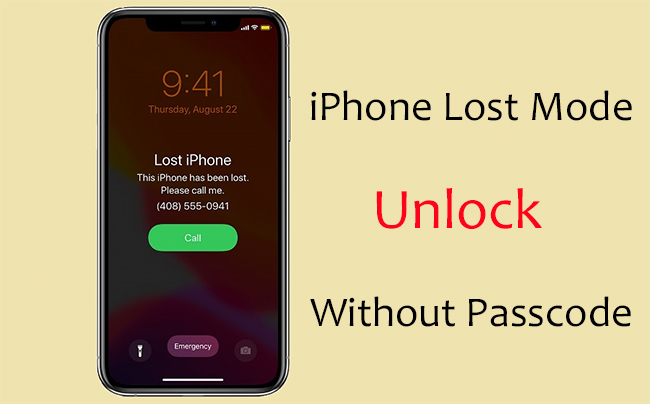 Part 1: What Is Lost Mode on iPhone?
As the name suggests, Lost Mode is a mode in which you can remotely configure your iPhone when your device is lost. Lost Mode helps you lock your iPhone so that no one can access your information. Once Lost Mode is turned on, your device will not display any incoming messages or updated alerts or notifications. Any alarms will be silenced. Only FaceTime and regular phone calls will continue to work. Moreover, people who find it can easily get in touch with you if only you add your contact message when activating Lost Mode.
Part 2: How to Unlock Lost Mode on iPhone Without Passcode
In this part, we'll present you with 4 potential methods to bypass Lost Mode on iPhone if you forgot the screen passcode or Apple ID credentials.
Solution 1: Unlock via Emergency Call
This is a widely used way to bypass Lost Mode by making use of bugs latent in iOS system. But it is only recommended for emergency use because its effect is not guaranteed. If you want to have a try, you can follow the steps below:
Step 1: Turn on the phone without inserting the SIM card.
Step 2: Open the Emergency Call interface.
Step 3: Enter 112 and click call.
Step 4: Put your thumbs on the end call button at the bottom of the screen and stand by.
Step 5: When the mobile phone is connected to 112 and there is a voice prompt, click the right of the end call button using the right side thumb, and then quickly click on the left side of the end call button using the left side thumb, and continue to click with the right thumb and the left thumb alternately, finally the screen will appear:
A. Call-End-Call-End--Call Failed, wait for more than 3 seconds, click Cancel---enter the desktop.
B. Call-End-Call-End--Black screen but the call is through--wait for more than 3 seconds--exit black screen--call hold--enter the desktop.
C. Call-End-Call-End--Black screen but the call is connected--wait for more than 3 seconds--press and hold the Power Button--pop up the Shutdown Button--click to cancel--exit the black screen--call on hold--enter the desktop.
Solution 2: Use DNS to Bypass iCloud
Use DNS to override Lost Mode is to redirect the iCloud activation path from Apple server to DNS servers. The path can be changed manually. But what you should pay attention to is that this method only allows you to use few functions on your iPhone and works on iOS 11 or older.
This is steps of how to override Lost Mode on iPhone:
Step 1: Make sure you have a SIM card installed inside your iPhone.
Step 2: Restart your iPhone, then select the country and language.
Step 3: Go to Wi-Fi Settings >> Tap on the "i" icon next to the Wi-Fi network.
Step 4: Tap DNS settings and delete the number.
Step 5: Now enter the new number according to your region and save.
US/North America: 104.154.51.7
Europe: 104.155.28.90
Asia: 104.155.220.58
Other areas: 78.109.17.60
Step 6: After that, tap on Save and then tap on the Back button to return to the Network Information screen. Click Join this network and enter your password, then click Join.
Step 7: Your iPhone will try to join the network. At this point, click the back button to return to the Wi-Fi screen. At the top of the screen, you can see the words iCloudDNSBypass.net. Go ahead and set up your iPhone, and you'll be able to finish the process to bypass iCloud Activation Lock and use functions like your phone's camera and play games as usual.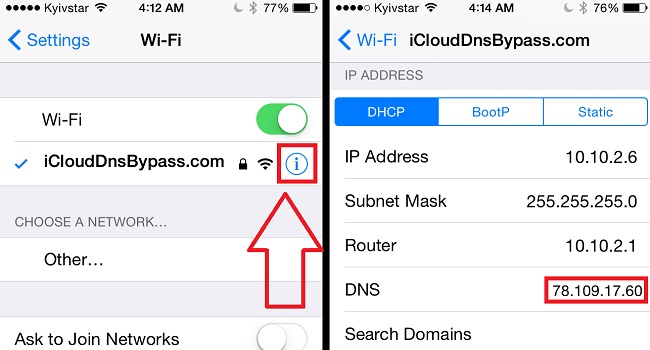 Solution 3: Use TunesKit Activation Unlocker
If above mentioned methods are still not working for your iPhone, TunesKit Activation Unlocker is really worth trying.
As a professional tool, TunesKit Activation Unlocker can help you securely override Lost Mode with a super high success rate. What's more, you can use it on the same device for unlimited times within the validity period. You can not only use it to bypass Lost Mode, but you can also bypass iCloud Activation Lock without Apple ID or password, remove Apple ID without previous owner's password and turn off Find My iPhone/iPad/iPod touch without password in this software. Besides, it is easy to operate. You don't have to be disturbed by the complicate operation steps because it is totally user friendly and you only need to follow the instructions. Second, it has high success rate.
The operation steps of unlock iPhone Lost Mode with TunesKit are as follows:
Step 1: Download TunesKit and connect iOS device to computer. Click the "Start" button, and here pops up a risk tip. Please read it carefully and move forward if you agree.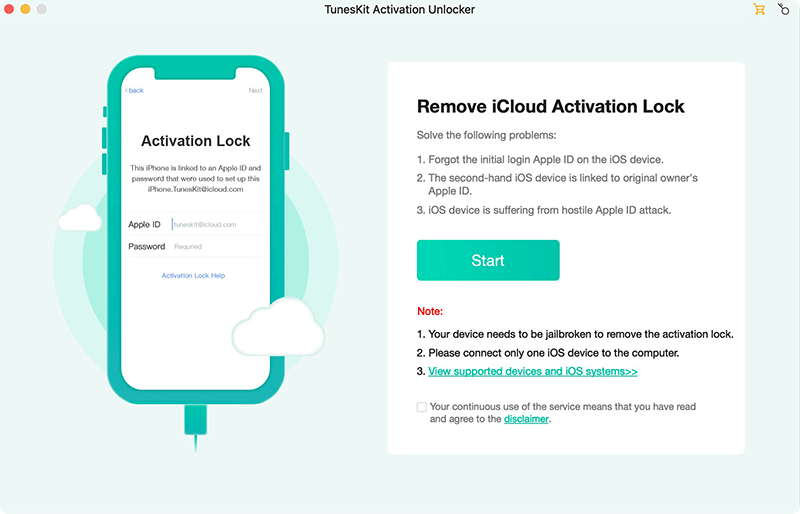 Step 2: Start to jailbreak iOS device on Mac or Windows computer. To remove iCloud Activation Lock with TunesKit, it will jailbreak your iOS device. And the jailbreak process is a little different for Mac and Windows users. You can do the jailbreaking by yourself, or follow the onscreen guide on TunesKit.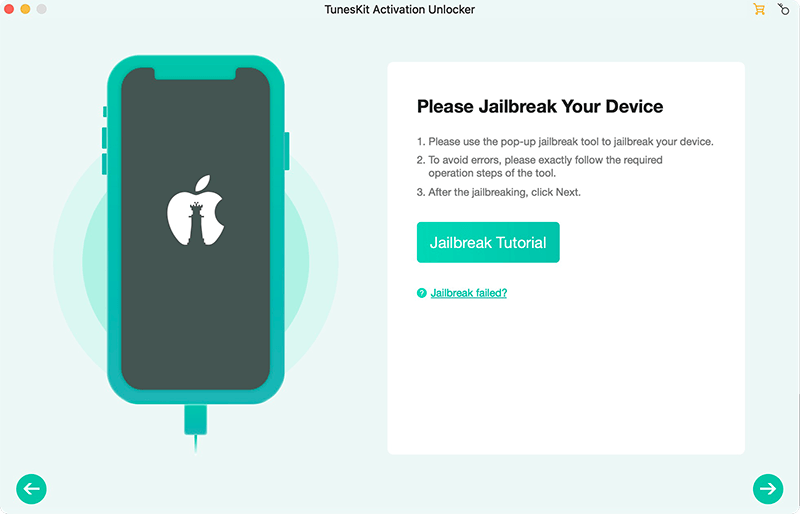 Step 3: Start to Remove iCloud Activation Lock. Now confirm your device information, including device model, iOS version, IMEI, etc. If there is nothing wrong, please click the "Start to Remove" button. TunesKit will start to remove the iCloud Activation Lock for your device. Wait a while and the Activation Lock will be bypassed within seconds. Now you can get into your iPhone, iPad, or iPad touch, and set it up as a new device.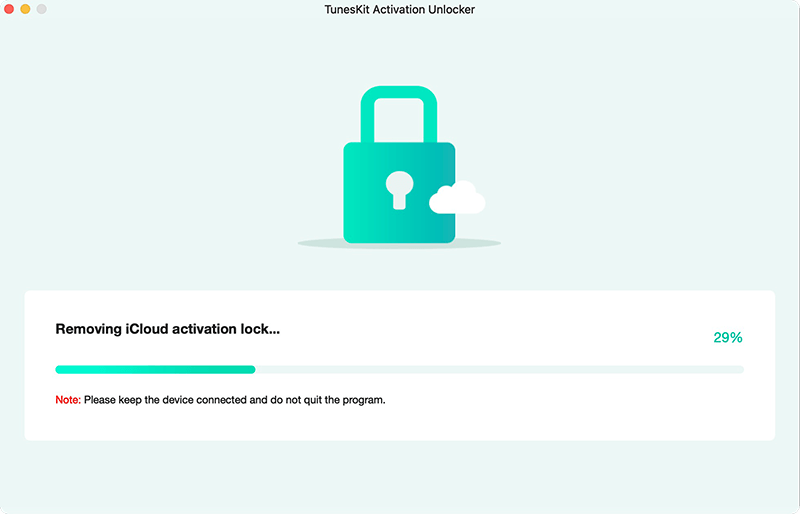 Solution 4: Bypass Lost Mode Online
Last but not least, there are also some websites online to help you override Lost Mode. You can pay for the service you want and provide some of the information about your iPhone. But the shortcomings of this method are obvious too, that is the security of your data on your iPhone is not guaranteed. To finish this process online is pretty easy, operation steps are as below (take AppleiPhoneUnlock as example):
Step 1: Open a browser on your computer and go to AppleiPhoneUnlock website.
Step 2: Enter the information needed, such as your iPhone's IMEI and model number.
Step 3: Wait patiently and you'll be informed once they unlock your iPhone in a few days.

Part 3: Conclusion
Can someone unlock my iPhone in Lost Mode? Sure! There are four ways provided here to help you. You can try to use emergency call or DNS to bypass Lost Mode but there are certain limitations. Or you can choose to use TunesKit Activation Unlocker and online bypass websites. TunesKit Activation Unlocker is highly recommended, because of its high success rate as well as its security guarantee. Besides, it is an easy-to-use yet efficient tool to remove iCloud Activation Lock without Apple ID or password.