How to Remove iCloud Activation Lock Without Apple ID and Password
Posted by Leonard White on Feb 27, 2023 10:00 AM • Category:
Unlock iCloud
5 mins read
Removing an iCloud Activation Lock from your device can be a complicated process. But the process can be completed quickly and easily with the correct information and a few simple steps. However, what if you bought a second-hand device and cannot conntact with the previous owner for removing it by entering the Apple ID and password?
If you have the same problem, don't despair — there are 3 effective methods of how to remove Activation Lock without Apple ID and password, and then you can regain access to your iPhone.
In this guide, we'll walk you through the steps to get iCloud Activation Lock removal without effort. All the methods are described in detail below, so you can choose the one that works best for you.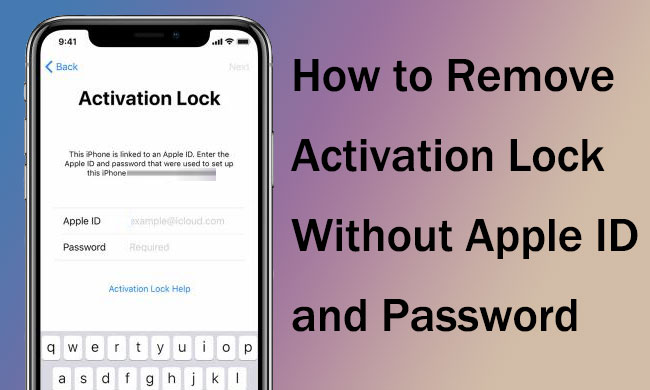 Part 1: 3 Methods to Remove Activation Lock Without Apple ID
Method 1: How to Remove Activation Lock Without Apple ID - TunesKit Activation Unlocker
As you know, the Activation Lock turns on automatically when the Find My feature is enabled on the device. It can prevent others from using the device if it's ever lost or stolen. If you buy a second-hand iPhone and its Find My feature is not turned off, your phone is at risk of being locked by the previous owner at any time.
Therefore, to remove the iCloud Activation Lock, TunesKit Activation Unlocker is worth consideration. It is designed to remove any restrictions on your iOS device without knowing Apple ID, and password. For example, you are able to remove Activation Lock without previous owner, remove Find My feature without entering Apple ID and password, etc. You should note that this tool will erase all content and data of your device when you proceed. So make sure you have a recent backup for recovery later.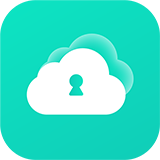 Why choose TunesKit Activation Unlocker?
Friendly UI and easy-to-use
Remove Activation Lock on iPhone, iPad, and iPod Touch without Apple ID
Turn off Find My feature without password
Available on Windows and Mac
Try It Free
600,000+ Downloads
Try It Free
600,000+ Downloads
You may read the tutorial on how to get iPhone iCloud Activation Lock removal via TunesKit iPhone Unlocker.
Step 1

Connect iPhone to the Computer

Download and launch TunesKit Activation Unlocker to your computer, then connect your iPhone to it via a lightning-to-USB cable. Then hit the Start button.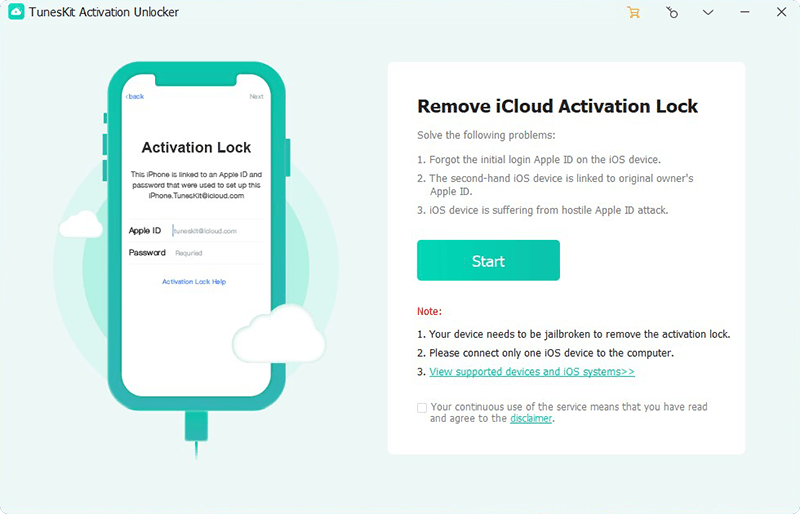 Step 2

Get Ready to Jailbreak Device

Next, it will start downloading the jailbreak tool automatically, and you should tap the Start Installation button when it's finished.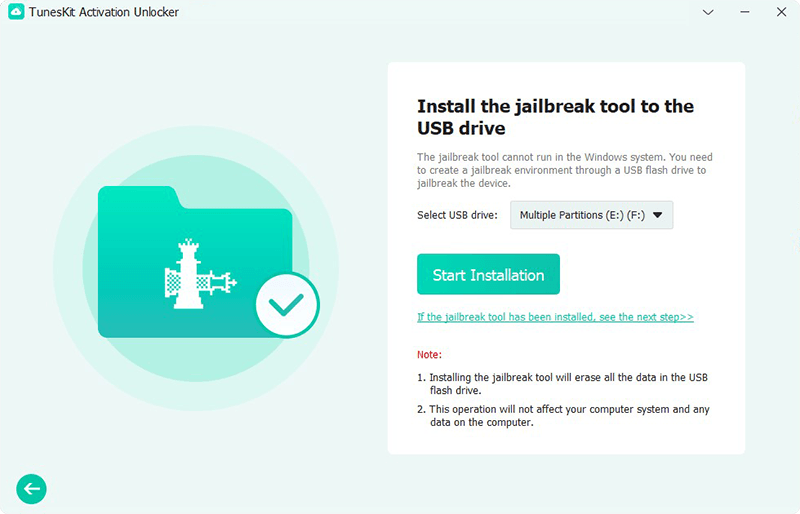 Step 3

Remove Activation Lock without Apple ID

After that, you should confrime the information and click on Start to Remove button to remove Activation Lock without Apple ID. It will need a few minutes and do not disconnect your device.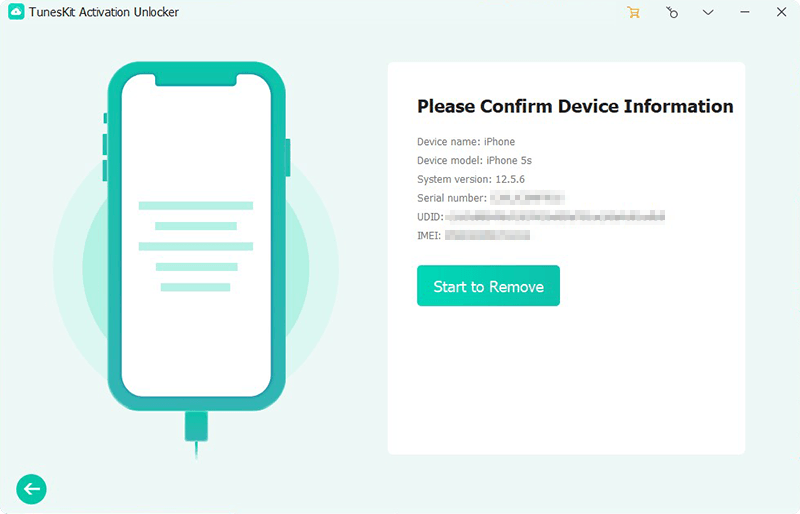 Method 2: How to Remove Activation Lock Without Apple ID for Free - DNS
Besides, the DNS(Domain Name System) could help you bypass the iCloud Activation Lock. The correct DNS IP address depends on the location you are attempting to activate. Once you've entered the correct DNS IP address, you should see the Activation Lock disappear, and your iPhone should be unlocked. However, it won't be permanent because the Activation Lock will appear after restarting. You can follow the tutorial on how to remove Activation Lock without Apple ID for free.
Step 1: Slide up to open iPhone Locked To Owner screen, then set up your language and country, then press the Home button and select More Wi-Fi Settings.
Step 2: Tap the i button next to the WiFi option, scroll down, click on Configure DNS >Manual, and enter the correct IP address. You can refer to the IP list as follow:
USA:104.154.51.7
UK: 104.155.28.90
Europe: 104.155.28.90
Asia: 104.155.220.58
Australia and Oceania: 35.189.47.23
Step 3: Click on Save when you are finished and get back to the Wi-Fi page.
Step 4: Now you should continue to click on Next and Back until your device has connected to the DNS.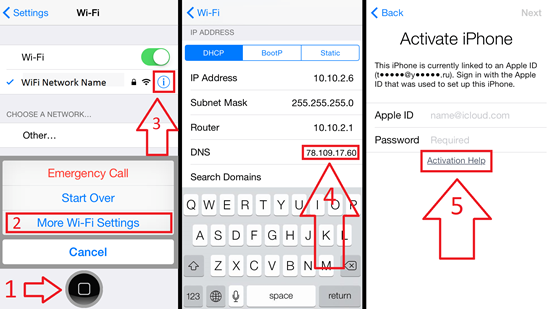 Method 3: How to Remove Activation Lock Without Apple ID or Password - Apple Store
Apple Store is your last option to remove Activation Lock without Apple ID or password. Contact the Apple Store to see if they can help you get the iCloud Activation Lock removal. If they can, bring your iPhone, proof of purchase, product serial number, IMEI, or MEID to the store to prove yourself is the legal owner of the iPhone. The Apple Store staff will remove your iPhone iCloud Lock after verifying your identity, and they will reset your iPhone to factory settings and provide a new iCloud activation code. But your device data will be erased totally.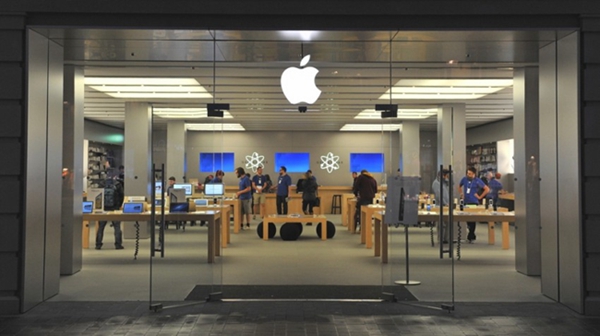 Part 2: FAQs about iCloud Activation Lock
Q1: What is iCloud Activation Lock?
iCloud Activation Lock is designed to prevent anyone from using an iPhone, iPad, iPod touch, or Apple Watch if it's ever lost or stolen. When the feature is enabled, the user's Apple ID and password are required before anyone can turn off Find My iPhone, erase the device, or use the device. It also prevents it from being reactivated without the user's Apple ID and password.
Q2: Can I remove iCloud Activation Lock on my iPhone without password?
Yes. With TunesKit Activation Unlocker, you can remove the iCloud Activation Lock without entering a password. But you should be aware that this process will completely erase all data and content on your iPhone. You may refer to part 1 for more details.
Q3: Can Apple help me remove Activation Lock?
To ask Apple to remove the Activation Lock for your device, you must be the owner of your iDevice. In other words, you should show your proof of ownership to the Apple Store, such as proof of purchase, IMIE, etc.
Conclusion & Suggestion
iCloud activation lock can be a hassle, but thankfully we've provided several ways to help you remove or bypass it. Among them, using a trusted third-party service like TunesKit Activation Unlocker is the best and safest option. It is very efficient and has the ability to achieve iCloud Activation Lock removal even if forgot the Apple ID password. It also offers other benefits, such as the removal of various iOS password restrictions such as Apple ID, Find My iPhone, and more.