5 Best Online iCloud Activation Lock Removal Services
Posted by Leonard White on Apr 28, 2023 9:00 AM • Category:
Unlock iCloud
5 mins read
Apple is well-known for embedding robust security protocols in its products, making it an extraordinary and unique tech company. Among its security features, the most popular is iCloud Activation. This security feature helps prevent unauthorized access to Apple devices after they are stolen or lost. iCloud relates to Apple ID, and activating the device is impossible without login credentials.
However, it is possible you may forget your Apple ID credentials, or you may have purchased a second-hand device that is still connected to the previous owner's iCloud account. This situation can limit your access to the device. For this purpose, an iCloud activation unlock service online is the trusted way to regain and activate your device's access.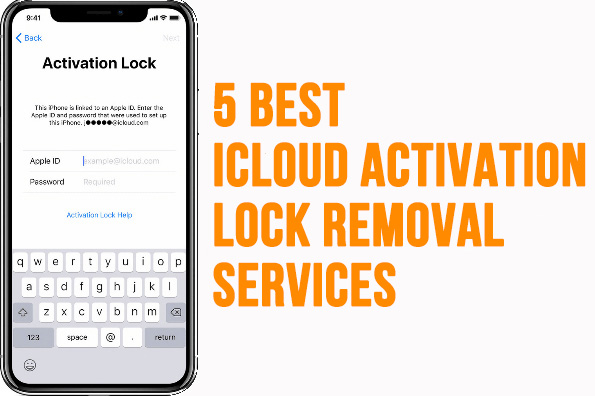 iCloud can get locked for various reasons, but it does not stop you from performing daily tasks on your device. Hence, using an activation lock removal service online is the way forward, and you will find 5 best tools here:
Bypassing iCloud Activation is now easier, more convenient, and more effective with TunesKit Activation Unlocker. This iCloud unlocker tool is backed with powerful algorithms that enable it to remove iCloud activation locks efficiently. This means you don't need to enter the Apple ID or password, and your iPad, iPhone, or iPod will be active again.
Ideally, this tool is safe for your device both in terms of data security and device functioning. Meanwhile, the tool is compatible with Windows 7 and higher and macOS 10.11 or later platforms.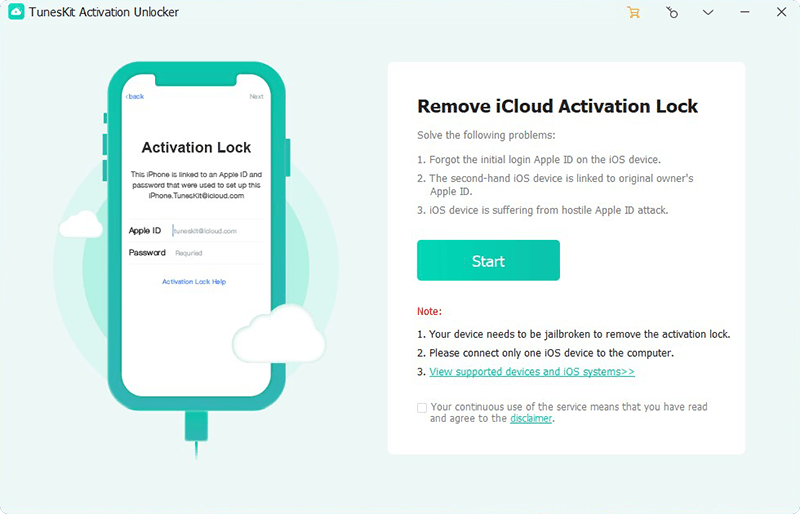 Key Features
1. A very easy-to-use platform that offers simple tool navigations with clear insights.
2. It can also remove Apple ID or turn off Find My on Apple devices.
3. You can experience unlimited usage on the same device within the validity period.
A serial number or IMEI number is available on every iPhone and other Apple devices. So, if you've lost or forgotten your iCloud login credentials or bought a device still logged with the previous owner's account, you must bypass iCloud Activation. For this purpose, DirectUnlocks can help you move forward by removing iCloud Activation using IMEI.
You will provide your device's IMEI alongside the model number and device details. Subsequently, DirectUnlocks will start working on it and get the iCloud activation lock removed permanently.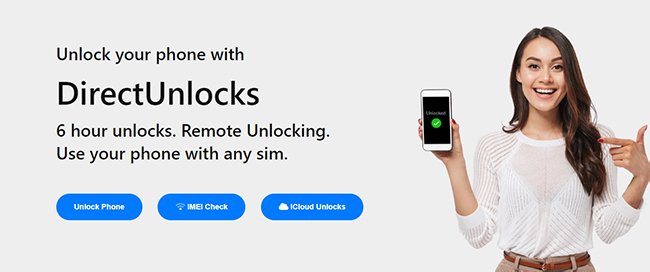 Key Features
1. A fast service that provides iCloud bypassing solutions in 24 hours.
2. You will get complete access to your device with options like updating, restarting, and factory resetting.
3. This is a cost-effective iCloud Activation unlock service online to get your iCloud Activation removed.
IMEInow is an online iCloud activation lock removal service that helps individuals bypass iCloud activation problems efficiently. The fact is, without iCloud, an Apple device is nothing because you're restricted to almost all features and tools. Thus, IMEInow has solutions with proper procedures to remove the iCloud activation lock.
Moreover, you don't need to worry even if you forget your Apple ID password or bought a used phone with iCloud still logged in. Within IMEInow, the entire process is executed on a remote basis. After the order, when you submit your IMEI, the company will delete existing iCloud and email you to set up your Apple ID login.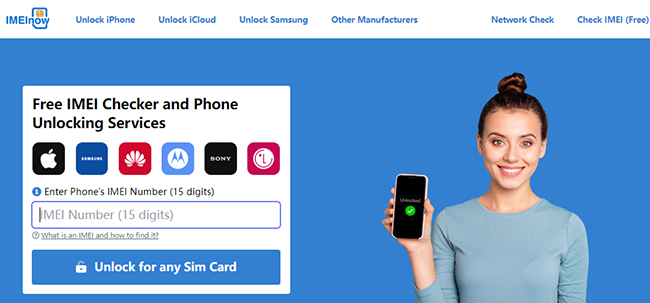 Key Features
1. Phone activation is straightforward and convenient from the comfort of your home.
2. Not only Apple, but you can also unlock devices from many other brands.
3. You can also check your device's IMEI for free, including the network your mobile is locked to.
Get your iCloud-locked iPad, iPhone, or Watch active again using Unlockphonesim. This iCloud removal service permanently removes the iCloud activation lock from your Apple devices. Moreover, this is a remote service that is operated by means of using the device's IMEI number. While setting up an online order, you will provide your IMEI and model details, and the company will process iCloud unlock within 24 hours.
Meanwhile, this iCloud Activation lock removal service online is very convenient and simple to use, with easy processing of iCloud bypassing online orders. An experienced team handles the entire process so your device remains safe.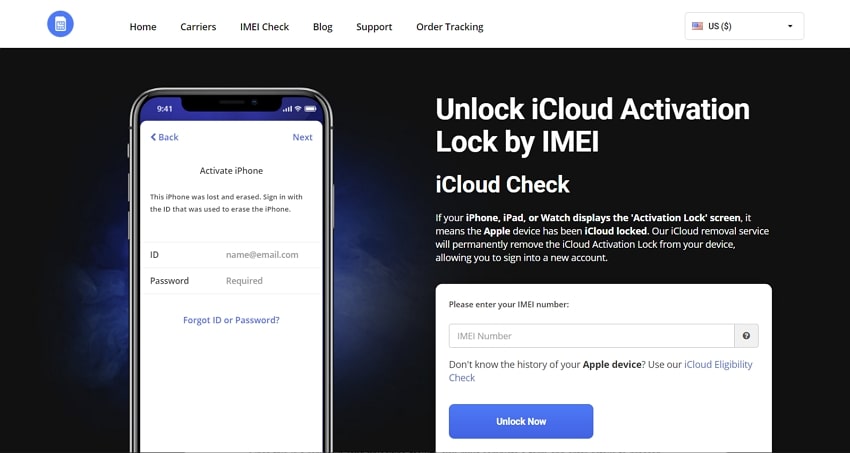 Key Features
1. The customer service is extraordinary that comes alongside a live order tracking facility.
2. With this iCloud bypass unlock tool, your device will regain complete and optimal functionality.
3. In addition to iCloud Activation, you can utilize services like carrier check and iPhone unlock.
Watching lock iCloud activation can be extremely disturbing as a user because your device gets instantly locked and restricted. Thus, using an activation lock removal service online is the best solution, and iCloud Activation Lock has your back covered. This tool follows an official unlocking procedure through IMEI or serial number. This way, your device gets permanently iCloud unlocked and active again.
Since this is a remote iCloud unlocking facility, you must complete a form and enter details to proceed. Meanwhile, this is a free-to-use service that does not charge anything.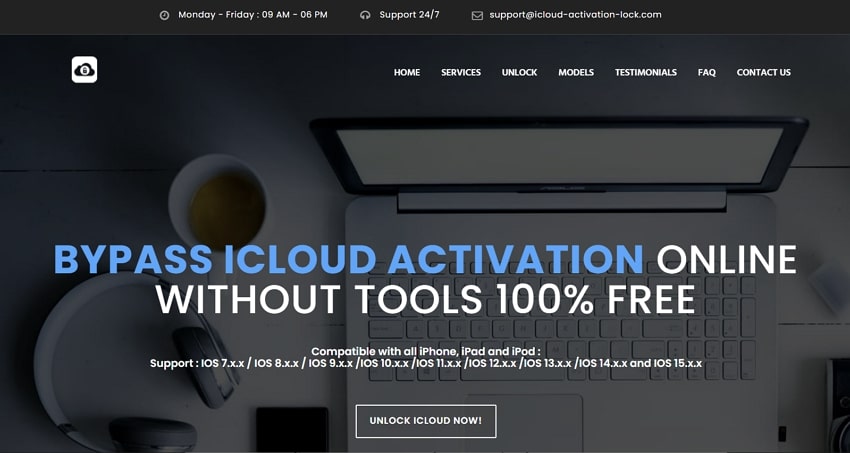 Key Features
1. With legal unlocking by official means, your device remains safe throughout the iCloud unlocking process.
2. There are more than 30 servers for this tool. Thus you will experience 24/7 server uptime with high-quality service.
3. You don't need to download any tool as this is an online facility.
Conclusion
Apple cares about its users; hence, it provides next-level security features like iCloud Activation. However, you may forget or lose your Apple ID credentials or purchase a used phone still logged with the previous owner's iCloud. Since you will be restricted to most features with the device being inactive, so you need online iCloud activation lock removal services.
Meanwhile, this article discussed 5 tools, and among all of them, TunesKit Activation Unlocker is the best performer. This tool offers a dedicated platform to allow users to remove iCloud Activation conveniently, unlike other online tools that carry the risk of data privacy.