iPhone 7 Plus iCloud Locked? Bypass!
Updated by Leonard White on Nov 7, 2023 11:35 AM • Category:
Unlock iCloud
6 mins read
iCloud lock, as known as Activation lock, is widely used on iOS devices to protect users' benefits when their devices are lost or stolen, avoiding information leakage. It's a clever design, and activation lock can only be bypassed with an Apple ID and password. However, despite the many advantages activation lock has, people are frustrated when they buy a second-hand iPhone 7 plus with activation lock and the passcode is not available. Or else someone just forgot the password they originally set it for.
In fact, Apple ID and passcode are not unique ways to get around activation lock. In this post, you can learn how to bypass your iPhone 7 plus iCloud locked with an activation lock removal tool and to bypass via DNS. Let's start figuring them out.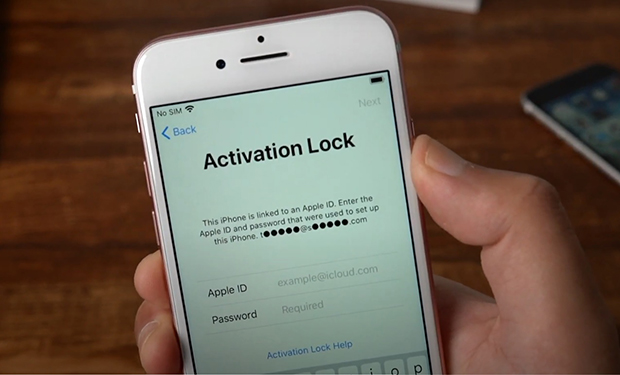 Part 1: Can I Bypass the iCloud Locked iPhone 7 Plus at home?
Sure. You can definitely bypass activation lock on iphone 7 plus at home without having to ask a technician for help, as long as you can find a professional activation lock removal tool. Using DNS and IMEI to bypass the activation lock are also the common solution, but they come with a very low success rate. So, only one of them is introduced in this post. Third-party removal tools are still the most reliable way to bypass your activation lock. Its detailed introduction is shared below.
Part 2: How to Bypass iCloud Lock on iPhone 7 Plus?
Top 1: Bypass activation lock on iPhone 7 plus via TunesKit Activation Unlocker
The removal of the iCloud lock has been a popular topic among Apple users. Relying on a reliable third-party bypass tool is the optimal option for many users who get an iCloud-locked iPhone 7 plus. But how can we choose a removal tool that is safe and reliable, but also comes with a high success rate? Next, I will introduce you to an iCloud lock bypass tool.
TunesKit Activation Unlocker is a tool providing iCloud lock removal service. It specializes in removing activation lock on iPhone, and is dedicated to assisting iPhone users to fix a variety of issues related to Apple ID and iCloud account, including cannot reset device due to iCloud account logged in, cannot access iPhone locked by previous owner, cannot activate a second-hand iPhone, cannot turn off Find My, etc. With TunesKit Activation Unlocker, you can sign into a new Apple ID and enjoy service on iTunes after successfully removing your iPhone 7 plus iCloud locked. No difficult steps to use this tool, as there is a step-by-step full guide telling you how to bypass the iCloud lock on your iPhone 7 plus.
Next, follow my step to figure out how TunesKit Activation Unlocker bypass the activation lock on your iPhone 7 plus.
Step 1

Connect Your iPhone 7 Plus

You are required to use a USB cable to connect your iPhone 7 plus to the PC before you start to bypass the iCloud lock on your device. In addition, you should make sure the connection keeps going all the time. Instead, all will be in vain. Click Start. Next, move on to read the Terms of Use carefully and click Agree.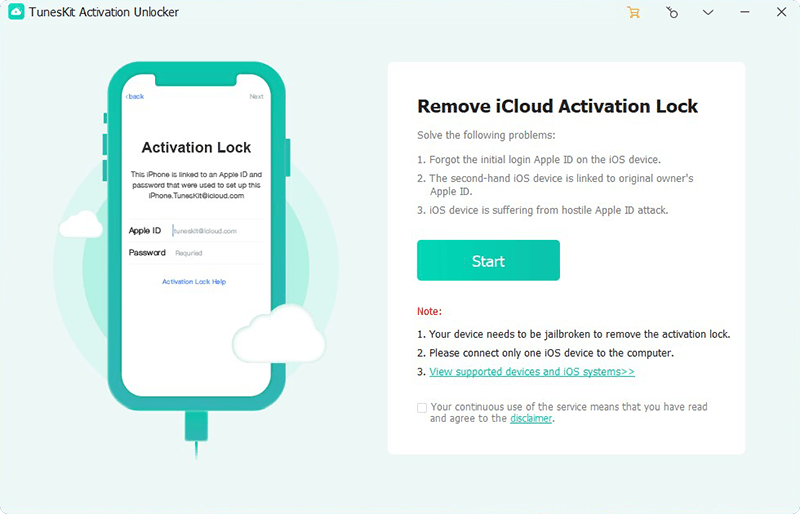 Step 2

Jailbreak Your System

To successfully jailbreak your system, you should select the suitable tutorial link below according to your computer system. When it finishes, shut down your computer and start it again. After rebooting, go to launch the removal tool again.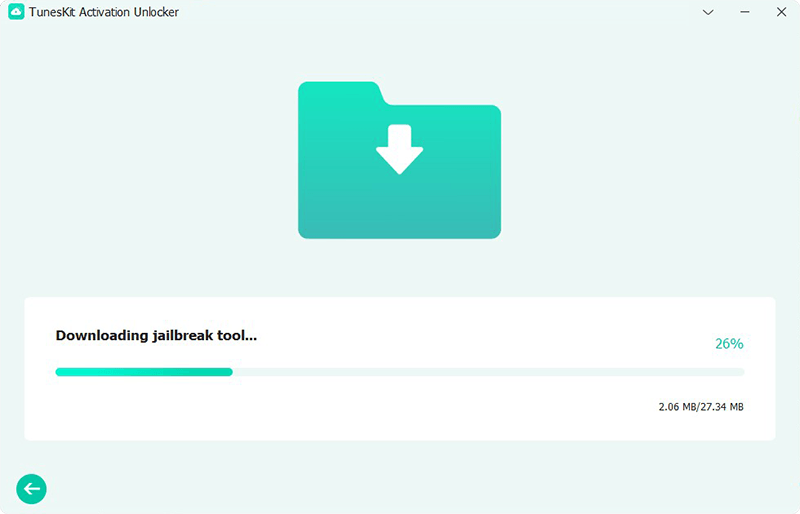 Step 3

Start to Bypass iCloud Lock

Your device's info will be listed on the interface, checking it and going ahead. Click Start to Remove. Then, TunesKit Activation Unlocker will begin to bypass the iCloud activation lock on your iPhone 7 plus.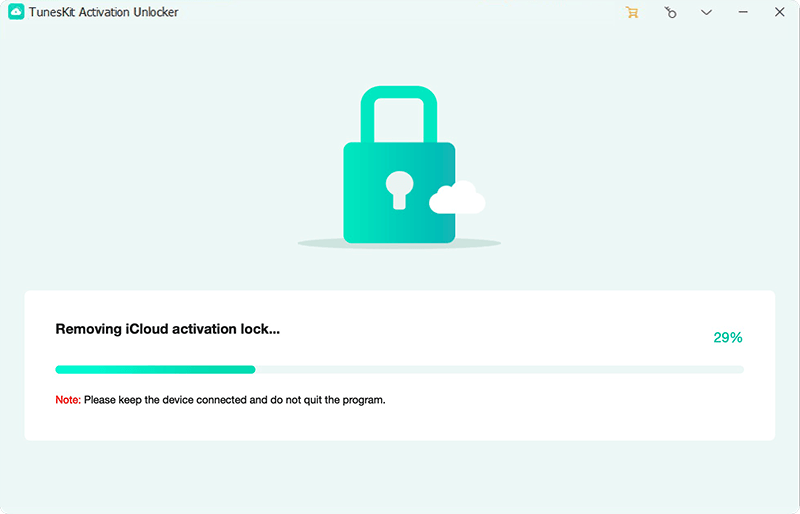 Top 2: Remove iCloud Lock via DNS
Remove iCloud lock via DNS means changing the DNS address on your iPhone to bypass activation lock on iPhone 7 plus, which can translate the IP address. Once you want to activate your iPhone 7 plus, the device will send the IP address to Apple Server, and the activation lock will be activated by Apple. So, by changing iPhone DNS address, make the Apple server receive a wrong IP address preventing activating the iCloud lock on your iPhone. What you should learn about this solution is about its success rate and its difficulty in operating. Despite someone's success in this solution, it actually comes with a low success rate.
1. Select Start Over to re-activate your iPhone 7 plus.
2. Go to WiFi Settings.
3. On the right of the WiFi name. tap on the icon "i" , and you can see Forgot this Network, tap on it.
4. Tap icon i again, and tap Configure DNS. Go to Manual. Select Add Server, and enter one of the DNS addresses listed here.
☺ North America: 104.154.51.7
☺ South America: 35.199.88.219
☺ Europe: 104.155.28.90
☺ Asia: 104.155.220.58
☺ Global: 78.100.17.60
5. Go Back to connect to your WiFi. There will be an Activation Lock page pop up and require you to go ahead to the next interface.
6. Tap Back and select Activation help, then, your iCloud locked iPhone 7 plus is removed.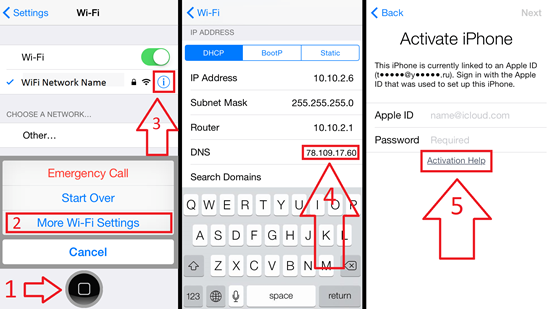 Top 3: Find Support from Apple Store
Although there is a flaw on Apple Server making you able to bypass the iCloud lock with the third-party tool, with continuous repair from Apple, the activation lock may become more and more difficult to bypass. So, if you've tried the third-party removal tool which comes with the highest success rate, and it still exists on your iPhone, you'd better find support from the Apple Store near you. The professional staff will give you a solution to your iPhone 7 plus iCloud locked.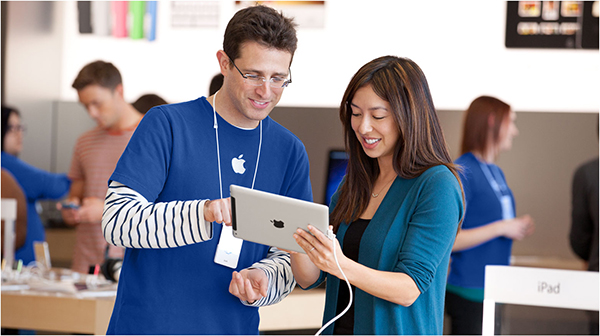 Part 3: FAQs about iCloud Lock
Can the previous owner unlock the iCloud locked iPhone 7 plus remotely?
Of course. It will be a piece of cake to unlock the iCloud locked iPhone 7 plus if you can contact the previous owner. With the correct passcode, the previous owner can remove the device from account remotely on iCloud website or Find My app on another iOS device.
Can I use IMEI to bypass the activation lock on my iPhone?
Bypassing the iCloud lock via IMEI is one of the average methods applied by many users. You need to find your IMEI number and other information about your iPhone so that you can bypass the iCloud locked iPhone with this method. And it also comes with a low success rate. It's not highly recommended you to bypass your iPhone 7 plus with this solution.
Part 4: Conclusion
As of now, applying a third-party removal tool to bypass your iPhone 7 plus iCloud locked processes with the highest success rate and time-saving characteristic among a variety of solutions. So, it's recommended to use TunesKit Activation Unlocker to bypass your iPhone 7 first. And try other solutions later. You will find that this incredible tool will save you a lot of time and effort.