TunesKit Activation Unlocker for Mac Is Now Available for iOS 15.0 and 16.5
Posted by Dan Miners on Aug 23, 2023 10:00 AM • Category:
Releases
3 mins read
Hong Kong, Aug 23, 2023 – The innovative software developer TunesKit Studio has recently updated its Activation Unlocker for Mac to a new level. The program could only help iPhone users bypass iCloud Activation Lock without a password on iOS 12.0 to 14.8 before. After the update, TunesKit Activation Unlocker expands its scope and supports removing the lock on iOS 15.0 and even the latest iOS 16.5. In other words, TunesKit Activation Unlocker for Mac is now available for almost all iOS devices that are running on any iOS version from iOS 12.0 to iOS 16.5.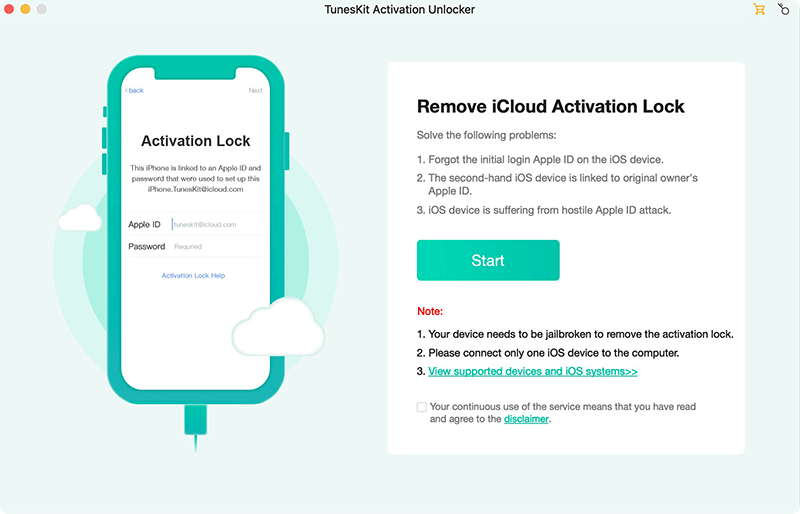 iCloud Activation Lock is a useful feature designed to protect your personal data on iPhone, iPad, or iPod touch when it's in the wrong hands. It is included in the Find My function and will turn on automatically when you enabled Find My on your device. So, when other people want to turn off the Find My function, factory reset your device and erase your data, or reactivate it to use your device, the device will always ask him or her to enter the Apple ID and its password.
"People usually forget their own Apple ID or password, thus they will be locked out of their device. In other cases, people often purchase a second-hand iPhone without knowing the previous owner's password, or their iOS device is suffering from a hostile Activation Lock attack, thus we developed TunesKit Activation Unlocker and enhance its functionality to support more iOS versions and models," said Henry Ramon, the Product Manager of TunesKit Studio.
In fact, Apple also allows users to remove the Activation Lock, but they need to know the Apple ID and password. If people don't know the Apple ID account or password, TunesKit Activation Unlocker is an effective way. Thanks to its intuitive interface, using TunesKit to bypass iCloud Activation Lock is quite simple. Just connect the device to the computer and launch TunesKit Activation Unlocker, jailbreak the iOS device, and remove the lock. This is very easy to operate, even for newbies who do not know much about technical knowledge.
What's New in TunesKit Activation Unlocker for Mac V2.0.0
1. Supports removing iCloud Activation Lock on iOS 15.0 - iOS 16.5.1.
2. Optimizes the program and fixes some other bugs.
Price and Compatibility
TunesKit Activation Unlocker for Mac gives users a free trial to test the program and check whether their device and iOS version are supported. To unlock the software's full features, they must subscribe to its 1-month plan at $24.95 or 1-year plan at $39.95. Users can also buy the program once and enjoy lifetime service for $49.95.
TunesKit Activation Unlocker for Mac is compatible with almost all macOS systems, including OS X 10.11, macOS 10.12, 10.13, 10.14, 10.15, 11, 12, and 13. Yet, for devices that are running iOS 12.0-14.8, it requires macOS 10.11-13; and for devices that are running iOS 15.0-16.5.1, it requires macOS 10.15-13. You can download TunesKit Activation Unlocker for free on its official website: https://www.tuneskit.com/activation-unlocker/.
Media Contact
For any other problems or inquiries, please get in touch with TunesKit Marketing Team.
Andres Green
Marketing Manager
Email: support@tuneskit.com
About TunesKit
TunesKit Studio is a professional iOS utility and multimedia software developer for users all over the world. Its product line contains iOS system recovery, iPhone data recovery, video editor, screen recorder, and so forth. Committed to providing users with higher-quality service and experience, TunesKit Studio has won unanimous praise from users in more than 150 countries around the world.