TunesKit Releases Activation Unlocker to Bypass Activation Lock Easily
Posted by Dan Miners on Feb 27, 2023 10:00 AM • Category:
Releases
3 mins read
TunesKit Studio has officially rolled out its new iOS utility - iCloud Activation Unlocker, aiming to help iOS users bypass Activation Lock on their iPhone, iPad, and iPod touch without Apple ID or password in an easy way.
Hong Kong, Feb. 27, 2023 - Recently, TunesKit Studio, a leader in iOS utility industry, has released a program called TunesKit Activation Unlocker. It's well-developed to help Apple users bypass Activation Lock on the iPhone, iPad, or iPod touch with ease. Both the Mac and Windows version of TunesKit Activation Unlocker are available now.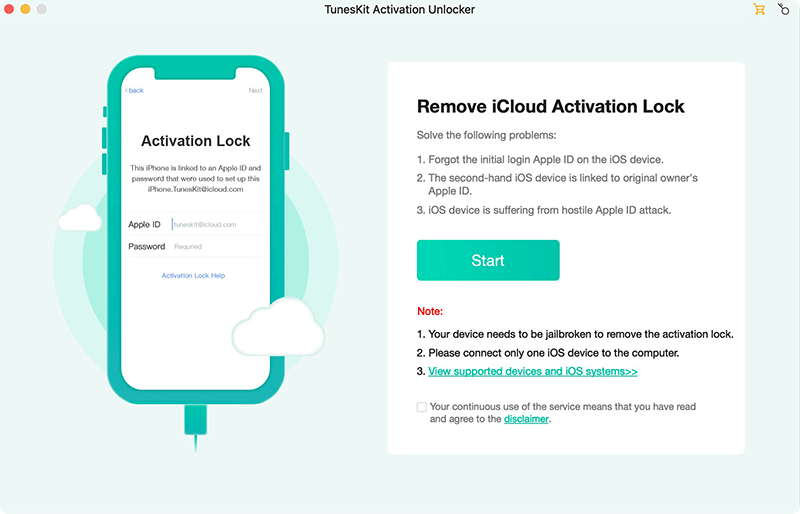 Activation Lock is a feature that includes in the Find My [Device]. When users turned on Find My on the device, the Activation Lock is activated automatically. It is designed to protect iOS device from being lost or illegal used by others. However, people would get into trouble when forgot iCloud account or password, or bought a second-hand iOS device with iCloud locked. That's why TunesKit Activation Locker comes out.
It can remove iCloud Activation Lock within a few steps. Just connect the device to the computer and launch the program, jailbreak the iPhone, and then the program will help bypass the Activation Lock with one click. Besides, the program is capable of unlocking Apple ID, turning off the Find My option as well. After unlocking the Activation Lock, users can sign in with a new Apple ID and download apps via Wi-Fi.
"It's quite common to forget our Apple ID password, as there are so many passwords need to be remembered. Many customers have complaint with us that their Apple ID was hacked, and worried about their device being erased remotely by others," said William Garcia, the chief product officer of TunesKit. "So, we developed this new iOS utility. We hope this tool can help users remove Activation Lock in an easy way, and enhance their experience in using the device," added he.
What's new in TunesKit Activation Unlocker V1.0.0
Remove iCloud Activation Lock without Apple ID or password
Delete previous Apple ID account and password
Turn off Find My iPhone/iPad/iPod touch option
Create a new Apple ID and download apps over Wi-Fi
Support a wide range of iOS devices and versions
Video: Bypass Activation Lock Easily with TunesKit
The following video will show you more detailed steps about how to bypass Activation Lock on Windows with TunesKit Activation Unlocker.
Availability and Price
Currently, TunesKit Activation Unlocker can be used on both Mac and Windows operating systems, including the macOS 10.14, 10.13, Windows 11, 10 and more. It supports iPhone 5S to iPhone X, as well as various models of iPad and iPod touch from iOS 12.3 to the latest 13.5.1, excluding iOS 12.4.5 / 12.4.6 / 12.4.7.
The program is sold with different license types, including one-month license, three-month license, and lifetime license, and the prices are $24.95, $31.95, and $49.95, respectively. In other words, the longer you own the license, the cheaper it will be. Furthermore, all licenses support up to 5 iOS devices, and free updates as well.
Media Contact
For any other problems or inquiries, please get in touch with TunesKit Marketing Team.
Andres Green
Marketing Manager
Email: support@tuneskit.com
About TunesKit
TunesKit Studio is a software developer and provider focused on developing leading-edge iOS utilities and multimedia software. They offer quick and easy solutions to rescue iOS, recover lost iOS data, edit, and convert videos for years. Now the company has developed many popular programs and have over 5,000,000 satisfied customers all over the world.