6 Best Screen Recording Apps on Mobile Phones
Posted by Nick Orin on Dec 28, 2022 13:30 PM. • Category:
Record Screen
6 mins read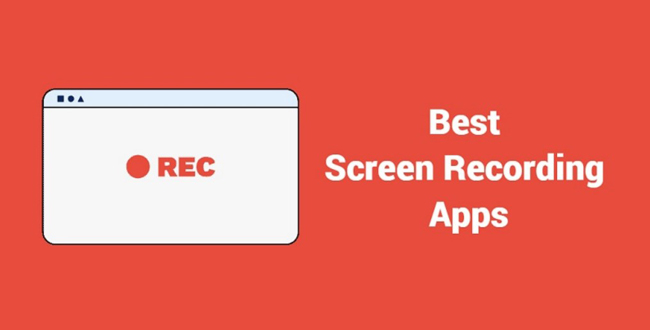 The demand for screen recording apps is increasing day by day. It is quite challenging to reach out for the optimal tool to satisfy the requirements. You do not have to be technically skilled to use these applications to record a good video. It is enough if you have good knowledge of working on the in-built controls embedded in the programs for precise utilization.
Businesses, Application Developers, Educators and many more fields look upon the screen recording tools to capture the event running on their electronic devices for further reference. The app developers use these recording programs to observe any bugs in their codes during their real-time run on their device's screen. Here are the best screen recorder app for you.
Part 1. (2023) 6 Best Screen Recording Apps for Android & iPhone
Here, you can connect with the impressive screen recording applications and figure out the best one that suits your needs promptly. Surf the details on the product carefully and check out its compatibility attributes before finalizing the product for recording purposes. The quality factors and editing features are crucial when choosing screen recording programs. Scroll down to discover incredible recorders to feed your creative skills.
1. DU Recorder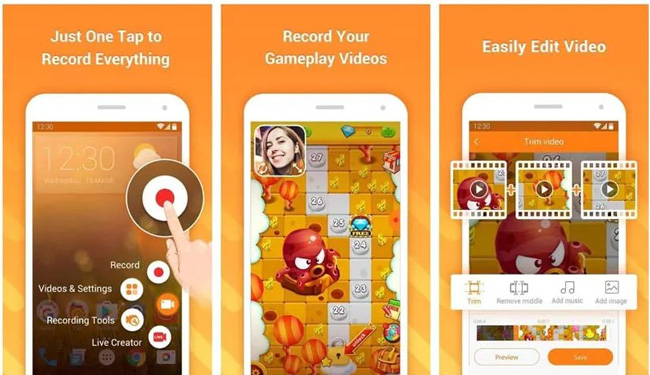 Available for: iPhone & Android
DU Recorder works well on an Android environment and it allows the users to record the screenplay hassle-free. You can use the in-built controls to edit the recorded content efficiently. It has a customizable video setting to personalize the recordings as per your requirements. When installing the app, you do not have to root the device.
Soon after the screen recording ends, you can make different changes to it by cropping and trimming the content professionally. Further edits on the recorded video add comfort to the users and help them to share the content with their friends and team for future reference.
Pros
No recording time limit
Live Streaming
Easy-to-use operation interface
Split unneeded recording clips
Cons
It cannot autosave the recordings
2. XRecorder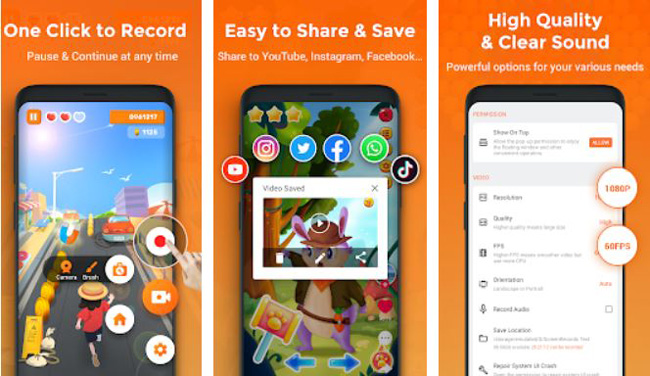 Available for: iPhone & Android
The XRecorder app is compatible with both iOS and Android platform. It feeds the unlimited creative skills of the editors. You can record the screen content and customize it with filters, trim videos, split or cut according to your needs and add stickers and texts to convey a message to the audience. It is a free app to download from the Google Play Store.
Record the screen events without any time limits and perform the task free from unnecessary watermarks. During the recordings, you will not find any interruptions due to external noise. Customize the speed control option to ensure smooth recording of the screen. Use this app for quality recordings and make it attractive using the in-built edit features.
Pros
Take a screenshot
No-lag screen recording
Share on Facebook and YouTube
Adjust FPS and resolution
Cons
It cannot trim or crop recordings
3. Mobizen Screen Recorder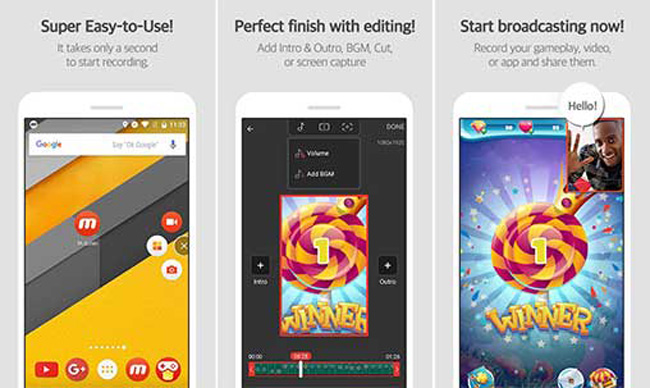 Available for: Android
Mobizen is a free program for Android and it helps the users to capture the screen and edit it based on the requirements. This app increases business productivity and has a user-friendly interface. It is in-built with high-end security features. The recorded content is available on the user's device and does not save on any private servers.
The pause, start and stop buttons are available in explicit mode to ease the user for quick access during the recordings. This app is compatible with many languages and globally more than 200 million users connect with it to meet their needs. You do not have to log in to use this app. A simple download from Google Play Store is sufficient for optimal usage of this tool.
Pros
Clutter-free interface
Professional trimming workspace
Real-time recording and screenshots
Excellent broadcasting support
4. AZ Recorder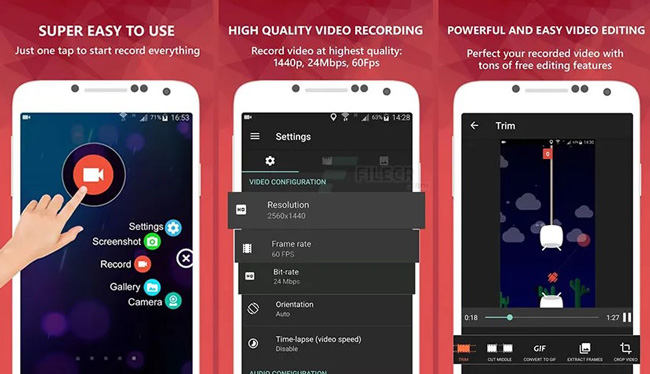 Available for: iPhone and Android
Another interesting screen recorder application that captures the screen precisely is the AZ Recorder program. It is enough if you tap the Record button at the user interface of the application to record the screen events. There is a Select Area option to narrow down the recording area on the display. Press the Pause and Stop buttons to customize the recordings according to your needs.
The recorded content is stored automatically in your device folder for quick access. Apart from the screen recording feature, you can use the AceMovi tool to edit and organize files optimally. There are many in-built controls to personalize the recorded video for further use.
Pros
Make a GIF
EDit frame rate, resolution, and time-lapse
Flexible recording
Customizable interface
5. Go Record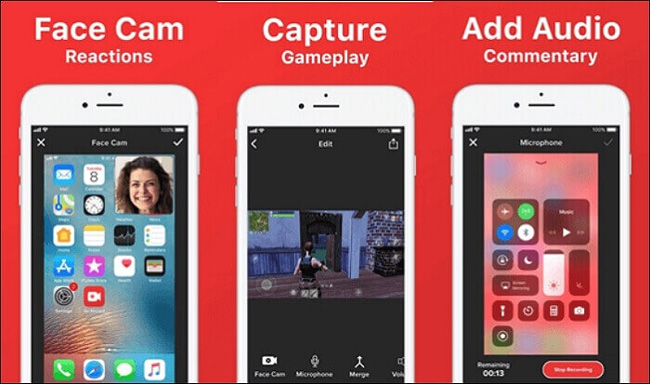 Available for: iPhone and Android
Go Record hails from Alloy Studios and is available for download at App Store. This app helps to record the screen and Face Cam reactions. It has an editing suite to make changes to the recorded content. Another interesting aspect of this tool is that you can merge desired audio into the recordings and fine-tune the content efficiently. It is easy to share the screen recordings to any platform hassle-free. It runs on a higher version of the device's operating environment without any issues.
Pros
Allow Face Cam
Record a video with mic or headphone
Insert audio or voiceover
Sace files automatically
Cons
It cannot change video resolution
6. RecPro Screen Recorder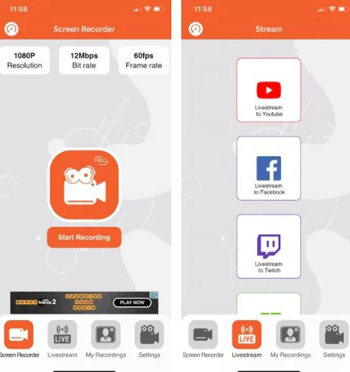 Available for: iPhone
RecPro permits the users to record the screen unlimited and assists the users to use the microphone while performing the recording function. It implies you can add your external input to the recordings effortlessly using this application. You can work on the quality factors during the recording activity. Personalize the screen recording by setting attributes associated with Frame Rate, Bit Rate, and resolution.
Soon after the recordings, edit the content with filters, and 10 packs of stickers. This application is free from interrupting ads and provides the basic features free of cost. Impressive screen recorder app that allows the users to record the screening event, edit and share it to any platform effortlessly.
Pros
Easy to share on social media
Change recording quality
Easy user interface
No recording time limit
Part 2. Which Screen Recorder App Is Better?
Every app to record screen on your mobile phone is unique and plays for its in-built features. The Mobizen, Go Record, DU Recorder, and RecPro are some of the remarkable screen recording apps. Visit the official website of these programs and quickly download them according to your requirements. Before that, let's see what are the differences among them.
| | | | | |
| --- | --- | --- | --- | --- |
| | Operating System | Pricing | User Experience | Other Features |
| DU Recorder | iPhone and Android | $59.99/year | Excellent | Merge, add audio, modify speed, Live streaming |
| XRecorder | iPhone and Android | Free | Good | Change resolution, no time limits, floating window option, trim, share |
| Mobizen | Android | $3.33/month | Good | Insert audio, personalize content with BGM |
| AZ Recorder | iPhone and Android | $15/month | Excellent | Add and detach audio, speed control, split/merge, and slideshow maker |
| Go Record | iPhone and Android | $9.99 one-time cost | Good | Add flavors to the recorded videos, connect with Face Cam, add audio, share |
| RecPro | iPhone | $9.99/month | Good | Integrate with Face Cam, Customize playback speed, apply filters, change background colors, and easy sharing to camera roll |
Part 3. Choose the Best Video Recording Tool
Thus, this article had given awesome facts about the best screen recording apps available in the digital market for easy download. You can connect with the appropriate tools to satisfy your recording needs. Compared to recording a video on mobile phones, you can get more features when recording a video on your computer by TunesKit Screeen Recorder. For example, you can preset the output format, use scheduled recording method, record a gameplay professionally, and take advantage of more functions.

Key Features for TunesKit Screen Recorder
Ready-to-use screen recording and webcam recording projects
Support AVI, DivX, MKV, MOV, WMV, MP4, MP3, FLAC, AAC, and more formats
Control the aspect ratio easily according to your needs
Trim out unwanted recording parts on the Media panel
Beautiful, well-organized user operation interface for beginners
Try It Free
600,000+ Downloads
Try It Free
600,000+ Downloads