Quicker movement and slower motion can be recorded at the same time by a screen recorder that supports 60 frames per second. That's why we advised you to capture a video with higher recording presettings like FPS and codec. But there is a problem with how to pick up the best recording tool for a computer that is not high-end while still able to generate high-quality content with 60 FPS or other professional parameters. Here, we're going to list the best screen recorders for low-end PC that help you perform wonderful operations when recording. With those options, live streaming, scheduled mission, timer recording, and more features are supported. Review those options, compare the pros and cons, and pick up your tool!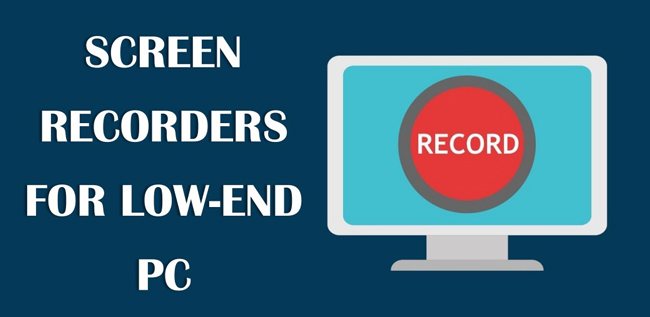 The Best Screen and Video Recorders for Low-End Computer Systems
Top 1. TunesKit Screen Recorder

Both low-end Windows and Mac can operate TunesKit Screen Recorder to record any type of video from the screen or webcam without complicated steps. To be specific, this software is compatible with Windows XP to 11 or macOS 10.8 to 12 Monterey, with 32- or 64-bit as well as a minimum RAM of 256 MB backup. On the straightforward layout design, you can find projects to start recording at once.
This screen recorder produced for low-end PC is versatile in recording gameplay, chrome website windows, background audio, a part of the screen, or real scene that come from the webcam. 5 projects to help you quickly start the recording mission. A video trimmer is designed for cutting out unneeded parts. The 100% safe downloading channel is offered below.

TunesKit Screen Recorder
Needs a low-end processor and RAM and preset recording audio/video type
Record gameplay automatically with auto/scheduled recordings
Customize hotkeys for an easier job while saving all files in the Media place
Add branding watermarks or logos to the saved files with customized color, size, position, and font
Top 2. VSDC Screen Capture
Long tutorial uploading, personal PPT video, and screencast clips all can be made by VSDC screen recording software for low-end PC without watermark for free. I should let you know that the "screen recording" function is one of the basic features inside VSDC, meaning that there is no special VSDC Screen Recorder for you to download extra, just get VSDC on your desktop and commence it.
5 projects for video making and screen recording appear on the interface when you enter into VSDC. Choose the "Video Capture" project when it is needed to record a video with a webcam, or select the "Screen Capture" option if you want to record the screen at personalized sizes, resolutions, and more advanced file settings.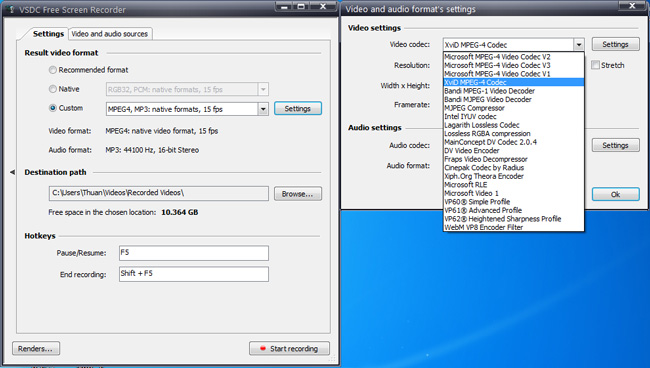 Pros
Pre-made video recording projects in VSDC
Advanced settings for video codec, resolution, width-height, etc.
Apply hotkeys to begin/stop recording at any time
Output format in PCM or MPEG4 up to 30fps mac
Edit your recorded files with a series of basic/advanced tools
Share on social platforms like Facebook and YouTube
Cons
Intricate settings for veteran users alike
Cursor Overlay sometimes does not work well
Top 3. Dxtory
To be honest, this screen recorder for low-end PC without a watermark works at light speed and supports small load - Dxtory, a movie recorder made for OpenGL Applications and DirectX. You can write the speed at 250 MB per second or 261 MB per second per your needs. More fantastically, it allows you to set multiple audio resources simultaneously.
When mentioning the output settings, video codec, frame rate, file type, and many more are set inside the toolbar. The interface of the best screen recorder for low-end PC is out of data, which seems like an old Windows panel for setting different parameters. But anyway, Dxtory gives you more freedom in customization before recording.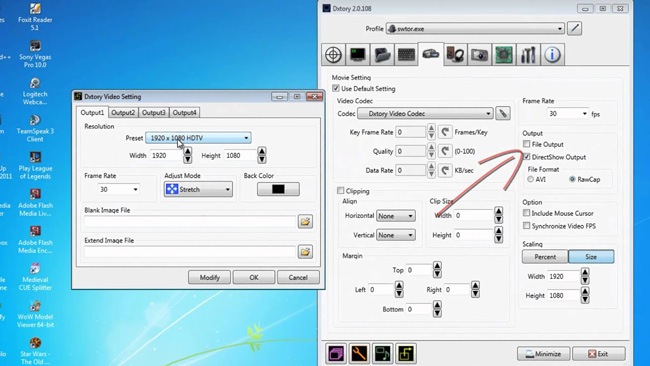 Pros
Take a quick screenshot and preset its format at BMP, TGA, JPEG, or PNG
Allow third-party codecs from VFW
Capture multiple audio resources at the same time
Write your own distribution
Lossless record a video at high speed
Windows XP x64 is the minimum OS
Cons
Complicated user interface
Windows 11 and all macOS devices cannot operate it now
Top 4. Xbox Game Bar
If you want to find the built-in screen recorder, just press "Windows + G" to operate the Xbox Game Bar, which fits with all types of PC titles and is pre-installed in the system for free of cost. Xbox Game Bar was initially created for getting video game clips, but currently, you can use it to perform any screen recording work with the wanted duration.
Sound modulations for various outputs like chats and background apps are supported by it. What you need to notice is that all the recordings and screen captures will be automatically saved inside the "Gallery" folder. By the way, when you're about to record the gameplay, you should first launch the game and then start recording with this screen recorder for low-end PC without a watermark.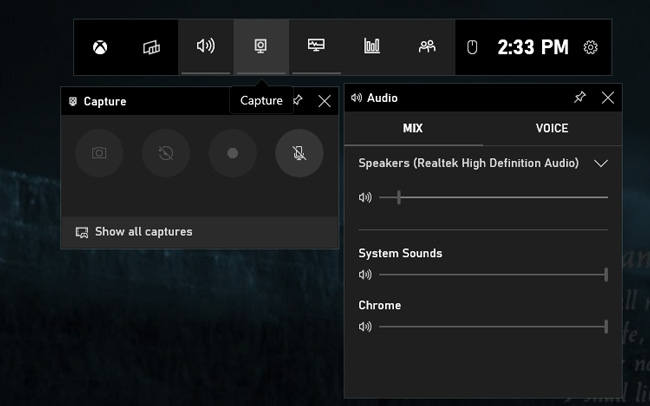 Pros
Record a video while playing music
Pre-installed in Windows systems so you can use hotkeys to launch it
No limits in how long you want to record and how many screenshots you want to take
Capture live-streaming, gameplay, and presentation
Cons
Easy to crashing
Cannot design the aspect ratio
Top 5. D3DGear
If you want to find a fully-fledged game video recorder for low-end PC, then you can opt for D3DGear. This software is powerful at game recording as well as game live streaming. D3DGear put very little system performance impact on your game experience, so users can record the gameplay without lagging and frame dropping. Twitch.tv website can be directly streamed by this recorder.
As for the latest features of D3DGear, the Constant Frame Rate is supported to produce a movie recording with Adobe software. The built-in screenshot maker helps you take a snapshot at any time when playing video games. More than capturing your videos, Push-to-Talk recording, mic recording, and facecam recording are supported by this program.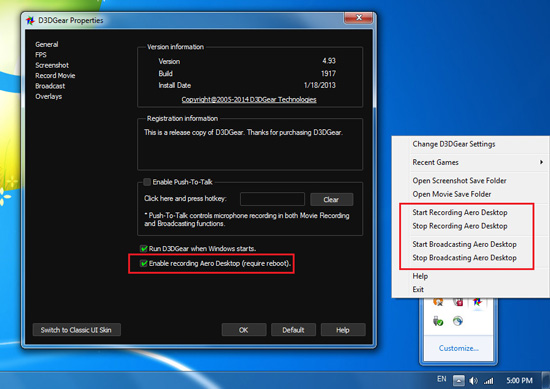 Pros
Stream gameplay to twitch.tv live-streaming website
Multiple screen recording projects like Push-to-Talk
Oculus Rift VR gameplay recording feature
Automatically attach to the video game when it runs
Cons
You can use it for free within half a month
Top 6. OBS Studio
What makes OBS Studio so popular is that it is one of the best open-source video screen recorders for low-end Windows, Mac, and Linux. Many resources can be opted for including Image, Windows Capture, Video, Browser, and Color Source. So you can directly pick up the part you want to record. There is no duration limit and high-quality output channels for users.
In response to the audio recording apart, you're empowered to mix multiple audio resources from mics, videos, or headphones. The built-in transitions help you switch between different recording modes in OBS Studio. And you can apply noise gates, noise suppression, as well as gain. There are specific configuration settings for video, audio, stream, and hotkeys.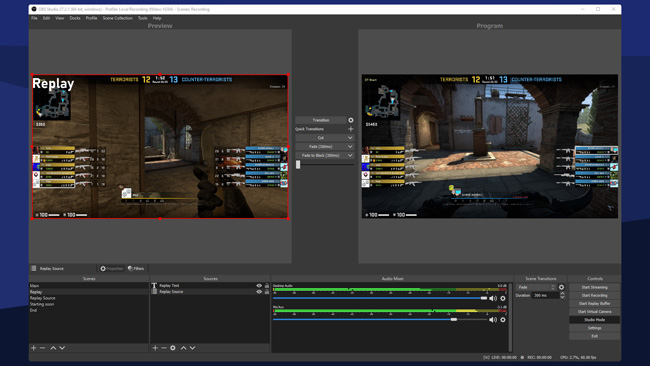 Pros
Recording software for low-end PC without watermarks
Cross-platform for Windows, Mac, and Ubuntu Linux
All-sided presets for output resolution and quality
Rearrange the user interface as per your needs
Switch from kinds of scenes and resources
Cons
It may crash on some Adobe software when working at the same time
The interface is hard to manipulate to some degree
Top 7. LiteCam HD
What makes the best free screen recorder for low end PC without watermark the user-oriented operation system. Rather than put common and advanced settings inside the menu, LiteCam HD divided functions into several parts like "Select an area", "Frames per second", "Audio Device", and "PiP". For example, you're empowered to generate a picture-in-picture (or duet/react) video on the "PiP" plate.
Useful tools for recording include Timer Recording and File Converting. By the Timer, users can set the advanced countdown timing feature to begin a project or end the mission at any time.
And the media converter is supposed to convert audio files to other formats or generate a rare video format from your MP4 or AVI. Anyway, things are simpler with this recorder.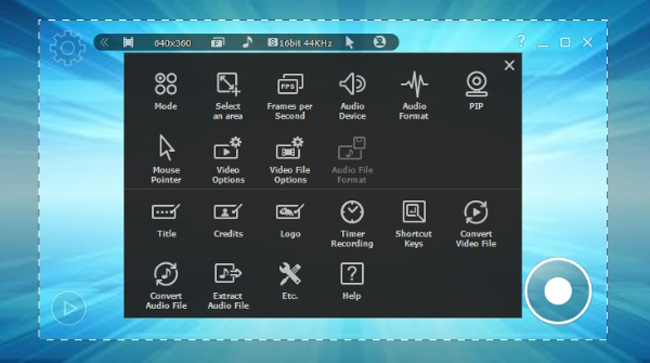 Pros
Precisely organized recording buttons set on the interface
Countdown timer supported
Convert video or audio format
Select any area on the screen
Free trial without limits on how long you can record
Cons
The picture in your video lags probably
30 frame rate is not enough for any movements
Screen Recording Software for Low-End PC Comparison
Finding a video recorder and beginning recording without complicated installation is one of the goals of this page. So here will be a chart to help compare the different qualities of each video or screen recorder from the operating system, embedded functions, pricing, and output watermark addition services.
| | | | | | | | |
| --- | --- | --- | --- | --- | --- | --- | --- |
| | TunesKit Screen Recorder | VSDC | Dxtory | Xbox Game Bar | D3DGear | OBS Studio | LiteCam HD |
| OS | Windows XP - 11 | Windows XP SP3 - 11 | Windows XP x64 - 10 | Windows 10 and 11 | Windows XP SP3 - 11 | Window 8.1, 10, and 11 | Windows XP - 10 |
| Memory (RAM) | 256 MB | 256 MB | 1 GB | 1 GB | 2 GB | 2 GB | 256 MB |
| Processor | 1G Hz or above | 1.5 G Hz or above | Intel Dual Core processor or later | 2G Hz or above | Pentium 4 compatible CPU | 2G Hz or above | 2GHz Dual-Core CPU or above |
| Pricing | $29.95/y, $14.95/m, $49.95/p | $19.99/p | $27.4/p | Free | $39.99/p | Free | $14.99 - $29.99 |
| Live Streaming Support | Yes | Yes | Yes | No | Yes | Yes | No |
| Scheduled Recording | Yes | Yes | Yes | No | Yes | Yes | Yes |
| Timer Recording | Yes | No | Yes | No | No | Yes | Yes |
| Add Your Watermarks/Logos | Yes | Yes | No | No | No | No | Yes |
Frequently Asked Questions about the Best Screen Recorders for Low End Personal Computers
Q1: How to choose a good screen recorder for low-end PC?
An excellent screen recorder counts on specific requirements. But on average, a tool that is alive with easy-to-use interface functions and no lag operation performs better for any recording project like gameplay capture. Other features that need to be taken care of include popular plugins and output formats.
Q2: How much FPS do I need for screen recording?
60 FPS is the recommended frame rate for recording a video. Those introductions mentioned above allow 60 FPS recordings. Compared to 30 FPS, 60 FPS captures more details accurately and gains softer footage while there are possible movement laggy and blurry backgrounds in a video recorded by 30 FPS.
Q3: Which is the lightest screen recorder for PC?
The least laggy and lightest screen recorder is TunesKit Screen Recorder introduced in this post. Users can apply it for five different yet professional video recording modes, like chrome windows recording and webcam recording. If it is needed to record long and high-quality files, this program won't let you feel disappointed.
The Bottom Line
An excellent screen recorder counts on specific requirements. But on average, a tool that is alive with easy-to-use interface functions and no lag operation performs better for any recording project like gameplay capture. Other features that need to be taken care of include popular plugins and output formats.

Nick Orin is a review writer, software geek and Mac OS enthusiast. He spends all his free time in searching useful software and gadgets to share with others.